Stu Larsen
The Independent
October 8, 2019
Photos by Kylie McCormick
Outside of The Independent is a black and grey bus; tightly parked it almost blends into the evening street. As fans line up their excited chatter floats around the crisp air, suddenly their heads turn in a synchronized fashion as the bus door opens. Out saunters Stu Larsen, the opener for the night. Walking to the front door it becomes immediately apparent that Stu is locked out of the venue right before the doors open, a fate many musicians have faced at least once in their career.
Luckily Stu shows no signs of worry; as he waits to be let in, he charms those in the front of the line.  It is this sort of authentic, eager connection that resonates not only in Stu's interactions but also in his music. Crafting authentically open and reflective songs, Stu has seemingly made a career out of creating songs that connect.  This evening, his connection and charisma extends to the stage where he warms the night with his dreamscape songs. At The Independent Stu Larsen warmed the hearts of fans, opening the night with a set of dreamy signer songwriter tunes.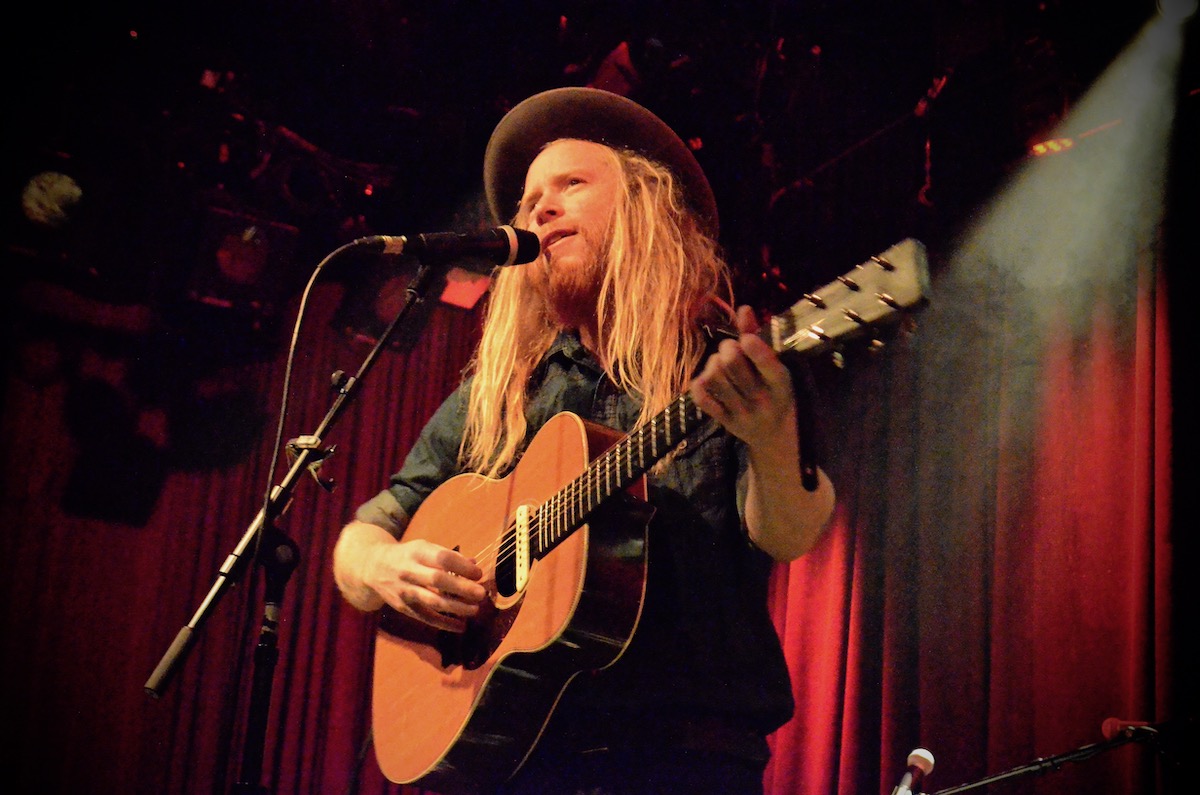 Planted atop a worn rug Stu Larsen opens the night with melodic 'Wide Awake and Dreaming.' A transformational wave of acoustic brilliance intermixing with Stu's textured voice fills the room with a tender feel, lulling fans into a blissful moment of peace. Stu has this incredible ability to stop time with his music, cascading dreamscape lyrics beckoning you into a reflective mood.
The night continues with a handful of other songs that ultimately lead to crowd favourite 'San Francisco.' Many asked if Stu would play the song in the titled city, and there was clear elation when the opening chords faded in. The light and airy acoustic chords topped by Stu's cheery voice brought about smiles as people swayed and sang along. A few more songs followed a resounding rendition of 'Jolene' before 'By The River' ended the opening slot.
Stu Larsen's set was short, some would argue a little too short, and sweet. Intermixing his storytelling poeticism with acoustic style, Stu Larsen filled the room with homey sonic perfection.  Hopefully San Francisco is still calling Stu Larsen's name, and hopefully he will reply with another show before the year ends.
A short turnover brought Australian indie rock folk band Boy and Bear to the stage. In a blast of yellow and blues, the band a trio of energetic songs that included fan favourite 'Three Headed Women.' Intermixing older classics with some newer tunes, Boy and Bear curated an electronic night that wowed fans, The Independent barely containing the energy bouncing off the walls.
Find out more about Stu Larsen on his website.
Check out Boy and Bear here.