Post Malone
Golden 1 Center 
September 17, 2019
Photos by Paul Piazza
The day before Post Malone played his first ever headlining show at Golden 1 Center in Sacramento, the chart-topping rapper from Texas spent his day hanging around in the area surrounding the arena. Countless locals posted selfies with the young rap superstar, known to most fans as just Posty these days, as he made his way around Sacramento's DOCO (Downtown Commons) district on foot, casually stopping to interact with people.
That would seem to be unimaginable for someone who has been charting insanely on the Billboard charts. That week alone, he had four of the top ten songs on the pop charts, which is astounding by any measure. But maybe that's part of his appeal. The scruffy, genre-bending, face-tatted rapper seems relatable to people on the streets. People who know him say he's pretty grounded. And he keeps churning out songs where he sings in a style that is both repetitious and doesn't stray far from the root notes. This makes them easy for listener to sing along with.
And while he's probably no angel, his public behavior is quite a contrast for the Sacramento music fans who remember rap diva Kanye West's infamous self-destructive meltdown and mid-show exit when he played the same Arena almost three years ago.
Hailing from Grapevine, Texas, Austin Richard Post grew up with a disc jockey father who later started working as manager of concessions for the Dallas Cowboys. Young Austin learned to play the guitar with the encouragement of his father. After he failed an audition on guitar with the Dallas metalcore band Crown the Empire, he moved to Los Angeles, where he started to experiment on the digital audio workstation FL Studio. By that time, he had rebranded himself Post Malone and started working on a hybrid form of hip-hop that encompassed elements of pop and rock.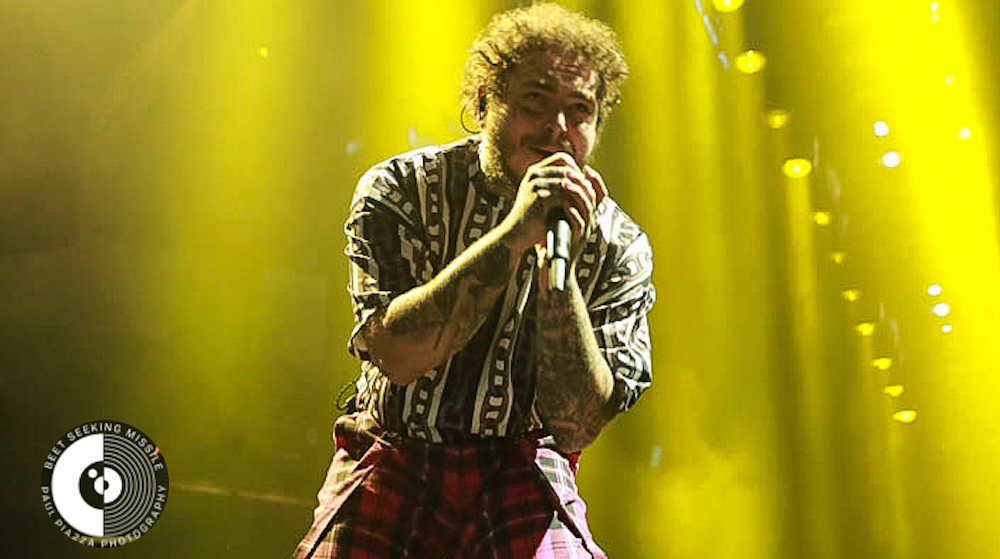 He was hired to perform at Kylie Jenner's 18th birthday party, where he met Kanye West. The meeting with pre-meltdown West led to a collaboration on the song "Fade" for West's The Life of Pablo. Not too long afterwards, Malone was pegged as the opening act for Justin Bieber's 2016 World Tour.
Things have only accelerated for him since then. He has partnered with many of the big-name rap/pop stars. The majority of his chart hits, like the hits of many of his peers, are collaborations.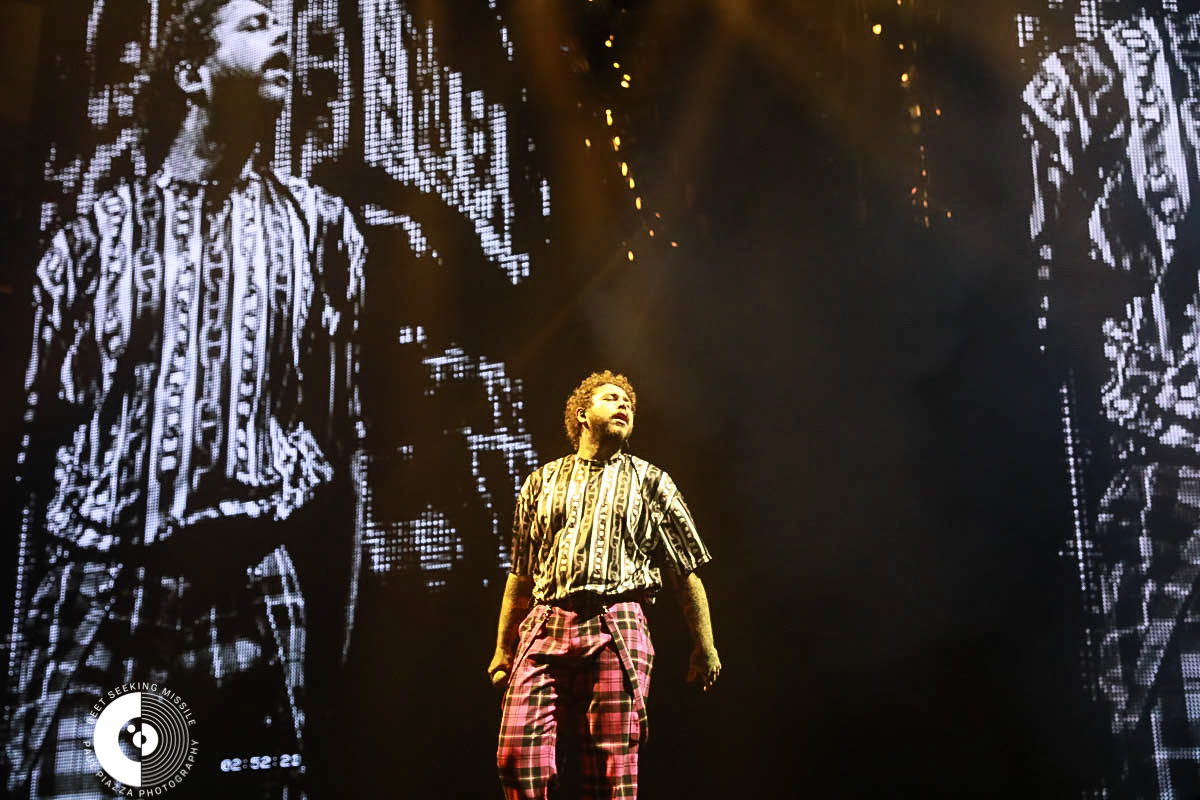 His third and most recent studio album, Hollywood's Bleeding, features a large group of interesting alliances, including Ozzy Osbourne and Travis Scott on the song "Take What You Want."
Late during his Golden 1 show, a giant image of Ozzy appeared on the two big vertical screens framing the back of the stage at the beginning of the song, which crescendos with a metal lead guitar solo that feels a little out of place because, although one would naturally look for the shredder to emerge from the shadows, the reality was that it's pre-recorded.
In fact, almost all of the music was pre-recorded. Malone did play acoustic guitar on "Stay." Because he began his musical career as a guitarist, it would be nice to see him progress to the point where he has a full band out with him. But on this night, it was all-Posty all night, except for a drop-in by opener Swae Lee during the mega hit "Sunflower."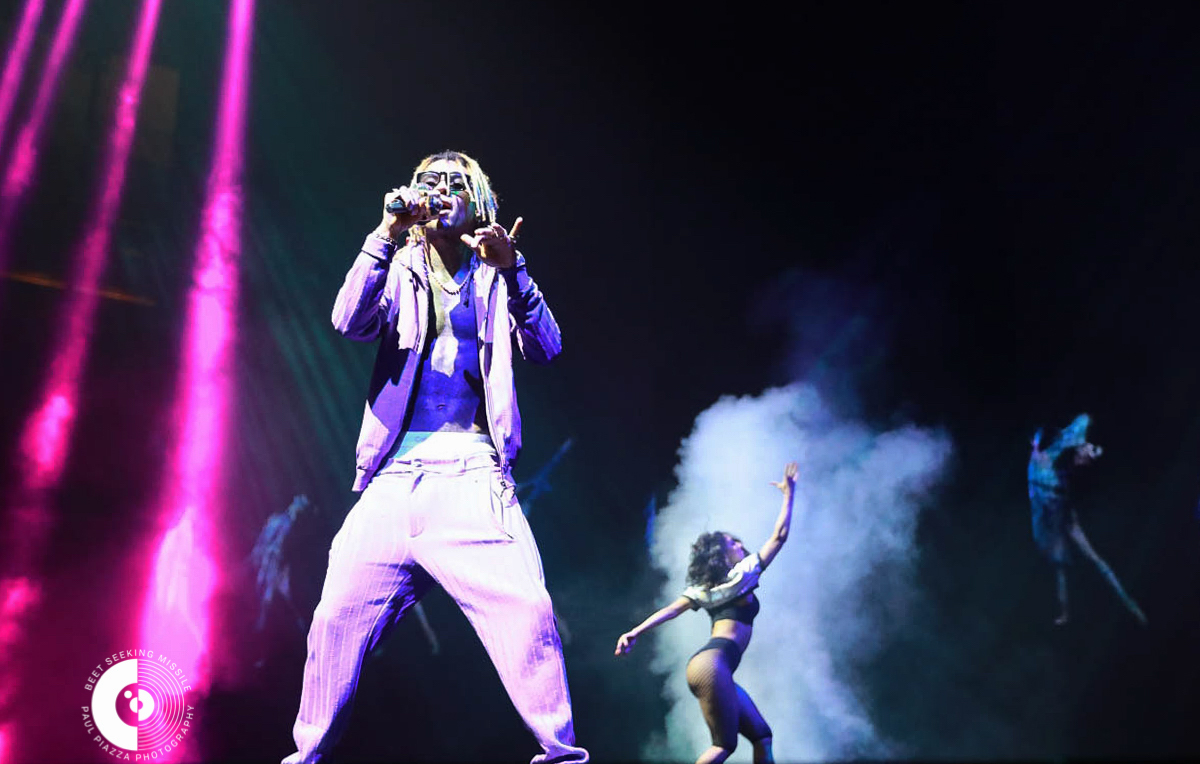 His stage was a relatively simple set up by today's standards. It was basically a long runway that jutted about one-third of the way into the arena. Compared to Chance the Rapper's runway bridge, which extended all the way the arena a couple of years earlier, it came up a little short. But Malone spent most of his time at the edge of this runway, working the boards' emotions relentlessly and constantly making an effort to connect with the capacity crowd.
It seemed to work. Gazing up to the highest nosebleed seats in the packed arena, one could see the fans up high rocking just as hard as the people in the front row. This six-foot rapper has serious reach.=
And if Malone continues to choose to spend the occasional o
ff day out connecting with people on the streets like he did in Sacramento, it's likely he'll keep his place atop them pop world for the foreseeable future as long as he keeps churning out those catchy songs. Look out for him to appear on the big screen soon.
Post Malone:
Setlist: Hollywood's Bleeding | Better Now | Saint-Tropez | Goodbyes | Die For Me | Allergic | Candy Paint | Psycho | Enemies | Wow. | Paranoid | I Fall Apart | Over Now | Take What You Want | Stay | Circles | Go Flex | White Iverson | Sunflower (with Swae Lee) | rockstar | Congratulations
Find out more about Post Malone here.
Swae Lee:
Check out Swae Lee on his website.