Brandi Carlile
Greek Theatre, Berkeley
September 21, 2019
Photos by Nicole Baptista
Elegant stage drapes backed Berkeley's Greek Theatre—bright light morphed the color from blue to purple to red. There wasn't a speck of grass at the top of the outdoor stone coliseum and chairs filled the floor. Looking back, a sea of eager faces glistened. It wasn't long before curious eyes filled with excitement as Brandi Carlie popped out from the side of the stage.
Sporting a shiny red suit and acoustic guitar, she commanded her space from the very start and opened with "Hold Out Your Hand" off her latest record By the Way, I Forgive You. Her infectious energy inspired a sense of intimacy uncommon to a sold-out crowd of 8,000. She told heartfelt stories between songs and before you knew it, people stomped their feet and sang along, as they strummed tiny imaginary guitars. It felt like a giant hootenanny.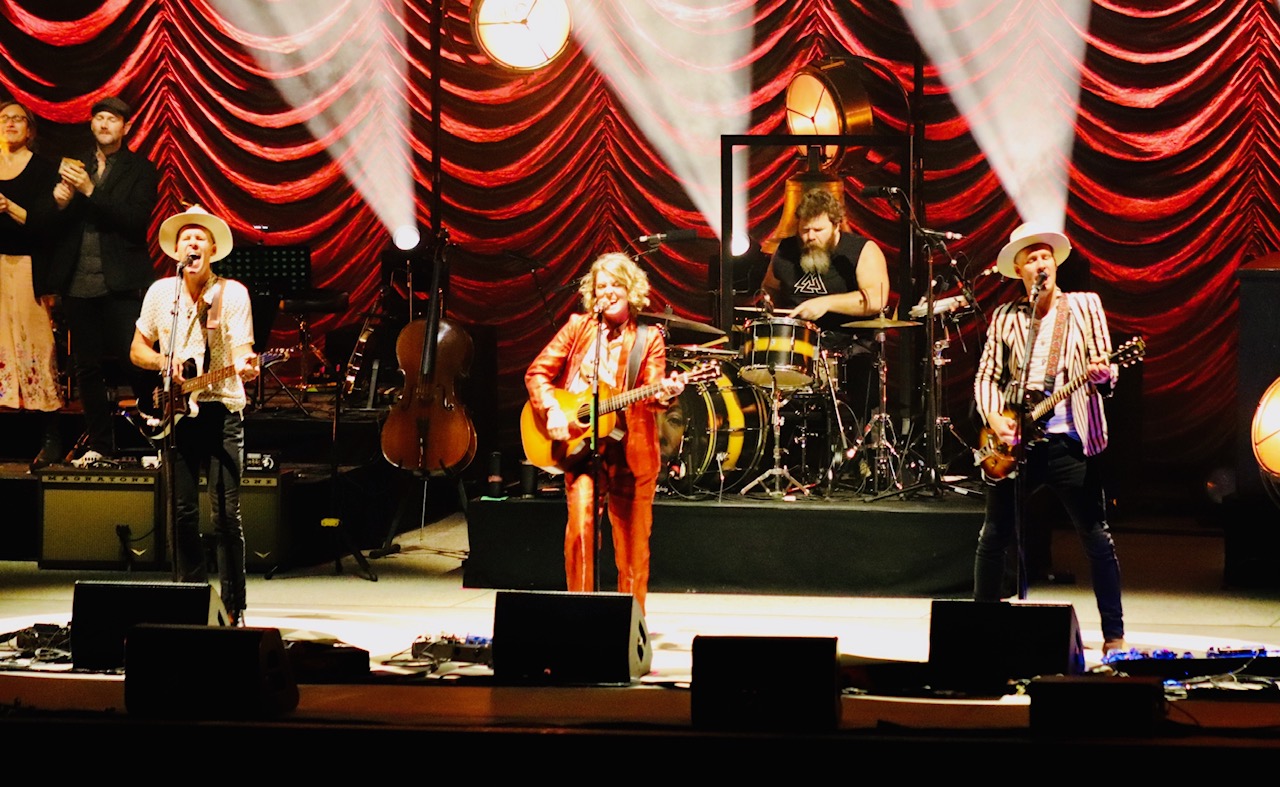 It was night one of Carlile's Bay Area stay—she performed two nights in Berkeley and a third at Great American Music Hall in San Francisco. Dipping into earlier material, she played "Wherever is Your Heart" (The Firewatcher's Daughter, 2015) and "Hard Way Home" (Bear Creek, 2012) before one of her biggest hits, "The Story" (The Story, 2007).
Rooted in folk country, she also pulls in elements of rock 'n' roll, alternative rock, and pop. Experimenting with various sounds throughout the years, she's never strayed far from an honest message. A strong lyrical backbone is just about everything to a folk singer. And Carlile's no stranger to writing music with purpose.
In 2017, she released Cover Stories, a star-studded rerecording of her 2007 LP. Everyone from Dolly Parton to Pearl Jam made an appearance and every cent went to War Child US, a nonprofit that provides aid to children affected by armed conflict. She also runs Looking Out Foundation (she's raised more than $800,000), has been part of several activism campaigns, and is an advocate for LGBTTQQIAAP rights and empowerment of women.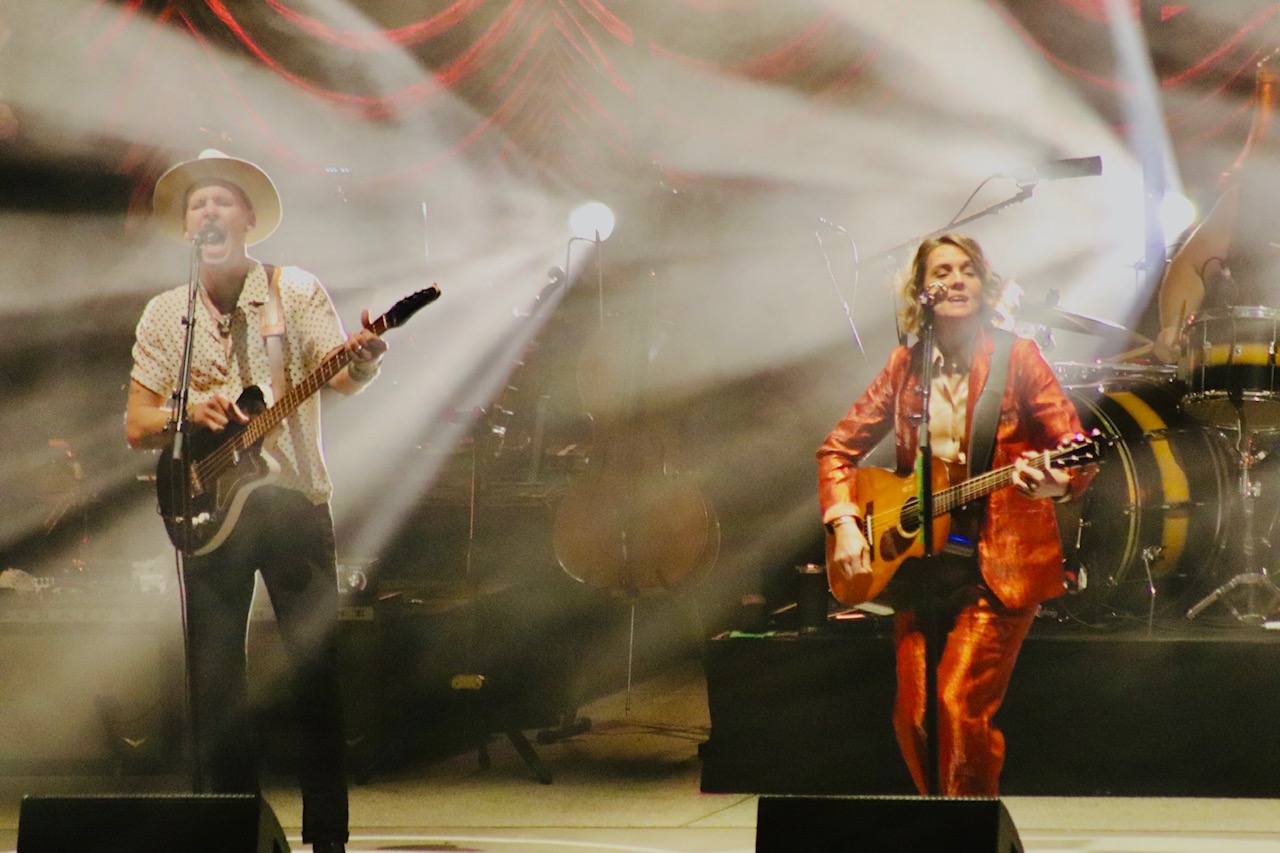 She's a voice for the voiceless. In fact, it's what inspired one of her newest songs. Carlile read an article while she was on tour about a murdered woman who'd never been identified. She may never know her name, but Carlile made certain to never forget her worth. She played "Fulton County Jane Doe" (By the Way, I Forgive You, 2018) just before a slew of covers.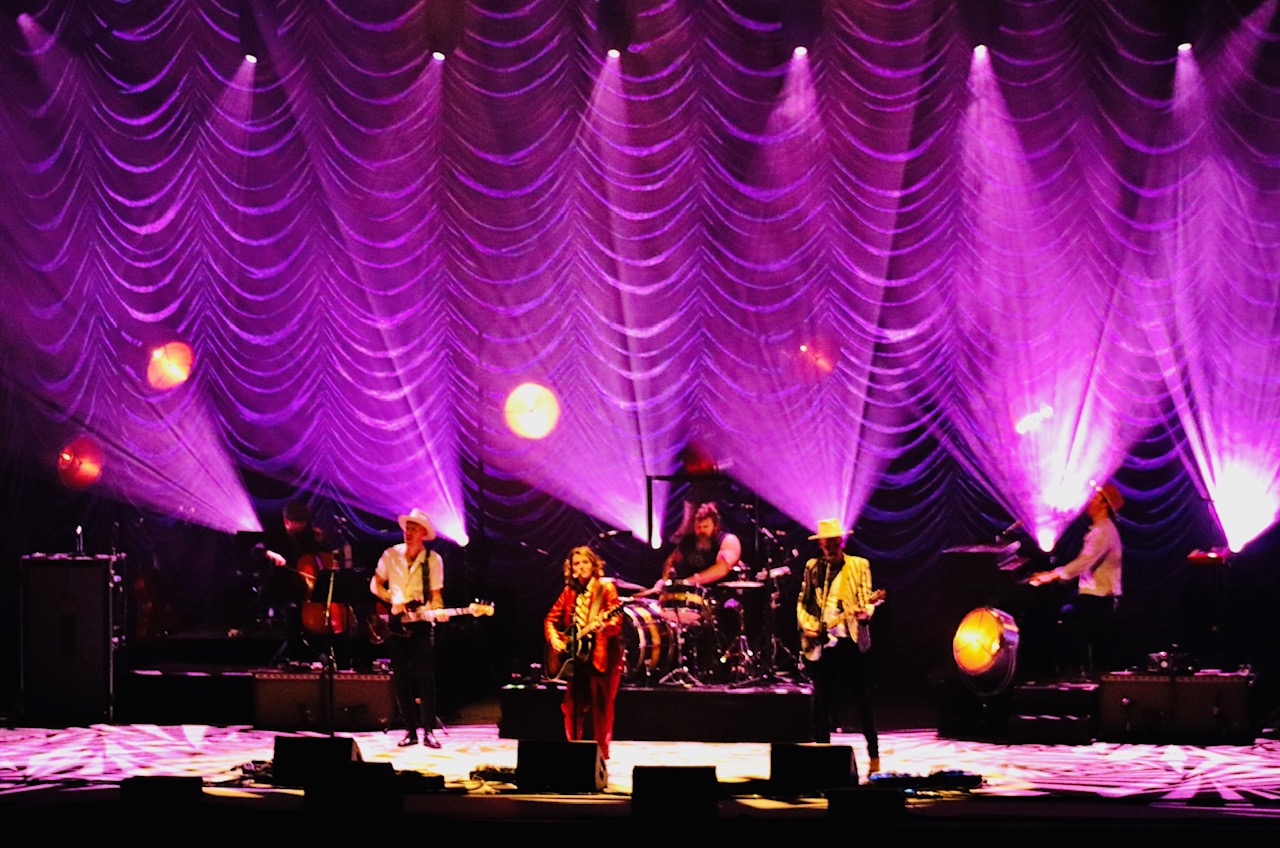 Reminiscing on her idol, Carlile also talked about jamming with Joni Mitchell in her living room just the night before. The most beautiful moment of the night came when Carlile covered Mitchell's "A Case of You." Her range is impeccable. Every time she hit a high note, the crowd quietly gasped, some covered their mouths with their hands as if they couldn't contain their joy.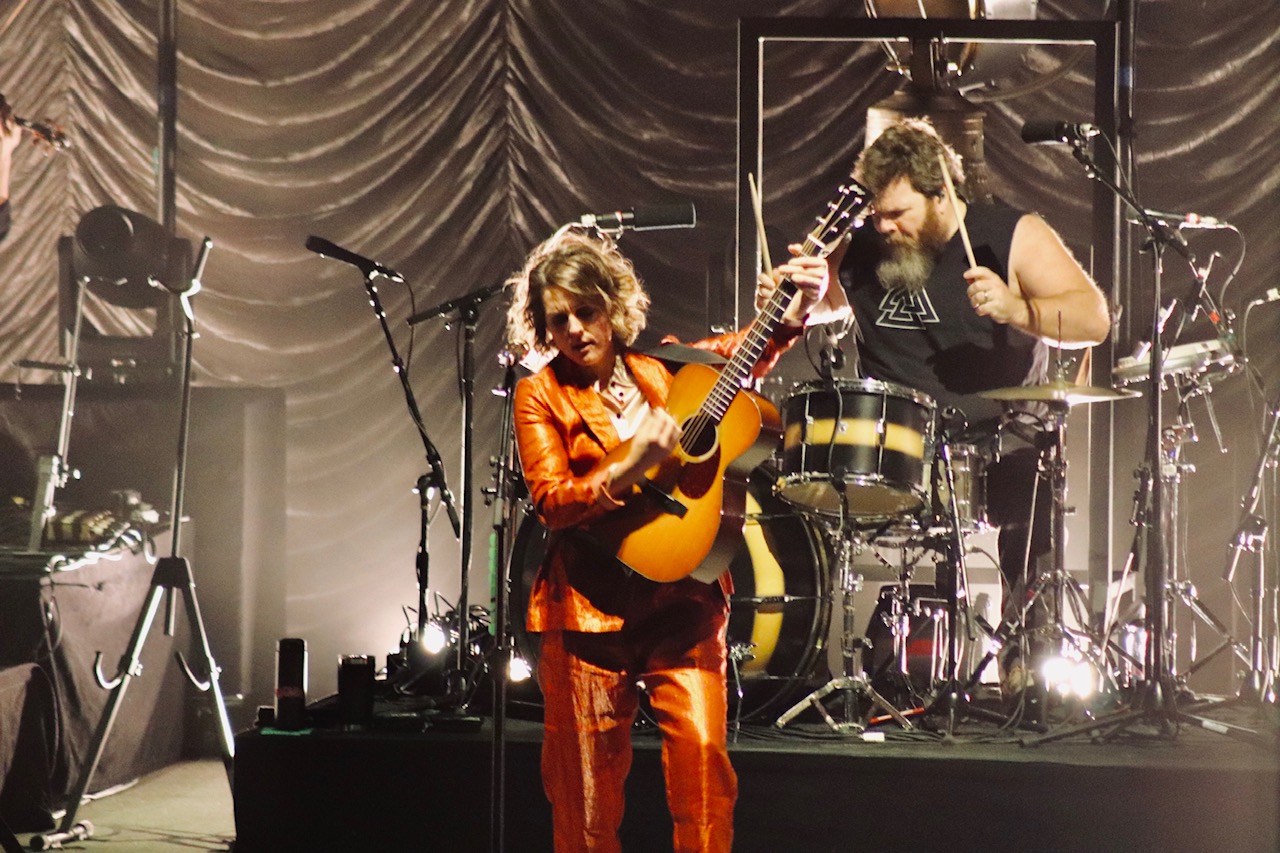 "This is one of those shows," Carlile said. "The sound here is Red Rocks amazing! I don't ever want to stop playing!"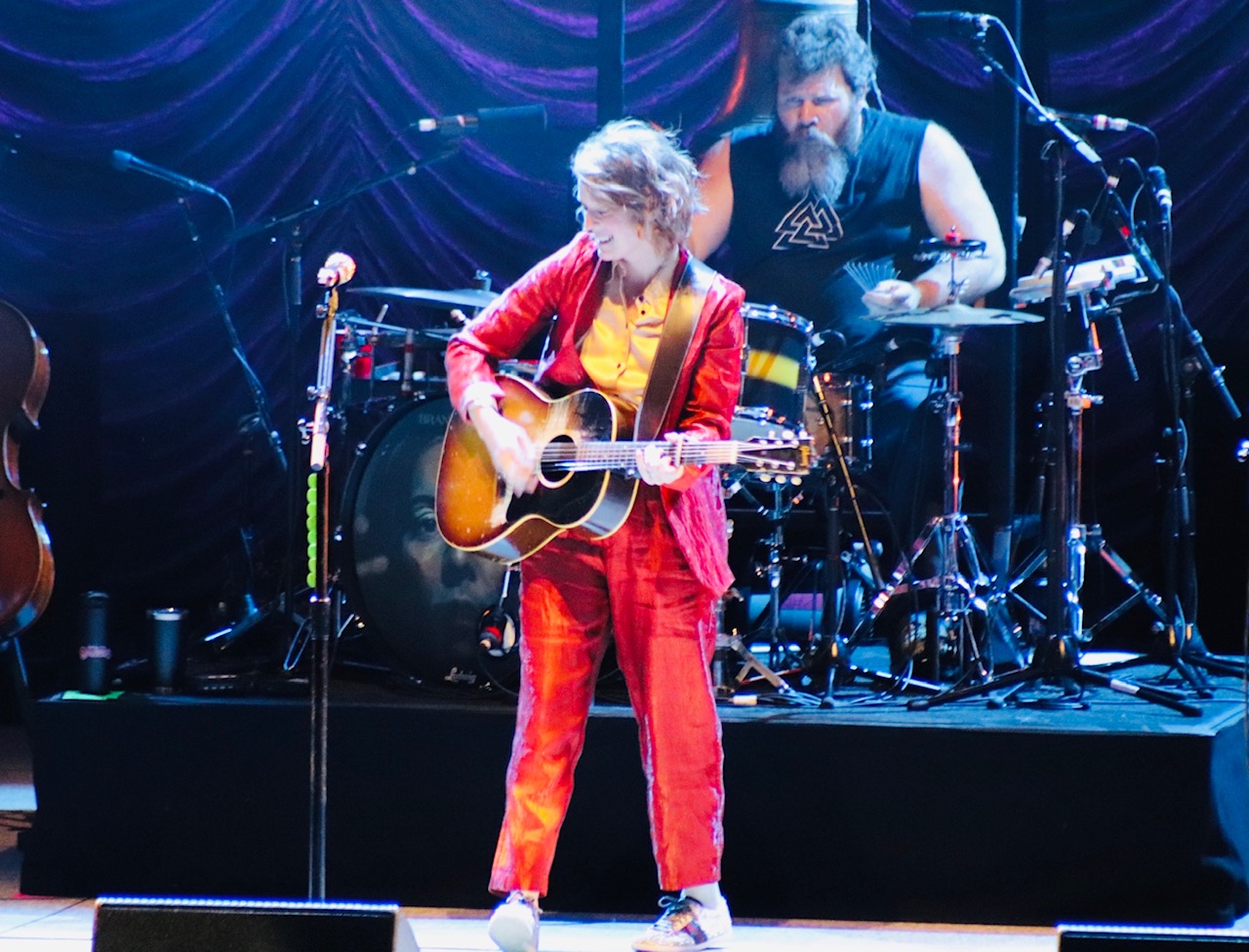 She soon welcomed openers Lucius to cover their song "Dusty Trails." The three women harmonized center stage and soon broke out with Heart cover, "Alone." She wrapped up the tributes with Elton John's "Madman Across the Water."
Carlile has come a long way. After dropping out of high school, she taught herself how to play guitar and started performing for strangers. Seattle wasn't known for its twang circa 1995. But there she was, busking away at Pike Place Market for an extra buck or two. It's the city Carlile befriended twin brothers Phil and Tim Hanseroth. The pair were the only two with day jobs, and at the end of every tiny gig they'd slip their earning into her guitar case. It's the kind of love she writes about in her most heartfelt songs.
Jumping and fiercely strumming her guitar, Carlile also knows how to slow it down for the tearjerkers. She stood alone under a spotlight center stage and joked about her two small daughters before playing "The Mother" (By the Way, I Forgive You, 2018). Fans swooned to "The Joke" (By the Way, I Forgive You, 2018) and oldie "Pride and Joy" (Give Up the Ghost, 2009) before the band ran off stage.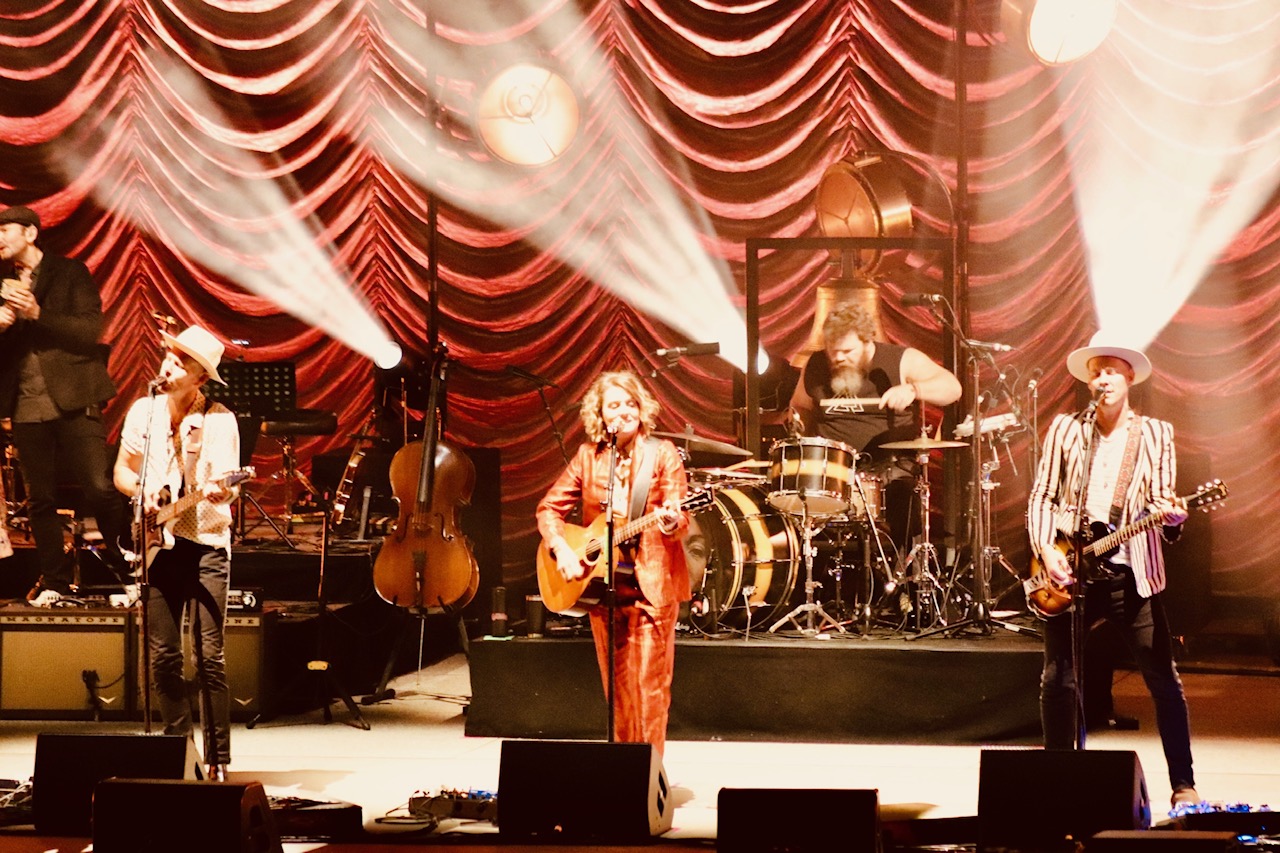 It didn't take more than 30 seconds before the band reemerged and closed the evening with two more tunes—"Mainstream Kid" (The Firewatcher's Daughter, 2015) and "Party of One" (By the Way, I Forgive You, 2018).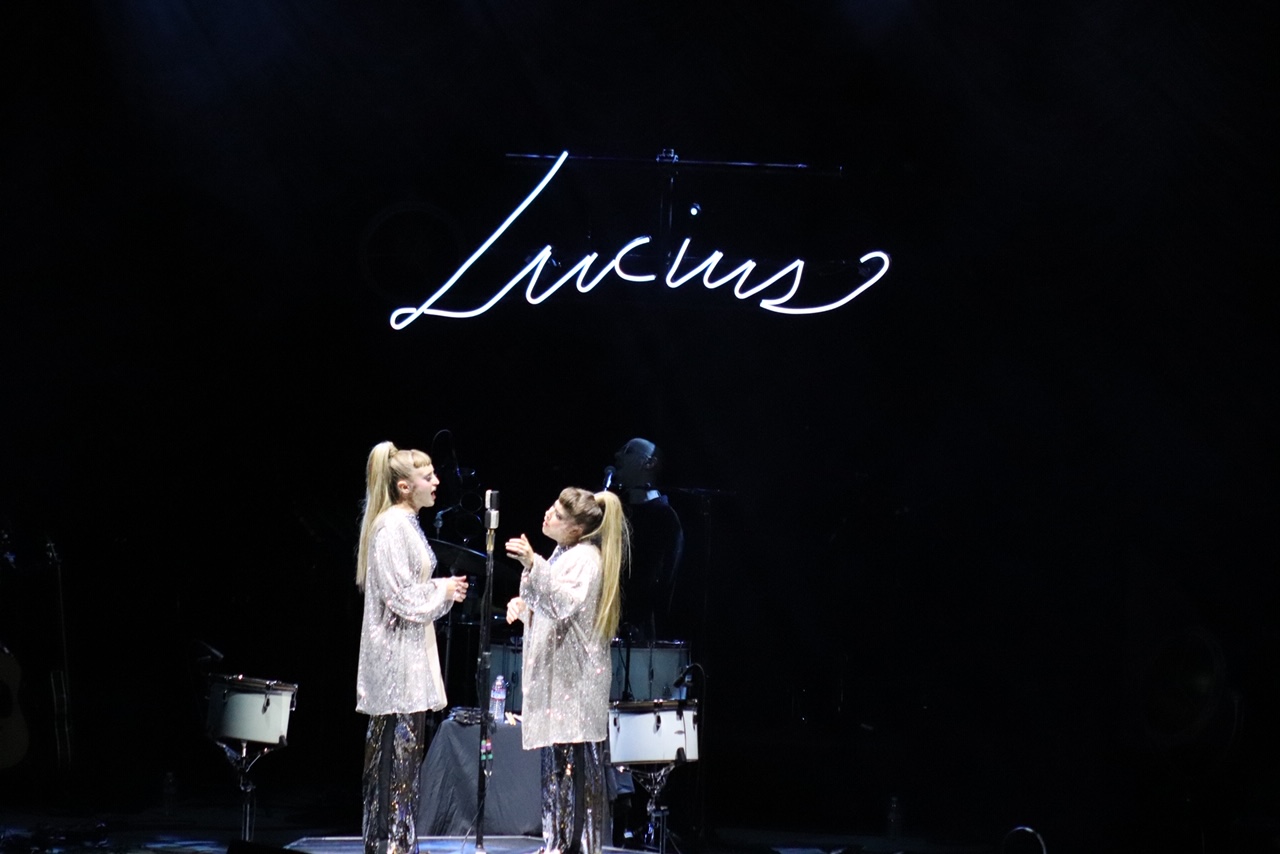 Lucius, a four-piece indie pop band, opened the night. Head-to-toe in silver sequin, singers Jess Wolfe and Holly Laessig faced each other on stage. Leaning toward their shared mic, the duo broke off and danced, swirling their long blond hair in circles.  Opening with Illene Woods' "A Dream is a Wish Your Heart Makes," the Brooklyn band also played originals like "Tempest" and "Something About You" before closing their set with "Genevieve."
Brandi Carlile:
Setlist: Hold Out Your Hand I Wherever is Your Heart I Hard Way Home I The Story I The Eye I Raise Hell I Fulton County Jane Doe I A Case of You (Joni Mitchell cover) I Dusty Trails (Lucius cover with Lucius) I Alone (Heart cover with Lucius) I Madman Across the Water (Elton John cover) I The Mother (solo) I The Joke I Pride and Joy II Mainstream Kid I Party of One
Find out more about Brandi Carlile here.
Lucius: 
Setlist: A Dream Is a Wish Your Heart Makes (Ilene Woods cover)| Tempest | Right Down the Line (Gerry Rafferty cover) | Turn It Around | Something About You | Nothing Ordinary | True Love Will Find You in the End (Daniel Johnston cover) | Two of Us on the Run | How Loud Your Heart Gets | Go Home | Genevieve
Check out Lucius on their website.