Ziek McCarter is the lead vocalist for Con Brio. Since arriving in the Bay Area from Texas almost nine years ago, he has gained a reputation as a frontman who is a tremendous vocalist with incendiary dance moves and astonishing agility as he often defies gravity on the stage. In his time with the band, they have evolved from a club band, to a festival must-see, to an international touring act. That's quite a climb. He has also worked on other impressive music projects including an incredible live tribute collaboration of Prince's "Dirty Mind" album with Karl Denson's Tiny Universe.
SF Sonic sat down with Ziek recently at California World Fest and caught up as the band snapped back from the lingering jet lag of flying back from a festival in Italy a couple of days earlier to put on a pair of killer performances on a Sunday. With McCarter, the band have released the 2015 Kiss the Sun EP, and 2016's Paradise and 2018's Explorer. In between tour dates, the group have begun working on their third full-length release.
SF Sonic: With Explorer, your second album, what did you learn between that and Paradise, your first full-length album?
Ziek McCarter: With Explorer, it's really in the title, we're just branching out sonically and there's so much inspiration that we had gathered with Paradise. We had circled the world twice. So there were a lot of acts we had seen, a lot of different music we were listening to in the van. We spent a lot of time together. It was kind of a creative hub. And we wanted to explore that through the music, with some of the sonic choices and the production. We found a producer in LA and we were taking what we were working with but making it feel like now. Not necessarily like an homage or an extension of retro. That's awesome too though
SF Sonic: You mean like retro as in the older Con Brio material?
Ziek: Ya, I mean we're still not finite, in one place because we have so many dynamics that we are working with. Every album is completely different. It was in the title, we just wanted to explore the sonic places.
SF Sonic: So what about the new music that you're working on right now? The follow-up to Explorer? How far along are you?
Ziek: We've got some miles on it. We've been recording. Any time we have in the Bay, we are recording and doing stuff. We have a studio in West Oakland and we're doing it all ourselves. Kirch (bassist Jonathan
Kirchner) is mixing it and recording it, so it was also like the Sun days (the Beyond the Sun EP) that was produced in house.
SF Sonic:How many years have you been with the band now?
Ziek: We're going on seven years now-since 2013?
SF Sonic: That time just flew by!
Ziek: Ya.
SF Sonic: I remember meeting you at the Guitarfish Music Festival for the first time on that Sunday (in 2014). That set you guys played at noon made quite an impact. So how far does the band go back? Who are the original players?
Ziek: The original, original  is Kirch(Kirchner). He and Micah Dubreuil the old keyboardist and Xandra Corpora, she was the vocalist. They all started it and were playing around for a while. Then Andrew came onboard and he went out with them. But Kirch is OG. Triple OG!!!
SF Sonic: On Explorer, a couple cuts like "Too Lit 2 Quit" has kind of a Hammer influence (2 Legit 2 Quit) on the chorus and then on "Texas Summers," you have a reference to Whodini's  "Freaks Come Out At Night." How big of an influence is the 80s on you?
Ziek: Huge. Ya that's what I grew up on. That's what my parents partied to. Whenever they were partying I was looking up like 'Oh man,' they were having a good time. You know, actually MC Hammer came to a show not too long ago. We played a show at the Chapel and he was front and center going hard Hammer-style with a suit on. It was hot, he was wiping sweat off his head. It was crazy. That is definitely inspired there.
SF Sonic: Did you get to talk to him after?
Ziek: No I didn't get to talk to him. He made his cameo and then got up out of there. So the 80s definitely influenced me, but all genres of music have influenced our sound. But the 80s were pretty strong. We've got a lot of 80s babies in the band. It's classic feel good, it was an interesting time.
SF Sonic: You guys have done quite a bit of touring overseas. Japan, Europe. It seems like your building a strong fan base in those directions?
Ziek: Ya, it's been so far so good overseas. We're just trying to keep that audience engaged. We're keeping the music coming and touring and visiting with them. It's been great. Japan is awesome. We just came back from Italy two days ago. We played the Umbria Jazz Fest in Perugia and that was awesome. It was gorgeous. I love traveling.
SF Sonic: How is your Italian coming along?
Ziek: It's coming. It's further along than any other.
SF Sonic: Ya Japanese is pretty tough.
Ziek: Ya, I know a couple words. Greetings like thank you and hello.
SF Sonic: Going back to when you guys toured with the Revivalists a couple of years back, that was a time when their song "Wish I Knew" was starting to hit the charts and things were starting to go crazy for them. So, is that a prototype you guys would like to follow up in the future?
Ziek: We are not opposed to their successful trajectory. As far as like a prototype? We have our own dynamics that really are interesting and we have so much depth to explore. I think we want to be the best version of ourselves by digging deeper. The truest version of ourselves through our music, our performances, what we put out. The Revivalists are like brothers. Continued success to them. Them along with Galactic, Turkuaz, we're all one music family. That's how I look at it.  But as far as prototype, I don't know. Maybe like a mold? Or some kind of trajectory that we want to emulate in some way?
SF Sonic: Ya, like some sort of success path?
Ziek: Ya, maybe like Queen or something?
SF Sonic: Did you watch that movie?
Ziek: Bohemian Rhapsody? I did. I watched it on the plane the other day again for like the third time. But ya, that's a good one. We're displaying all our colors right now. That's what we're working with.
SF Sonic: As far as yourself, your reputation as a singer, frontman, dancer is incredible. Do you plan on playing or learning to play any instruments or do you play an instrument?
Ziek: I actually write with keys. A lot of songs and melodies, a lot of the compositions.
SF Sonic: Are you the main lyricist?
Ziek: I am. I write music as well. The voice is an instrument. Actually, the first instrument I learned was piano and then I picked up the bass. The bass is how I was basing everything I was writing music. I think maybe what you're getting at is playing music onstage?
SF Sonic: Ya.
Ziek: I want to pick up guitar. I want to play rhythm guitar. I don't want to do a big epic Benjamin Andrews solo. I want to play some dope pocket stuff, just hold it down in the support system. But I like playing keys too. Sometimes I play organ onstage.
SF Sonic: So that still happens?
Ziek: Oh ya, whenever it's cookin' right.
SF Sonic: So when you came out to California from Texas, how old were you?
Ziek: I was 18.
SF Sonic: How old are you now?
Ziek: I'm 26.
SF Sonic: What about influences you have right now in the music scene?
Ziek: I love a lot of the raw, honest that is emerging from our younger generation right now. Artists like Daniel Caesar, H.E.R. You know musicianship is always valued and it comes in waves. And I feel now there's just a bubbling right now and I really appreciate it. H.E.R. is one of the things I've been listening to and Caesar. There's this guy I discovered a couple of days ago called Somatt. He's amazing. Anderson Paak is killing it right now. All of those are inspirational for me and a lot of people I know.
SF Sonic: No question. So with the new music you are writing, what direction do you think you are headed?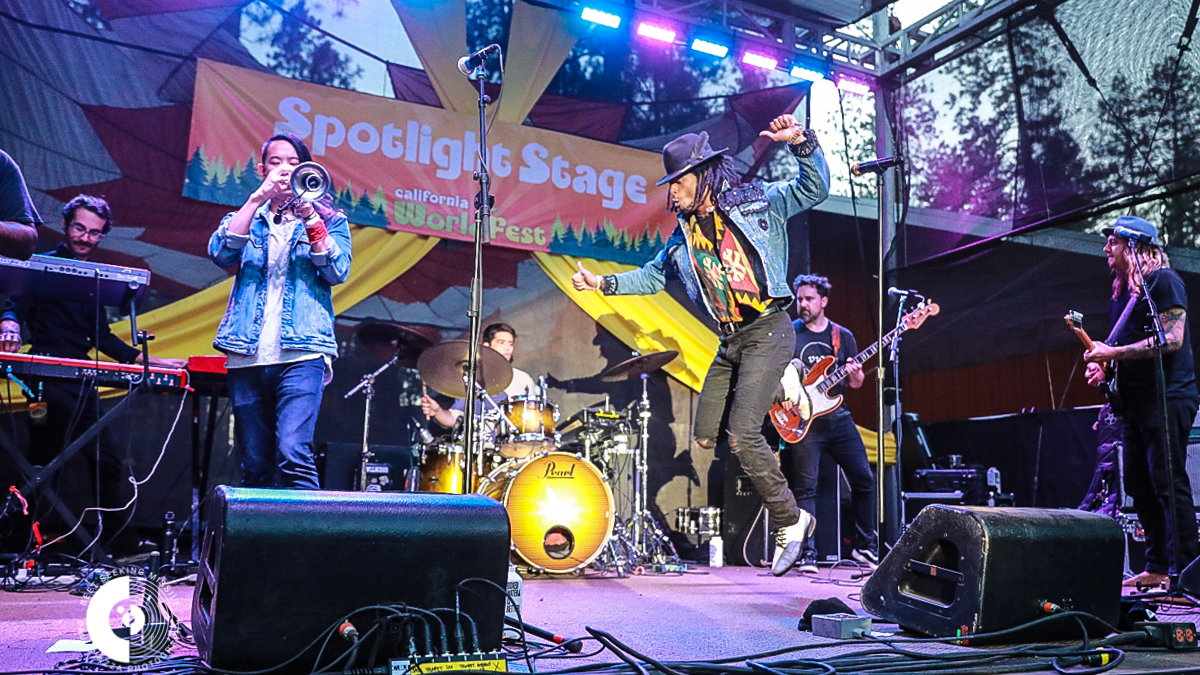 Ziek: The direction we're headed in is still geared towards growing hearts and souls. We've grown through a lot of changes on both sides of our dashboard since Explorer was released. Whereas Explorer was more a reflection of our external joys and traveling experiences, our new music feels more introspective and raw, while still uplifting. Conceptually and lyrically drawing inspiration from some of the more vulnerable and sometimes dark topics. Thoughts and questions around self-reflection, self-care, self-actualization and being supportive of who and what matters most at this time of our lives. We feel people want to hear something that's imperative. Something raw and inspiring. Musically we're drawing inspiration and growth from all three of our last projects. Some of Explorer's unbridled joy and contemporary production styles. Some of the hopeful spirit yet gritty rock elements of Paradise, mixed with some more of the improvisational elements from our first record, Kiss the Sun, where it was all self-produced.  We've even got Kirch (bassist Jonathan Kirchner) back behind the boards recording, mixing and mastering! We've hit a new level of confidence sonically and it's been liberating to create our music from a place that's clear from all external industry agendas. We're excited to have some new releases and tour dates coming out this fall with Lyrics Born.
SF Sonic: Do you have those kinds of conversations as you travel around to other countries?
Ziek: Oh ya, there's definitely a global conversation. I'm glad to be a part of it.
SF Sonic: Ya, I went to Greece last year for the first time in about twenty years and you know they've had a lot of economic and other challenges there. But when I sat down with my auntie, who is about 85, she asked me about the crisis. I said, "Oh ya, I've been learning about your problems here." And she looked at me and said, "No, I mean YOUR crisis in America."
Ziek: Ya, especially when Trump became President. We don't have to talk about that but when we toured after he became president, a lot of interviewers were sitting around asking, 'What do you think about Trump? What do you think about your president and how he's representing you?' It's horrible.
SF Sonic: Have you guys played out for any social cause or benefit?
Ziek: We did this thing for W. Kamau Bell, I think it was called Truth Speaks.  It was dope. We did it in Berkeley. He said that we were Trump's worst nightmare – we were a multi-racial band making people feel good.
SF Sonic: I love that.
Ziek: That was pretty dope. Shout out to Kamau Bell. But ya, we've been a part of social platforms that speak and touch on those things.
SF Sonic:: Ya, and you do it in an incredibly positive way and I appreciate that.
Ziek: Ya, that's what we're pushing. Definitely positive. That's what we wanna create…and keep it real at the same time.
Photos by Paul Piazza.