Not To Miss is a bi-monthly column dedicated to all things music related that might have fallen through the cracks.
SEED ENSEMBLE/Afronaut/jazz re:freshed
Afronaut, by SEED Ensemble, is an eight-plus minute jazz opus that shuffles and swings along to cascading horns lines, fiery poetic stanzas referencing Toni Morrison, and grand tempo fluctuations. Delivered exquisitely by SEED Ensemble, the track explores West African rhythms, Caribbean intonations, and Hip-Hop bombast.
Formed in 2016, the emerging ten-piece London-based collective, led by composer, arranger, and alto
saxophonist Cassie Kinoshi combines African, Caribbean, and contemporary dance grooves with R&B and classic 60s Jazz ensemble harmonies. Already a force on the UK jazz scene, Kinoshi is known for her work with the all-female jazz septet, Nerija, and Afrobeat jazz group, Kokoroko.
Cassie Kinoshi's SEED Ensemble explores several genres through written and improvised arrangements. According to the leader: "SEED Ensemble is my way of celebrating the vibrant and distinctive diversity that has much influenced what British culture has become over the centuries."
Projecting this new musical vision are some of London's most up-and-coming young jazz musicians essential to the modern identity of British jazz including tuba player Theon Cross, trumpeter Sheila Maurice-Grey, tenor saxophonist Chelsea Carmichael, and one of London's leading guitarists, Shirley Tetteh.
Listen:
Floating Points/Late Night Tales
Globally traveled producer Floating Points is the on-deck artist to helm the latest installment of Late Night Tales, the long-running artist-curated mix series. His personal collection of global soul, ambient, jazz, and folk treasures form the contents of his mix, aims to show the stillness of the night. While Shepard's music palate remains varied and inspired by the moment, incorporating every genre known to man except New Country, his goal always remains to combine the spiritual with rhythmic exultation.  Similarly, his production career has ranged from early experiments in dance music with breakout records such as the 2009 Vacuum
Boogie EP to the 2010 Peoples Potential release and collaborating with legendary Gnawa master Mahmoud Ghania to his expansive album Elaenia, which met with critical acclaim upon its release in 2015.
This Late Night Tales excursion into the depths of the evening is said to show his broad tastes. There's the gorgeous "Via Làctea," taken from Carlos Walker's debut album, Bobby Wright's "Blood Of An American," and Robert Vanderbilt's gospel reworking of Manchild's "Especially For You." At the other end of the music scale are the modernists, such as Québécoise Kara-Lis Coverdale, who weighs in with "Moments In Love," Kaitlyn Aurelia Smith, whose "Milk" is an exercise in tranquility, while Sarah Davachi's meditative mix-opener offers respite from a weary world.
According to Shepard: "I've learned about a lot of incredible music from listening to the Late Night Tales compilations over the years, so I jumped at the opportunity to compile one myself. The music is a selection of the kind of records I play to set the tone when DJing all night long."
The mix lands March 29, here is a sample:
OCTO OCTA/I Need You
Make no mistake, Octo Octa, the Brooklyn Electronic music producer, is geared up and making compositions that command large dance floor attention. For Lovers, the upcoming EP from Maya Bouldry-
Morrison, out this Friday on the Ninja Tune imprint Technicolor, already has that big breakbeat meets dreamy house feel that slips in and out of genre classification but retains a presence when hitting subwoofers and bass bins.
"Bodies Meld Together," the most recent release, a hazy house workout with drum and bass type 808 hits and expansive synth progressions, is, according to Morrison, "a song about physically connecting with the people you love. I believe that connection is a deeply integral part of creating bonds and trust with them. It's about sharing an experience of becoming one with them and having that experience carry on. Love is important and showing that love to your partners in important. It lets you all become a stronger force together."
For Lovers EP is out Friday, March 1st on Technicolor. Listen here:
Pursuit Grooves/MUTEK MIX
Last year's Felt Armour release by Pursuit Grooves created an intoxicating mid-tempo soundscape that poured bass-heavy textures, mechanical noises, dub, and trip-hop esthetics into the mix to create a modernist, industrial soul vibe. Shit was fabulous, Fam!
[bandcamp width=100% height=42 album=715518736 size=small bgcol=ffffff linkcol=0687f5]
Here we have a brand-new mix from her, captured at Mutek, the globally renowned Montreal Electronic Music Festival, from last summer. 44 minutes of alluring mechanized soul.
Her bio from the Mutek Page: "The sonically adventurous stylings of Pursuit Grooves oscillate between moments of jittery tension and silky release: her chopped-up bass lines, woozy melodies, and improvisatory funk add up to a smorgasbord of twisted house cuts. For over a decade, she has acclimated us to her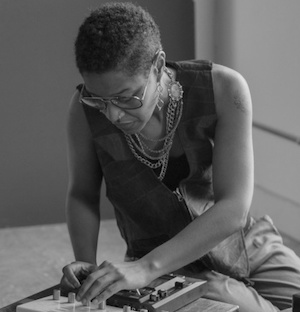 beautiful bias for balance—light and dark, fragility and toughness—by seamlessly blending deep machine soul, dismantled hip-hop instrumentals and heavy hitting, genre-bending dub."
Pursuit Grooves is the long-running musical project of Vanese Smith – an American-born, Toronto-based producer, vocalist, DJ, and visual artist. Smith began shaping what would eventually become the Pursuit Grooves sound from a very early age, buying her first piece of gear at fourteen, collecting 12-inch vinyl hip-hop instrumentals, and making music using analog synths and assorted four-track tools. She's an alum of the 2008 Red Bull Music Academy in Barcelona and has showcased her triple-threat abilities—producing, singing, and rap—ever since, releasing material on Pinch's Tectonic, Gilles Peterson's Brownswood and her own label What Rules. She has remixed The Knife, taught at Toronto's Off Centre DJ school, and been described as "eternally underrated" by FACT. Prior to releasing her twelfth album, Felt Armour, to great acclaim this past winter, Smith had spent the last three years building her graphic design and product line, MO:delic Arts.
Smith has performed with her trusty hardware sampler at festivals such as Barcelona's Sonar, Austria's Elevate, and Detroit's Movement. For the very first time, she brings the percussive punch of her latest Felt Armour cuts to MUTEK's outdoor stage.
mvnners/Small talk/SXN
Hailing from the El Paso, TX area, multi-instrumentalist, and producer Avery Rivera, aka mvnners, deals a healthy dose of long sporadic nature like vistas on his mellow hang of an amazeballs five song-EP Small Talk. Yes, amazeballs.
Many times experimental beat heads somehow concoct "clever" soundscapes that desperately want to resemble nature. Problem is, those endeavors tend to sound corny…preachy. Motherfucking forced. Like a
Greenpeace canvasser trolling your ass at home. Rivera, whose music can be defined as part of the internet-based genre 'sleepwave,' seems real comfortable letting things move along, at ease. Organic spaces are good is the message here. Sounds just happen.
Funny enough, there is a sonic kinship or link to the San Francisco trip-hop moment of the early 2000's here. Small Talk carries the same feeling of beautiful desolation that emanated from the Lower Haight. So instead of nodding your head on the slow as fuck, but always entertaining, 22 Filmore Bus down Haight Street on a murky overcast day, peering out the window, desperate for visuals…Mvnners paints a beat canvas in your mind that imagines "The Ballad of Buster Scruggs," working with a "gentle" mescaline buzz, wandering about the desert at lizard's pace. Sure the voices, micro tensions, and woodblock chops help build up the ephemera at work here, but it's the vision and handle of perfecting that feeling…" Are these songs actually going to make their way to the end, or stop on the side of the road for a "slushy." That built-in uncertainty makes this EP psychotropic and sobering all at once.
Harvey Sutherland/Something In The Water
DJ and Melbourne raised musician Harvey Sutherland has moved on from his earlier productions that created space where loft-jazz purists and contemporary house/electronic music enthusiasts could meet. "Something In The Water," the first single from Sutherland's new studio band, featuring drummer Graeme Pogson, percussionist Phil Binotto, and bassist Luke Hodgson, and sees the new lineup working at a crisp and tight incarnation. The trademark wavy synth washes are still here, but they are used in more of a
compacted formulaic design. Featuring vocals from Melbourne soul singer Jace XL, the track draws from a need to find hope and life among dire environmental warning signs.
Sutherland, who directed an east coast Australian tour with an 11-piece band in support of New York Boogie icon Leroy Burgess in 2018, came to international notoriety by making a name for himself among Australia's bubbling electronic underground. Mike Katz began to make international waves in 2013 with a series of successful 12" records under his nom de plume. Blending a broad array of crate-digging influences, his first EPs have already been championed by international tastemakers like Gilles Peterson, Jamie xx, Disclosure, The Black Madonna, and Pete Tong.
A full digital single including new versions of these tracks will be released March 29th
[bandcamp width=100% height=42 album=3931265985 size=small bgcol=ffffff linkcol=0687f5]
Bells Atlas/Belly
You can never predict EXACTLY what the Oakland psych R&B band Bells Atlas is about to get into.
And that gives me goosebumps. The good kind, ya know?
If you wager, with your eyes gently shut, you got a 50/50 shot it will be an artfully weird post-soul concoction, with thick drum sounds and cinematic keyboard accents. Their latest single "Belly," from their forthcoming The Mystic, out March 19th on Tender Loving Empire, proves once again when you come with the avant-garde, make it slap, cause while folks are nodding their heads, they will stick around and try to figure the rest out.
The band describes the new track as "giving into the fullness of a moment and a connection with someone new, and how sometimes even in the midst of that rush of attraction, you realize you've made yourself vulnerable to someone you barely know. Or maybe, you start creating stories about who the other person is or what they could be thinking. Sometimes you even start to wonder, "Am I tripping or was their whole face different a minute ago? Why are they looking at me like that? Am I actually into this person? Why did I invite them into my space again?"
While all of that may be true, paranoia remains a helluva motivator for making legit joints that bump.
Bells Atlas will be playing The Starline Social Club in Oakland on May 11.
Watch here: