Mind Bahn
Jouis
None More Records
Jouis (pronounced "jew-eee"), a three-piece Brighton-based psychedelic rock band, put together a full-utility "traveling without moving" type function on their sophomore outing. Complete with the dramatic turns, zips, and vacuum cleaner sounding chord progressions that get prog heads in the mood. Mind Bahn, nine songs that trade back and forth in sequence between balladry and supreme atmospheric territory, is the full out-and-out representation of that set.
Laying claim their influence draws on the bands from the late 60s & early 70s Canterbury scene performers such as Caravan and Soft Machine may have legs. But "Wiltons Green" gives off peak XTC lyricism and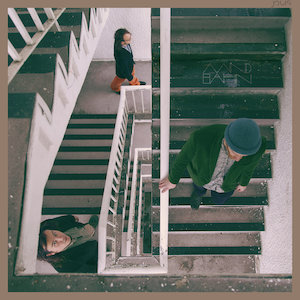 arrangement chops with a King's X vocal harmony feeling running through quick and tidy. "Sinking Statues," a driving chest thump AOR sentiment, marks the cross-section of styles here, blurring Mellotron riffs into the kaleidoscopic ether.
But "Turtle," the expansive 7-minute evergreen composition, is the first of a couple "oh shit" moments where this little trio puts the drop on everybody. We finally get those mellifluous West Coast harmonies, not flirtatious teases. Sure, the next song "Cat" is a fetching acoustic piano instrumental, beautifully presented, begging for a ballerina and a music box.
It's just those certain moments, when the boys cook up majestic runs, such as the three-movement, high flowing odyssey "Medievil." Be sure to stay hydrated and keep up. That West Coast fusion mood gets dodgy. It bounces, flips and literally vrooms through a grandiose spaced out crevace. That type of bombast and groove steals the show.
You can file Jouis on a playlist between contemporary prog rockers Once and Future Band from Oakland and the Melbourne, Australia bred Mildlife, just to the left of the French outfit Aquaserge. A lineup yearning for the outdoor festival circuit.
Listen to "Medievil" by Jouis: