Wu-Tang Clan
Shoreline Amphitheater, Mountain View
June 22, 2019
Photos by Paige Parsons
"Wu-Tang Clan ain't nuthin to fuck wit!!" they said it, and they proved it….tigah style. If you were at the Shoreline to see the Wu re-enter the 36 Chambers you know exactly what I am talking about. If not, you are probably wondering WTF am I talking about?  Well then, let me 'splain.
Wu-Tang Clan, the forefathers of hardcore underground East Coast hip-hop rolled through the south bay and delivered a fiery set focusing on their now 25-year old masterpiece Enter the Wu-Tang (36 Chambers). If that thought makes your head nod, you were likely one of the thousands who stood ready to rap along with every song that Wu Tang Clan blasted.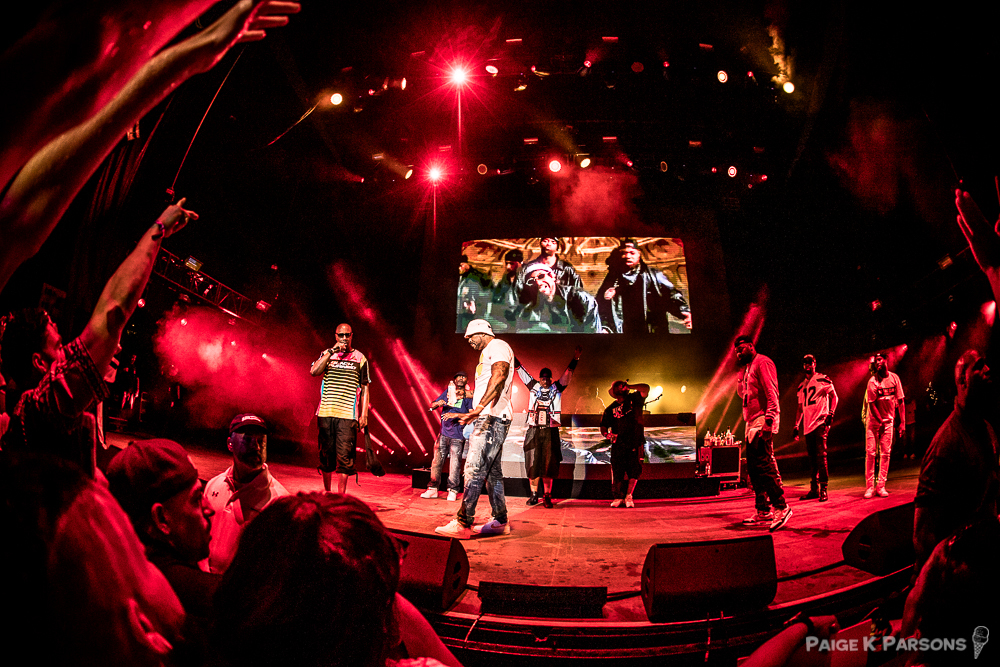 From the opening sequence of 'Bring Da Ruckus' the Wu, comprised of the RZA, GZA, Ghostface Killa, Masta Killa, Raekwon, U-God, Inspectah Deck, DJ Mathemetics, Cappadonna, and Young Dirty Bastard (standing in for his father Ol' Dirty Bastard – R.I.P) swarmed the stage like only the Killa Beez could.
Having so many characters and so much activity onstage, it was impossible for the packed house at Shoreline not to get sucked into the vortex. One of the most impressive things about Wu-Tang is the way they seamlessly trade off between so many voices during any given song. Perfect case in point was how on point Wu-Tang was in delivering 'C.R.E.A.M.'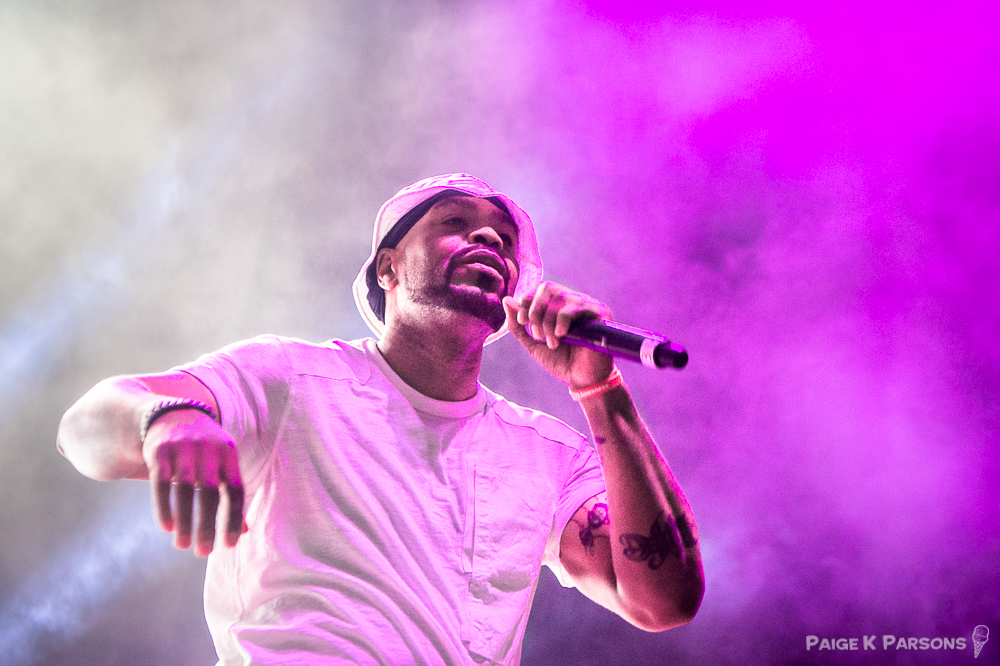 As Raekwon and Inspectah Deck sandwiched tougher than leather verses around the realest of real choruses from Method Man, the effect was mesmerizing yet cold and sobering. When stretched across the sample of the Charmels 'As Long As I've Got You' with its bouncy backbeat and haunting piano line, the result is classic Wu-Tang….dolla dolla billz y'all!
With their distinctive East Coast sound, call and response interaction with the crowd, and lots of weed smoking throughout the venue, the party was on, and the Shoreline was rocking. 'Protect Ya Neck' was a reminder of how the early '90s were a golden age of hip-hop. Back when there was true message in the rhymes, not just inanely repetitious hooks. The beats then were artistically layered with thought as to how they would work together with the message, not the same sounding, over-produced schlock that accompanies most all of today's releases.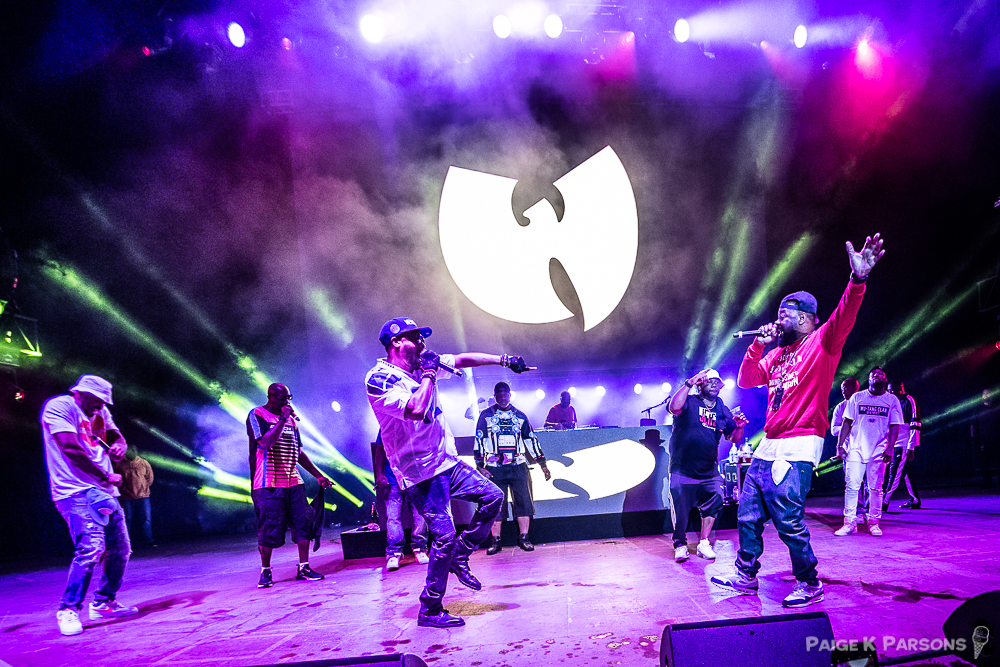 A true high of the highs for the Wu-Tang set was the closing pair of songs which resurrected the roughneck sound of the departed Ol' Dirty Bastard. If there were a roof on Shoreline, it would have been blow off when ODB's son Young Dirty Bastard ably took the mic for 'Shimmy Shimmy Ya' and 'Got Your Money.'
While not quite possessingthe maniacal insanity of ODB, YDB has an intense presence of his own that when paired with the stripped down grittiness of the beats displays the true roots of real hip-hop. Wu-Tang Clan brought the real back…they came and conquered. "Clan in da front…let ya feet stomp!"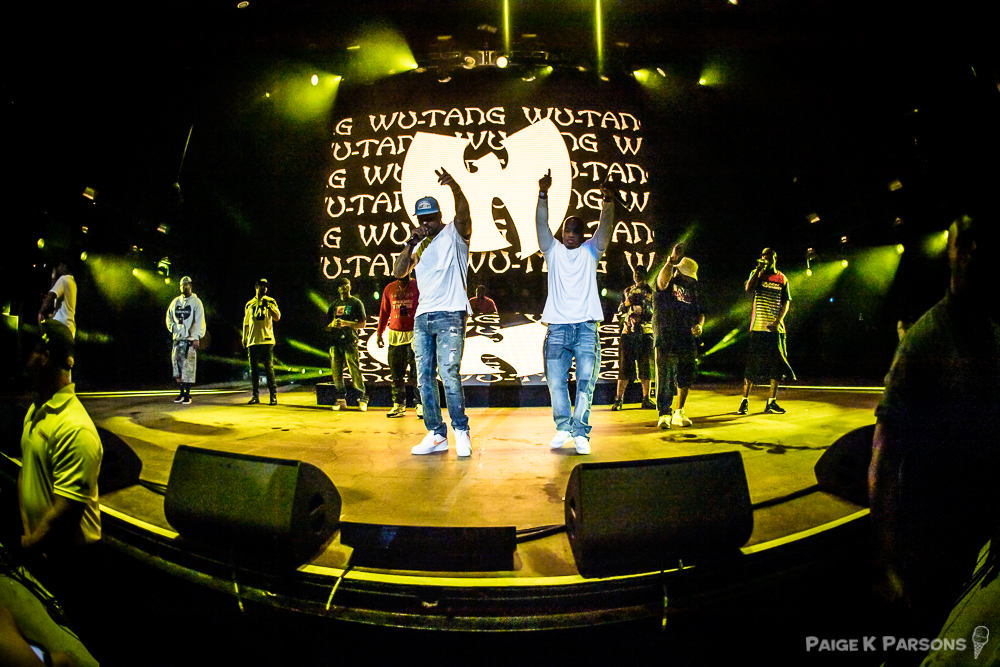 While Wu-Tang was the headliner and main draw on this hip-hop card, it was the dynamic duo of Eric B & Rakim that proved to be hidden jewel of the night. Arguably one of the greatest MCs of all time, Rakim showed that he still has mad game   Coming with a delivery that is as smooth as a Black and Mild cigarillo, the 'R' held court, pacing the stage from left to right and dropping knowledge that had hard core fans losing their minds.
All the while Eric B worked the wheels of steel to perfection. The opener 'Move the Crowd' did exactly that, and by the time they rolled into 'I Ain't No Joke,' the tight cuts and lyrical precision lifted the crowd to the next level, with many in the crowd trying unsuccessfully to keep up with Rakim's scattershot lyrical mastery.
Eric B. and Rakim still bring a hunger that has been present since they exploded out of Long Island in 1986. From 'Microphone Fiend' to 'I Know You Got Soul,' it was thunderstorm of classic hip-hop that rained down.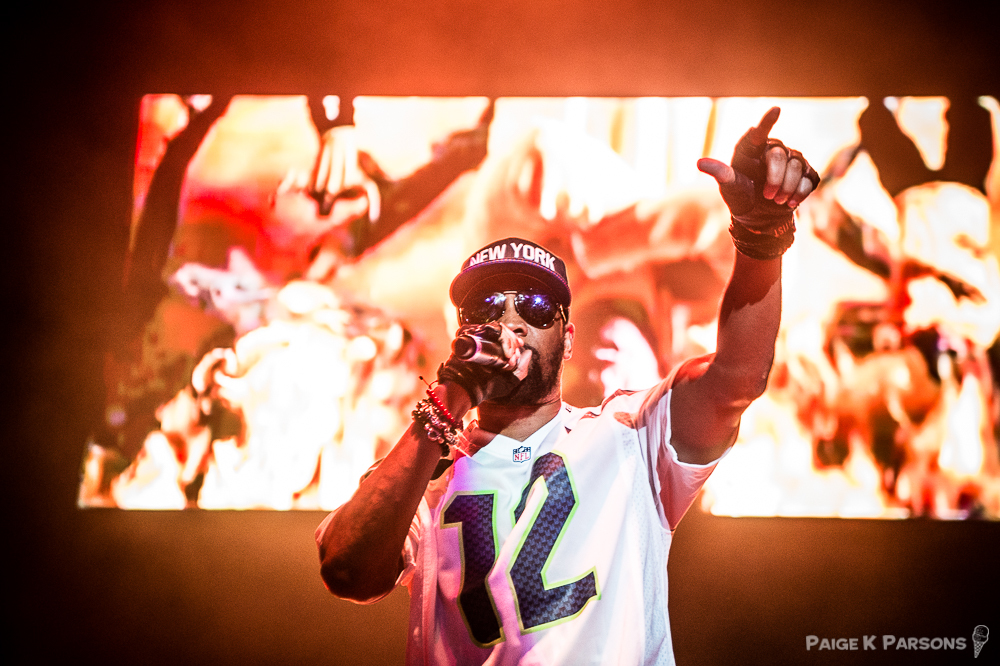 It was hit after hit, and when they broke out 'Follow the Leader,' delivered acapella by Rakim, it was absolute pandemonium. Closing with 'Paid in Full,' Rakim's serious as cancer flow over Eric B's crazy mixology skills made it obvious that their 'master plan' devised way back in the day had come to fruition….25,000 singing along was the proof. Seriously, this was gold…rap artists today do not do it like this. Eric B for President!!
Warming the crowd on this already warm evening were hip-hop pioneers of a different sort in De La Soul and The Pharcyde. De La Soul, while also hailing from Long Island, brought an altogether different vibe to hip hop during the late 80s and early 90s. Taking a ragamuffin, hippie approach to their style, they were a breath of fresh air as compared to the hard-core street sound that was seemingly everywhere.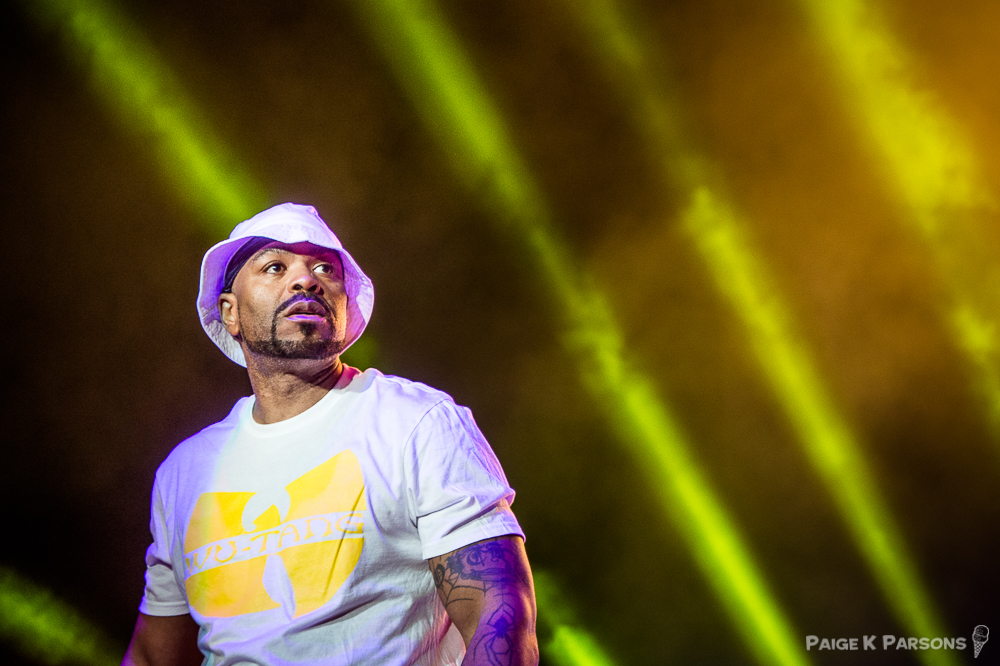 They brought that same 'party' vibe to the Shoreline. In particular, 'Potholes in My Lawn' and especially 'Me, Myself, and I,' which features a sample of the ultra-catchy Funkadelic groove '(Not Just) Knee Deep,' got the crowd in a lather with many raising a glass and singing along.
South Central LA's The Pharcyde were the sole West Coast representatives on the bill and they held their own. Sporting a more laid-back approach perfectly suited for pot smoking on a nice early summer evening, they rocked the early arrivers. In particular, folks in the lower section crowded the stage to groove with The Pharcyde as they crushed it with 'Drop' and the infectious set closer 'Passin' Me By.'
Overall this stellar bill was a testimony to the fact that there is a huge appetite for real hip-hop and that the current scene is just trying to keep up. As Rakim let us know…"don't sweat the technique."
For more information on Wu-Tang Clan, see their website.
Find out more about Eric B & Rakim here.
Keep up with De La Soul on their website.
Everything you wanted to know about The Pharcyde can be found here.