Thom Yorke
Greek Theater, Berkeley
October 18, 2019
Photos by Nicole Baptista
Spastically swirling across the stage, Thom Yorke's lime green socks peeked out from white Velcro shoes. Like a tiny cyclone, his feet impulsively tapped as his arms swam through the air. Mouth wide and eyes closed, his hands curved and reached for the crowd.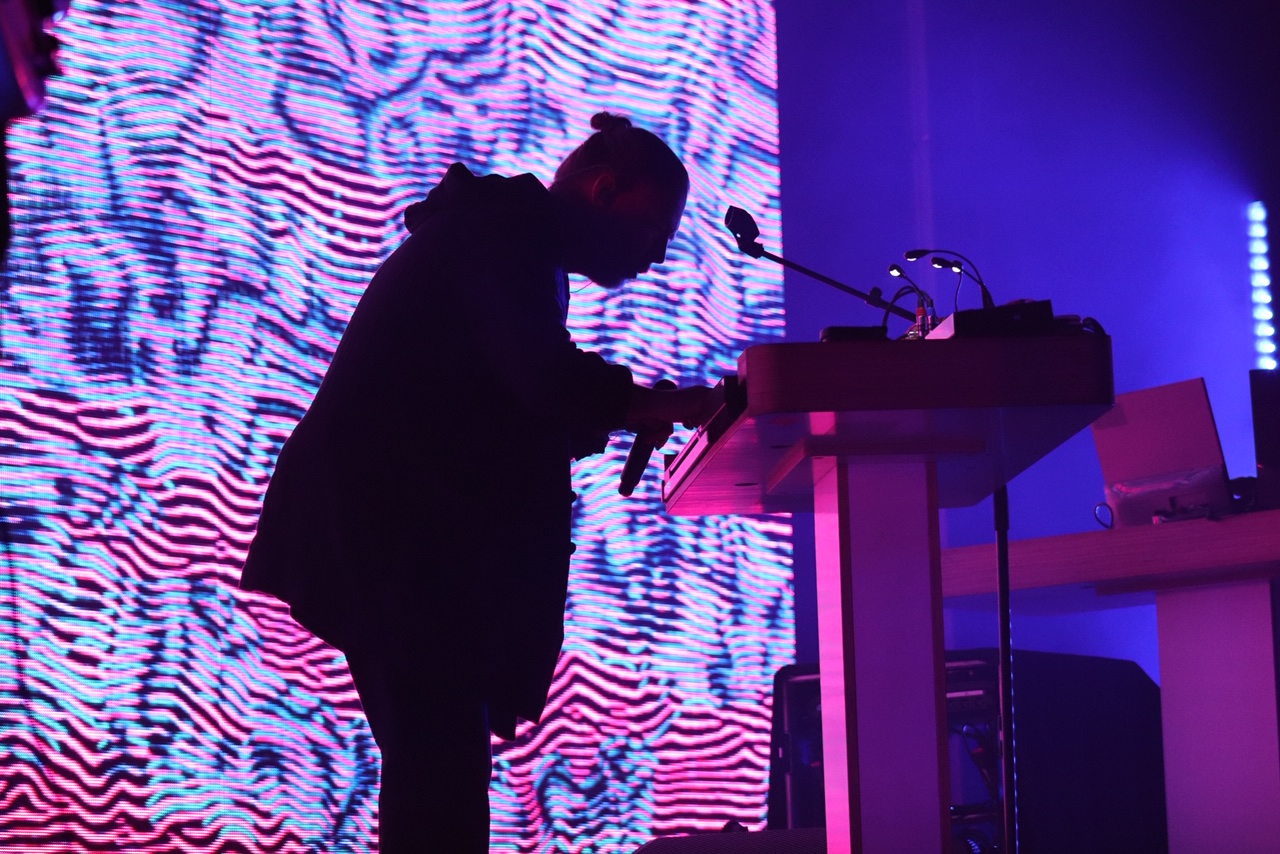 It's no secret that Yorke loves playing in Berkeley. The last time he set foot on the Greek Theater's stage was for two sold-out Radiohead gigs in 2017. Thousands of diehard fans screamed and whistled, from the floor to the grass up top. It's the fuel that makes any Yorke show so special.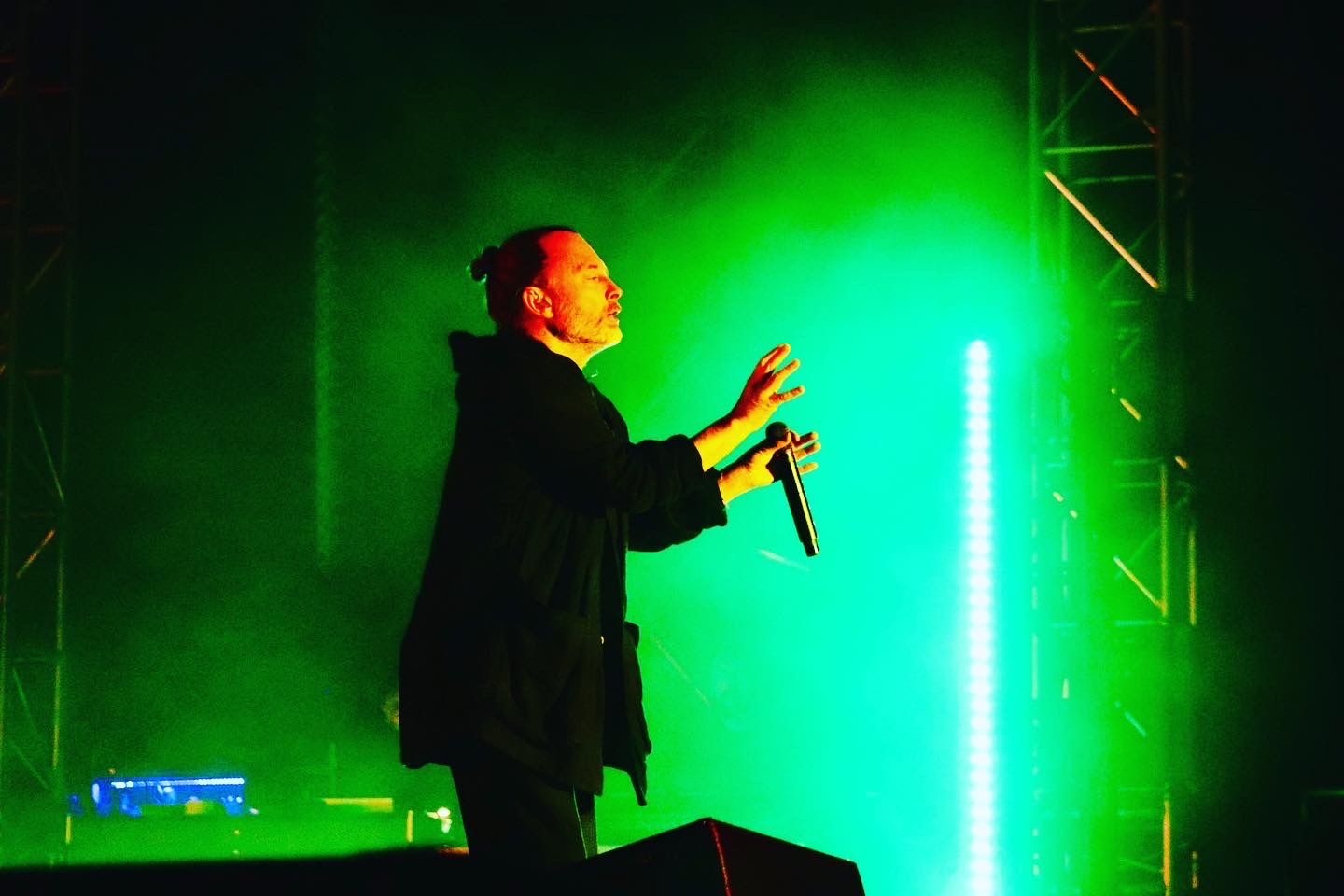 Strutting forward, he cracked a half-crooked smile and opened with "Has Ended" off his first film score. The song accompanies Luca Guadagnino's remake of Dario Argento's 1977 horror classic Suspiria. Green light poured off stage as Yorke pierced through the color with his fingertips. The melty tune felt euphoric.
Laptops, knobs, pedals, and gadgets sat atop programming stations near the back. Tarik Barri, a Dutch audio-visual master who has worked with Yorke since 2013, stood at one table and projected a new series of live electronic art to the music. Nigel Godrich, who has produced every Radiohead album since Ok Computer, took turns managing some of the digital equipment while Yorke jittered across the stage.
The crowd freely stepped into Yorke's beautiful biosphere. Shapes of all colors chaotically swirled as he twitched and clutched his mic. Peacefully possessed by the spastic imagery, everyone watched the shapes blend into each other.
Each song was accompanied by a different installment. Giant gold and red circles intertwined. The Greek's pillars illuminated with purple and blue light as a cascade of waves streamed to the rhythm. Strapped with a guitar, gripping a mic, or playing piano, he seemed just as blissed out as the rest of us.
The Englishman became an international icon as the frontman of Radiohead. The band has released nine studio albums, however Yorke's Radiohead-adjacent projects have further proven his artistic genius.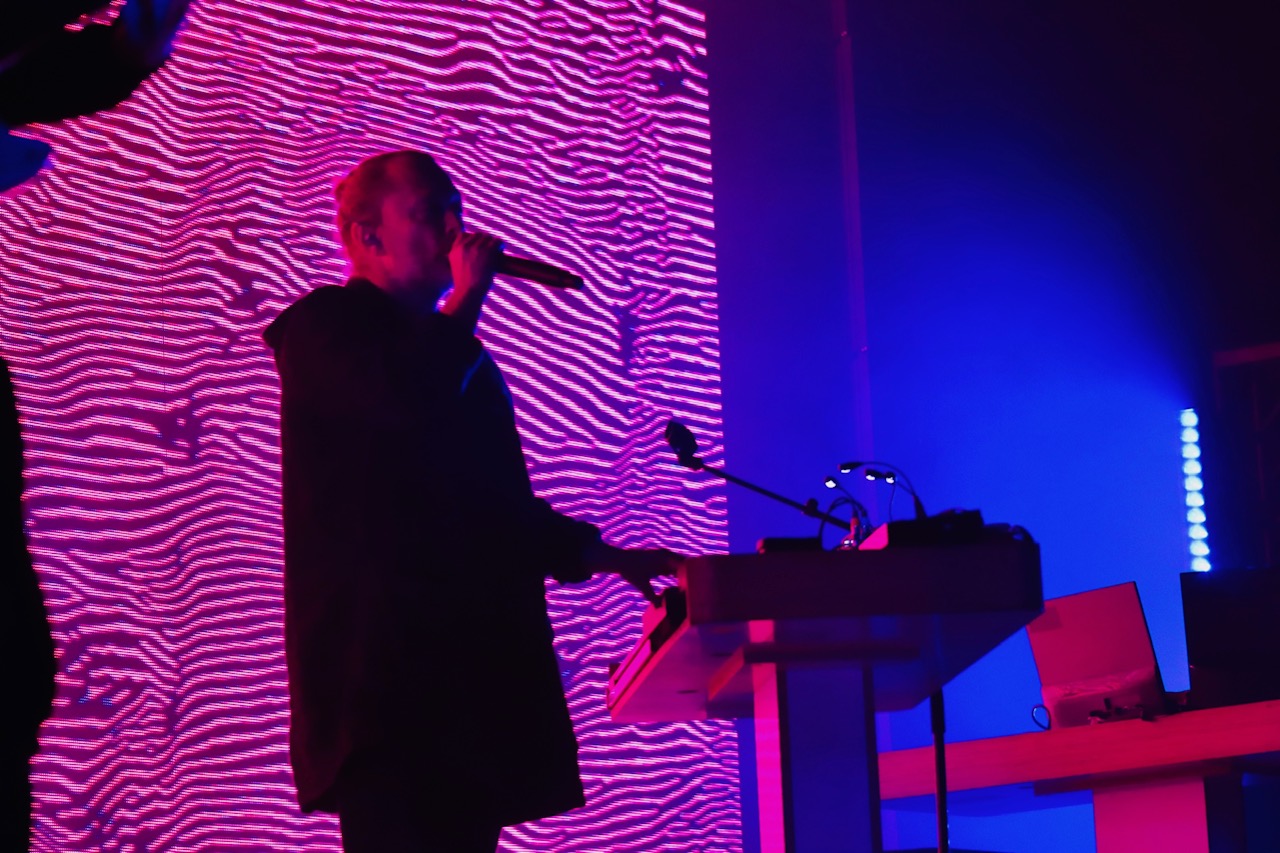 Yorke just released his third solo album Anima, which was accompanied by a short film. But he's been experimenting on his own for years. He debuted The Eraser in 2006 and initially formed the electro-experimental supergroup Atoms For Peace (with Godrich, Flea, Joey Waronker, and Mauro Refosco) in 2013 to play material from the album. Later the group released their own record, AMOK. Yorke's Tomorrow's Modern Boxes came out in 2014 and last year he composed Suspiria.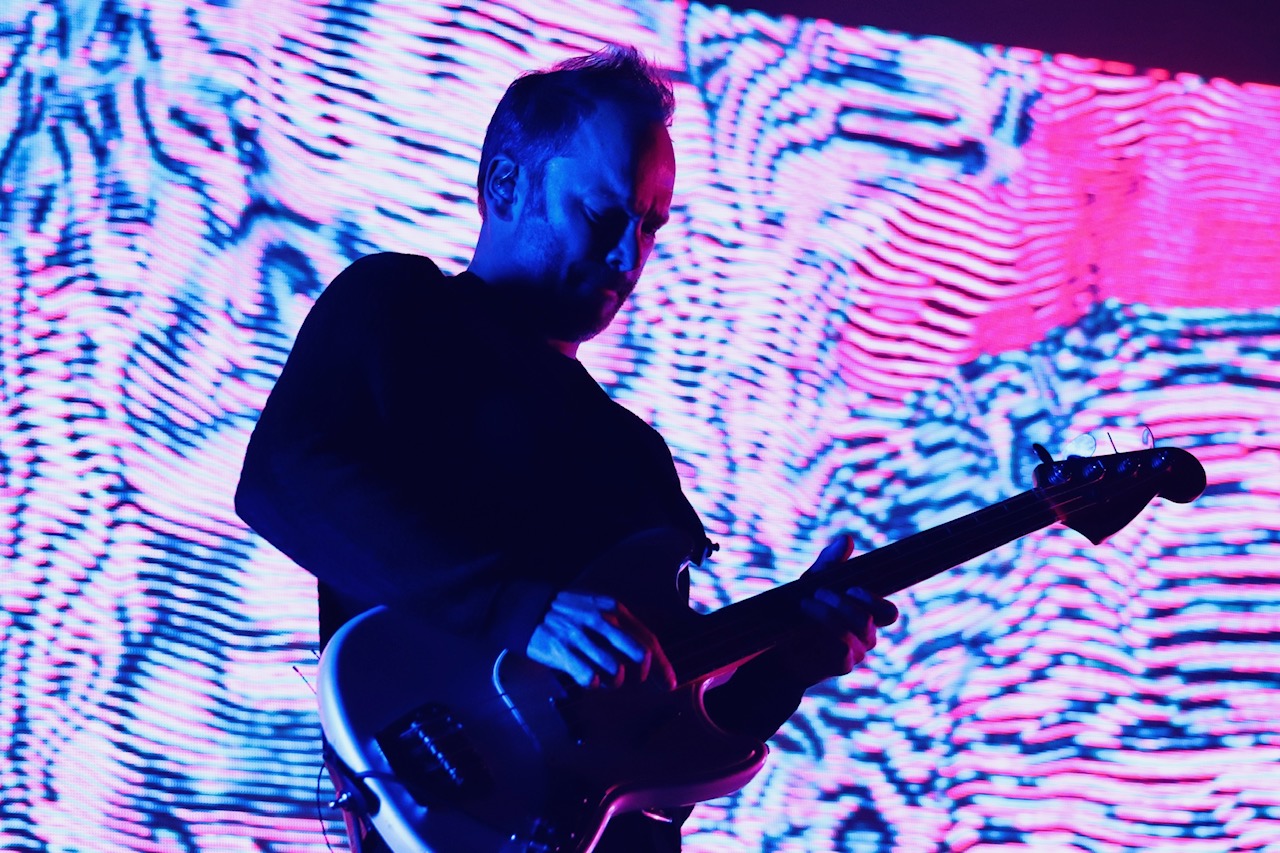 With a growing solo catalog, he had plenty of favorites to choose from. After playing new track "Impossible Knots" (Anima) Yorke went a bit old school with "Black Swan" (The Eraser). The track could have easily complemented Radiohead's In Rainbows. And some of his electronic-heavy compositions remind you of the good ol' days of Kid A.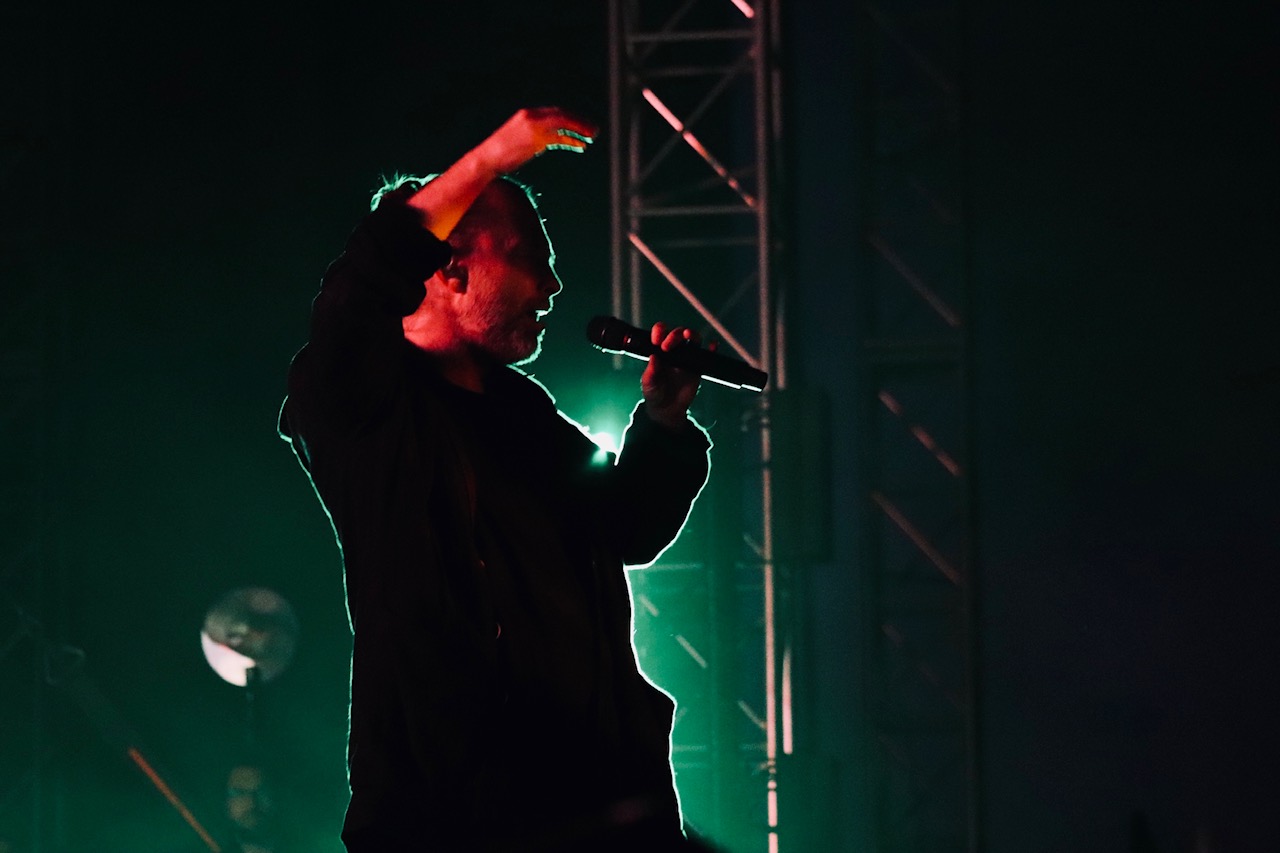 His most powerfully provocative number was "Default" (AMOK, 2013). The textured beat, both rough and smooth, was layered with echoing reverb. Building, building, building. People's pupils throbbed. Stinging synths stunned the crowd still. Delicate vibrations crawled up your skin as Yorke's falsetto croon hovered over the crowd.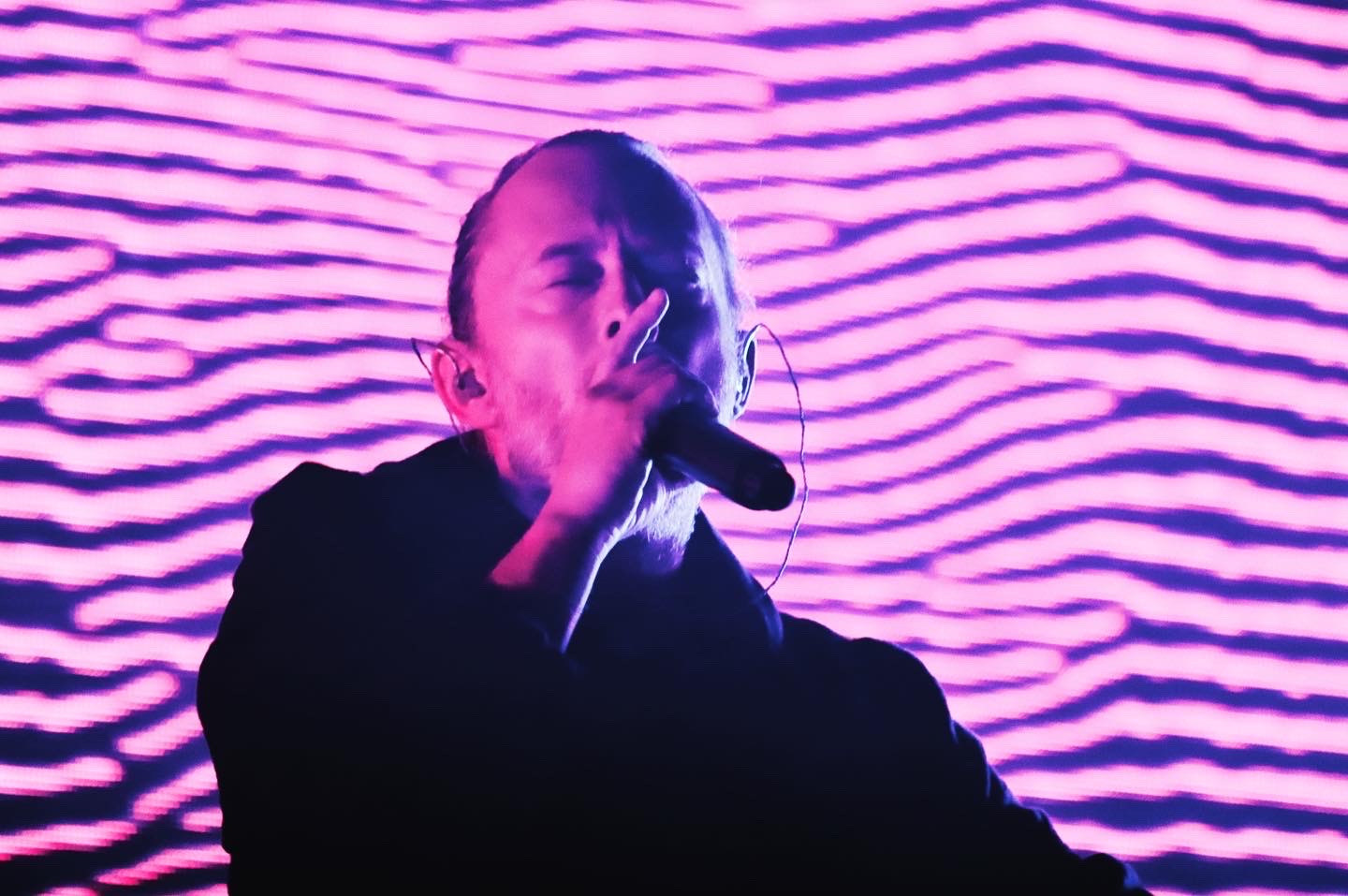 The crowd went nuts to the opening chords of "The Clock" (The Eraser). The energy persisted for "Atoms for Peace" (The Eraser), and "Truth Ray" (Tomorrow's Modern Boxes). After playing two new tunes, "Traffic" and "Twist," he bowed and walked off stage.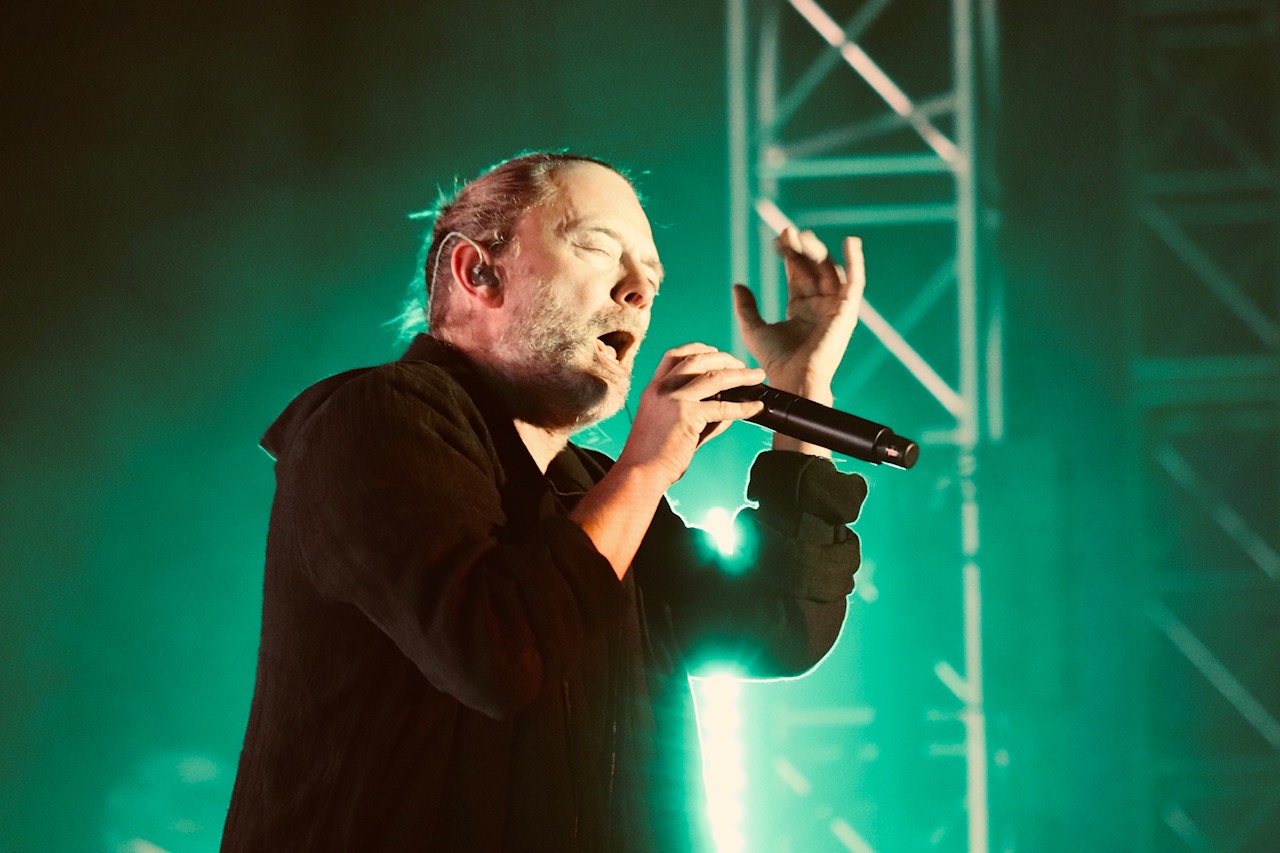 Some people cheered and stomped their feet. Others waited patiently. The stage stayed dark—only vibrant blue Christmas lights wrapped the venue's trees and lightly illuminated the space. Yorke promptly reappeared for not one, but two intimate encores.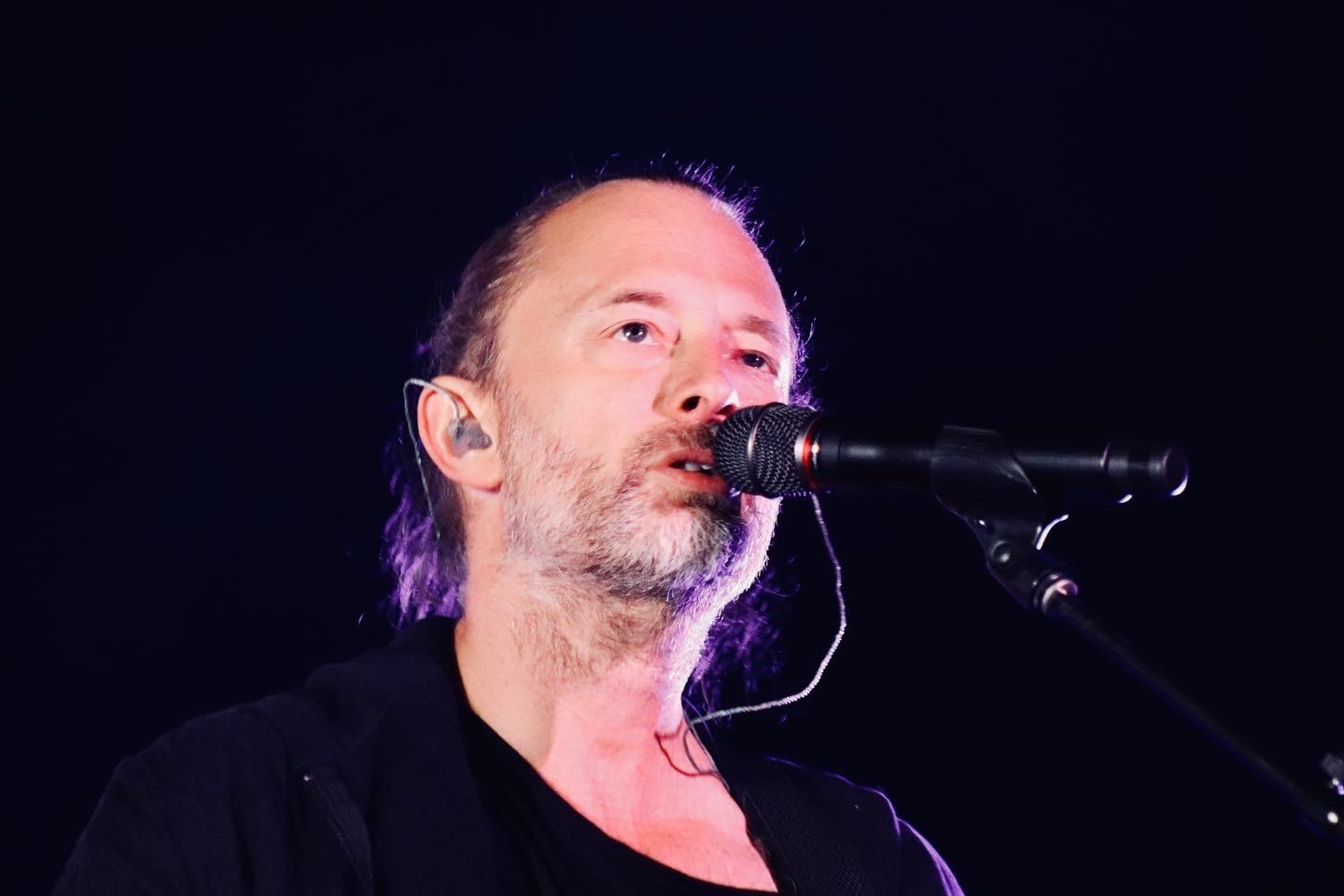 Coming down off the universal high, Yorke cherry-picked his closers from his first two records—The Eraser's "Harrowdown Hill," and "Cymbal Rush" and Tomorrow's Modern Boxes' "A Brain in a Bottle" and "Interference." He undeniably saved the best for last.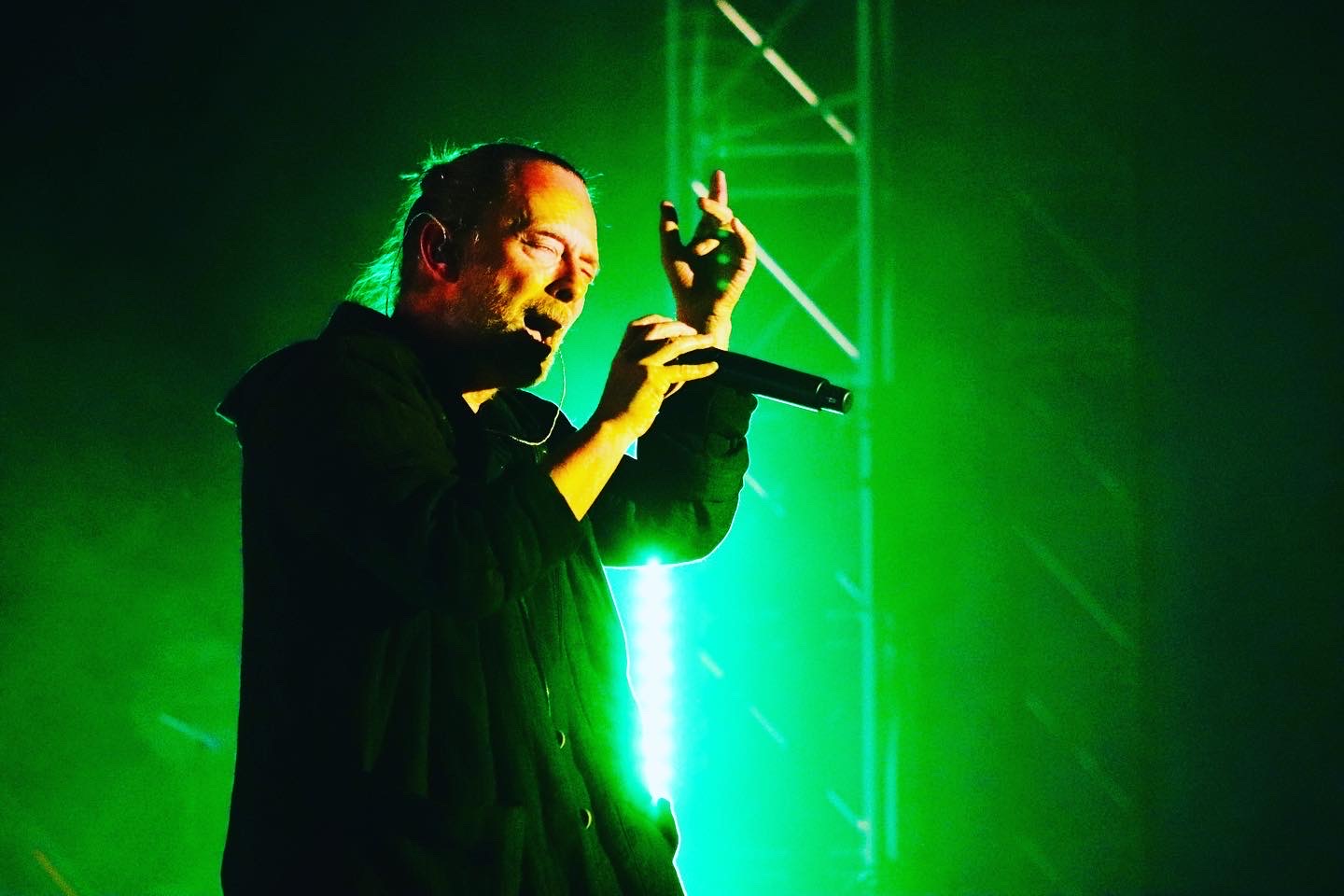 Yorke came back again. And this time he was alone. Backed by dark purple light and a hollow gold sphere, he started playing the opening chords to Radiohead's "Like Spinning Plates" (Amnesiac, 2001). Stripped down to its core, his angelic wails fused with the sounds of the keys. People closed their eyes, embraced their partners, or stood alone. And just like that, the euphoric storm had settled.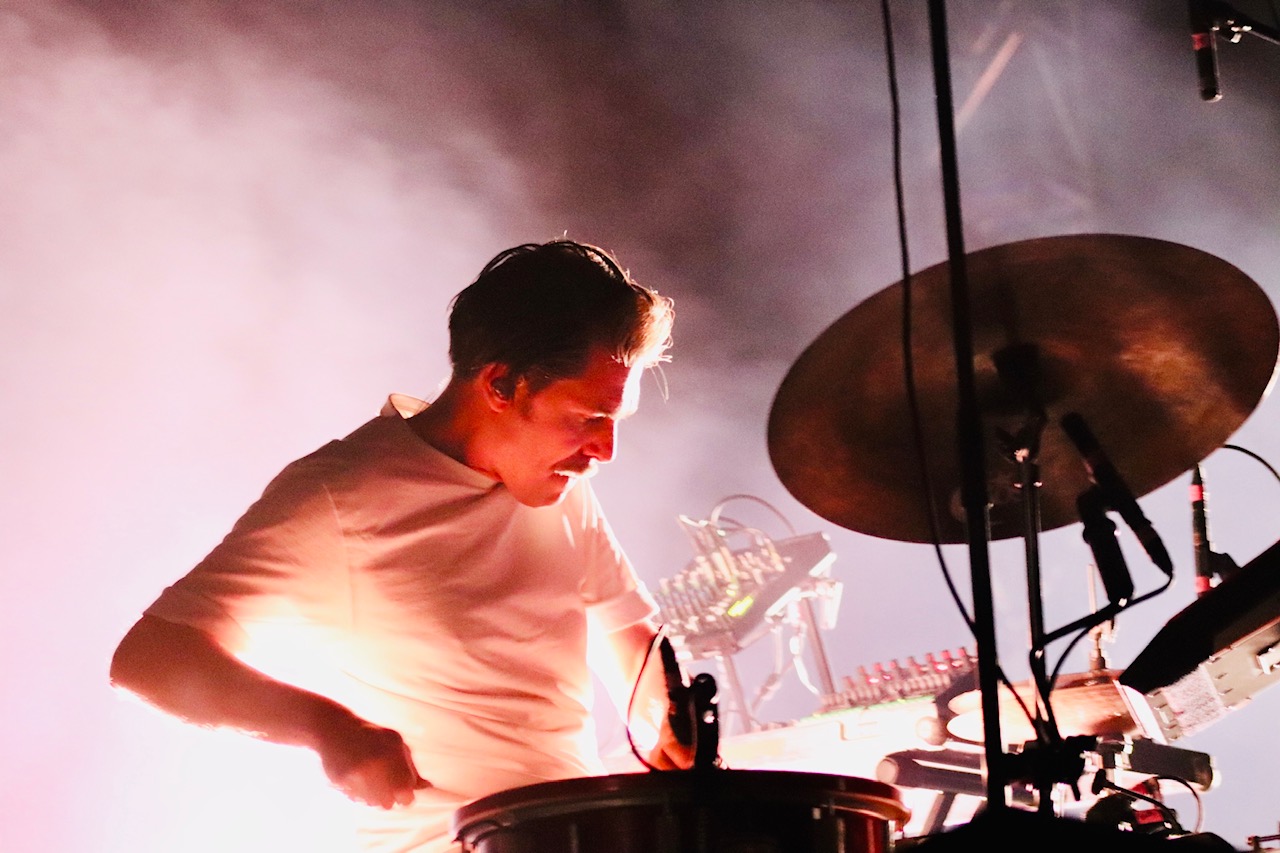 Opener Andrea Belfi blew everyone's mind without saying a word. The Italian electro-acoustic musician and composer sat under a spotlight behind his drum kit and played a set worthy of a headlining slot.
Belfi started drumming when he was 14, was in numerous punk bands in the nineties, but didn't start experimenting until he studied art in Milan. He's been a member of electronic outfit Medves (with Giuseppe Ielasi, Stefano Pilia, Riccardo Wanke and Renato Rinaldi), the duo Christa Pfangen with Mattia Coletti, and the trio Rosolina Mar. He's also released three solo albums—his latest, Ore, came out in 2017.\\
Thom Yorke
Setlist: Has Ended I Impossible Knots I Black Swan I I am a Very Rude Person I Amok (Atoms for Peace) I Not the News I Pink Section I Nose Grows Some I The Clock I Runawayaway I Default (Atoms for Peace) I Dawn Chorus I Atoms for Peace I Truth Ray I Traffic I Twist II Encore II A Brain in a Bottle I Harrowdown Hill I Cymbal Rush I Interference II Encore 2 II Like Spinning Plates
Find out more about Thom Yorke on the Radiohead website.
Andrea Belfi:
Check out Andrea Belfi here.