Morrissey
Bill Graham Civic Auditorium
October 3, 2019
If I were to ask you who would prompt fans to stand in line over night in anticipation of seeing a performance the next evening, artists such as Taylor Swift, or the Rolling Stones, or Justin Timberlake would immediately come to mind. The odds are that you would not answer Morrissey, but that was exactly the scene at the Bill Graham Civic Auditorium.
While Greta Van Fleet was playing inside, about twenty Morrissey fans were lined up across the street in Civic Center Plaza, smoking cigarettes, and some playing cards as they sat on lawn chairs, waiting to see Morrissey the next day.
Fast forward 24 hours, and those fans finally got the reward for their efforts. They were front and center staring up at their hero, the famously tortured, controversial, vegan, baritone Morrissey (or as they may refer to him 'Moz'). Most famous for his role as the front man for the short-lived and legendary post-punk band The Smiths, Morrissey has constantly buzzed around the flame of fame for famous and infamous reasons.
The famous for his aforementioned role as an underground music icon, and the infamous for his political stances and rants that have landed him on the opposing side of political activists for immigration and human rights, causing some to label him a racist. And then there is his general penchant for being a cranky-assed rock diva.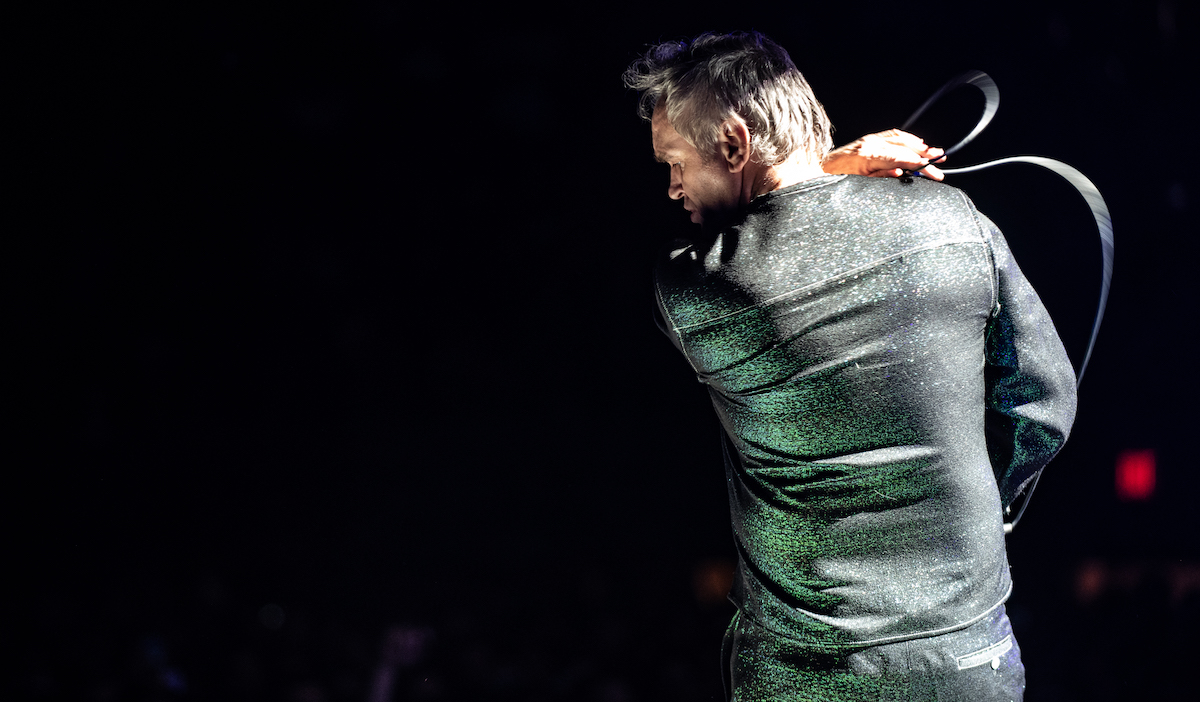 As a matter of fact, Morrissey's preceding tour schedule to San Francisco was impacted by his incendiary reputation, as anti-Morrissey protesters caused a ruckus in Portland which led to the cancellation of a subsequent show in Seattle.
Politics aside, the now 60-year old Morrissey still commands the respect of the music industry and his fans. Coming onstage to an ovation led loudly by his overnight supporters he asked, "How are things on the West Coast?" The next sounds heard in the venerable Civic Auditorium was The Smiths' classic 'Panic'; the crowd erupted.
Morrissey still sounds great, as did the rest of his band (guitarists Boz Boorer and Jesse Tobias, bass player Mando Lopez, drummer Matt Walker, keyboard player Gustavo Manzur), who, by the way, Morrissey made little reference to during the show.
The back drop of the stage showed a photo reel of old black and white images (including a shot of drummers Jerry Nolan and Peter Criss) looming above several silver reflective photo umbrellas that created the illusion of throbbing flashbulbs beneath the overhead lights.
All the while, Morrissey trekked through his discography, crooning through solo hits such as 'Suedehead' from Viva Hate which had the crowd rolling back to broken teenage romances in their minds…dancing again like it was 1989 at Das Klub (1015 Folsom) and singing along "I'm so sorry darling…..It was a good lay".
Fans were drinking it in like it was a potion from the fountain of youth. That was the good part of Morrissey, and he received it all in his own arrogantly appreciative way, gesturing to the crowd to take it in. He then conducted his band through a series of mid-set covers some of which are from his latest recording California Son.
The covers were either very well received or drew non-committal applause. Morrisey take on Jobriath's 1973 glam hit "Morning Starship" showed off a heavier space rock sound. Others took a weird swerve into the realm of Neil Diamond-styled singalongs…or even karaoke forays. The covers 'Wedding Bell Blues' (Laura Nyro) and 'Lady Willpower' (Gary Puckett & the Union Gap) spun the evening into an ultra-loungey realm. These tended to take some of the momentum out of the show….and extended  an opportunity to get a drink or go out to have a smoke.
A couple of other covers were done effectively. 'Back on the Chain Gang' (The Pretenders) was fun and got the crowd moving, and 'Some Say (I Got Devil)' (Melanie) was powerfully  delivered, but the songs that drew the most electric energy were the few songs he played from The Smiths' era.
'That Joke Isn't Funny Anymore' from Meat is Murder (1985) had many fans singing along and the encore closer 'How Soon is Now?' stirred the room into delirium, actually causing Morrissey to (perhaps un-advisedly) strip off his shirt while he cheesed up some of the delivery of the lyrics.
In the end, those 20+ (and the couple thousand others) in attendance got their money's worth, though I don't know about the standing in line overnight part.
Interpol opened the evening, offering their stripped-down alternative rock sound and minimalist stage presentation to an appreciative audience. The New York five-piece utilized dark, well-placed swirling dynamics and an amazing light show to great effect.
Of their solid set, 'The Heinrich Maneuver', 'Narc', and 'Evil' were the songs that locked in most with the crowd setting off a wave of positive reaction throughout the crowd, and perfectly setting the stage transition for Morrissey.
Top photo by Randall Michelson, photo in body of review by Toby Tannenbaum.
Morrissey: 
Setlist: Panic | The Smiths song) (Tour debut, first time since 2012) | Alma Matters | Hairdresser on Fire | Suedehead | Satan Rejected My Soul | Home Is a Question Mark | Tour debut) | Morning Starship | Jobriath cover) | Wedding Bell Blues | Laura Nyro cover) | Lady Willpower | Gary Puckett & the Union Gap cover) | I'm Throwing My Arms Around Paris | I Wish You Lonely | Why Don't You Find Out for Yourself | That Joke Isn't Funny Anymore | The Smiths song) | Back on the Chain Gang | The Pretenders cover) | Seasick, Yet Still Docked | If You Don't Like Me, Don't Look at Me | Munich Air Disaster 1958 | The Bullfighter Dies | Never Again Will I Be a Twin | Some Say (I Got Devil) | Melanie cover) | Jack the Ripper || Everyday Is Like Sunday | How Soon Is Now? | The Smiths song)
Find out more about Morrissey on his website.
Interpol:
Setlist: Untitled | C'mere | If You Really Love Nothing | The Heinrich Maneuver | NYC | Stay in Touch | Evil | The Rover | Rest My Chemistry | Narc | Complications | The New | Slow Hands | Obstacle 1
Check out Interpol here.