Santigold
Masonic Theater
May 18, 2019
Photos by Ashleigh Castro
Concluding the 10 Years Golder tour at the Masonic Theater in San Francisco, Santigold shined bright as she performed in celebration of her self-titled album having reached its decade anniversary. San Francisco is her favorite city tour stop by far.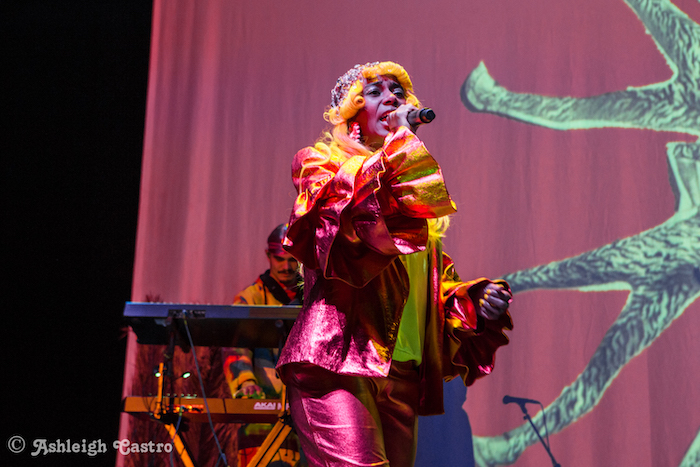 "I'm not one of those artists who goes to each city to say that shit," said Santigold.  "This is my favorite place to play hands down, 'cause you guys give it back! I'm looking out at you guys and you're all singing with me."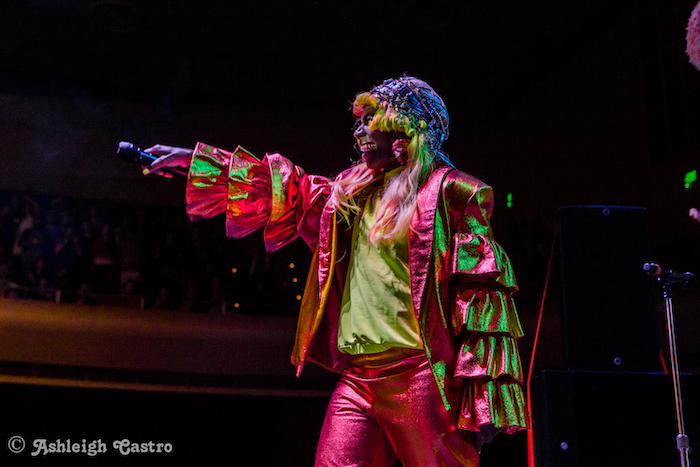 Her dancers double as backing vocalists. They introduce the show with stillness, a serious elegant poise. They stand frozen in time until the music starts whilst wearing cheerleader gear lustrous under the black light.  Cymbals and surf riffs spin into rhythms unique to "You'll Find A Way," the sounds pierce the air with electro-clash ferocity.  The high energy rallies the crowd to start jumping up and down and shaking bodies. Some people were screaming at the top of their lungs while others harmonized with backing vocals.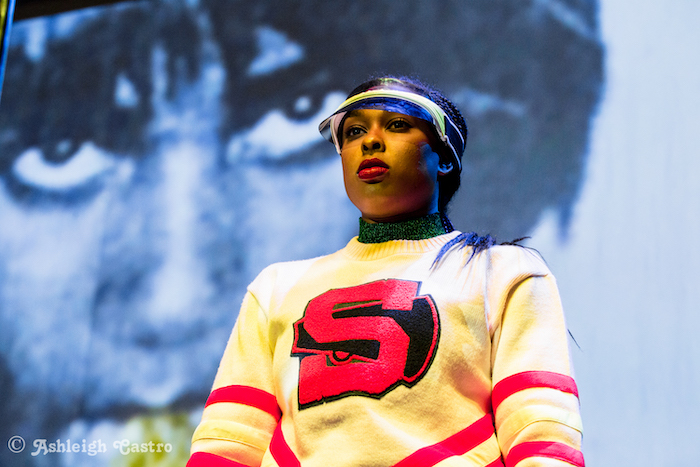 "L.E.S. Artistes" is probably one of Santigold's most acclaimed songs and it is a treat to hear live. Santigold's artistry is rather custom, urban, and new wave influenced. Her style combines various eras. She wore expressive golden metallic ruffle sleeves, bright pink hoops and yellow wig. In this song she has invited attendees into her journey of discovering her craft and soul.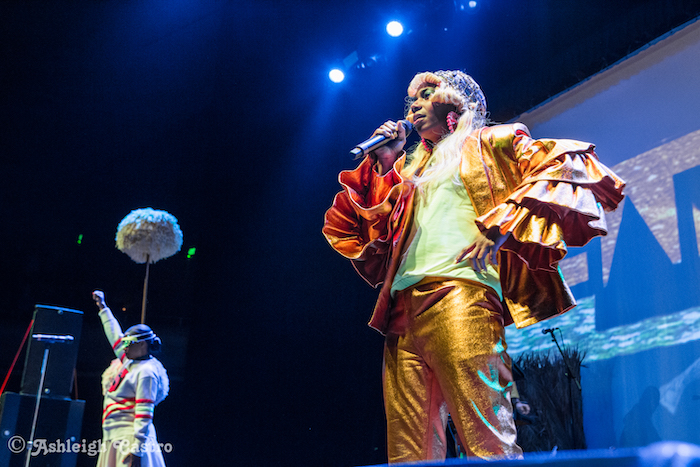 The dancers have toured with Santigold for years, and the band has toured ten years. "We fam," said Santigold. That family bond is apparent in their effortless connection with each other on stage. Glowing from the support of an excited and fulfilling crowd, Santigold vocalized her appreciation to listeners. "Ten years later and you guys have been with me, thank you! I know I wouldn't be here if it wasn't for you guys," she said. A bass player that played with them in the very beginning reminded Santigold that San Francisco was the first stop on the tour for the namesake album run ten years ago. They went to see Fleetwood Mac on the same occasion.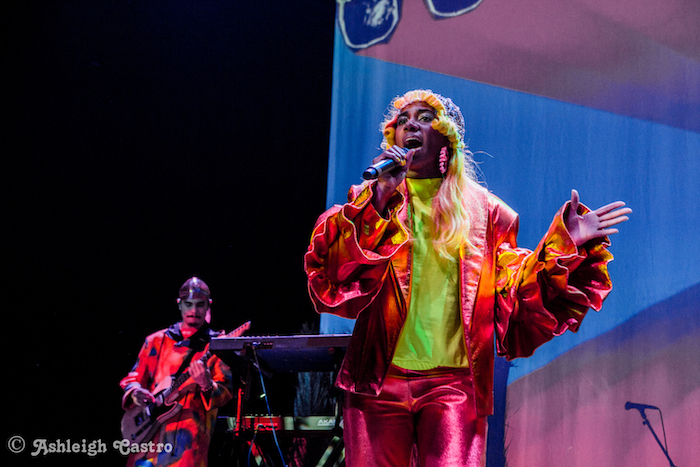 "Say Aha" was the third song and it made the house quake heightening energy even further. Santigold can be quoted singing "Louder than they. Allow, allow. Say Aha, Aha!" The following tracks were less booming and are trancelike art pop that is somewhat melancholy. Though mellower and moodier, people could not stop grooving to the deep, synthesized reverberating poppy jams like "Anne" and "Starstruck." "Unstoppable" has a sassy chant that it seemed the whole crowd knew by heart. People were dancing both joyfully and like they were facing off with some super whack bully.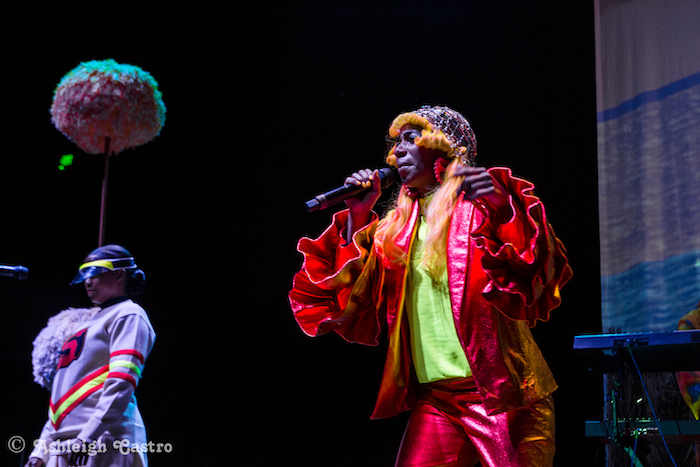 "Light's Out" carries energy into a warm summertime setting with its riffs, though the lyrics bring listeners into a blackout. Thanks to this song, a blackout has never been such fun.  "I'm A Lady" is a magical matter of fact song that stands strong to its title. Santigold belts out "I know I spin magic, reel it out. Try to hold a light to me. I'm a lady, got my mind made up. Got my mind made up…" The dancers even ended on a curtsy. "My Superman" balanced the energy with a down tempo ode to someone who she has a loved deeply though has hurt her just as deep. She narrates a sense of awe through the torn spirit and heartbreak.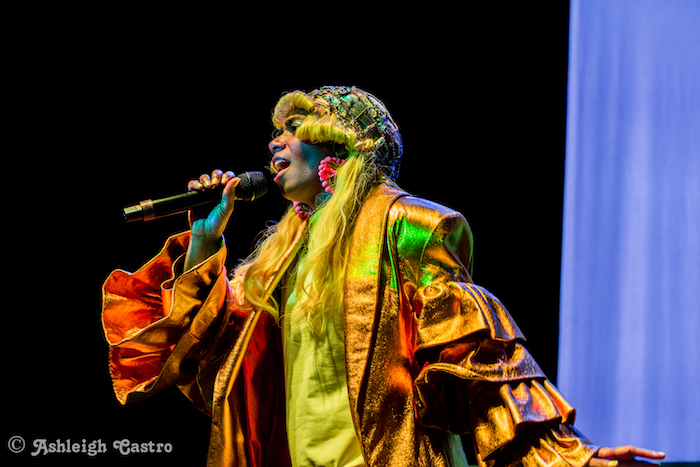 "Brooklyn/Shove It" combines some extra New York pride with witty attitude and the outspoken rebellion of "Shove It." "We think you're a joke, shove your hope where it don't shine!" The crowd joined in together. Perspective could lead ones mind to see a reflection of the Bay Area in New York. The energy swirled from a giant crowd of artistic souls and working-class folks in the heart of a rapidly changing city. Santigold crooned:
"I pay for what's called
Eccentricity and my will to evolve
I hear them all say
That I got heart
But not everything that it takes
Taint my mind but not my soul
Tell you I got fire
I won't sell it for no payroll
Let 'em hold me down
I know if I know another way
I can't look the other way
I know another way
I'll tell them so right to their face"– Santigold "Shove It"
Thrilling tunes continued with the performance of "Creator," the last song in the set from her self-titled album. The air caught ablaze. Santigold invited the crowd on-stage to dance and tear the roof off the house. She rapped her lines in the middle of the excited group of stampeding attendees and didn't seem to care if too many people got on stage. It was a party!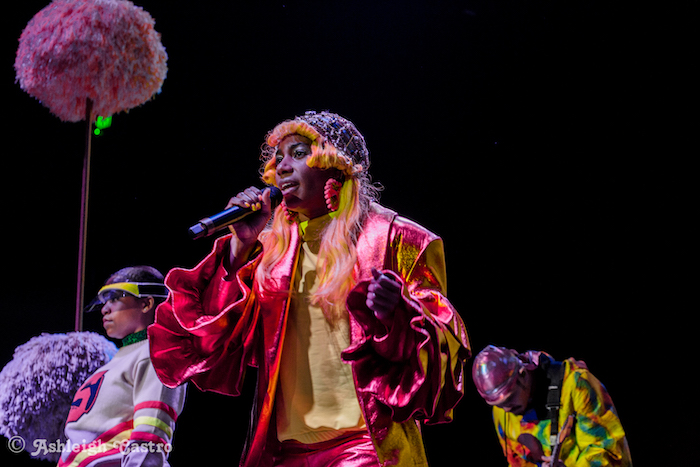 Santi White continues her musical projects and artist projection as Santigold with a diverse collection of albums, mixtapes and collaborations. Though the first portion of the show was dedicated to celebrating the album Santigold, she reminded us that her new projects are full of fun and danceable music. Santigold concluded the set with many new songs.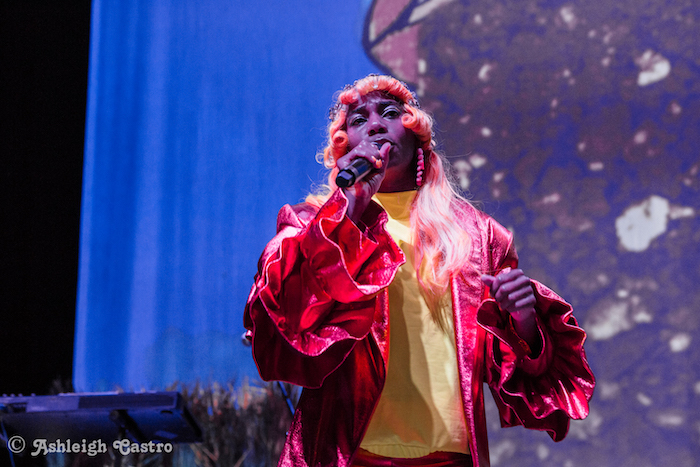 There are some tracks deserving of honorable mentions. "Go" features Karen O, and casts a medieval vibe on new wave. The two harness their power, and stand strong through verses that cut like swords. "Can't Get Enough of Myself" is a catchy and irresistible song evoking self-love with vainglorious confidence. People could be spotted smiling ear to ear and overheard giggling to each other about how "awesome that song was and that [they] forgot it was such fun."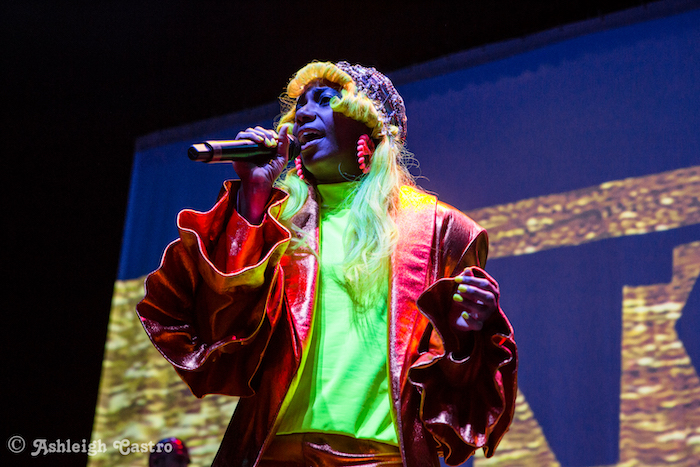 "Disparate Youth" is a single off My Make-Believe that mesmerizes listeners. The lyrics unify, it calls action upon people to come together and overcome through power in numbers.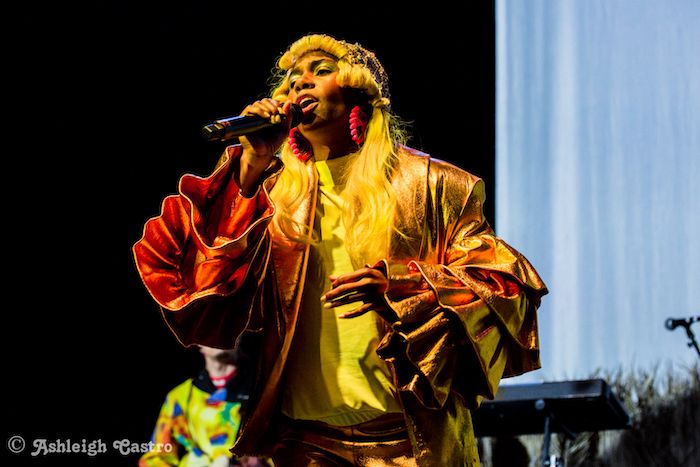 The final song within the encore was "B-O-O-T-A-Y" where Santigold invited her opening act and long time friend Amanda Blank to join her on stage. Blank did the Spank Rock portion, while Santigold rocked her original raps. The song is extremely twerkable and was written to be as explicitly dirty as a 2 Live Crew song.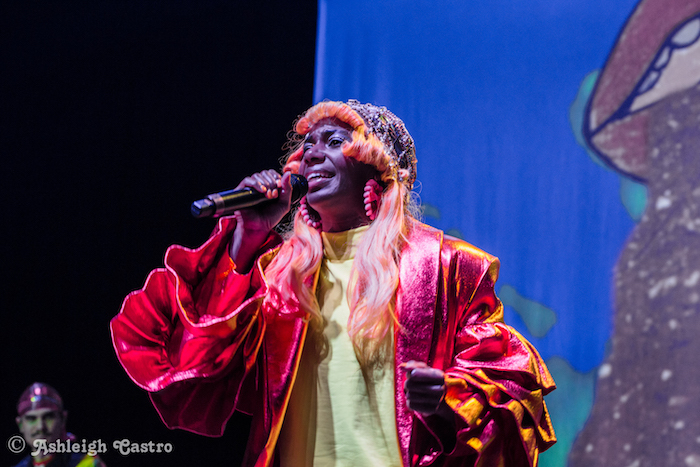 Before she broke into this fast paced booty shaker, Santigold shared a throwback story. While growing up in Philadelphia, eleven-year-old Santi White brought 2 Live Crew's music to her neighborhood buddies after visiting her cousin in Seattle. She laughed reflecting on how young she was and how dirty the tracks are! All the vulgarity aside, those songs molded a mega-fun and talented creator.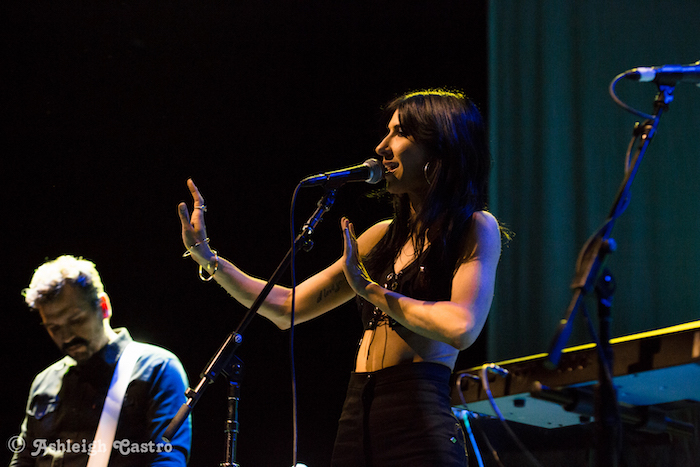 Amanda Blank and Santigold have been friends and collaborators for longer than 10 years. Both Blank and Santigold hail from Philadelphia. Santigold taught Blank how to write a song in her living room in Bed Stuy. Santigold said "Girl, you need to write a hook" when she found out the only songwriting Blank had practiced were raps. Raps in which floored peers and listeners alike with Blank's sharp, articulate and fierce flows. Blank has now started a full band honing her art!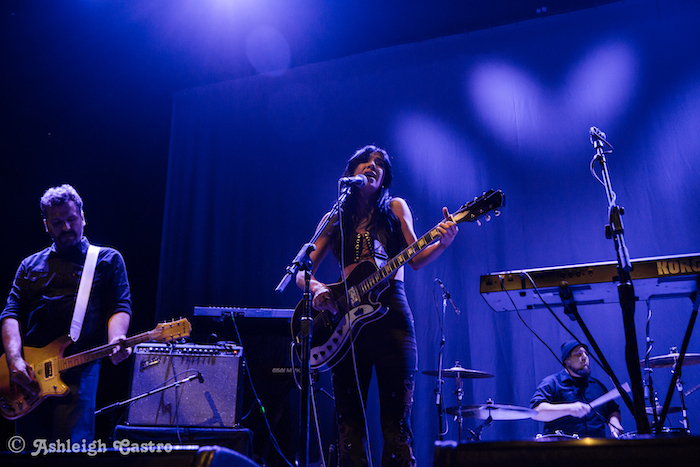 For this 2019 tour, Blank debuted her first musical project in 10 years after an enormous transformation from a rapper into singer, songwriter and guitarist. Her new album is titled The Ruiner. On the album and stage she features her brother and childhood friends. They brewed inspiration for their album from musical heroes plastered on Blank's bedroom wall. They recorded the album in her teenage bedroom. The opening show was focused on these nostalgic tunes created from playing music on memory lane. There was no rapping for her until Blank hit the stage with Santigold for the encore.
Santigold: 
Set List: You'll Find A Way | L.E.S. Artistes | Say Aha | Anne | Unstoppable | Starstruck | Light's Out | I'm a Lady | My Superman | Brooklyn – Shove It | Creator | Interlude | Go | Chasing Shadows | Coo Coo Coo | Run the Road | Can't Get Enough Of Myself | Disparate Youth | Big Mouth – Encore : Wha Ya Feel Like | Hold the Line | B-O-O-T-A-Y
Find out more about Santigold on her website.
Amanda Blank:
Check out Amanda Blank here.