Shaped by Fire
As I Lay Dying
Nuclear Blast
In one of the most miraculous comebacks in recent memory, metalcore titans As I Lay Dying are back with a new album, Shaped by Fire. After the fallout resulting from lead singer Tim Lambesis' arrest and incarceration for attempting to hire a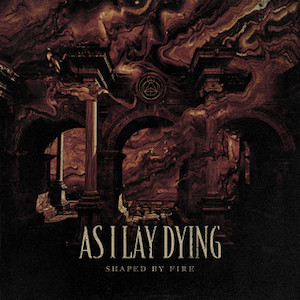 hitman to kill his wife in 2013, it seemed that the other members of the classic As I Lay Dying lineup wanted nothing to do with Lambesis or the band. While Lambesis eventually served his time and was released, his ex-bandmates berated him in the press and seemed to be content playing in different projects. However, eventually Lambesis reconciled with Phil Sgrosso, Nick Hipa, Josh Gilbert, and Jordan Mancino, and reunited, and the results are pretty incredible. For a band that has not released a record since 2012, Shaped by Fire surges with a fury and intensity that few other metal bands can match. From a production standpoint, this album is equal to anything else the band has produced, with the rampaging guitars of Hipa and Sgrosso dominating the set along with Mancino's pummeling drums. Instead of trying to pander to current metal trends, the band decided to go all in with making the best possible As I Lay Dying record, one that contains all of the explosive songwriting that broke them into the metal mainstream 15 years ago.
If there is one knock against this album it is that Gilbert's bass is a bit too buried in the mix, not that there is anywhere for it to go considering how much of the mix is taken up by low-end guitar chugging and snappy double-kick drum playing. However, the lack of bass makes things feel a bit too mechanical at times, though this is a minor complaint when the songs are this good.
Musically speaking, the record is a refinement of the classic As I Lay Dying sound, with crunchy breakdowns, soaring guitar leads, and the dual vocals of Lambesis and Gilbert. While the record does not break any new ground musically, its best moments are equal to any other classic songs from the band. What made As I Lay Dying such a captivating band is still intact here, namely the combination of growled and clean vocals along with brutal atonal guitar riffs merged with soaring guitar harmonies. This is all perfectly encapsulated in the lead single, "My Own Grave," which begins with some gentle clean guitar harmonies before opening up into a torrent of furious riffs and blistering vocals from Lambesis.
Lyrically, Shaped by Fire treads some different territory for the band, with Lambesis delivering some of his best work. Of course, the record is dominated by songs written about his downfall and failure as a human and his quest for redemption. In many ways, Lambesis has earned his redemption and his continued work to generate goodwill and repair the many relationships he damaged during his arrest and incarceration makes this one of the more uplifting metal records of the year.
It's difficult to like this band again as the crimes that Lambesis committed in the past are truly despicable, however, from a purely musical standpoint, Shaped by Fire is one incredible comeback album, and it makes for a really enjoyable listen.
Photo by Dana Willax.