Caiola 
Only Real When Shared
2020 has undoubtedly been a strange year; with the halting of life and the decimation of normality this year has not only fractured our daily existence but also stalled our enjoyment of music. Yet a beacon of hope shines bright, as artists have sequestered in their homes as we have new music is slowly entering into the atmosphere, a promise of something to fill our lonely nights. Filling the silent void of quarantine existence is Jordan Caiola, stage name Caiola. In the early days of quarantine Caiola found himself with ample free time, and so departing from his usual life in differing bands Caiola tackled a solo project. What was birthed was Only Real When Shared, a stirring solo project. Written, produced, and released during quarantine Only Real When Shared offers a reflective dive into stories that have filled Caiola's life, a beautifully crafted album that will bring a much-needed moment of escape to those who listen.
Antithetical to our year where we often feel like a mouse in the game mouse trap, Caiola's Only Real When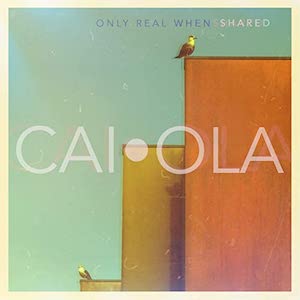 Shared is a sonic journey, an exploration of not only stories but of sound, the album presenting an intoxicatingly rich flow of songs. The album opens with title track 'Only Real When Shared,' with a dash of rock and a tinge of indie folk the song is at both times nostalgic and new, an outlaw edge that feels familiar but dangerously different. The single is a perfect start to the album, an intermingling of liveliness and contemplative story telling. 'Back Then' follows, seemingly a reflection on a failing relationship the record offers electric, emotional reflections on moments of time. Liking peaking behind the curtain 'Back Then' is a glimpse into someone reality and yet it seems universal, the tension of evaluating relationships backed by the folk-rock sound.
Leaning into the singer songwriter side, 'Alaska' highlights Caiola's breath-taking voice. Like gravely silk Caiola's voice is filled with grit but light with airiness, a rich sound that is mesmerizing as it wafts through the record. 'Own Medicine' is a personal favourite, the record yielding a perfect balance between folk, singer songwriter, and rock.
'Wolves' dives back deeply into Caiola's intoxicating voice, the shifting sonic rhythms crafting waves of sound. 'Hyrdoplane' and 'Finders Keepers' continues the party, each song bringing a fresh sound to the record. 'Faceless Better Half' shifts the movement, introducing a lovely guitar driven folk tune that drips with emotional vulnerability. No words can express the songs beauty, its simplicity elevates the depth of lyrical prowess making the song an instant favourite. The record rounds out with '22nd Time,' a mellow and layered song that has a 60s Laurel Canyon vibe, and 'Petrichor,' a dreamy acoustic single that seemingly stops time.
Every now and then you come across an album or a song that stops you in your tracks, Caiola's Only Real When Shared is just that. As we search desperately for something new and for something with meaning in this 2020 year, Caiola's album offers a truly transcendent piece of art. The album balances indie folk dreamscapes with rock tinged bangers, a richness of sound and lyrical introspectiveness that creates a masterpiece. Caiola offers a little escape from reality, Only Real When Shared offering respite in the midst of the storm.
Check out Caiola Music here.
Listen to "Only Real When Shared" here:
Photo by Chris Sikich.