The music world continues to suffer from the pandemic. Musicians don't tour, don't get together in the studio to work on new material, don't work out new songs in crowded rehearsal rooms. It's unclear when and if many venues are returning. SF Sonic has been talking with lots of musicians about how they are dealing with the disaster that the pandemic has caused, and now we are telling the stories of musicians from San Francisco about what it's like. This is the fifth instalment in this series, so read about what they're doing, listen to some music, buy some merch.
Exodus (
Steve "Zetro" Sousa)
Tell us about your plans for 2020 before the lockdown first hit. Did Exodus have any live shows or festivals booked, or a tour scheduled?
We had a few things scheduled. Actually, we basically had the whole year scheduled. Having Gary back, we were planning on recording the new record and then at some point going out on tour, but that was all killed by the Coronavirus.
How are you keeping busy creatively during all this downtime?
Well when I came home I noticed that there were pot plants growing in a pot, so I kept nursing the plants. And now we are sitting here in October with me answering these questions, my pot is now at smoking fruition and it's sitting right here in front of me with my pipes that you can't see. I also put a goldfish pond in my backyard, and hung out with my dogs and just chilled.
Are you (or Exodus) doing anything to engage your fans during this downtime?
Well, I do Zetro's Toxic Vault which is a webcast on YouTube, where I give fans updates on what I'm doing, and what the band is doing. I haven't really thought about playing like other bands have done virtually, but I'm sure that will come up if this continues.
Do you have any predictions about what the live music scene will look like when it returns?
It's going to be very rabid. People are going to be so rabid for a new show, "jonesing" I should say, for live music, and to just go out and see a show, see live music, and see their bands, see their friends, and be able to have a nice little party. I don't think there are going to be any empty venues, as I'm sure everyone's going to want to be out on tour, because everyone is going to need to make money, so you will probably get a chance to see all your favorite bands.
What can you tell us about the new Exodus record?

It's fucking brutally heavy.
Check out Zetro's Toxic Vault on YouTube.
Find out more about Exodus on Facebook.
Heathen (David White)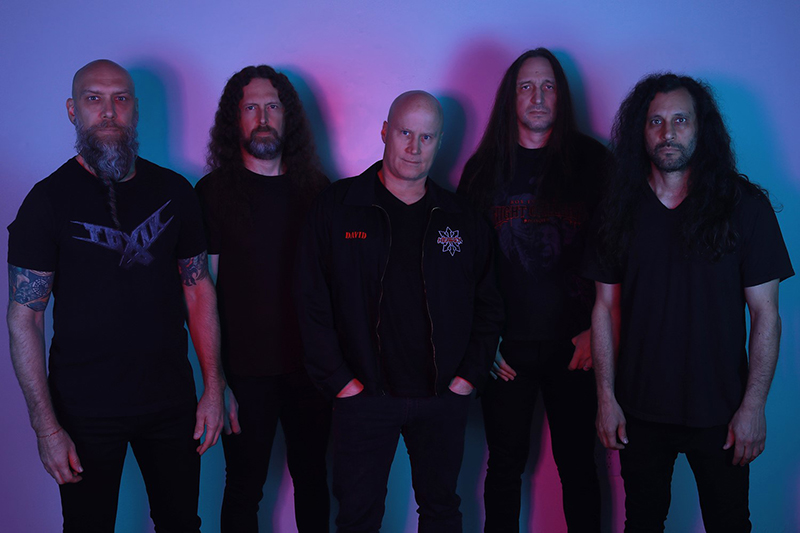 Tell us about your plans for 2020 before the lockdown first hit. Did Heathen have any live shows or festivals booked, or a tour scheduled?
Before the lockdown hit, we had just finished recording our new record Empire of the Blind, and we were poised and ready for our European run. We had about ten weeks of European dates, and then we were going to go to South America in September, and then Japan after that for a festival. We had a lot of things going on. The record was supposed to come out on June 19th, but was postponed until September. It all went up in smoke with Covid -19. We'll just have to see how things pan out for the future.
Now that the new record is out, are you doing anything to stay creative during all this downtime?
We are so happy to have the new record out, but now that it's out, because of the pandemic, we are unable to tour. It's pretty frustrating actually. But there's been a lot of time for reflection, and I'm constantly looking for different ideas and different avenues for creativity. Whether it's been taking long walks, playing my instruments, my drums, guitar, anything to let out that musical angst, and to stay motivated through these times.
Is Heathen doing anything to stay engaged with their fans during this downtime?
With the inability to tour we feel very responsible to connect with our fans. Through social media we've tried to do our best. We have a new fan page, Victims of Chaos, which has really grown. We have a lot of participation with the fans, which has been amazing. They've posted their packages of records, CDs, and T-Shirts that they've purchased through the pre-order of the new record. It's been amazing to witness. We try to chime in and talk with them if they have questions or just want to know something, just to be there for them and be connected. We were all looking forward to touring and actually seeing all of our friends, and all of our fans all over the place. It's really limiting with social media, but it's all we can do at this point, and we're doing our best.
Do you have any thoughts about the future of the music industry, or what live shows will look like when they return?

Well my thoughts on the future of the music industry are sort of open-ended. I'm hopeful that it's an industry that can persevere. It's been very challenging over the last five or ten years with the internet and all the streaming. Record sales are not what they used to be, but I notice that in the metal community the fans still enjoy the nostalgia of a vinyl record, and are still purchasing CDs. So I'm hopeful. As far as live shows, I have no idea. I can't imagine playing a show for a bunch of cars. I'm willing to do whatever it takes, but I'm hoping things will get better and that we'll be able to gather in the way that we have for years, and have a lot of fun and thrash it up, and be together as a huge heavy metal family once again.

What can you tell us about the new Heathen record?

What can I say about the new Heathen record, Empire of the Blind? Written by Kragen Lum, performed by Heathen. I'm very proud of this record. It's definitely a different vibe and tone than past records. I feel like it's a real leap into the future, and my hope is that we will take this opportunity of having all this time to write a new record very soon and just keep this thing rolling. Empire of the Blind was produced by Chris "Zeuss" Harris, and I think it's the best sounding record we've ever done. I hope the world will hear it, and all the fans that have gotten it so far will pass it along and spread the word, because we need your support to make it happen.
Listen to the song "Empire of the Blind" on YouTube:
Check out Heathen on Facebook.