Diamond Head
Lightning to the Nations 2020
Silver Lining Music
There are few bands in the metal world as revered as the legendary Diamond Head. The band's self-produced debut album, 1980's White Album (due to it's original pressing in a plain white sleeve) or more well known as Lightning to the Nations (after the opening song), was one of the greatest records to come out of the New Wave of British Heavy Metal, influencing the likes of Metallica. In fact, Metallica were such huge fans that they have covered Diamond Head songs on numerous occasions, and their continued support of the band has allowed them to continue to record and put out albums.
While only founding member Brian Tatler remains, Diamond Head have put out some solid releases in the past few years, and now the band has released a re-recording on Lightning to the Nations, entitled simply Lightning to the Nations 2020.
Re-recording an album is typically not met with a warm reception from fans, and this is usually due to the band failing to capture the spirit and vibe of the original. However, Diamond Head have done the unthinkable here in that this new version is unbelievably good. While it will never match the original in terms of influence and historical impact, it's hard not to fall in love with these songs all over again.
Tatler has upped his game on this record as the band sounds massive and punchy, especially bassist Dean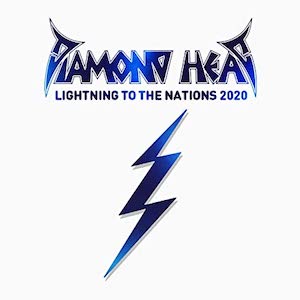 Ashton, who cuts through the mix on every song. Tatler and rhythm guitarist Abbz Abberly both sound incredible, with the guitars sounding just right. It's very easy in metal these days to have hollow and mechanical-sounding guitar tones, but on Lightning to the Nations 2020, there is a great balance of grit and clarity.
This is evident on the opening title track, which rips through plenty of killer riffs and a stellar vocal performance from Rasmus Bom Andersen. Andersen sounds similar to original vocalist Sean Harris, but he possesses way more vocal range and sings these songs with so much passion you'd think he had been in the band for its entire existence.
Of course, to the seasoned metal fan, the real juicy part of the album comes in the form of the following three songs on the album: "The Prince," "Sucking My Love," and "Am I Evil?" All of these songs have been covered by Metallica at some point in time but these new versions hit harder than Metallica's, which is saying a lot.
"The Prince" is a surging slab of metal that has plenty of sweet guitar harmonies, while "Sucking My Love" is an epic set piece that only gets better after repeated listens.
"Am I Evil" is the band's best-known song and it's for good reason: the track is one of the best songs in the history of metal. Beginning with a stomping intro that is based around the Gustav Holst piece "Mars, the Bringer of War," the song shifts through plenty of different textures and tempos before Tatler delivers a memorable guitar solo, a blueprint that Metallica would use to massive success. Again, this is where the updated sonics make such a big difference: the sheer clarity and attack of Karl Wilcox on this song gives the whole thing so much more power.
While the original recording only featured seven songs, Diamond Head added on a few cover songs to build things out a bit more. In a nod to Metallica, the band included a blazing cover of "No Remorse" from Metallica's debut album Kill 'em All, which is easily the best cover of the bunch.
Now, the only real negatives here are with the original music itself. All of the silly lyrics and occasional laps in songwriting (it is this reviewer's opinion that "Sweet and Innocent" is not a good song) that were present on the original are still here.
So, if you like classic metal or hard rock, give this album a listen. As far as re-recordings go, Lightning to the Nations 2020 is amazing and it deserves a listen or two or fifty.
Find out more about Diamond Head here.
Photo by Nic Gaunt.