Epica
Omega
Nuclear Blast Records 
Few bands truly live up to their name the way Epica does. As one could expect from hearing their name, the band excels in crafting the most epic-sounding symphonic metal around. And on this, their 8th full-length album, the Dutch sextet has outdone themselves, putting out an album as good as anything they have done.
What makes Epica such an incredible band to listen to is the sheer density of their compositions. Even from the opening notes of "Alpha – Anteludium" you know the band has mapped out every single note and every single piece of orchestration. Of course, what stands out immediately are the breathtaking vocals of lead singer Simone Simons and the dense choral arrangements of many of the vocal lines. This becomes apparent during the first proper track, the furious "Abyss of Time – Countdown to Singularity," which switches between Simons's soaring mezzo-soprano and guitarist Mark Jansen's low guttural screams. Many of the tracks on Omega feature this dichotomy, and it works quite well.
With a band as established as Epica, it becomes hard to outdo oneself on each successive album, there are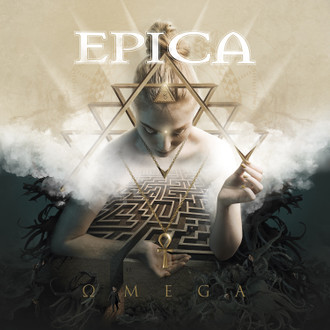 only so many layers that you can have in a song. However, keyboardist/multi-instrumentalist Coen Janssen once again proves to be Epica's ace as his choral and orchestral arrangements rival those of classical composers. This is readily apparent on "The Skeleton Key," which features the use of a children's choir to great effect.
Another standout track is the Middle-Eastern tinged "Seal of Solomon," which is anchored by a catchy series of guitar riffs from Jensen and Isaac Delahaye along with some more exquisite choral arrangements. While the use of choral arrangements in Epica songs have been a staple of all of their records, on Omega they simply have some of their best songs to work with, making for a memorable listening experience.
The centerpiece of the record is the towering epic, "Kingdom of Heaven ~ Part III – The Antediluvian Universe", a multi-suite composition that merges music that sounds right out of a fantasy movie with ferocious metal. After the first few minutes, the orchestrations cut out as the band launches into an all-all metal speedfest, anchored by Ariën van Weesenbeek's snappy double bass drumming. It is not easy to pull off an extended song that goes through so many different changes in tempo/feel, but Epica manage to easily do so.
Lyrically, the record deals with plenty of the science fiction and spiritual themes fans have come to expect from the band, which fits perfectly with the futuristic fusion of metal and classical elements.
In metal and similar musical genres, it can be very difficult to make dense arrangements work, but you can hear every distinct element very clearly on Omega, a testament to Joost van den Broek's impeccable production skills.
It should be noted that some editions of the album come with a bonus EP of acoustic reworkings of some of the songs on the record, and this too is worth a listen. While you might think that these songs could not work in an acoustic setting, Epica pulls off the transition quite well. A standout on the bonus EP is the acapella version of "Rivers," which features some of the most pristine and ethereal vocals you will ever find on a metal record.
While Omega is a difficult record to get into at first, these songs are so dense and rewording to listen to that you will keep coming back to them again and again.
Photo by Raymond Ahner.