King Dream & Kingsborough
SOMO Village
June 4, 2021
Photos by Tom Dellinger
Here we are! We appear to be at a place where we can look optimistically at the possibility of live music returning to a close proximity of the "before" times. Here in Sonoma County, concert promoter Second Octave has taken the next step in our journey to that place as they have scheduled four small scale outdoor shows which currently remain in the domain of masking and safe distancing, but the plan and hope is to expand to their previous levels with much larger crowds and stage in the near future. This past Friday night was the second of those four shows which featured local bands, King Dream and Kingsborough. Both are established bands in the area and performances from them were eagerly anticipated by fans who responded by making it a sold out night.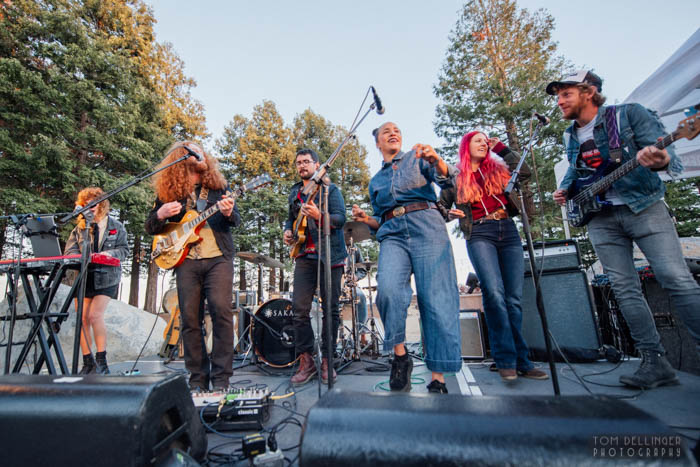 It was a comfortably cool evening as fans filtered into SOMO Village for some long overdue live music. Covid restrictions are slowly lifting and there's been a noticeable sense of relief in the air as we all get out and socialize as we used to do. Musicians are now finding they are playing their first gig in over a year in front of audiences and on this night, any thoughts they may have lost something in the interim were soon dispelled.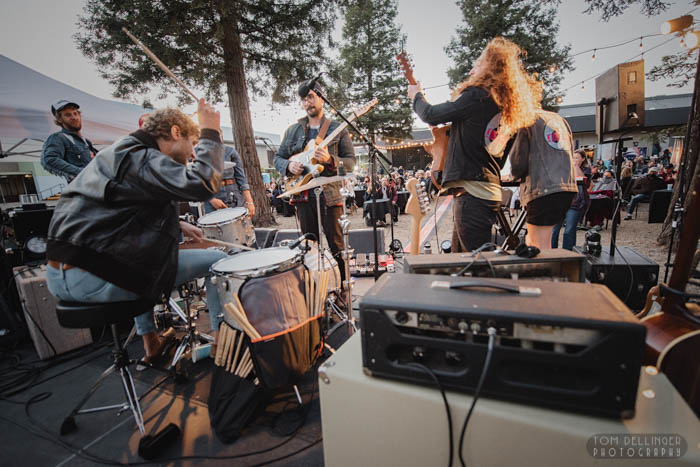 King Dream kicked it off with a tasty set of their expansive psychedelic rock which took us on a richly textured and varied sonic journey. Many in the Bay Area will recognize frontman Jeremy Lyon from other projects over the years with Whiskerman and Tumbleweed Wanderers. In the aftermath of Wanderers, Lyon spent some time writing and stretching his craft which eventually led to the release of the self-titled King Dream, which was released in August 2018. It is a deep and wonderfully complex album with rich colors and textures running throughout. Friday night's lineup featured Jeremy (guitar & vocals), Caitlin Gowdy (keys, vocals), Greg Fleischut (guitar, vocals), Zak Mandel-Romann (bass, vocals), and Nick Cobbett (drums). The band sounded fresh, rehearsed and established an immediate connection as they wound through their set.  For the final two songs, they were joined by Erin Chapin and Vanessa May (both from the band Rainbow Girls), who added their voices to the mix. Currently Jeremy is working on a trilogy of albums entitled Glory Daze IV-VI and expects the first instalment to be released in the fall.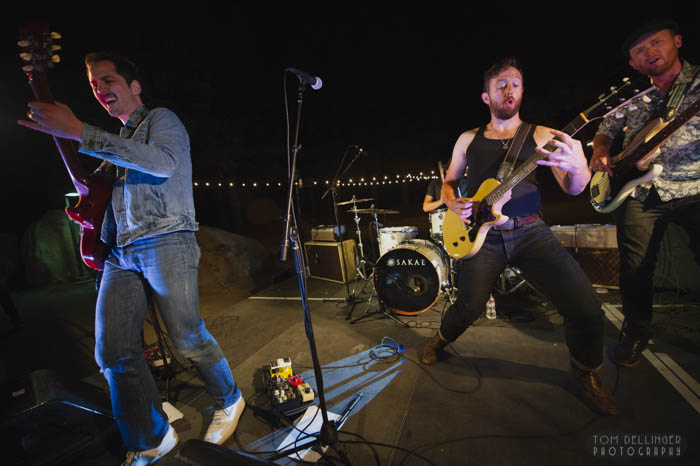 As the sun made its way into the beyond and we drifted into the night, the always hard-rocking Kingsborough hit the stage. Sporting a rhythm section I'd not seen before, I found them to be an excellent complement to original founders Billy Kingsborough (guitar, vocals) and Alexander Leach (guitar, vocals). This band is known for high energy rock & roll and even with a year off because of that evil we shall not name, they came out blazing and never missed a step. The pleasure the band took in this moment was evident and was quickly shared with the fans. You felt the joy of this performance as much as the band and it was a fine thing to behold. As the set moved on, more people found they could no longer sit and got up to dance and kick up a little dust. A robust demand for an encore at the end and if you thought they may have already delivered all they had, you were soon corrected as they came out taking the energy up even more. It was a night to savor. Kingsborough has many upcoming dates throughout the Bay Area and good times are what you'll find there. It's time to get out there and get back to our old time used to be. 
Here's more photos of both bands by Tom Dellinger:
For more info: