After two albums of mostly-instrumental music, Khruangbin have taken the big leap towards vocals on their third full-length release, Mordechai. For those of you wondering, yes, the results are great and each new twist and turn the band goes through on this record is mesmerizing. The trio of Mark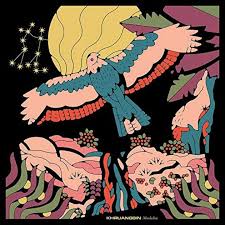 Speer, Laura Lee, and Donald Johnson have continued to grow and adapt as musicians, as evident by the laid-back opener "First Class." With Johnson's sublime pocket groove and Speer's Latin-influenced guitar work, the track hits all the right notes. The next song, the lead single "You and I," is one of the better vocal-driven pieces on Mordechai. With Lee taking over the main vocal line, the song is oddly hypnotic and bouncy, so much so that one does not seem to notice the simplistic structure of the lyrics or the instrumentation. Indeed, Khruangbin are masters of setting the mood and the groove, so much so that one finds themselves listening to the whole album over and over again.
Many retro-influenced acts tend to struggle to have a clean-sounding record that is mixed well, but that is not the case here. Produced by the band and Steve Christensen, the album has an old school feel, but it still sounds fresh.
Mordechai is a record that can stand in as great background music but at the same time has the depth to be listened to repeatedly. A perfect example of this is one of the final tracks, "So We Won't Forget," a song that rides a luscious drum/bass groove along with some of Speer's best lead guitar work on the record. There are so many beautiful melodic flourishes throughout the piece that it simply demands repeated listens.
The band has certainly not reinvented the wheel here on this record but they don't have to: everything the band does sounds incredible. When you put it all together, Khruangbin have created one of the most fun and exciting albums of the whole year.
Listen to "Time" by Khruangbin:
[bandcamp width=100% height=42 album=2357320501 size=small bgcol=ffffff linkcol=0687f5 track=3790863592]
Photo: Tamsin Isaacs