Not in any of our lifetimes have we experienced receiving new music releases during a global pandemic. We are accustomed to the write, release, tour, repeat cycle in modern music. COVID-19 & its relentless onslaught on the music industry specifically, has rewritten the script as we know it. As one of the founding fathers of Bay Area thrash, Testament has persevered over three decades of industry and social climate shifts to release their thirteenth album, "Titans of Creation" released on Nuclear Blast Records. SF SONIC sat down with frontman Chuck Billy, affectionately known as The Chief to talk about the new release and the future of the industry living in the pandemic.
What is it like to have released a new album in the midst of a global pandemic, unable to tour to support?
Well, I mean when we made the decision to carry on with the release, we thought maybe it'll only be a couple months before we get back to it. The campaign had already started, so it was like let's not stop it and put a halt to it. Right now, I think people need something positive, so we thought "let's just put it out there". Other thoughts were there's a lot of people with a lot of time on their hands so people can dig into the record, soak it up. So, we'll get out there and tour next year again, or whenever we can. They'll know the record well by then. On the other hand, you have a new record, you put together a campaign, you have all these dates and then it all comes to a screeching halt. We've never had anything like that happen. It affects the bands, crews, everyone plans their world for the next year and a half when you have a new release.
Do you have a personal favorite track from Titans of Creation?  
"Children of the Next Level" always stood out to me, one of my favorites. It's just one of the first ones we wrote. One of the first we wrote lyrics & hooks for and was always solid throughout the entire writing process. I thought that one could've really been right off 'The Brotherhood of the Snake' record as far as the vibe of the music. Also, the lyrical content. Ya know, it's kind of futuristic, about alien life, stuff like that. Honestly, that one that stood out and I thought that was the direction the record was going to take but then Eric (Peterson) came out of left field with these totally insane riffs that were really challenging. So, it definitely took a different direction.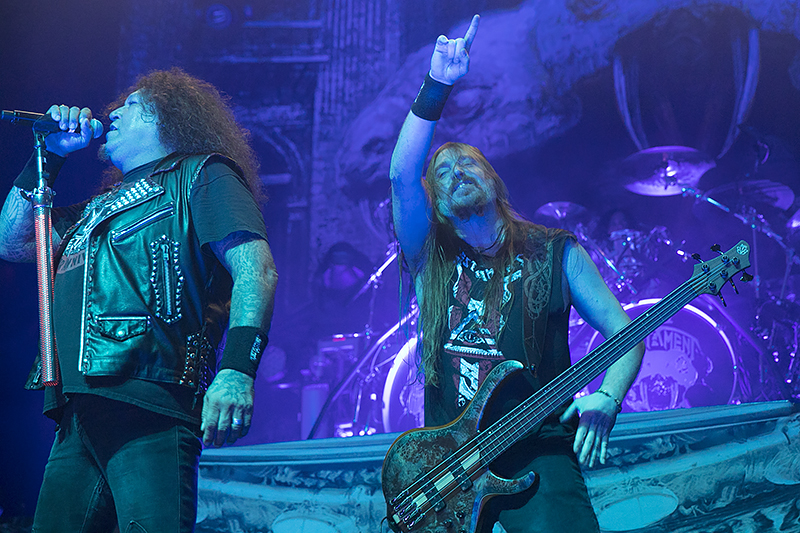 What was the experience co-producing with Juan Urteaga like for the band?   
Eric and I have always produced, and Juan has always been involved. He's not the producer/engineer type that just sits there and does the recording. He's always got some input. But I think on this record, Juan had a lot more input because five or six of the songs we just went in, at least for me vocally, I went into the studio and approached them with first inspiration. We'd listen and agree, "yeah that feels good," so we'd stop & then try this. We worked it through a little more this time I think, lyrically, and I did melodies with Juan. So, we thought he deserves more credit as co-producing with us. You know, because he was there with us throwing out ideas. Some sticking and some not.
What's your five-year plan look like? If the industry doesn't collapse as a result of this pandemic, do you see yourself still thrashing on the road at 63?
Yeah, I don't know any better! I'm feeling pretty good, I'm feeling pretty healthy. I'm still looking forward to getting back on the road. I'm just not looking forward to what the future holds, what is that going to be like? That might be the hard part to swallow when things get going. We tour quite a bit and have established what we do on tour now and built up our production level. Now, to bring it all back again. We don't mind just getting in there and throwing down musically either. It's going to be more about performance again, and I think that's a good thing. It's gonna be a process. Who knows, once we get a hold on the pandemic and things hopefully get back to normal with an antivirus, we can get back to what we know.
I see your posts about your Peloton workouts. Was this a normal routine for you prior to COVID-19? What lifestyle changes if any, have you made as a result of catching the virus & beating it? 
I've been a Peloton guy for about a year now, I guess. Once the pandemic hit, of course we were sick for a month or two and didn't have the energy to really workout. But once we started going back to it, I really got back into it. I originally bought it as a vocalist, I really sing with my lungs and my diaphragm. It's all wind. The bike really really does that for me. We got home off the road and sitting around like everyone else eating good American food, put on a few pounds. Once we started getting better and learned we're not going on tour, I really started hitting the bike and doing a keto type thing. I've lost over thirty pounds over the past four or five months. I'm gonna keep going, that's my goal that by the time I hit the road I'll be fit and trim and ready to go. That's my little personal thing I got going for my music.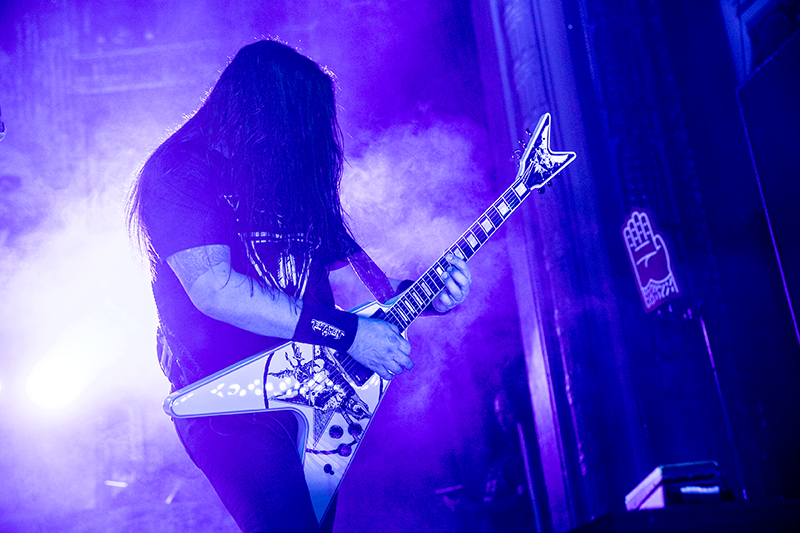 You've been a notable voice of positive influence for the recognition and progression of Native American history and causes, in particular your Pomo tribe. What's your feeling surrounding current social climate in the U.S., in particular the imminent name change of the Washington Redskins?

You know, my friends have been asking me about that. I don't know how I feel about that. I could be offended by it, but because of the way it's been for so long…It's been that way my whole life. What's going on in the world, I see them bringing down statues and such. History is changing, so why not? Why not be a part of that change?
Many thrash fans have been vocal over the years about what was deemed 'The Big Four.' Frequently mentioned as overlooked have been Testament, Exodus, and Death Angel. You care to share your thoughts?
 When they say "The Big Four" I take it as reference to the big four as far as record sales, ticket sales, etc. At that time, yeah those were the big four bands in our genre of music that crossed over to bigger labels and started selling gold and platinum records in those days. I think there was a second wave of bands that followed, that were coming up, that were selling a lot of records, and stepping up into that gold-selling status. Then, the bottom dropped out with grunge. That Big Four thing to me is what they truly meant by it. It's great to be mentioned and people say you should be part of it, awesome. But as far as The Big Four, they are. For me, bands from the Bay Area like Exodus they're the ones that started this genre and started us all in the Bay Area writing brutal shit.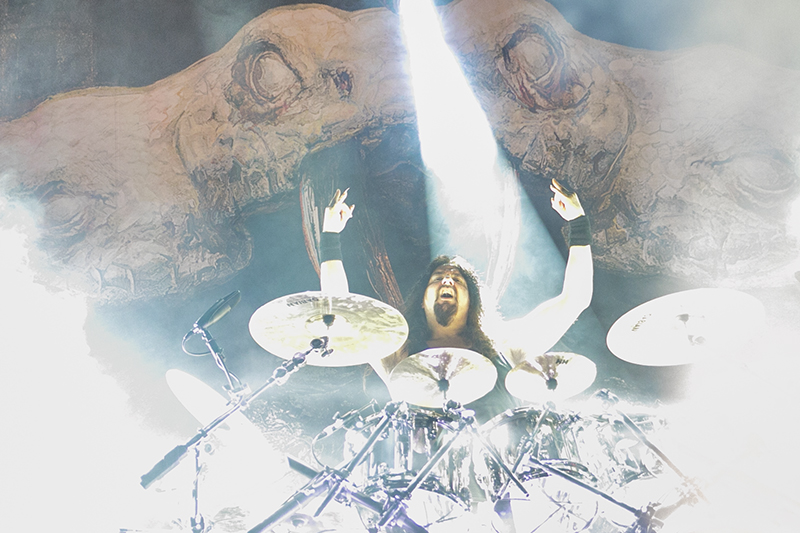 You've branched out and partnered with Lord Vapor for your own signature series of cannabis-related products branded "The Chief." How's that going and are there any other future business ventures you're interested in?  
 We're still doing The Chief, that's still going well. As far as trying to survive, I started a real estate redevelopment company about a year and a half ago. I bought into a program and have been studying real estate, which is basically flipping houses. Now with time off music I've been focusing a lot more time in that. I've actually been flipping some houses in Arizona and going to start my company out here in the Bay Area, putting my team together. That's something I look forward to doing down the road. I enjoy real estate, I've flipped a few of my own houses here in the Bay Area, it's something I like to do. So that's been taking a lot of my time lately as well. You know, I'm the guy who's always collected a lot of stuff our whole career out on the road like posters, etc. I finally just came to a point especially after being home stuck in the house cleaning out closets and boxes and finding things I said to myself "I've got so much stuff I gotta start getting rid of all this stuff." So I started my own "Chuck's World" website and started selling posters, tour jackets, I have microphones. I go through a mic every week out on tour, so I sell those off. Just stuff I have that's been sitting around I need to get rid of. I've got a graveyard of mics for sale there, ones that have been used on Slayer tours, Judas Priest tours. So, I've been doing that on eBay and doing whatever I can to stay busy.
Let's maintain the optimism and say touring resumes within the next 12-16 months. What would your "dream package" be for Testament?
Well, for right now, the Bay Strikes Back Tour we had going in Europe with Testament, Exodus, and Death Angel was a great tour. That's where we finished the tour and got sick with COVID-19. We had plans to bring this package for an American tour, then go back to Europe in December. So all that's been cancelled. Once things open back up we're just looking forward to continuing with that package. Three Bay Area bands with our history together, it was such a great tour. No egos, no attitudes, everyone just performed to their fullest, the fans really got off to it. So, I'm looking forward to getting some more of that! We're building it back up, it's gonna happen.
What do you think of these drive-in shows that have become popular as a creative alternative for live music?
I think it's cool. It gives somebody something to get out and do. It gives the artist an outlet to do that, I think it's pretty cool. I think with times coming up, people are going to see what's trending, what people are doing, and learn off each other. There's lots of Zoom (live streaming) performances on the internet. It would be cool to take it a step further, more intimate, a more personal show. I don't know what it's gonna be like if we're gonna be stuck not able to get out there. We'll see how it goes.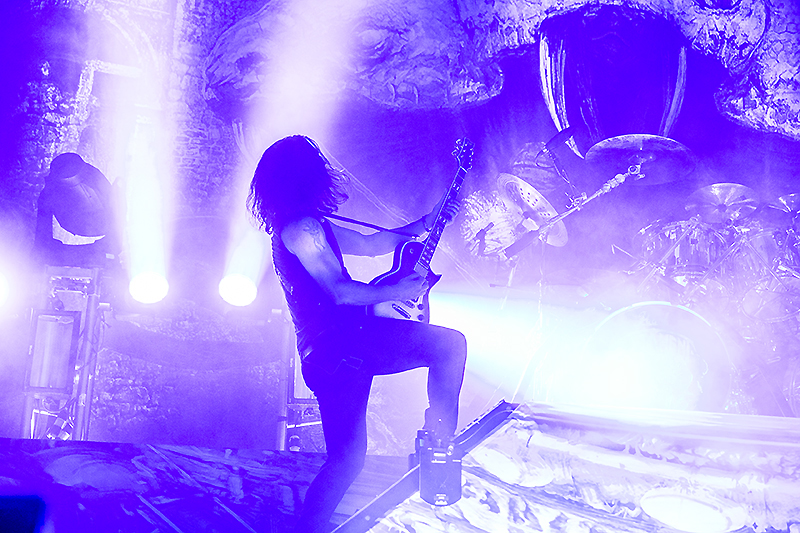 If you could resurrect one venue that's no longer operating, what would it be? Why is that one special to you?  
I'll have to say it would have to be The Stone (San Francisco). Just because of the memories for me, where it was on Broadway. Being a kid an hour away from the big city, on Broadway that was a special spot. Being young, being new to the music scene, being part of that. The people that ran the place, the Corona brothers, they were awesome. They really took care of the community that was there, that was the place. The whole thing, the tattoo shop, the strip joints, the wharf nearby. It was the cool place to be growing up in the Bay Area.
Check out Chuck's world here.
Photos of Chuck Billy and Testament by Raymond Ahner.