During the pandemic, musicians and others in the music industry have been one of the most financially impacted groups. With large gatherings remaining out of the question and venues struggling to stay open, this has been a difficult time for economic survival from all angles in the music industry. 
So how have musicians managed to remain afloat during these times?
Heading into the spring of 2020, many bands and musicians had ambitious tours  booked, new music recorded, records were pressed and merchandise created. A large contingent of artists across the nation and world were fully set-up to have a fantastic year on the road as their families grew at home. 
According to many industry experts, 2020 was set to be a record-breaking financial year for the live music industry. So this has been a major blow.
Far too many music acts to mention have faced the challenge of this scenario and have struggled to figure out ways to connect with their existing fan base in ways that are outside the norm. It's incredibly challenging to grow or even survive while everything has come to a complete halt out there for the touring industry.
Many bands and individual artists were  poised to make some big moves in 2020 based on the arc of their trajectory and their complete dedication to what they do. So what to do when you have made a new record that you are extremely proud of and anxious to get out there?
Early on in the pandemic, musicians started to appear live on social media platforms like Facebook, Instagram, and others. It was a little clunky at first for many, since this was new technological territory, but eventually things showed a rapid evolution as some continued to pursue the live format or opted to pre-record and produce what they put out there. After a full three months of doing this, many musicians have become amazingly proficient have their performances have been a welcome part of the weekly schedule. 
After observing many of these evolutions, I have established a short list of performers whom I have enjoyed on a regular basis and have had the opportunity to watch multiple times. What follows in Part 1 is a list based on three categories. The categories are Live stream, Pre-Recorded Audio Streams, and Archived Classic Material. My experiences were limited to what I have discovered or were suggested to me and I realize I haven't even explored all of the possible mediums yet. We will continue to explore in Part 2.
And naturally, it's important to mention that the means in which the artists have gotten paid for these live and pre-recorded performances is through a virtual tip jar. Generally, each artist will post their Venmo or PayPal info through which the participant can make a donation. Some would require pay for entry to the their performance, but most have relied on the donations. 
Live streams: (Average run time 1 hour.)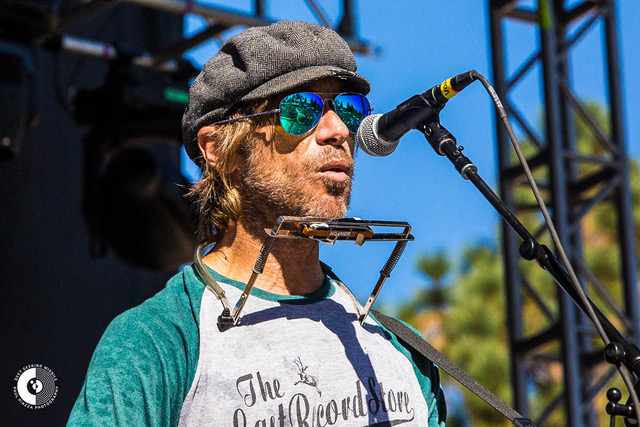 Artist: Todd Snider
Location: The Purple Building
Genre: Americana, Folk-Rock, Alt-Country, Humorist
Venue: .Facebook
When: Sunday mornings at 9 am Pacific time. 
Details: Sunday mornings at the Purple Building in Nashville (aka the First Agnostic Church of Hope and Wonder) with Snider, the great songwriter/storyteller have become one of the most compelling livestream evolutions. The first couple of times out, Snider looked visibly uneasy and even verbalized it a few times in one episode. With some adjustments like bringing in a few friends and family to watch off screen, one could see and hear Snider visibly loosen up. He gave a command performance on Easter Sunday in honor of the passing of his close friend John Prine, and from that day on, it seemed like Snider was a man on a mission. With seemingly, a quip for every occasion. 
And the uniqueness of the time slot is part of the magic here. While many artists target the happy hour and evening hours, as they might in the normal world, Snider's Sunday morning is different. It's the groggy, giggly, joyful wake up to the weekend's final day.
---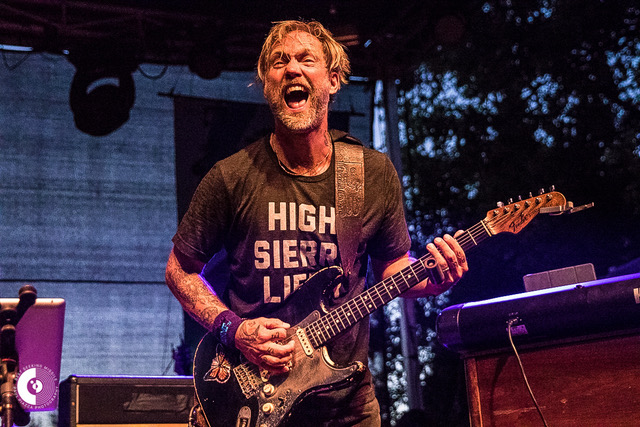 Artist: Anders Osborne
Location: Living room in New Orleans
Genre: Americana, Roots, Psychedelic soul, Blues Rock
Venue: Facebook
When: Every other Friday at 4:30 pm Pacific Time
Details: Anders, like many, struggled at the outset of his livestream saga. There were sound issues, lighting issues, and streaming problems with an early episode that had him downright frustrated. 
But through perseverance and the sheer roaring joy in his heart, he has persevered and gotten technically better week by week. 
And the entire journey has been a blast because Anders has been doing this with the assistance of his wife and college aged kids, who had returned home from school. So there is a lot of off camera banter, the occasional fresh batch of cookies, and Anders hollering for his wife Sarah to grab a harp in a particularly key and join him in song. He goes between acoustic and electric and has taken deep dives into his catalogue and debuted some new songs as well. Most recently he brought in a second musician for the first time, the amazing vibraphonist/percussionist Mike Dillon.
---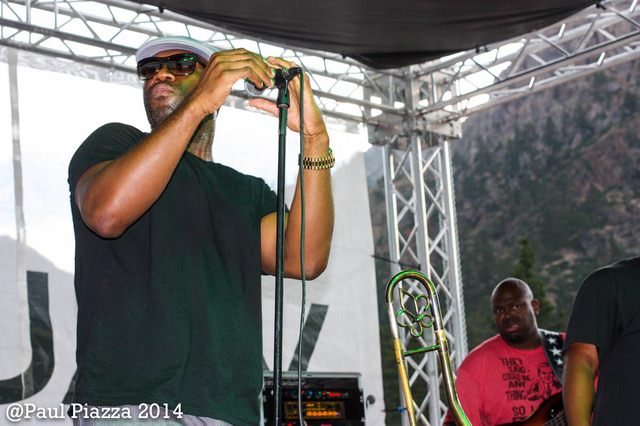 Artist: Big Sam and the Funky Nation
Location: Sam's driveway in New Orleans
Genre: Funk, roots, New Orleans soul
Venue: Facebook
When: Sunday at 10am Pacific and Thursday at 10 am Pacific
Details: "Big Sam" Williams and his band have done a fantastic job of adjusting to a multitude of different scenarios, starting with the fact that they were playing as an entire band from their first time out, which very few were doing at the time. So personal spacing and masks were the first challenges. This was solved with cones and impressive spacing on Sam's lengthy driveway. Next big challenge was getting hit with an unexpected tropical storm right at the beginning of a Thursday set. The band retreated and set up in the garage where they restarted. Eventually, they came up with an impressive EZ-Up Canopy system that is particularly useful now that things are getting hot outside. But high marks for excellent sound and spirit and pure funk joy. The top episode was when they were sponsored by the New Orleans Saints and were chest puffin' and struttin' the Who Dat!?! Walk, which took it up to a whole other level. Always positive, always funky and right in the driveway. 
---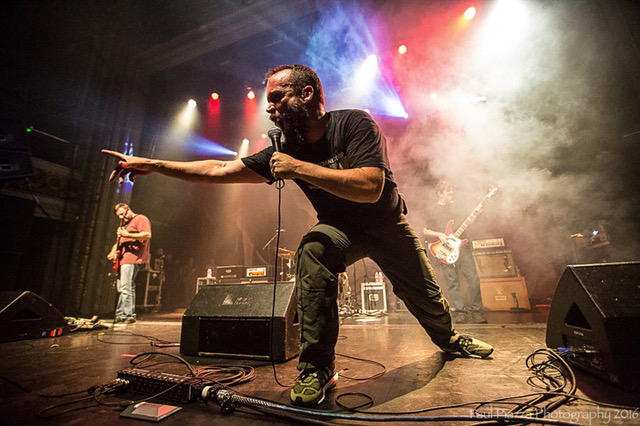 Artist: Clutch
Location: Secret Baltimore area Lair
Genre: Stoner Metal, Go-Go, Heavy Boogie
When: Random Times
Venue: You Tube
Details: The formidable foursome got a slightly later start than everyone else but it was worth the wait. Socially distanced at an unnamed Maryland location, they decided they would pop up live when they were ready. So one might get a notification that Clutch were about to go live and there they were. Excellent sound from the get go and they played a variety of newer and older tunes. A few weeks into it, they were one of the first bands to host a pre-pay mini festival with three other bands. For $9, fans were able to watch Clutch headline. 
---
Artist: Tim Bluhm (the Mother Hips)
Location: Variety
Genre: Americana, California Soul
When: Friday at 6pm Pacific
Venue: Facebook 
Details: Tim Bluhm of the Mother Hips is a fantastic singer/songwriter and soundmaster as his live streams have aptly demonstrated. But one of his greatest strengths has been his love of the outdoors and he has shared this love by going live in a number of outdoor locations that include a pier, a forest-y outdoor balcony, and a very special lakeside jam with guest Jerry Joseph, and a couple with fellow Mother Hips members. That really challenges the technical side of things, with so many location changes. He did struggle with one on a boat on a very windy day, but that was basically an impossible challenge. Still he has persevered undaunted and taken everyone outside to some nice places get some fresh air and great tunes. The last couple have been from the studio.
---
Artist: Samantha Fish
Location: Home studio
Genre: Blues, Americana
When: Friday at 5 Pacific (sometimes earlier) and Mondays 4pm Pacific
Venue: Facebook
Details: Samantha Fish Fridays have been a positive place to land. The effervescent young blues guitarist has made a name for herself with her wicked slide playing and unique cigar box guitar stylings over the past few years and there is plenty of guitar on these broadcasts. But what you also get is an intimate hang with an ever-evolving songwriter with great depth and an understanding of the context of music history. Her cover choices are also excellent and can run from Neil Young to Gladys Knight and the Pips. 
Fish also does Wild Heart Mondays with Nicholas David who was a finalist on the Voice in 2012 and has since become an in demand sideman for a number of national artists including Devon Allman. The collaborations have been quite excellent.   
Pre-recorded songs via Zoom (or similar platform) and edited together.
Artist: Charlie Hunter
Location: At home
Genre: Jazz, funk, improv, Experimental
Venue: Instagram, Facebook
Time: Random
Details: The world class guitarist and composer, who plays seven or eight stringed custom instruments, is always a joy to watch as he gracefully intertwines bass lines, chords, and melodies. He is also a genius collaborator who brings in incredible guests. His Zoom sessions have an improvised jam feel and create sparks of musical joy and energy that are a wonder to behold as Hunter gives the guests humble space to create. He also has done his share of solo improv jams and he has also done some excellent conversations on Instagram that reveal excellent historical anecdotes from the likes of the great jazz and experimental music drummer Bobby Previte, who has worked with many including John Zorn. He has had a couple of Zoom jams with Snarky Puppy percussionist Keita Ogawa (a frequent collaborator) that are truly incredible.
---
Artist: Alex Skolnick
Location: At home
Genre: Metal, improv, contemporary
Venue: Instagram, Facebook
Time: Random
Details: Skolnick has been awesome during these times. In early April, he teamed up with drummer Charlie Benante (Anthrax) and bassist Ra Diaz (Suicidal Tendencies) to cover Rush's YYZ Zoom style and that worked out so well the trio did a couple more Rush songs and have gone on to do more. Skolnick has also done plenty of solo livestreams, some focusing on interpretations of songs ranging from Prince to Billie Eilish to Pink Floyd. He has also done improv sessions that often segue into passionate takes on the world. His perspective is always appreciated and his ever-evolving chops are always breathtaking to behold.

---
Artist: Chicano Batman
Location: At home, outdoors, studio
Genre: Psychedelic Latin Funk and Rock
Venue: Instagram, Facebook, YouTube
Time: Random
Details: The creative quartet from Los Angeles, began exploring social media with some individual live DJ streams on Instagram that gave us a look at their individual creative spaces. But Chicano Batman, like many other artists, had strategized their entire year around a new album, tour, and all the logistics that come along with that. And their album wasn't to be released until May 1. So it was quite remarkable watching their long-distance album release plan unfold.
They pulled off a couple of brilliant strategic YouTube moves that gave it some rapid circulation. They had already completed some videos pre-Covid and released those, but then posted a one-hour plus YouTube talk that had them each in remote locations separately breaking down the recording process and songs on the new album "Invisible People," track by track. This was very effective. They also recently did an episode of NPR's Tiny Desk at Home that featured nothing but new tracks (mostly deep cuts) recorded Zoom style that was quite excellent. 
---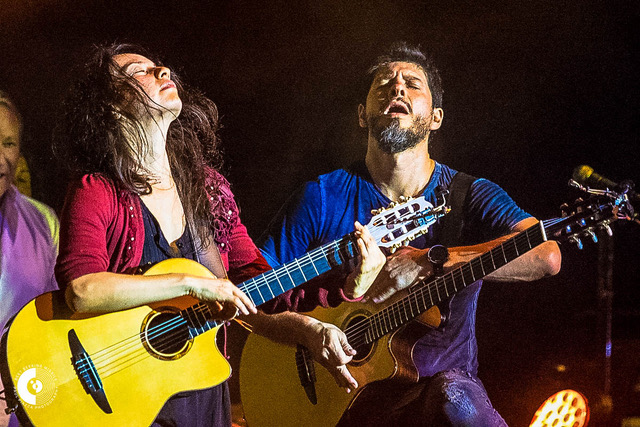 Artist: Rodrigo Y Gabriela
Location: Ixtapa, Mexico
Genre: Fierce acoustic/Percussive guitar/ Metal 
Venue: Facebook/Instagram/You Tube
Time: Random
Details: The dynamic duo are the winners for being quarantined in the most beautiful location-Ixtapa, Mexico. Their initial forays included some attempts at going live, but it was difficult to get the balance of their sound just right. So they retreated to the pre-recorded mode and with complete control in the studio have released some master performances. Their constant pursuit of knowledge both musical and intellectually has been a key component to what they have released and one episode featured Gabriela simply sharing some of her favorite books. Always open hearted and always positive.
Archived Classic Music Festival Audio Newly Released
These sets are audio only and one fo the strengths of this is you are not tied to a screen and it goes back to the old school experience of letting the music create imagery in your mind.  
Event: Jazz Festing in Place
Location: New Orleans Fairgrounds-home of the New Orleans Jazz and Heritage Festival
Genre: Jazz, Funk, Blues, Traditional and much much more. 
Venue: WWOZ radio out of New Orleans…the app works the best. 
When: This ran late April/early May to coincide with this year's cancelled festival dates. Next episode Labor Day Weekend.
Details: Jazz Festing in Place was pure music gold for true music junkies from one of the world's most beloved festivals, which was due to celebrate its 50th year. It has been the finest example of taking an extensive history of archives and making it come alive over two separate four-day weekend music marathons. Simply incredible and breathtaking hearing epic sets from legendary artists like Allen Toussaint, The Meters, Dr. John, Pete Seeger and Irma Thomas as well as newer artists like Galactic, Trombone Shorty, Anders Osborne and Gregory Porter. So much goodness. The schedule was on Central Time and would start early on the west coast and conclude by 6pm or so. Thus, it become a fantastic work or project companion. Apparently the broadcast was so well received that WWOZ is planning their second go-round called The Next Fest Thing that will include more of Jazz Fest plus performances from other New Orleans area festivals including French Quarter Fest, Satchmo Fest, and many more. This is scheduled to broadcast over two weekend starting Labor Day weekend. There will be a companion video broadcast called the WWOZ's Virtual Groove Gala to kick things off the night before the radio broadcast featuring many excellent contemporary regional artists. 
---
Event: Home Sierra
Location: Plumas County Fairgrounds-home of High Sierra Music Festival
Genre: Jam, Funk, Americana and much much more. 
:: KVMR (Grass Valley) or nugs.net
When: This festival was broadcast over the 4th of July weekend to coincide with the dates of the festival, which was cancelled this year. 
Details: This is one of the West Coast's finest annual gatherings, featuring incredibly diverse music all day and into the night from a variety of stages. This outstanding broadcast covered all that and more with a weekend that featured a schedule of music running all day and all night throughout the course of the weekend. It also included some current remote performances from some festival favorites. But the archives revealed too many special moments to mention as the curators of the event selected sets from the 29 years of the festival's existence. This year was to be the 30th Anniversary. Some of the highlights included sets by John Prine, Little Feat, and Bela Fleck and the Flecktones, and many many more that were absolutely riveting and made sleep challenging…just like the real thing. 
Take action: Every one of these streams and broadcasts has a donation option. Please consider helping in any way you can if you are able to. Let's continue to support live music.
Photo of Samantha Fish by Paul Piazza.