Baroness
Gold & Grey
Abraxan Hymns
Ever since bursting onto the metal scene with their debut record, 2007's Red Album, Baroness have become known for their expansive sonic palette, with each ensuring album exploring different sonic territory in addition to sporting beautiful, color-themed album artwork. The band has endured plenty of lineup changes in the ensuing years, with the group narrowly surviving a bus crash in 2012 that left guitarist/vocalist John Baizley with permanent physical damage. At the time Baroness seemed poised for a big breakout off the heels of their double album Yellow & Gold.
After significant rehab and another lineup change, the band came back to life with the impressive Purple in 2015 and everything seemed to be back in place. However, longtime guitarist Pete Adams left the group at the conclusion of Purple's touring cycle, leaving Baizley with the arduous task of again retooling the lineup. So here we are with the long-awaited new record from Baroness, the sprawling 17-track Gold & Grey, a record the marks the end of the band's color-themed album cycle and a new beginning for the group as this is the first recording to feature new guitarist Gina Gleason.
Gold & Grey is both an expansion of the classic Baroness sound and a refinement of their past records, and the album manages to somehow accomplish both in stellar fashion. There are plenty of sludgy metal songs that recall earlier Baroness, but there are also just as many sonic detours into experimental music, jazz, indie-rock, and folk. One thing is for sure though, Gleason has given Baroness a tunefulness that they never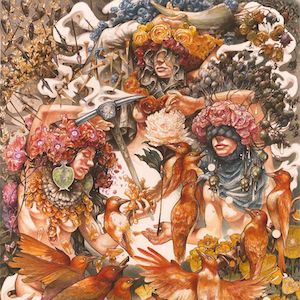 had before. With her backing vocals and lead guitar playing, Gleason provides a counterpoint to Baizley's gruff singing and guitar playing and the resulting combination makes these songs deep and memorable. To his credit, Baizley sounds incredible here, delivering his best vocal performance on a Baroness album. Songs such as "I'm Already Gone" and "I Do Anything" swell with beautiful vocal melodies and catchy guitar licks.
Working again with producer Dave Fridmann (known for his work with the Flaming Lips), Baroness have made some odd production choices here. There is a kind of distortion present throughout the record that you won't find on many rock/metal releases, and while it does give Gold & Grey a unique sound, not every listener is going to feel great about how the album sounds. For many, that type of warped distortion makes everything muddy and hard to hear. However, it is a minor complaint considering the great mixing job on the album, one that puts bassist Nick Jost and drummer Sebastian Thomson up in the front, letting them run wild with complex rhythmic changes and wild fills.
The emotional centerpiece of the record comes in the form of the gorgeous "Cold Blooded Angels," a swirling ballad that eventually opens up into a blistering rock song. The track is reflective of just how far the band have come since their sludge metal beginnings as "Cold Blooded Angels" begins with some peaceful acoustic guitar and vocal harmonizing from Baizley and Gleason before turning up the intensity, only to settle back down at the song's conclusion.
In a day and age where many bands no longer adhere to the idea that an album should be a coherent musical piece with a beginning, middle, and end, Gold & Grey is a nice change of pace. Each song on the record flows into the next one, giving the entire thing a sense of unity that many modern albums lack.
Once again Baroness have demonstrated that they are one of the most creative and innovative bands in the metal/rock world, with Gold & Grey standing up to every other album they have previously released.
Photo by Pam Strohm.