The Gold Souls 
Downtown Sounds
Downtown Sound, the 2nd full-length release by The Gold Souls is an excellent follow-up to the band's first release, Good to Feel. The stylistic Sacramento blues, funk and soul group demonstrate impressive growth in a dramatic range of areas on this new one-particularly in the aspects of songwriting, lyrics and recording. At its core, the group features the trio of founding members vocalist Juniper Waller , drummer Billy D. Thompson and keyboardist Alex Severson who were joined by guitarist Darius Upshaw in 2019 and most recently by bassist Avery Jeffry, who replaced departing founding member Jace Dorn.
The group's evolution of sound can be attributed to a nonstop work ethic during the pandemic. Like many, they used the time for introspection and growth, but also went on living and working on their craft while keeping a close eye on what was going on around them. And in Sacramento that meant witnessing the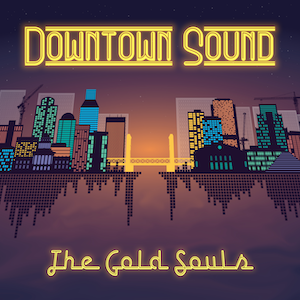 landscape rapidly changing as the region (one of the fastest growing in the U.S.) absorbed both Generation Z'ers and ageing tech hipsters who were fleeing the higher cost and densely crowded cities in the Bay and beyond. Naturally, the fallout of that is noted in the smouldering title track as the band reflects on navigating the ongoing fluctuations happening in the Capitol City and its effect on the local art scene. "They say it's up and coming/Well what if it's up and gone."
The record's strength is a wide-ranging variety of approaches to music and lyrics, kicking things off with the urgent funk of "'94 Chevy" and ending with the vulnerable struggle of "Tears in my Ears," with an abundance of rich territory in between. Echoes of a myriad of emotions, urgencies, social concerns and anxieties resound throughout this record.
"Coffee Song," which kicks off with a bottom end as thick as the grounds left behind in a French Press, could not only reflect Sacramento's renown as a coffee roasting mecca-it also captures the feeling of someone who could use really use a good strong cup of coffee. Unfortunately that person is stuck in line at the coffee shop behind a frustrating, slow-ordering, indecisive laggard. "Pto" could be about someone who is dying for a holiday away from the rat race, but will likely be unable to escape their own thoughts once they get there. "Streetcall Recall" addresses toxic masculinity with a hyper-pulsed tempo that gives it urgency and also makes it a killer live track..
Smack dab in the middle of the record lies possibly its biggest gem. The song "Heart Curves" is a tune about wanting to be accepted for one's own quirky self, nuances and all, without having to fulfil a preconceived role.  This one resounds with a sparse sharp musical arrangement and perhaps Waller's finest vocal performance on the record. "I'm sorry if it scares you /I'm not easily defined."
And as the band embarks on a regional tour to showcase these new songs, hopefully they'll find audiences willing to listen closely, feel it deeply, and take it all in and dance along.
Listen to The Gold Souls here.
Photo by Kevin Gomez.