Donʻt Turn Your Back
The Pendletons
Bastard Jazz
Donʻt get it confused, The Pendletons – a boogie-funk, modern soul outfit created in San Francisco by Eric Boss and Daniel Meisenheimer – are always gentlemanly with their groove. Shit. Gilles Peterson, the international DJ, tastemaker and label head released their 2016 track "Gotta Get Out" on his Brownswood Bubblers compilation. So you already know how they get down. Understanding the hardship of starting off a project cold, they always share the Funk around with Bay Area artists or musicians abroad.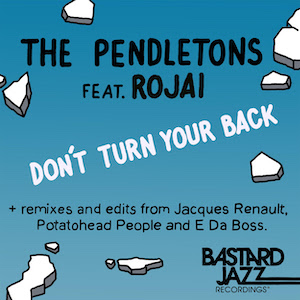 Recording as E da Boss & Trailer Limon, 2019ʻs 2 Steps Away, a nine-song muse on the scars, bumps, and bruises of life, the pursuit of mature love, and hopes of spiritual blessings for the world ripened the group's sound, bringing that mature gravitas to the surface.
So just in time, like the Bat-signal got released in the sky, the SweaterFunk-affiliated pair double down with the fleshed-out new track "Don't Turn Your Back," featuring Kool Customer vocalist Rojai. Bubblewrapped with the regal flute, sax, and trumpet accents, snackable bass line, analog synths teleporting us to the Soul Train line and Rojʻs vocals taking the lead, this band's clean energy is what the world needs now. With help from guitarist Carl Locket of Shalamar and Rick James fame along with Star Creature recording artist Elive, it makes the arrangements lived in. Not studied. Right, and ready for your in-house streaming DJ sets, to Red cup parties in the basement or back deck for your social distancing parameters – six feet apart people – The Pendleton's remain undefeated.