Daydream Accelerator
Rob Garza
Available from the usual places
Jon Bauer contributed to this review.
Rob Garza's Daydream Accelerator melds musical styles to create a multi-faceted whole. Much like a technology "accelerator," Garza's work underscores that collaboration with myriad artists, yielding a stronger work than a mono-focused effort. Rob Garza's 25-plus years of collaboration with Eric Hilton as Thievery Corporation paved the way for Garza's solo venture. Synth heavy with an EDM focus, Garza invites a variety of collaborators to join him on his internationally inspired sonic journeys.
"Summer Is Ours" starts out the album with soaring high register vocals by Yësac of Enemy Planes. The song has a strong 90s rock anthem rhythm and beat with an undercurrent of electronica. "Can't Kill Me" follows,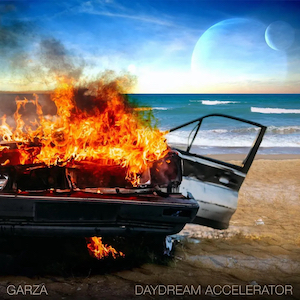 with NYC house producers Walker & Royce supporting Calica on vocals. The song feels a bit like one you'd hear at a club, but has lots of modern synth touches. "Future Comes Too Late" with EMELINE starts with a soft organ intro before settling into a jazzy, horn infused ballad. Racquel Jones, a frequent Thievery Corporation collaborator, offers "Talkin'" — a modern track with a reggae inspired, conga drum accented song for one of the more divergent pieces on the album. Jones is followed by a hypnotic redux of Bassa a la Brazil in "Ocean Morning Echos". Next, "Way Out" takes listeners on an ethereal trip exploring the frailty of our existence. EMELINE is again featured on Garza's closing track which has sweeping strings, a subtle dash of sitar a la "Lebanese Blonde," and longing vocals with themes of rebirth giving a world music echo. EMELINE is now releasing her own solo album – expect big things from her in the near future.
Daydream Accelerator serves up songs for our tenuous times — born out of quarantine yearning for the connections we've all been missing. Garza's work is grounded in ancient musical trends from the 80s synth years of Soft Cell to today's electro-indie-Latinx-sitar imbued melange; all of which are integrated with stylistically varied vocalists and musicians. The musical equivalent of a boutique grocery store, Daydream Accelerator stocks all of your eclectic favorites plus a few exciting new impulse buy options.
Photo by Jon Bauer.
Listen to "Summer Is Ours" by Rob Garza, featuring Enemy Planes: