It's been roughly thirty-seven years since Death Angel unleashed their ultra-violent sound bound together by their love for metal and family ties. This pack of wolves has weathered many storms together over their career and while there have been breaks, bumps, and bruises along the way, they continue to persevere and peak. The San Francisco-based thrash legends are currently in the midst of a headlining North American tour promoting their ninth studio release, Humanicide. SF Sonic caught up with co-founding member guitarist Rob Cavestany to discuss the current state of affairs and, most notably, their recent Grammy Award nomination for Best Metal Performance.
SF Sonic: Congratulations on the Grammy nomination, what a surreal feeling I bet?
Rob Cavestany: First of all, thank you for starting with that. That fucking kicks ass. Yes, it is totally surreal. It is completely amazing, we are speechless. It just came out of nowhere. I never thought or dreamed that would happen. In the deep, deep, deepest part of your mind as a musician you would hope that one day you would be involved in that thing you watched on TV as a little kid. It's the highest caliber of recording artists, so it's just like "Wow, yeah!" It was funny, I just did an interview before ours and I was waiting for the question to come since it was the first interview I did since the nomination announcement and the interview concluded with no mention of it. I had to bring it up. "Hey, you're not going to ask me how I feel about being nominated for a Grammy?" (Insert failed joke sound effect 'wha whaaaa').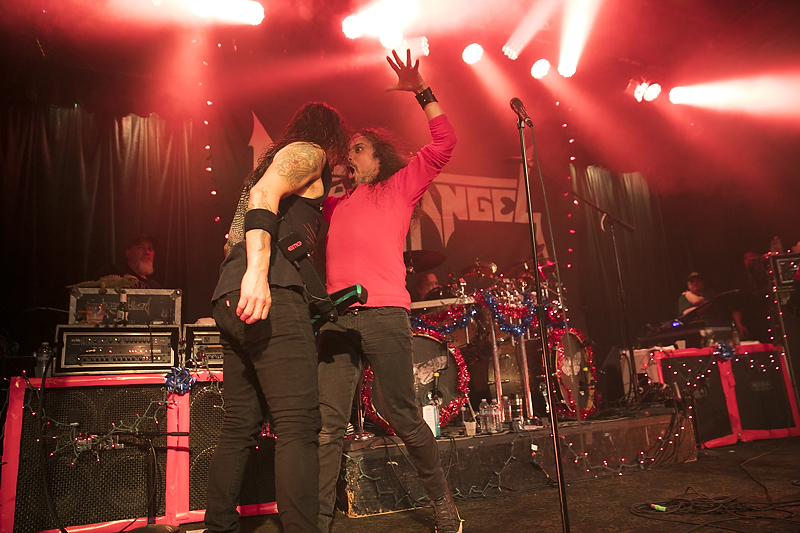 SF Sonic: Here's one that is the focus of a lot of debate among metal fans. Honest answer here, what are your thoughts about the Big Four? (reference to thrash metal's "Big Four" consisting of Metallica, Slayer, Megadeth, & Anthrax)
Rob: I get it. I totally get it. They are the four most successful bands in the genre. Who am I to argue? All four are fucking killer bands! Of course, it gets lot of debate. Everyone's entitled to their own opinion. At the same time, I think people are too quick to be a hater when they fail to realize all the aspects of what they're basing their opinion on. So, I get it and I certainly don't argue it.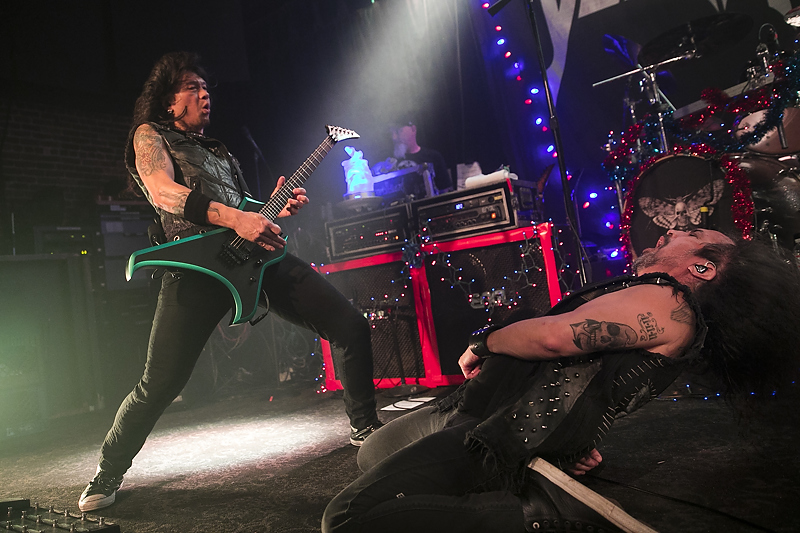 SF Sonic: Death Angel is in the middle of your first headlining tour in a while. Can you share your thoughts about headlining runs versus the killer support slots you've been on in recent years?
Rob: I am loving this headlining run. Partially because it has been quite some time. We've had some great support tours & that is great in a way that we are getting exposure to other fans. You're trying to win over or convert new fans that may or may not have heard of you or have never seen you. Plus, we're playing to bigger crowds that we normally would not on our own. But the sets are really short so there's not enough time to give a taste of all your catalogue. For a band like us that's been around so long and has so many albums, so many songs to choose from, it's really hard to pick a set list. Sometimes we only get six songs in our set and we have nine studio albums. There's not even time to play one song off of every album, much less more than one. Meanwhile we're out here supporting our record, so you want to play more songs off of that, but you only get six songs. And you know, a lot of times we play early and we're already on stage while people are showing up and they're bummed we're done so quickly, and they missed us. You get little room on stage and we like to really move around on stage, so there's that.
With a headlining set, of course it's our show now. We get the whole stage, we can bring our production, we get our entire show. We play ninety minutes or more with material off pretty much all of our records. We play a lot of songs off the new record. But then again, it's brutal because you're playing ninety minutes each night and we give it our all every fucking show. We stack night after night after night, we don't take many days off at all. At this age, it's pretty punishing on your body and your entire existence, but we live to do this. It' just fucking awesome! So far, we're holding up just fine. We're on fire, everyone's totally stoked. The tour is already past the halfway point and things are looking good, we're totally loving it.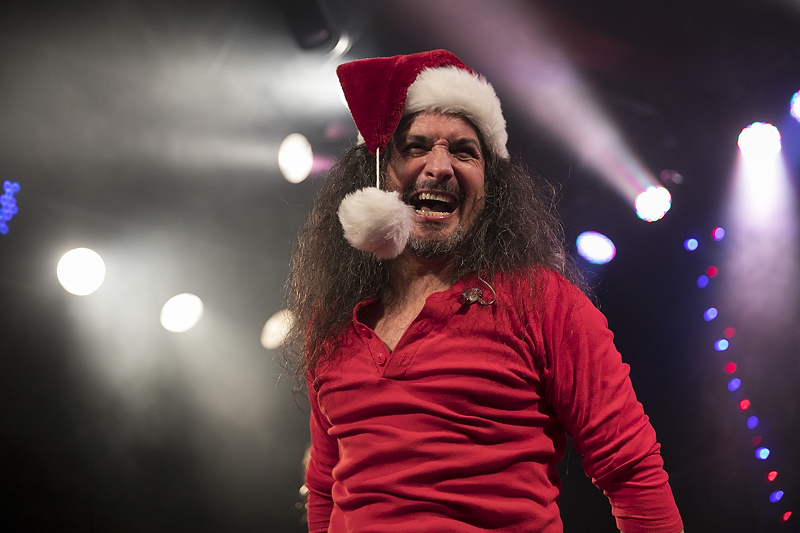 SF Sonic: You guys have such a great dynamic, just in terms of people being in a band together. Let's put the music aside, there are many unique personalities in the band, yet you guys are all so collectively a cohesive, solid unit. You guys seemingly avoid much discord, it's admirable.
Rob: I think it's necessary. I agree with what you said, and I feel fortunate that we have this type of dynamic. It's a team sport here, man. You need the variety of people in different positions. You can't have all the same personality or it's just gonna fucking implode. We are quite a variety of people and we've learned not to step on each other's toes. I'm not just talking about on stage. The on-stage part people need to realize, that's just but a sliver of the entirety that you're out on the road for five or six weeks together. It's only two hours or less you're on stage. The rest of the dance is all about existence. Group existence in small quarters. That's what will tear people up. Not necessarily the music aspect, but relationships. That's the puzzle that's harder to make fit. We seem to have all those pieces in place, at least for now. It's been this way for the last ten years straight. Sometimes it's interesting, it keeps things flowing.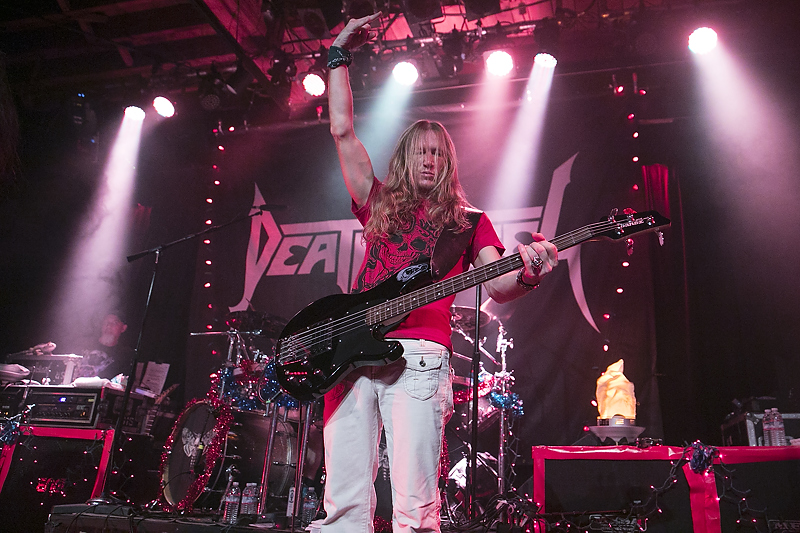 SF Sonic: After thirty-eight years Slayer just bid farewell with a performance for the ages at The Forum. Does that open the door for a new 'King' of extreme metal or is it an end of an era?
Rob: A little of both. When someone like Slayer exits, the story leaves the room. Things have to shift, you have to fill the gap, things have to move up in some way, shape, or form. They were definitely one of the titans for sure. So of course, many are sad to lose this band, they're part of our DNA. They're a serious influence, a band we respected, toured with, looked up to. But yeah, I see what they're doing, you can't argue with their choice. They went out on fire, literally! It's clear that Tom (Araya) was ready to move on from that life. If you can't give it 100% it's going to start going downhill and people will realize you're not into it. We respect them for what they did. I am sad to lose them like every metalhead is. But yes, maybe it does make some more room for some of the guys down here? Now, everyone has to claw their way into the next position, and we'll see what happens. It's interesting. It causes a little electricity inside the other players like us.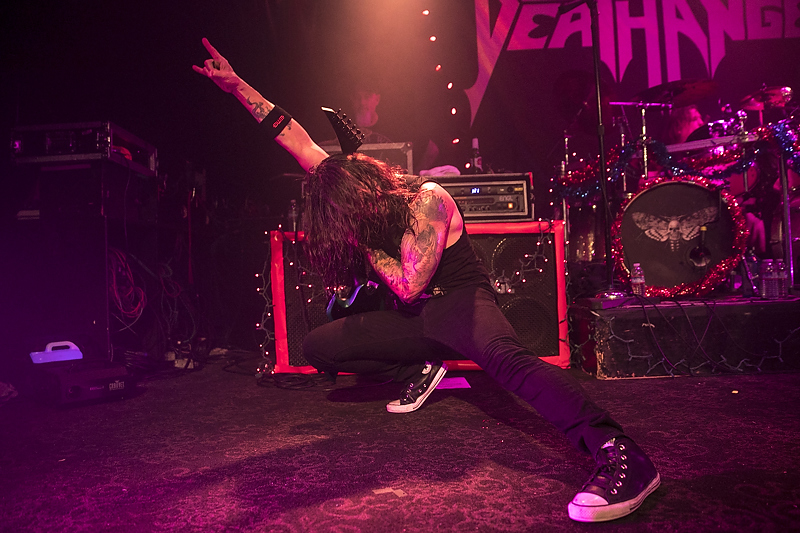 SF Sonic: With all that you've persevered over the thirty-seven years as Death Angel, how rewarding is it to get the Grammy nomination at this stage in your career?
Rob: You know, if you would've asked me this question in a theoretical manner as if we weren't nominated, asking me about my feelings about the Grammys, I may have had more of a bitter answer. You know, perhaps a jaded point of view. But now that it's happened and I can speak from experience, I can't lie. It's the most incredible, amazing feeling possible as far as being recognized in a big way for everything we've done. Our trials and tribulations like you've said, our perseverance to still be here. All the knockout punches that we've had to endure and get back up again and again. It has shaped our entire lives. It is everything we've worked for. The blood, sweat, and tears behind the scenes that we don't really show through the media. The things we experience and endure on a day to day basis to make this thing happen, it's indescribable. It's an intense sacrifice, everything you give up. So, to receive this type of recognition, I can't even explain how proud I am of this. And it doesn't really matter if we win or whatever happens next, it doesn't matter. To reach this certain level, man. It means the world to me, Mark (Osegueda), all of us. I can't believe that we're going to be sitting there with all of that talent in that room that day. We'll be sitting at the Staples Center representing everyone in our entire genre, the entire scene.
Metal, thrash, the Bay Area scene, we know all of the people that have been supporting us all of these years. Our families, our friends, our fans the outpouring of feelings for this nomination. They feel it too! It's like when the Forty-Niners are playing here in the Bay, everyone's like "we." "We kicked ass, we're winning!" They don't say "they." That's how it is with this, we're going in there representing all of that. We definitely take it to heart. It's like if you were an athlete training all of your life and you find out you're going to the Olympics. It's like that for a musician. As a musician, if you don't secretly or outwardly dream it to happen to you, then you're lying. You've got to think about all of the past winners. It is music at the highest caliber in all genres of music. The people that vote, in the academy are your peers. They're the producers, other musicians, engineers, others that work in the recording industry. Those are the people that voted you in for the nomination in the first place. It is fucking incredible!
SF Sonic: What does it mean to you personally to be part of the founding class of the Bay Area Thrash legacy?
Rob: That is also something that we carry with us proudly. We are very fortunate about that. We didn't choose the time and place where we were born and all of the events that lead us to being in the moment of that scene. We were just naturally doing our thing and ended up at the right place at the right time, doing the right thing that made us part of the history of what it all is. It wasn't a conscious decision to be in that scene, but we're very thankful and fortunate to be part of that class.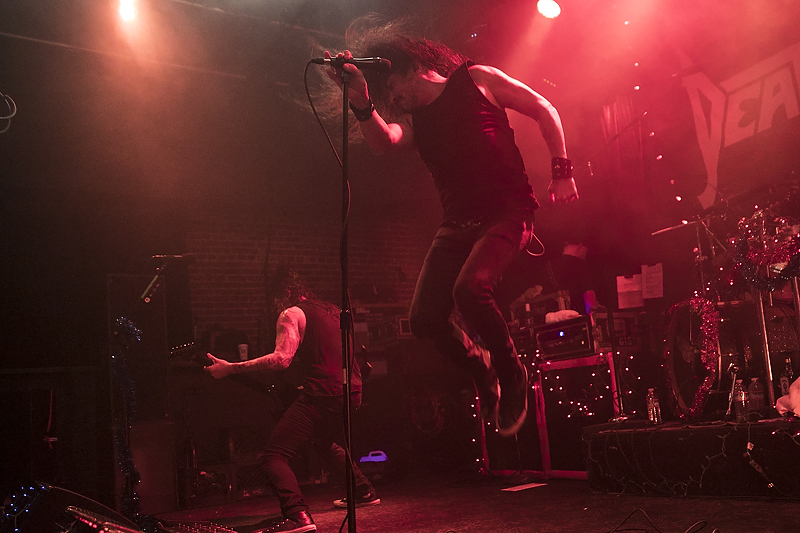 SF Sonic: Sticking with the theme, what is your favorite Bay Area show of any era?
Rob: That's fuckin' hard, dude! Now, you're talking about a whole lot of mazing events. Off the top of my head I have to mention one of our biggest shows we've ever had in the Bay Area to date. That would be when we headlined The Warfield Theater on the Act III Tour in 1990 with Forbidden supporting us. That's a hell of a moment, that's a big venue for us to headline in San Francisco. I could easily say that one.
SF Sonic: Songs like 'Lost' and 'Immortal Behated' show strength and confidence of a band that's been at it for three decades. You care to elaborate a bit?
Rob: I appreciate you calling out those two songs. They're definitely songs that we're pushing the envelope outside the realms of thrash. However, they're heavy songs in a metal and rock kind of way. We listen to a lot of music that is not thrash and these songs reflect those shades and colors we like and I love, love, love those songs to death. Playing them live is a bit more challenging because they are slower and more intricate. They require a lot more melodic precision, so to speak. Also, a lot different mood and feeling than you're accustomed to when you're going balls out and playing aggressive, heavy, and fast. It's more of a routine, natural thing for us to do that. So, to bring it down and slow the tempos and these other emotions, it's actually a lot harder. But I love the challenge and I love expressing those feelings through music. I love it when our fans get it and close their eyes singing along and you see people feeling it. It is totally rewarding, I am loving it!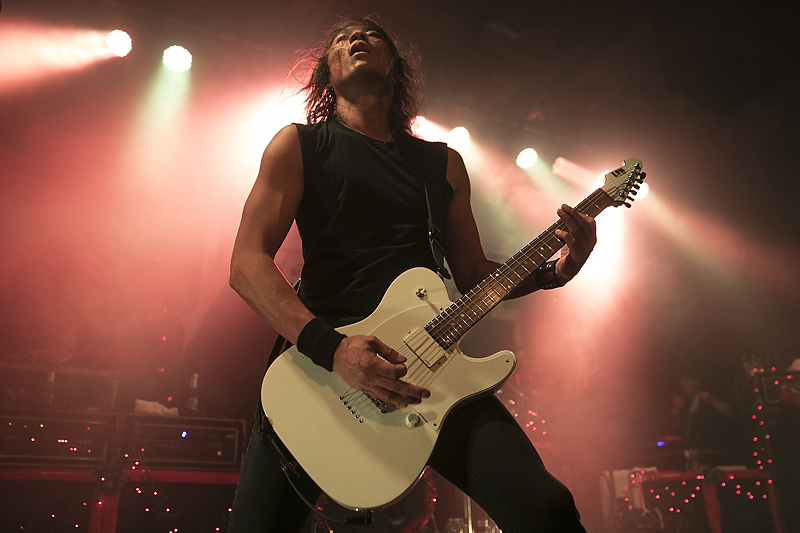 SF Sonic: Death Angel has been churning out the videos with consistency. How much control does the band maintain over those or does the label drive that ship?  
Rob: No, actually the exact opposite. That is all coming directly from us. We're fortunate enough to have a relationship with Nuclear Blast whereby they absolutely respect our artistry and our vision. From the moment they signed us, they knew our history and what type of band we are, what we like to do with our music, videos, our imagery. From day one they gave us complete artistic freedom and they support what we do. Hopefully, they do like what we're doing as they don't oppose. If they do have ideas, we will go back & forth constructively. But when it comes to everything we've released musically or visually is directly coming from us for sure. Some of the lyric videos, Tommy Jones has done for us. He'll come up with ideas and he'll throw 'em at us. But it's a collaboration, everything that comes out has our stamp of approval first. It's definitely one of the things that I hold on to very tightly. When it comes to quality control, the things that represent our band, our name, what we're about it has to be something that we approve, or it doesn't happen. It's that important to me, to us.
SF Sonic: The annual Another Death Angel Christmas show at Slim's is right around the corner. What does the tradition mean to you and tell us about this year's lineup?
Rob: There is the one I feel bad not mentioning in your previous question. Because all of our Another Death Angel Christmas shows are all my favorite shows, they're something else! Because of the spectacle that it is and the tradition it's become, they've all been amazing. This year is no exception. It's the sixth annual and we have an amazing lineup both nights. Friday we've got Charger with Matt Freeman (bassist) from Rancid, his rocking new band. We also have Hell Fire from San Francisco who is out on tour with us right now. Saturday night we have Hatriot featuring Zetro's (Steve Zetro, Exodus) boys. We also have Warbringer, which is fucking awesome and features Chase (Becker) also from Exmortus. He is an amazing, shredding, freak of nature. But, that's a whole other thing. Great bills, stacked both nights. We have really great sets planned for each night. We have tons of songs we're working on simultaneously while we're out on this tour.
This is the first time we're going to come directly from a show the night before to our Christmas shows. We go straight from the last show of this tour at The Whisky in Hollywood and drive up to San Francisco to Slim's. At that point we have to switch up the set we've been doing for the last thirty nights to completely different sets both nights. Which also, we have no time to rehearse. Which means we've had to rehearse these songs on tour during our soundchecks, including our tradition of doing a Beatles cover. As we've done at previous Another Death Angel Christmas shows, since we borrowed the idea for Another Christmas Show from the The Beatles. And then there's the Christmas song we try to 'Death Angelize' and other songs on our catalogue that we're normally not doing on this tour. It's quite challenging, we'll see how it goes then (chuckles). We'll be well-oiled from this headlining tour so it's gotta come out killer, right? We'll be glad to be home, what a great way to end your tour in your hometown. All your family and friends come out. It's the most incredible, exhilarating feeling but also severely stressful. Also because of all your family and friends. You look out in the crowd and see every single person, even people you haven't seen in awhile and you get overwhelmed with the feeling of being home, missing home, everyone's partying. It's like "Holy shit, we're trying to host this thing after we've been on tour for six weeks straight?" It's pretty intense, but it's going to be great!
SF Sonic: Thanks Rob, we really appreciate the opportunity to talk with you. We hope everyone got tickets to your shows at Slim's, they're both sold out! Congratulations!
Check out Death Angel on their website.
Photos by Raymond Ahner.