The Go-Go's
Masonic Auditorium
March 24, 2022
Photos by Raymond Ahner (IG: raymond_ahner)
After two previous attempts in the last two and a half years, The Go-Go's finally returned to San Francisco recently, stopping off at The Masonic Auditorium for the first show of their mini West Coast tour. The recent Rock 'n' Roll Hall of Fame inductees proved to the near sold out crowd that it was worth the wait though, playing a high energy show that brought out all of the hits.
Taking the stage to Blondie's "Rip Her to Shreds" playing over the PA, the Go-Go's wasted no time, immediately jumping into the classic "Beatnik Beach." The hits continued with "This Town" and "Vacation," before original drummer Gina Shock, who was sitting out a couple of shows due to injury, with Blondie's drummer Clem Burke filling in, made a brief appearance to acknowledge the crowd, and promised that she will be back soon.
The Go-Go's were definitely in high spirits this evening, and both Belinda Carlisle and Jane Weidlan seemed to be smiling during their entire set. Before launching into their latest song, "Club Zero," Jane took a brief moment to address the crowd, acknowledging that this was their fourth attempt to play in San Francisco during the last couple of years, and that the city has always treated the band kindly.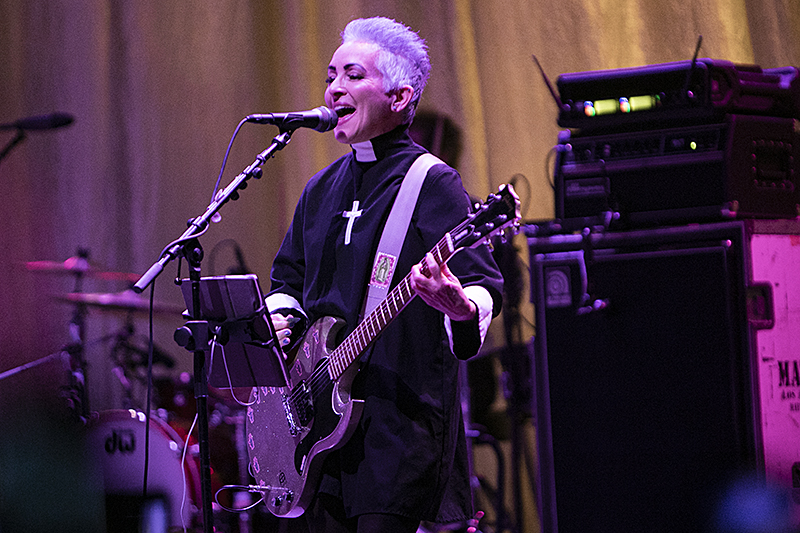 Highlights from the evening included "Turn to You," "He's So Strange," "Head Over Heels," and "Automatic Rainy Day," which was written by Gina Shock, and featured in the Broadway musical, Head Over Heels.
Of course no Go-Go's show would be complete without their two biggest hits, and the band did not disappoint, playing both "Our Lips Are Sealed," and "We Got the Beat," which had most of the packed venue dancing in the aisles. By the time it was all said and done, it was quite apparent that even after 40 plus years, the band is not quite done yet.