The Claypool Lennon Delirium
Warfield
December 31, 2019
Photos by Elizabeth Gohr
A new decade has commenced and celebrated in style with none other than Les Claypool to hold down the New Years Eve slot and reap in the joy of starting over the calendar clock with a night full of enchanting festivities. Having played NYE every year in the Bay Area since 1992, Claypool has kept his enthusiasts amused with fun themes, quirky concepts, and a various array of openers (including himself) that has now amounted to sixteen celebrations headlined with Primus and twelve shows with side projects. The Colonel brought the newest and the oldest of his endeavors, The Claypool Lennon Delirium and Sausage, back for another epic extravaganza at San Francisco's beloved near century old relic theater, The Warfield.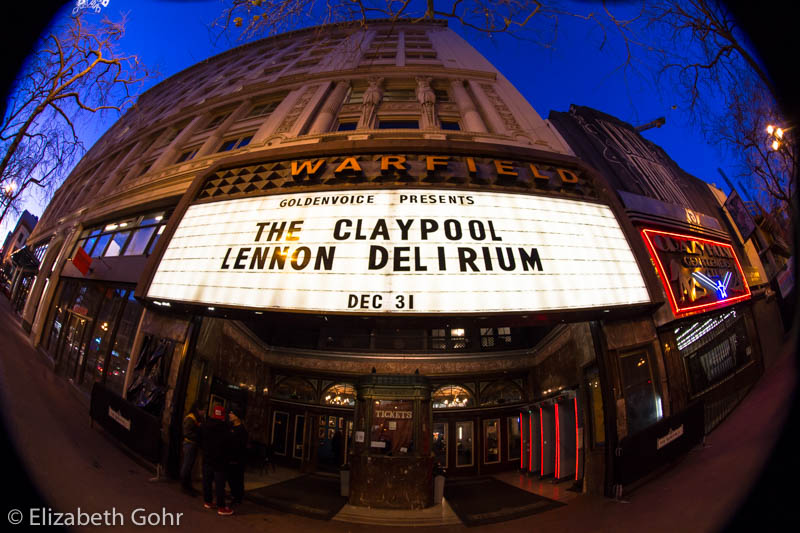 One of the great things about Les Claypool is his incredibly technical level of prolific virtuoso skills that greatly surpasses any feat on the bass to date. Fused with limitless creativity and originality, he also embraces the notion of versatility collaborating with fellow like-minded musicians to spark up something out of the ordinary.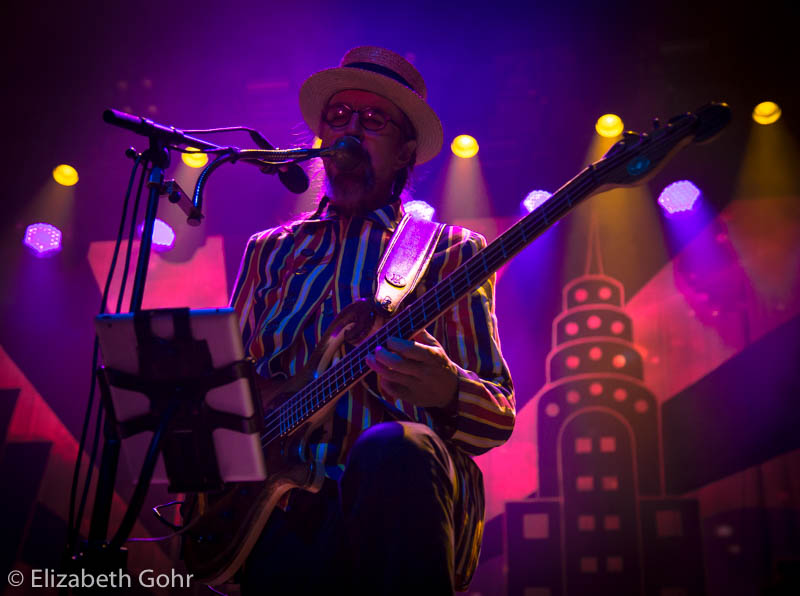 Armed with his weapon of mass creation, the custom Carl Thompson signature Pachyderm bass, Claypool is able to produce deep woodsy tones laced with cartoonish sounding effects that effectively tickle the brain in a bobblehead abundance. A true ringmaster of his own circus, Claypool admirably juggles his bands with numerous tricks up his sleeve, now bringing back Oysterhead this year and revisiting Primus goes to show how this master bassist ceases to drop the ball except only at midnight on New Years Eve.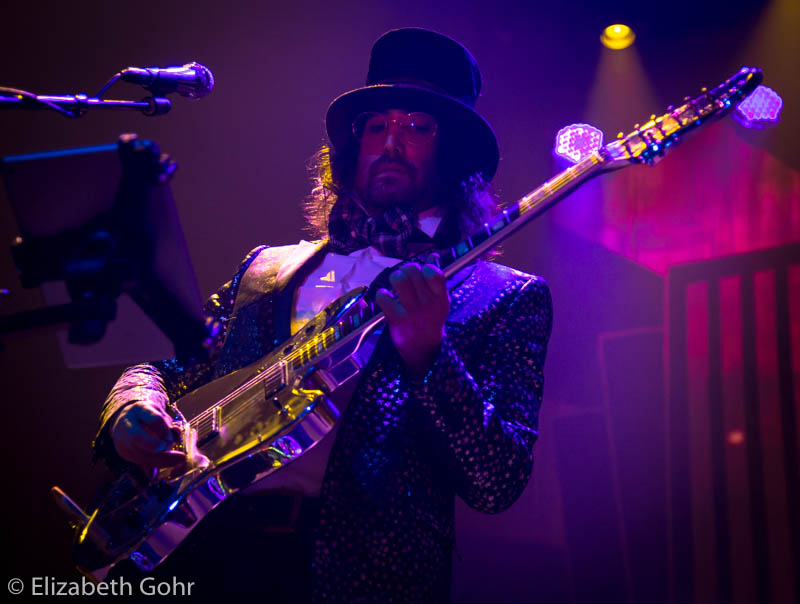 The Claypool Lennon Delirium is what you can call a bit of a super group with the co-pilot of the barge being Sean Lennon, a very creative guitarist, and refined vocalist to help steer this wondrous boat ride. Joining the crew are Paulo Baldi on drums who is a former member of Cake and also fellow camaraderie to Les Claypool's Fancy Band, and also the exceptional Brazilian keyboardist João Nogeira.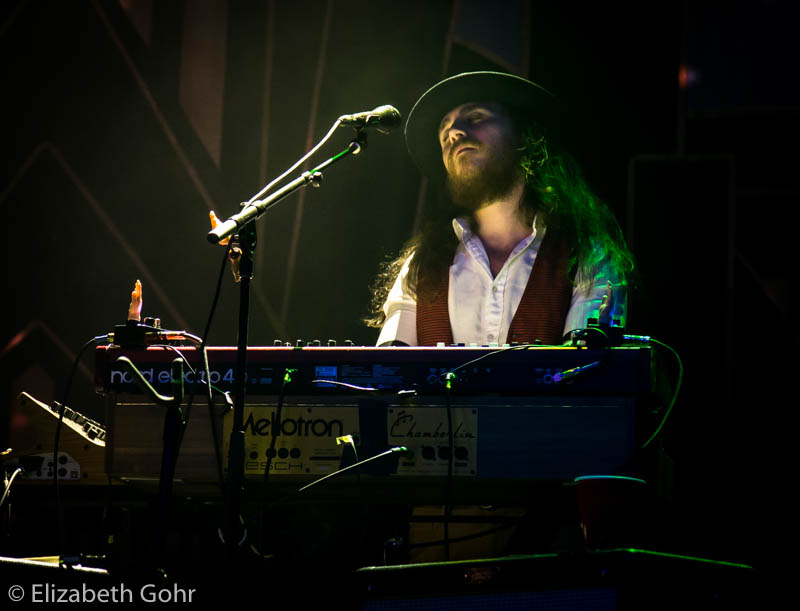 The band kicked off the dock with both movements of Cricket and the Genie, a metaphorically lyrical reference to society's overt overindulgence of prescription drugs while inducing progressive manifestations musically. Lennon donated eerie vocal harmonies to echo the spirit of Syd Barrett on the Pink Floyd cover, "Astronomy Domine," while intricately entwining reverb guitar tones on this ultra-consciousness expanding classic. Another supreme cover of King Crimson's "Court of the Crimson" King features streams of synth soundscapes from Nogeira in an essential configuration.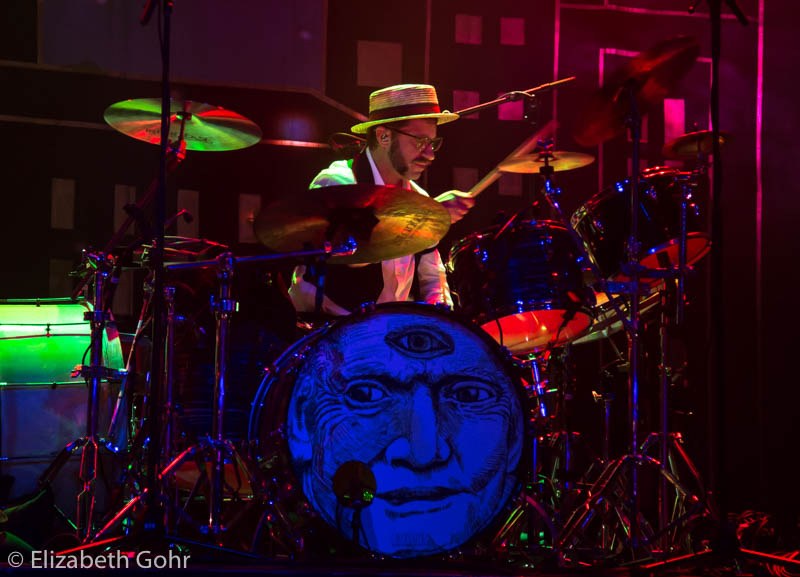 With the seeming tradition of a fun and random cover for the midnight countdown exuded a giant inflatable rainbow to lower down above the band as they ignited into "She's a Rainbow," a  Rolling Stones cover from their rarely noted hippie phase. A couple of backup singers with tambourines joined the band as Claypool whaled away on his electric upright bass and giant balloons slowly made their way down to the floor from their perch above the balcony ensuing holiday glee in plenty.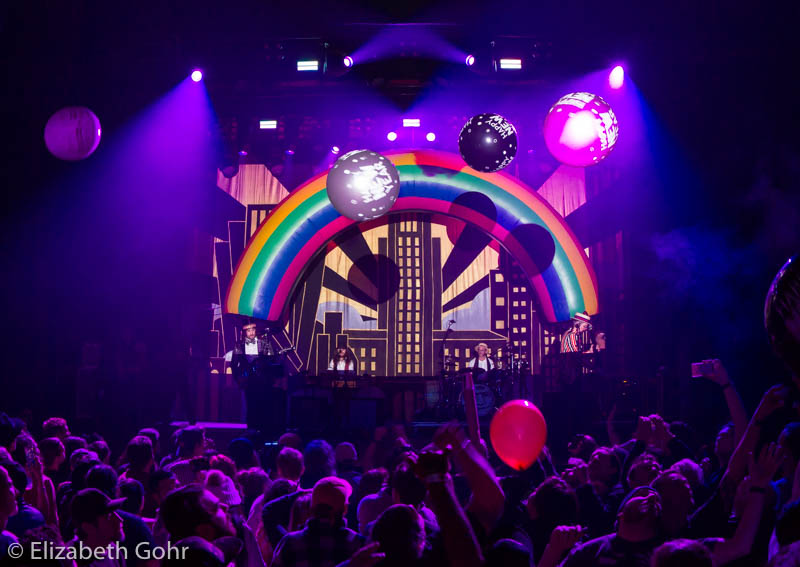 The party continued past the hour with some more Delirium gems like "Amethyst Realm," setting into motion a spellbinding ride, rhythmically twisting a tantalizing tale to promote emulation of falling down the rabbit hole. Taking that first stroll in Wonderland could only be soundtracked with "Tomorrow Never Knows," a groovy Beatles cover with Baldi's triplets beckoning a hypnotizing pattern amidst the supreme zeitgeist channeled through Lennon's voice.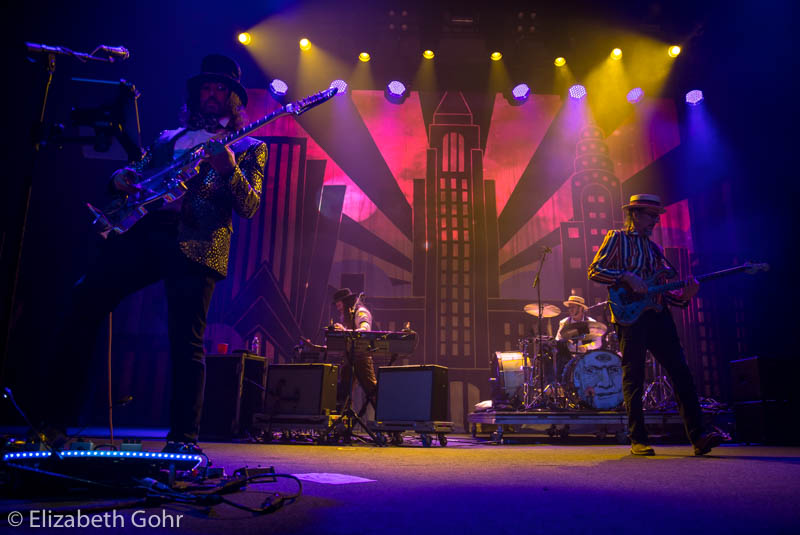 The encore of the night oozed greatness on the Primus cover of "Southbound Pachyderm" giving leeway to intensely stimulated jam improvisations and conversations that take on a new life of their own every time. The floor erupted in chaos as little elephants were projected jumping on the inflatable rainbow which always upholds a favored visual to match the song and rouse the imaginative spirit in a kindred sense of enlightenment. The very climatic exploitation always provides a great way to leave the audience with warm hearts, blown minds and genuine smiles plastered on their melted faces.
To much delight, Les Claypool had summoned Sausage back to the stage to open the show and perform that project for the first time in 25 years making this spectacular surprise a huge highlight from this exquisite evening. Sausage was actually taken from the name of Primus' first demo tape back in '88 and featured Todd Huth on guitar and Jay Lane on drums as the bands initial lineup.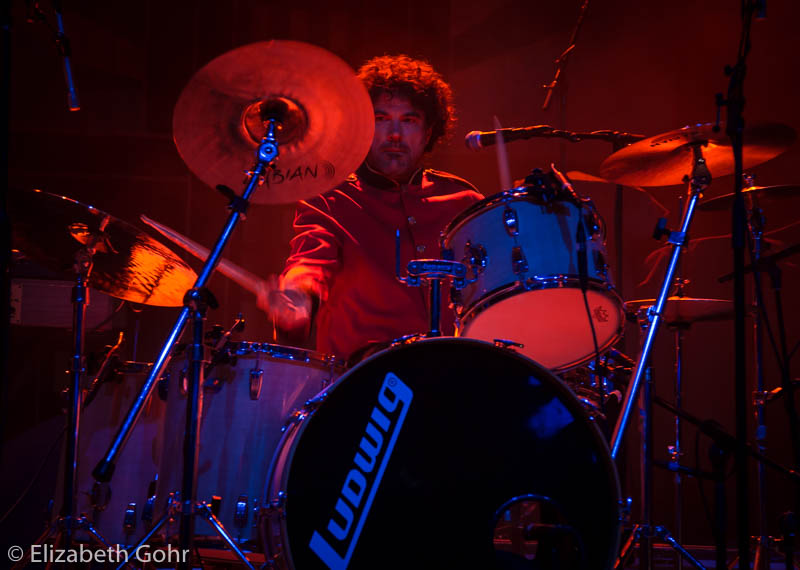 Although the two members parted ways with Primus and replaced shortly after, they were reunited in 1994 to record Riddles Are Abound Tonight under the name Sausage as one of Claypool's earliest projects outside of Primus. The members were reunited once again years later to play under another eclectic side project entitled Colonel Les Claypool's Fearless Flying Frog Brigade. Lane also happened to step back in Primus for about three years in 2010, having recorded the album Green Naugahyde with the band. Although the Sausage venture was short lived live, the songs recorded from that album have remained an undisclosed treasure in the hearts of many for years to come.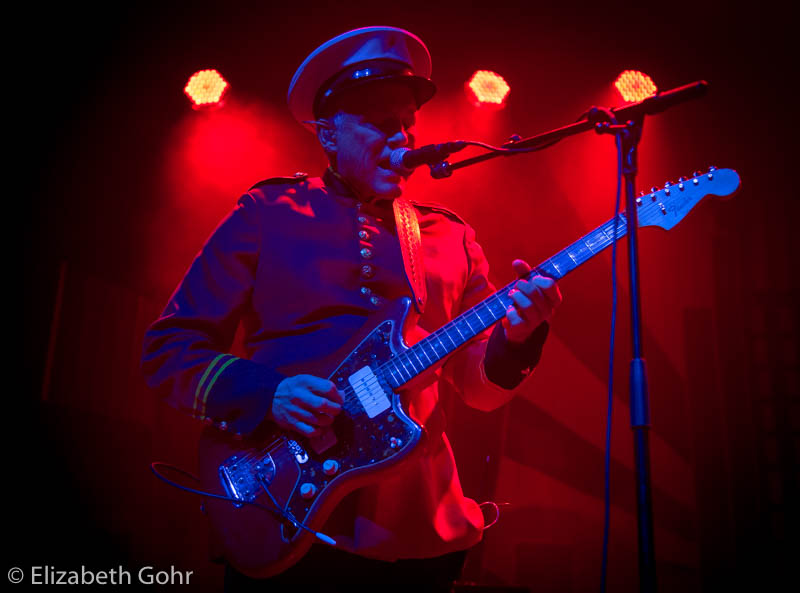 The trio stepped to the stage in matching yacht uniforms and before you know it, Sausage is back in action with "Prelude to Fear," as Lane perpetuated the rhythm to start the ride and Huth matched backing vocals to that of Les' peculiar resonance. Generating that early Primus taste in a completely different but still absolutely amazing version is "Toyz 88" which is actually what evolved to "The Toys Go Winding Down" later in 1990, still succeeds in rapid complex perplexity.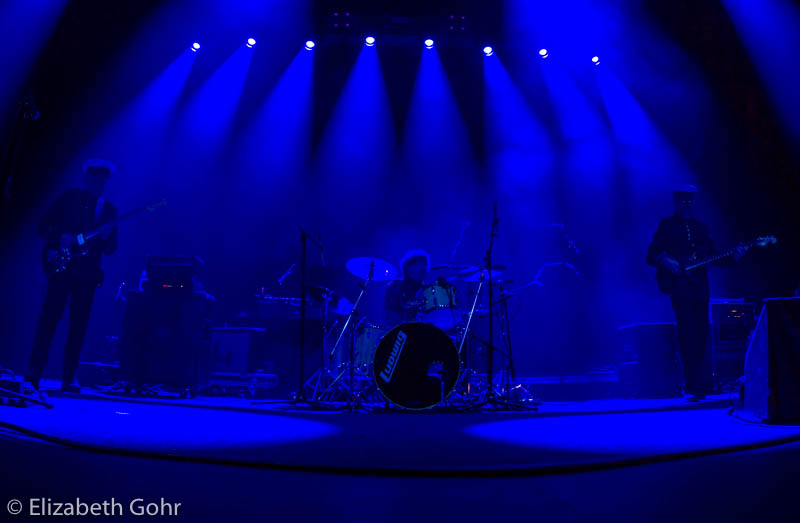 Claypool's NYE side kick Bob C. Cock (aka Adam Gates) graced the stage for a little cameo in "Girls for Single Men" as the powdered wig clad judge added in some silly banter to the backing of the song. Concluding the legendary set was another Primus rendition of "Tommy the Cat" with a super slight "Pudding Time" intro later interpolating into "The Awakening" and then transitioning back into "Tommy the Cat" to finish. An outstanding hard-hitting fantastic mash of classic Claypool that ignited the pit into a raucous combustion and surely satisfied the devotees who waited a long time for this magnificent set.
The Claypool Lennon Delirium:
Setlist: Cricket and the Genie (Movement I & II) | Astronomy Domine (Pink Floyd cover) | Little Fishes | South of Reality | The Court of the Crimson King (King Crimson cover) | Breath of a Salesman | Blood and Rockets: Movement I, Saga of Jack Parsons- Movement II Too the Moon | Mr. Wright | Boriska | She's a Rainbow (Rolling Stones cover) | Boomerang Baby | Easily Charmed by Fools | Amethyst Realm | Like Fleas | Tomorrow Never Knows (Beatles cover) || Southbound Pachyderm (Primus cover)
Sausage:
Setlist: Prelude to Fear | Riddles Are Abound Tonight | Recreating | Shattering Song (Shine on You Crazy Diamond tease) | Toyz 1988 | Girls for Single Men (featuring Bob C. Cock) | Temporary Phase | Pudding Time (Primus cover) | Tommy the Cat (Primus cover) | The Awakening (The Reddings cover)