The Emerald Cup Featuring Santigold, Steel Pulse, The Expendables, Con Brio, Flatbush Zombies, Chali 2NA, and a whole lotta weed
Sonoma County Fairgrounds
December 14-15, 2019
Photos by Ashleigh Castro
"Weed is the Umami of Life," said comedian Ngaio Bealum as he hosted the performances at the Emerald Cup mid-December. He's onto something… add weed to entertainment, or food, and it only gets better, right? Add weed to music and lots of positivity can come! Cannabis effects could amplify the layers of sound within songs. Users can have an inquisitive, lightly psychedelic, journey through sound arts while listening to or playing music, especially when they can learn their proper dosage of cannabis. One can also get experienced without a hangover! With weed, people tend to feel peaceful and less prone to fighting with one another in the crowd. Most importantly, with cannabis as an ally we have an opportunity to re-establish social responsibilities in an agriculturally rich, wellness forward industry as it evolves within capitalism.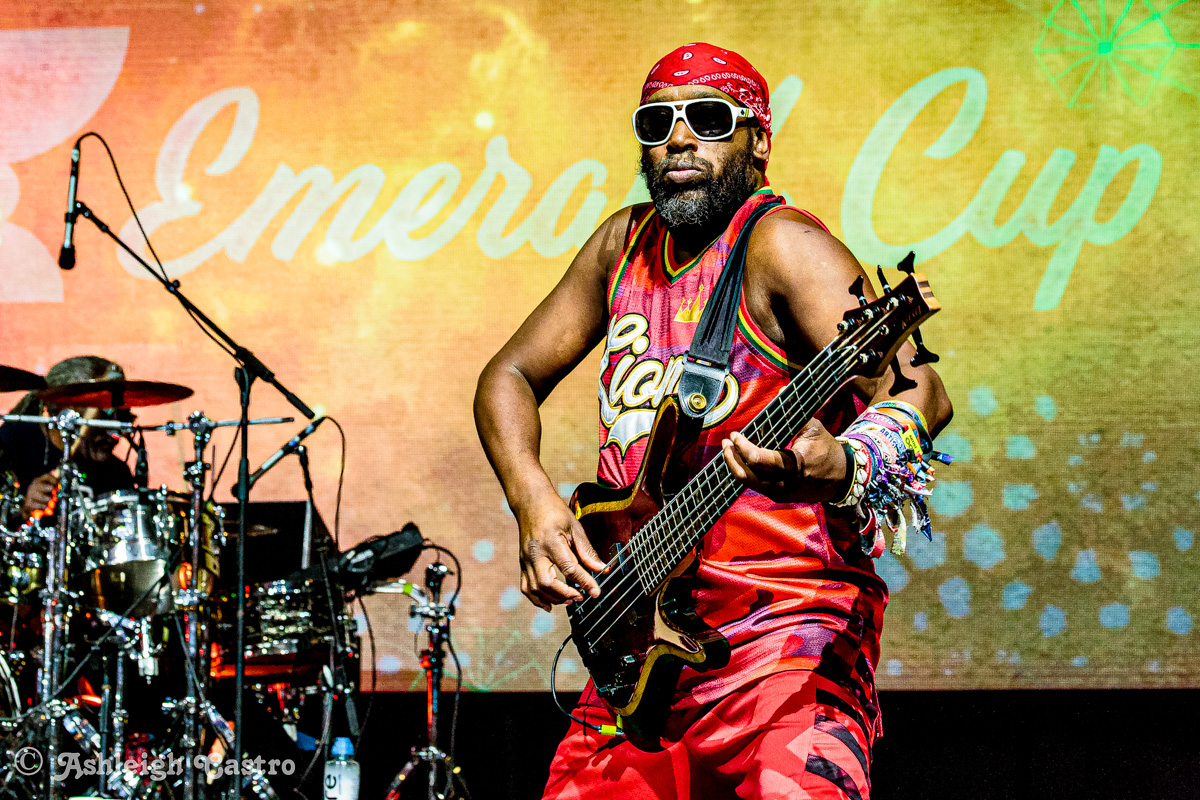 The Emerald Cup is the largest cannabis contest in the world. It's an award show, celebration and farmers market produced by father-daughter duo Tim and Taylor Blake. They distribute awards to winning California cultivators, extractors and producers every year. Craft, organic, small farm quality is at the heart of the Emerald Cup. Walking around the expo, one might mistake a cultivator for a rock star as their admirers gather around their booth. Some offered samples of what they were inspired to grow, while others drooled over picturesque manicured branches of cannabis. These farmer folks don't hit the tour route often, the farm is their stage as their location is often secluded off the grid, or nestled on the ridge of a mountain. Even if they are based in more urban or suburban environments, cultivation is an around the clock lifestyle.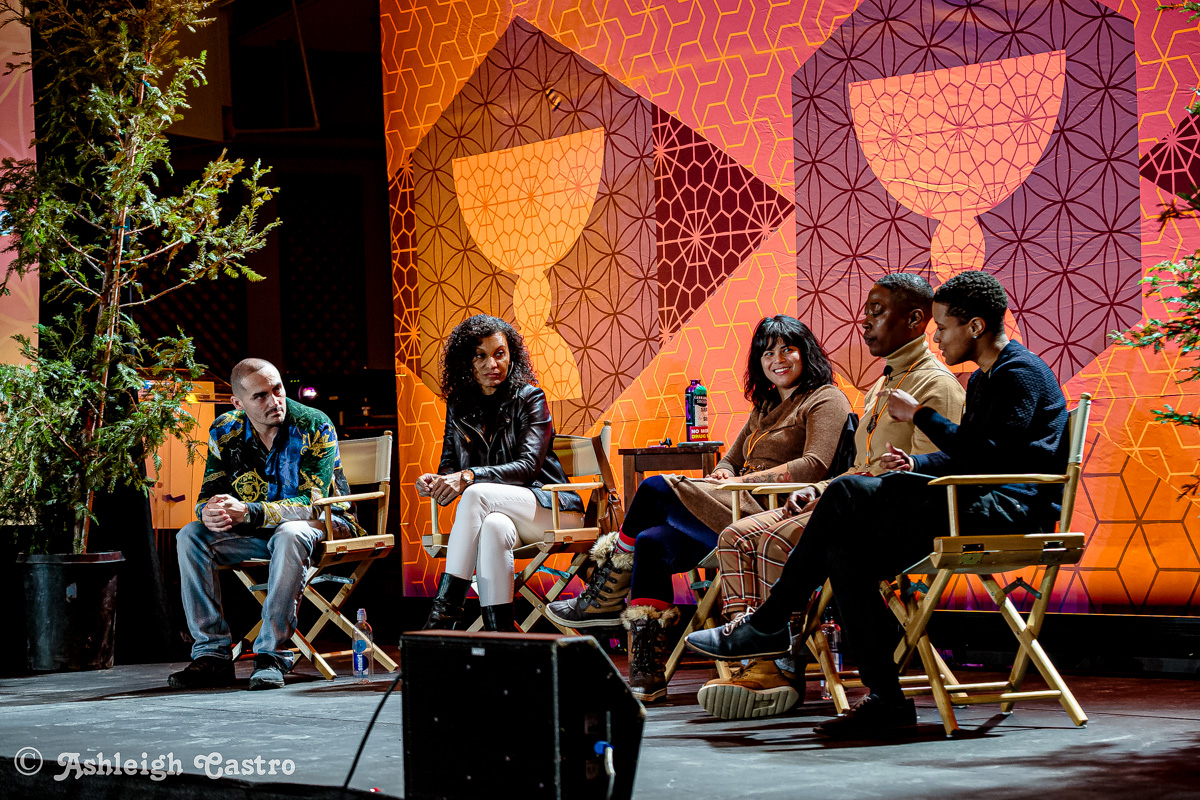 This festival consists of two days of cannabis-fueled workshops, panels, and grooves. SF Sonic made it to a couple of panels including Corporate Cannabis and Social Responsibility where Lanese Martin interviewed David Bronner of the Dr. Bronner's family. Bronner highlighted the company's priorities and advocacy toward supporting a collective of employees.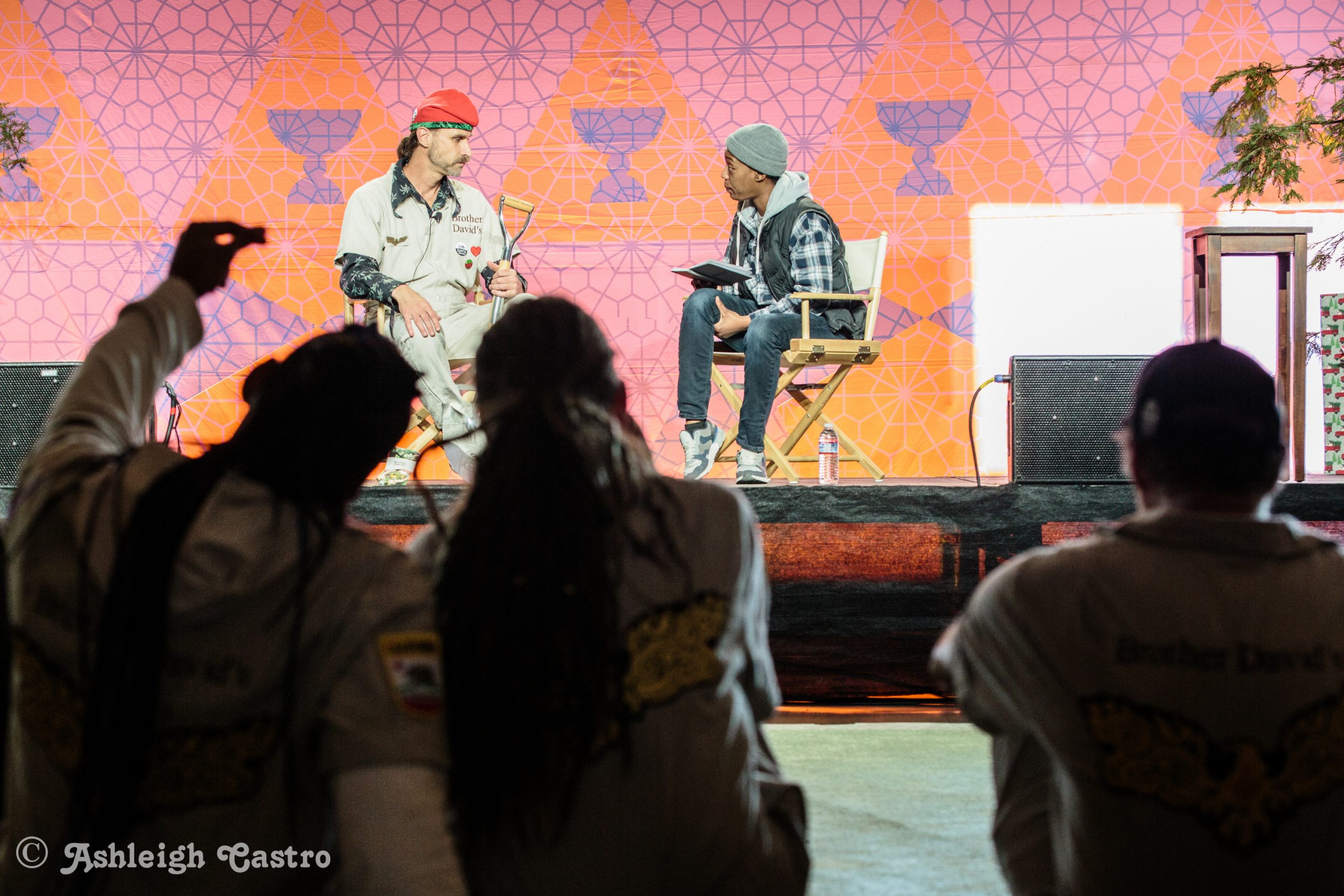 Bronner pointed out that sourced supply chains must align with their responsible values toward environmental and human justice. "Early on we put a 5 to 1 compensation cap on top executives and lowest paid warehouse positions," said Bronner as the room cheered.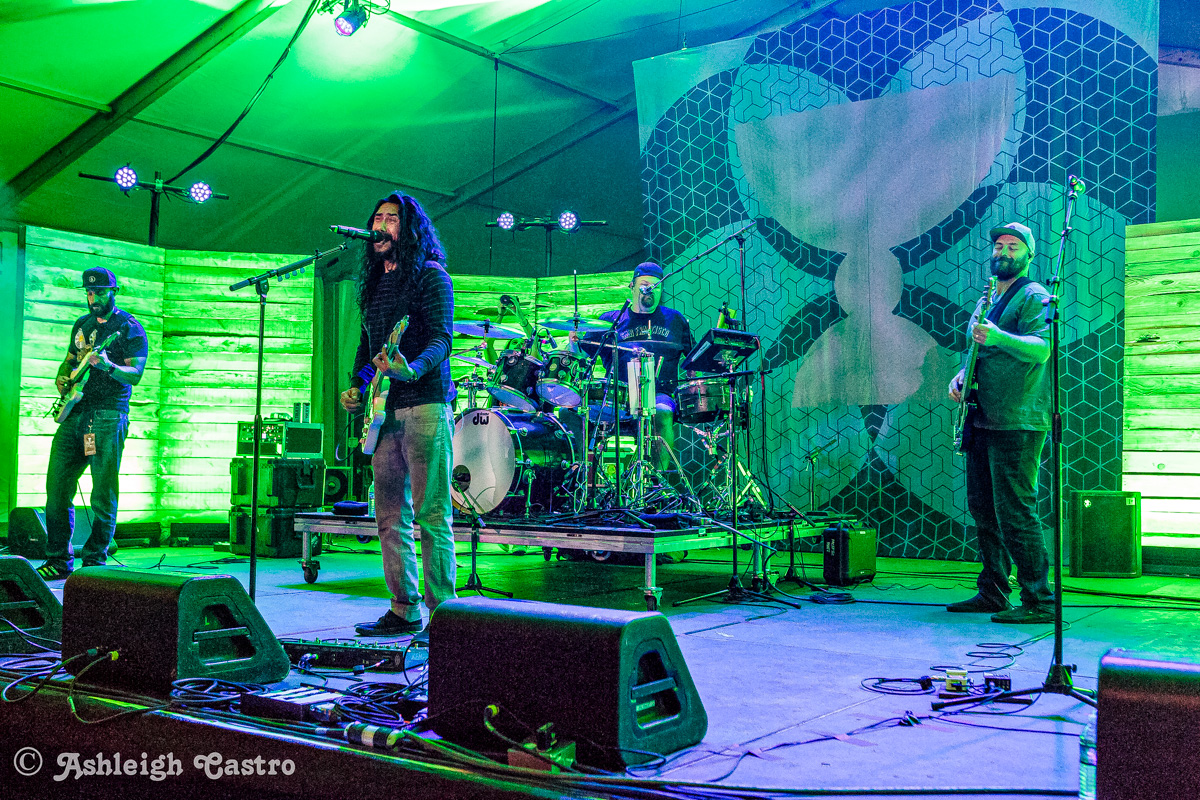 In 2019, Bronner extended a branch to farmers by hosting a family of cultivators under their brand. Through both Dr. Bronner's Magic Soap and Brother David's family of cannabis cultivators, whatever excess the companies don't need to grow and scale the business and support the farmers, they funnel back into powering up the organizations and allies they support. Seeing the Bronner interview was like watching a musician on stage. He wore a custom embroidered jumpsuit and his Burning Man camp hat. Instead of gripping of a guitar he held the shovel in which he used "In 2009 [to] dig up the DA's lawn and plant hemp seeds," which led to his arrest, though broke ground toward freeing the plant. There have been large strides, yet people must continue to push forward in order to free incarcerated people from drug offenses. Hence why in 2012 Bronner boldly used a jail cell to demonstrate in front of the White House. Law enforcement had to use a chainsaw to cut open the cage during another Bronner arrest, where they charged him with possession of cannabis and blocking passage.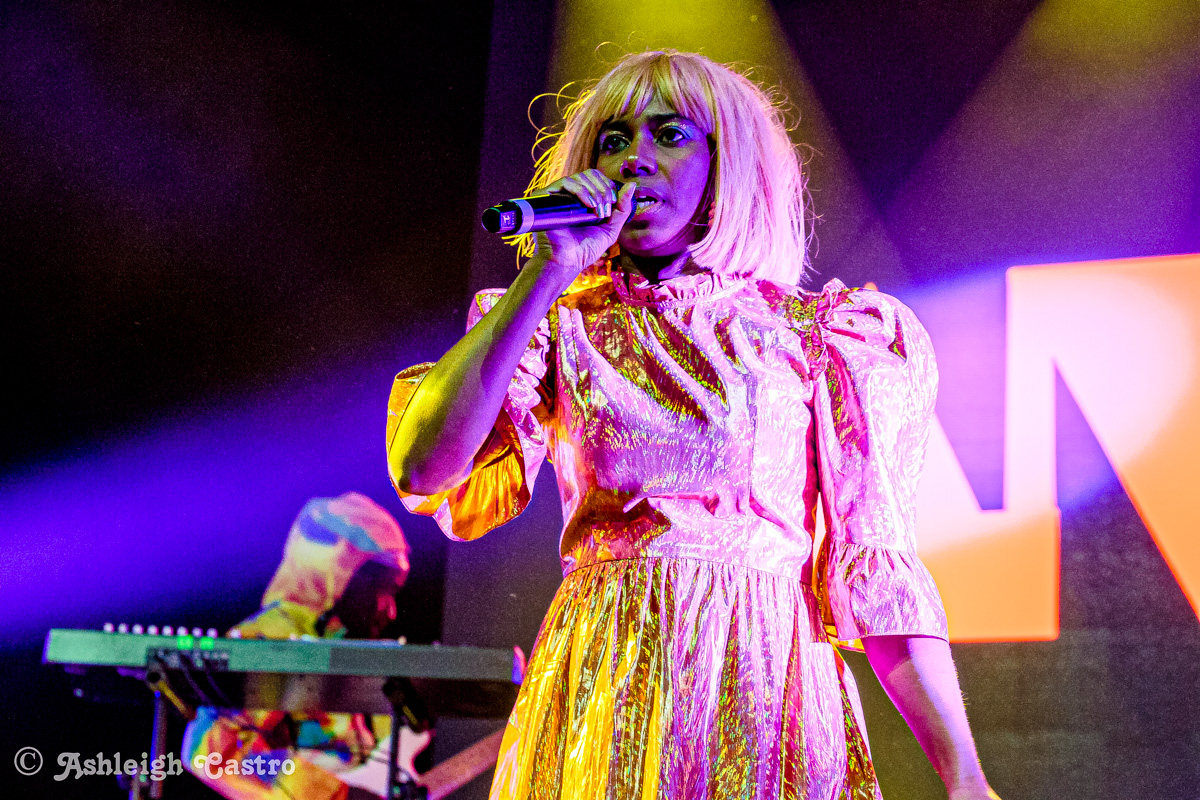 Onward to the music! The Emerald Cup has evolved to host a notable concert experience which brings fun to the farmers and Cup enthusiasts. The event was made even more enjoyable this year with added outdoor stages. Attendees were doubly satisfied with the best weather for the Cup in a long time. SF Sonic attended both days and had a front row experience at many of the acts, alongside tastings of some of the best cannabis in the world.
DAY 1
Flatbush Zombies (Emerald Stage)
Hip Hop group Flatbush Zombies headlined Saturday night. The trio features emcees Erick Arc Elliot, Meechy Darko, and Zombie Juice, all hailing from Brooklyn, hence the New York borough's neighborhood cited in their name. The trio formed in 2010, and in nearly ten years together they have acquired die hard followers who know their rap lyrics down to the last drop, and spat them back to the emcees while jumping up and down with raised hands and fists. These guys knew how to draw energy out of the ultra-relaxed crowd at the Emerald Cup with their high voltage performance. Maybe it's because they're so dope they know how to smoke joint-after-joint while on the job. They encouraged the crowd to jump, "I'm gonna hop in the crowd and give you my energy cause you're all so high you think you're jumping, but you're not jumping!" Meech has a gritty growl that brings listeners to a rougher riding 90s. Elliot smoothly produces lyrical lines while Juice hops in boasting vainglorious attitude all over the track. They laced the music by throwing party favors into the crowd from Alien Labs, who sponsored the Emerald Cup, and people went ballistic.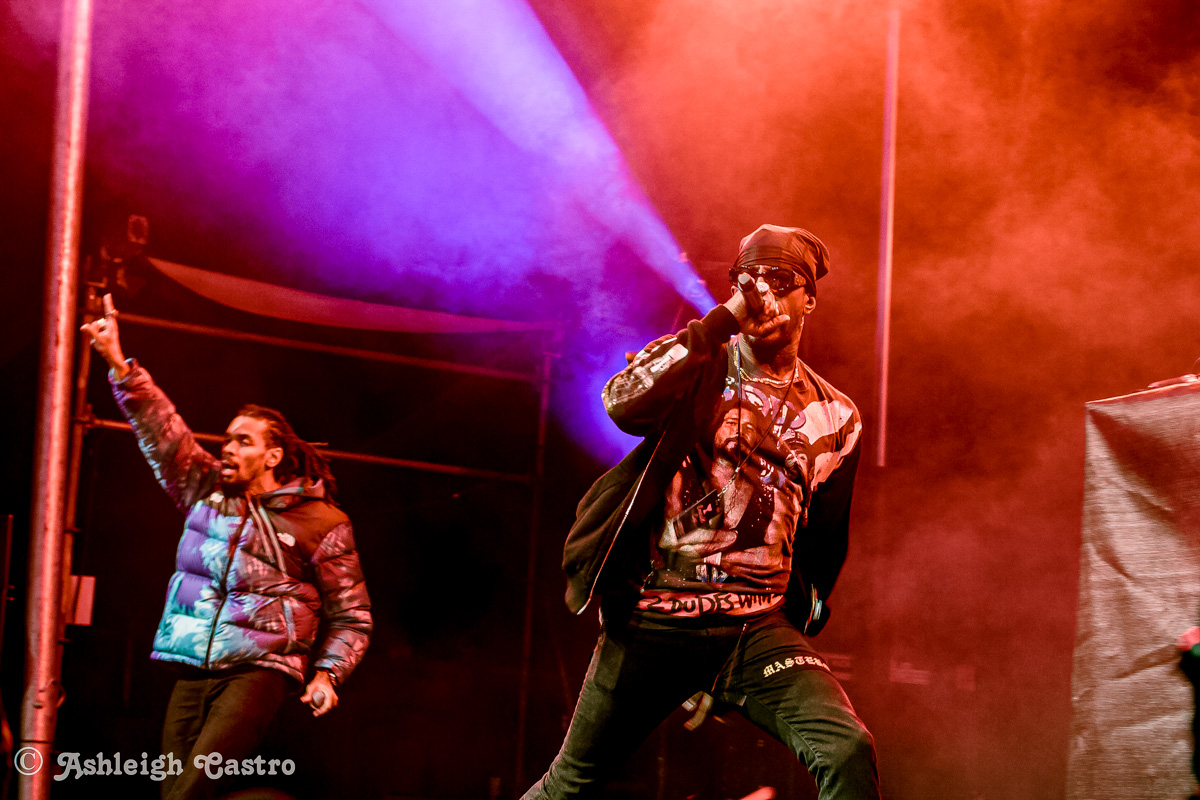 Flatbush Zombies have the kind of synergy that can be felt only by a crew that has known each other since grade school. Their lyrics are incredibly tight on top of fast paced hypnotizing beats. Words and beats that propel ears into an East Coast underground rap battle, though everyone on stage are allies. Screens displaying psychedelic pop art of the Grateful Dead's famed colorful marching bears and text like 'Glorious Thugs' projected tripped out vibes true to the Emerald Cup and Northern California. Psychedelic music and hip hop are bridges between the East and West Coast, Flatbush Zombies build a bridge for psychedelic advocacy through songs that lead a tie dye rap rebellion.
Chali 2NA (Emerald Stage)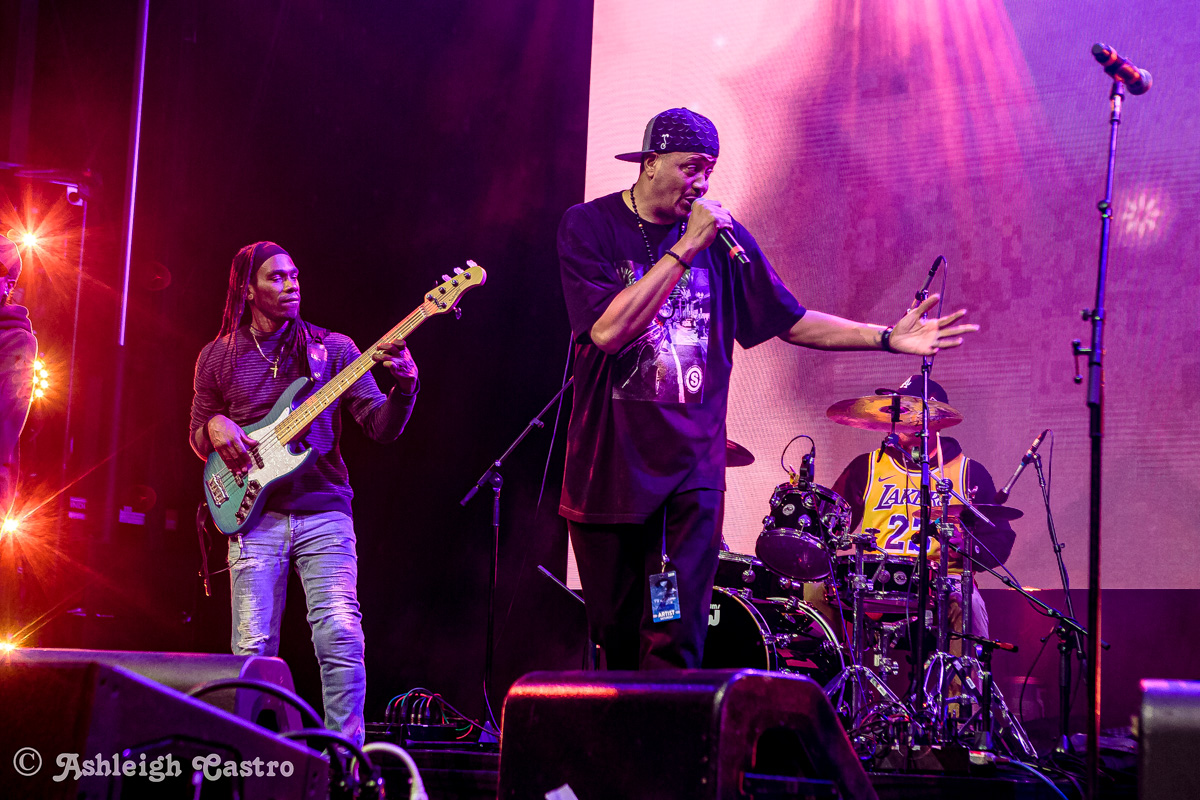 Jurassic 5 and Ozomatli's own Chali 2NA hit the Emerald Stage with his 3-piece-band known as the House of Vibe. "We're gonna take you on a trip to the road to success," ensured 2NA. He moved to LA from Chicago in the early 80s and became immersed in street art through graffiti and hip hop. The Emerald Cup hosted a Puff 'n' Paint workshop with 2NA allowing him to connect with attendees through visual art and social smoking. He is charismatic, takes smooth steps and has a baritone voice and tall build which make 2NA outstanding in the festival crowd. When Chali 2NA and the House of Vibe started playing, it was apparent they are a crowd favorite. The funky band supports 2NA's conscious raps like a peninsula, as his words flow like an ocean into the cape. Jams pumped funky, yet smooth, setting a 90s mood for the night. A freshly popped can of 2NA's silver lining was sampled to the crowd with the jam "Graff Time," an ode to being addicted to creating graffiti. People smiled ear to ear as they embraced each other during 2NA's diverse set. He played his own music ranging from his solo work to collaborative work with Jurassic 5. The house set vibes real high with a few fun covers like Rick James' "Give it to Me Baby" and the B-52's "Rock Lobster" that had the audience nostalgic and giddy.
DAY 2
Santigold (Emerald Stage)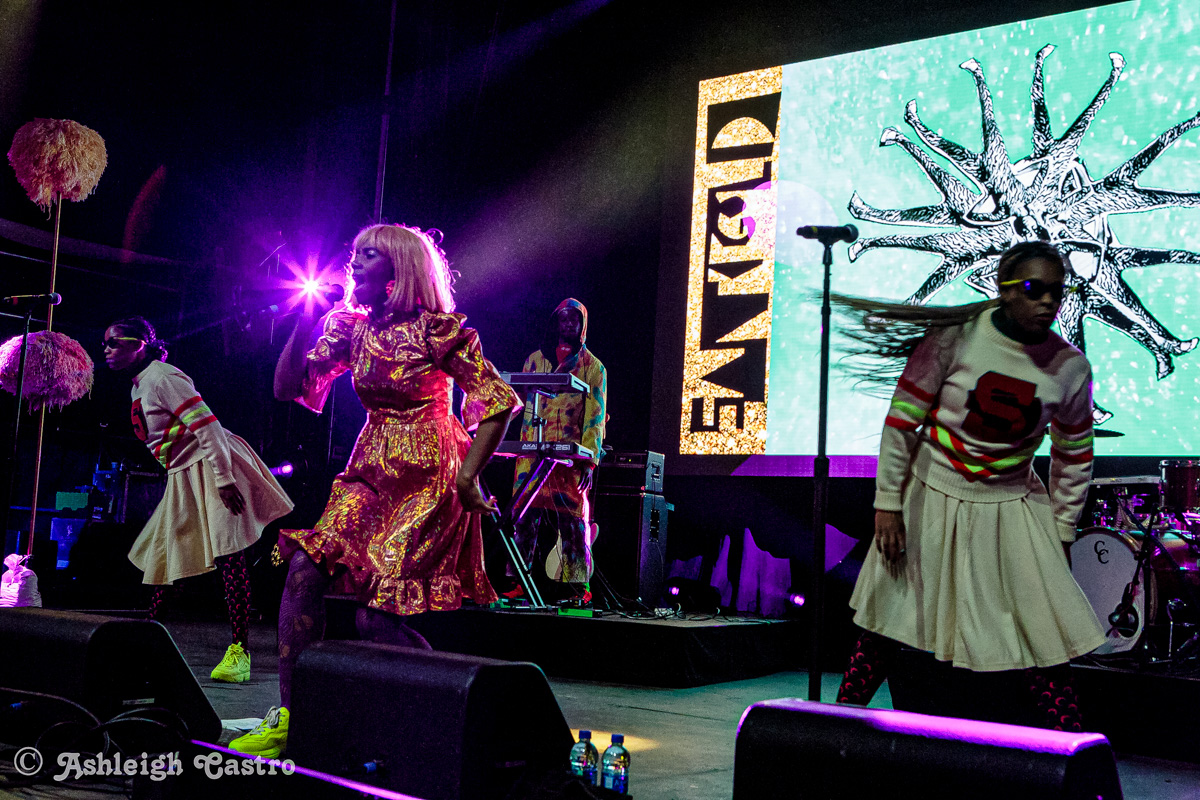 Continuing the celebration of the 10 Years Golder Tour as the year built up to the final strokes of 2019, Santigold hit the Emerald Stage in a gold sparkle dress and yellow wig with a vibrant band of musicians and stoic cheerleading go-go dancers. Stoked to follow up legends Steel Pulse, Santi White shared that she grew up on their music in her family's home. Reggae and Afro-Carribean dancehall are evident roots for Santigold's Brooklyn art-pop. Due to short set-time, the show was concise and there wasn't much chatting. It was a block of time dedicated to dancing off the hard work of a long year! Santigold gave attendees their experience worth by filling every moment with hit after hit, danceable track after track. People got lost in songs like "Les Artistes," "Unstoppable," "Shove It," and "Go." Santigold found the crowd and invited them to join on stage for "Creator," where Santi sassily spits the line, "Don't you crush on me/I'll see you in your pipe dreams!" The song "Disparate Youth" rings as anthem to fighting for rights, equality and safe space–in the case of the Emerald Cup, such poetry narrates decades of pain staking advocacy for the right to plant medicine. A fight that many small-batch companies have lost to corporate interest.
"Don't look ahead there's stormy weather
Our hands are tied here if we stay
Oh, we said our dreams will carry us
And if they don't fly we will run
Now we push right past to find out
How to win what they all lost"
-Santigold "Disparate Youth"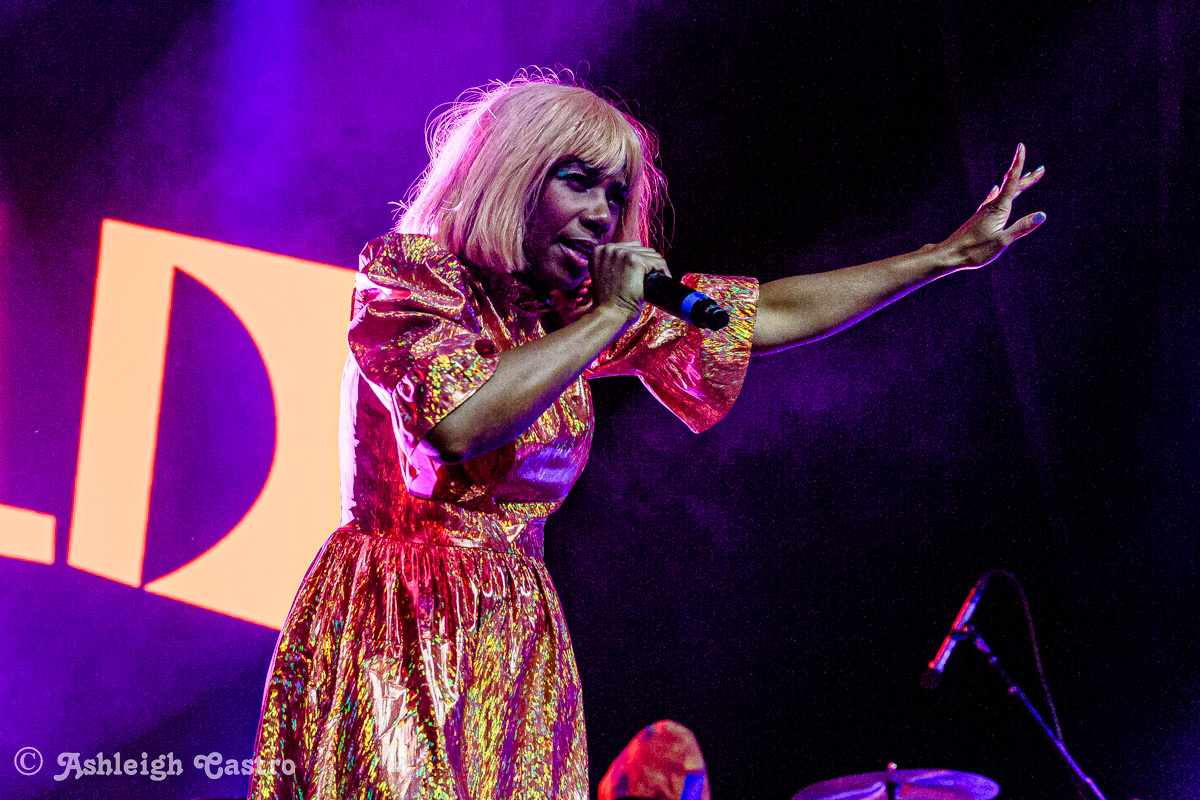 While roaming the festival grounds, SF Sonic learned that the vendors were especially excited for Santigold's music, and they left with enough energy to be re-charged for the long drive back to the farm or city. It became evident that Santigold's beats have permeated grow rooms and offices throughout the cannabis industry, making albums like the 10 year old self-titled Santigold a sound track to a natural healing movement.
Steel Pulse (Emerald Stage)
World reggae veterans Steel Pulse hit the stage promoting their twelfth studio production Mass Manipulation. Steel Pulse are a revolutionary band who have played together for forty years and counting. Lead singer David Hinds' beautifully smoked out voice transcends over cascading brass, rhythmic guitar, and ensnaring drums. Lyrics engage in controversial topics of racial injustice and human rights around the globe. Each musician shines in their magnificence and brings strength to the stage. Their songs advocate that people rise up and come face-to-face against those controlling powers who dominate over human rights and cause harm. A standout track was "Black and White Oppressors." The toots of their horns rain like bullets in the night. Seductive basslines fired, emulating the destruction that weaponry and temptation have caused innocent people all because of the greed, ill intention and evil spirit. Hinds shouts melodically,
"On top of world,
 'Cause we got the herb 
A good name is greater 
Than diamonds and pearls, I seh 
Death 
 To black and white oppressors." -Steel Pulse "Black and White Oppressors"
Steel Pulse speak out and demonstrate against New World Order dominating humankind through stating that our minds are being manipulated and influenced by external factors. It is Steel Pulse's intention to bring forth compassion through liberating jams and lyrics that motivate people to be their best selves through "encouraging all people to reject false ideals, set higher goals and demand more from themselves to further this unification." With four decades creating songs their music has raised revolutionary humans.
The Expendables (Sunshine Stage: Presented by Cookies)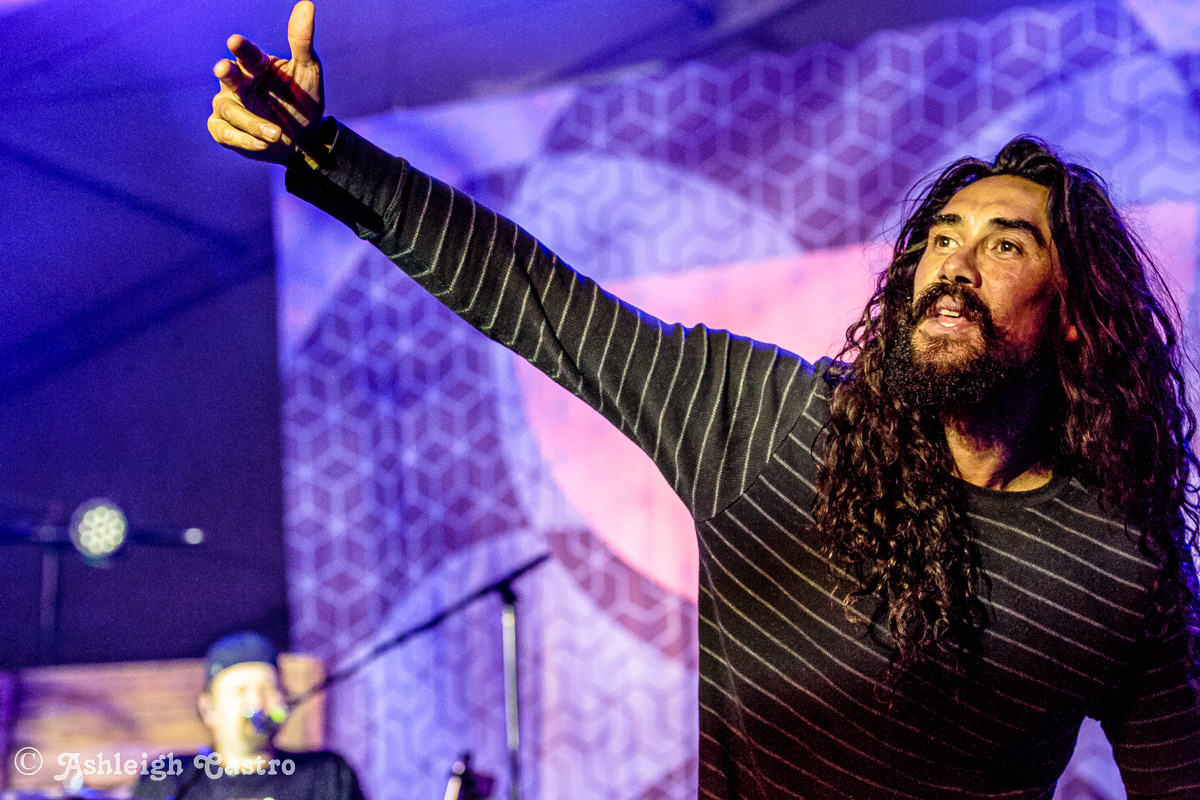 Would it be Emerald Cup without some California infused world reggae rock? Didn't think so! The Expendables made waves with their far-out compositions rooted in the beach lifestyle of Santa Cruz. Three of four of the members met at Soquel High School and since then the band has played together for 18 years. The Expendables have toured nonstop since 2015 and their dedication is evident in their seamless transitions and clean riffs. They played crowd favorites, and being their set started just after 4:20, it was primetime to slow the music time space continuum with psyche-rock-reggae blurring lines between genres. The audience looked like a pond of green and blue amoebas floating around to songs like "Bowl for Two" which they mashed up with Afroman's "Because I Got High" and had the audience blazing with laughter. It was an interesting contrast to splice such a raunchy cover with a sweet song. Though the balance was irresistible.
"I packed this bowl for two
And I
I'm gonna wanna smoke it with you
Yes you know it is time
For us to sit down and unwind
I know the feeling, I know the feeling
So stay with me tonight
Gonna kick back relax
Make sure the ganja's packed
And we'll feel all right
We're flying high now"
-The Expendables "Bowl for Two"
These words definitely got SF Sonic to take a load off and enjoy a hash-infused joint with friends. Keeping vibes fun with a little throwback action, Drummer Adam Patterson and guitarist/vocalist Geoff Weers bounced off each other's energy as they rapped and played Dr. Dre's "The Next Episode." More dust was kicked up by people who couldn't stop dancing.
Con Brio (Sunshine Stage: Presented by Cookies)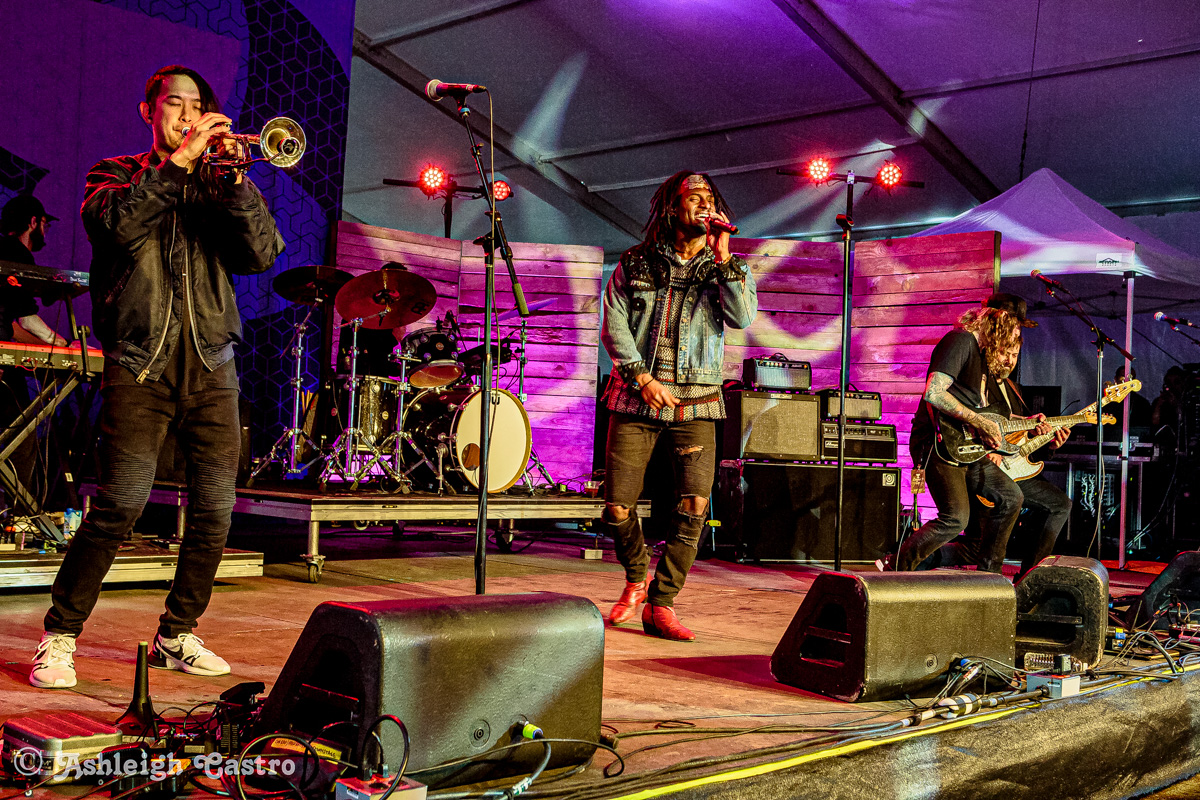 Comprised of a stellar line up of musicians, Con Brio are a soul and rock 'n' roll band formed in San Francisco. Con Brio have performed together since 2013. They had attendees smiling ear to ear while grooving inside a stage that felt like a dusty barn, in that cozy Sonoma heartland kind of way. Lead singer Ziek McCarter's body was in a spin as he sang, "You gotta open up, set it free… but you gotta let it in." The room continued to fill up as people moved from the vendor tent to the stage to dance their high even higher. People shuffled in the dirt, along with McCarter whose red dancing shoes were untouched by the dust. Their alluring sound drew in more listeners. "I know you came to get high in many different ways though let the music take you high now!" exclaimed McCarter. Funk like this makes people high. Shredding musicians of this caliber can too. They brought the heat on stage as they showcased their funkiest and sweetest of music. McCarter concluded the show by ditching his red leather ankle boots for acro shoes before doing a jumping somersault in the air as their grand finale.
Here's a slideshow with more photos from the Emerald Cup by Ashleigh Castro:
The Emerald Cup: Link
Chali 2NA: Link
The Expendables: Link
Santigold: Link
Flatbush Zombies: Link
Con Brio: Link
Steel Pulse: Link