Slash
Warfield Theater
July 15, 2019
Photos by Raymond Ahner
Tilting her head back, she rocked side-to-side, bent her knees, clapped, and screamed. Her friend jumped up and joined her. Soon, they swayed together—their shrieks echoed throughout the balcony. The only thing louder was Slash's 12-minute solo to "Wicked Stone."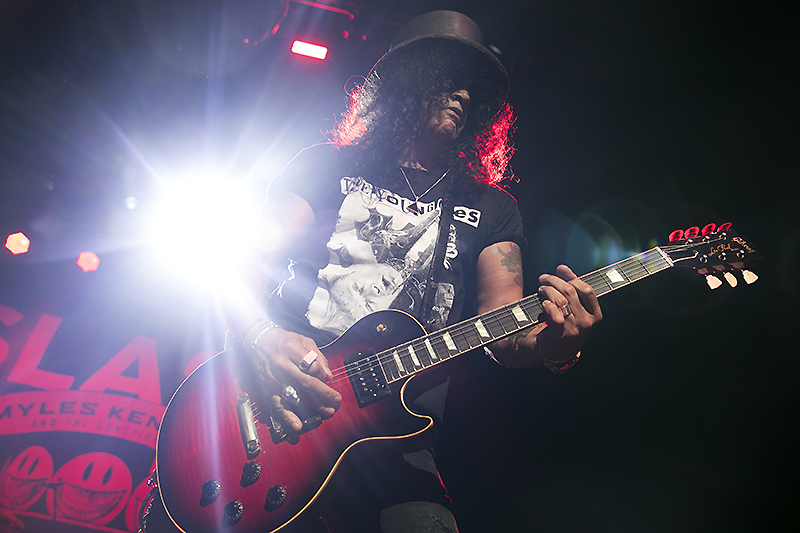 The duo was on their feet for most of Slash's two-hour set at The Warfield in San Francisco. The legendary guitarist kicked off the Living the Dream world tour with Myles Kennedy and the Conspirators. SLASH—in giant yellow letters—hovered over a skull in a top hat. Circles of light danced across the stage, and red and blue flashes synched with opening track "The Call of the Wild," (Living the Dream, 2018).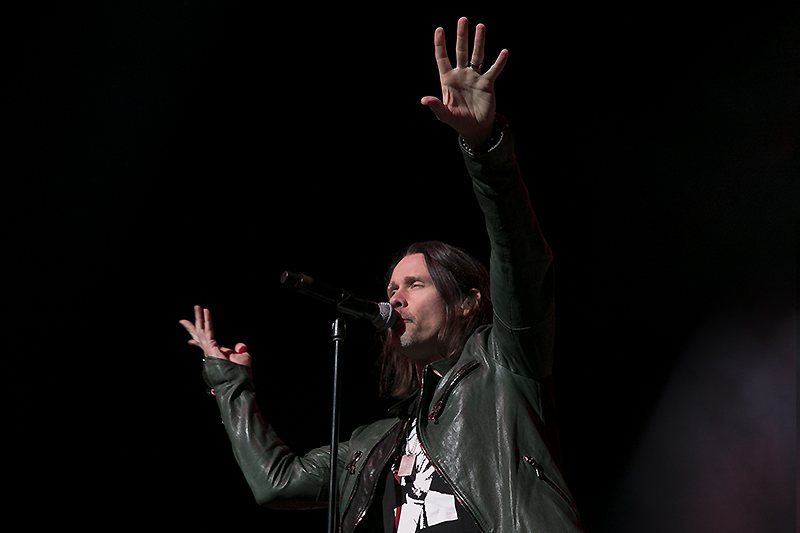 In tight black leather pants and a cutoff black tee, frontman Myles Bass (Alter Bridge) grabbed the mic stand in true Steven Tyler fashion and flawlessly belted out the high notes. A tall, pale Todd Kerns (Age of Electric) riled up the crowd, swinging his long shiny black hair with guitarist Frank Sidoris. It looked rehearsed, but the polished ensemble seemed to be having fun, nonetheless. Brent Fitz anchoring everything from a propped kit center stage.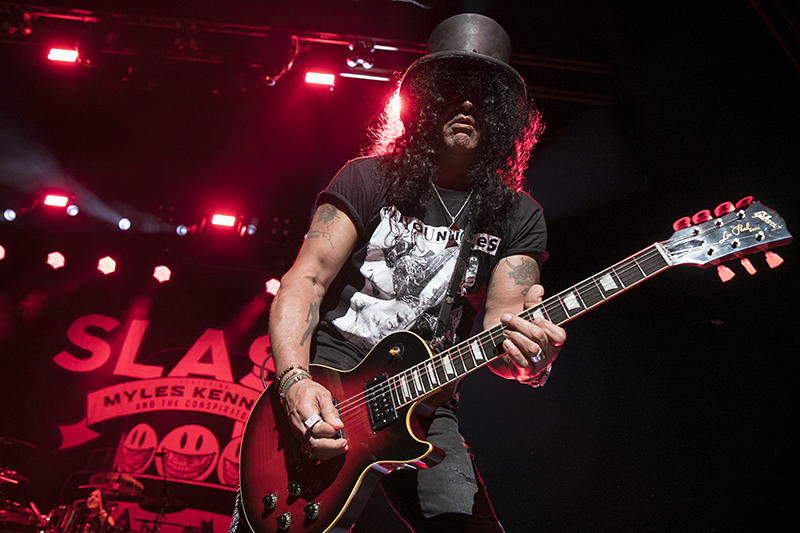 Slash rocked his signature top hat, jeans, chain, tee, and a slew of guitars throughout the evening, including a sweet black doubleneck. He learned how to play on an electric Gibson Explorer, which was gifted to him by his grandmother. Today he owns more than 100 guitars but prefers the Gibson Les Paul. Enough so that he's collaborated with Gibson on 17 signature models.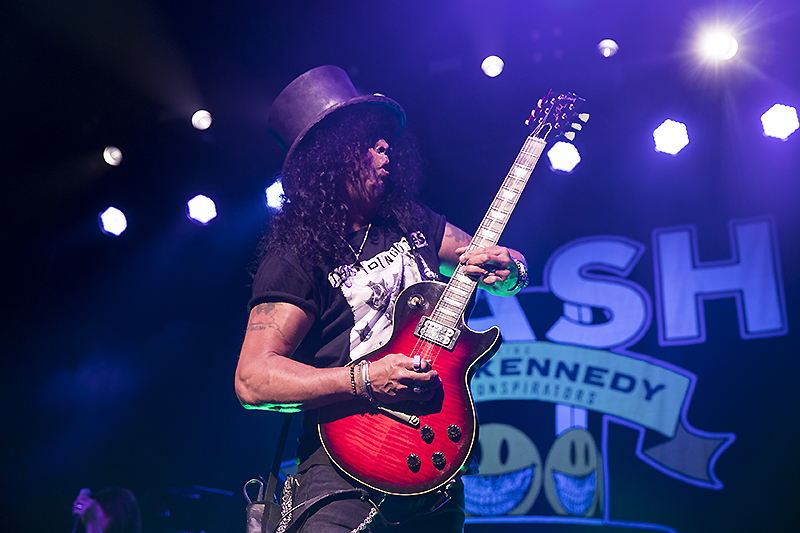 The British-American musician and songwriter is best known as the guitarist of Guns 'N' Roses and supergroup Velvet Revolver. He's credited as one of the greatest guitarists in rock history.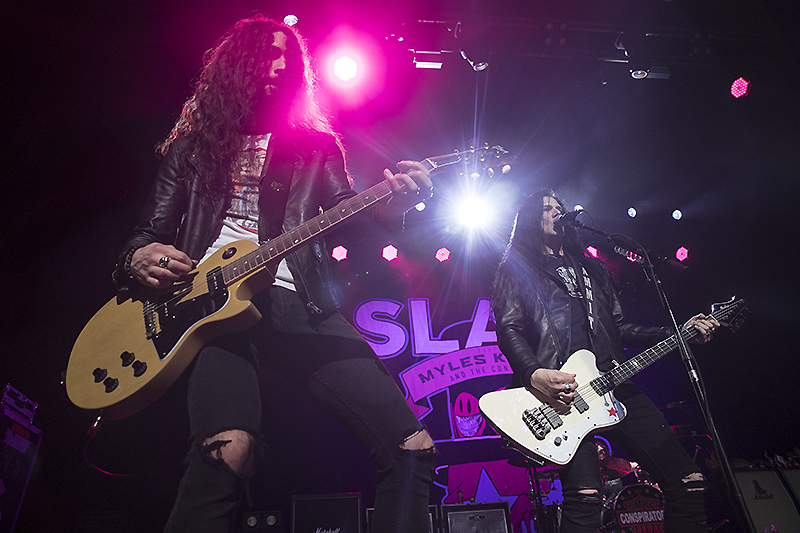 At first, Slash seemed a bit shy. But it wasn't long before he took the spotlight. Bent over, almost engulfed by his red guitar, he hopped on one leg, half-skipping across the stage. The crowd went wild.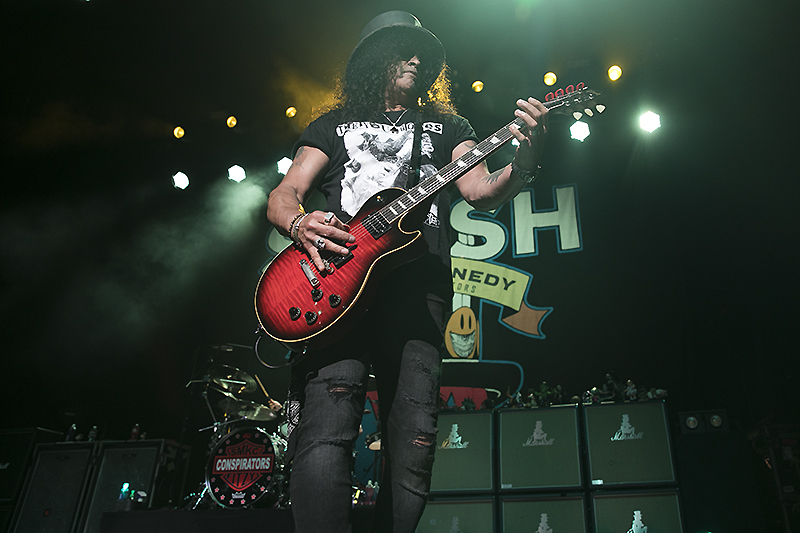 After the opening track, they dipped right into the old stuff, like "Halo," "Standing in the Sun," and "Apocalyptic Love" (Apocalyptic Love, 2012). The crowd also seemed well versed in new material. When he started riffing to "My Antidote" and "Boulevard of Broken Hearts," everyone sang along or cheered as they watched his fingers mercilessly pluck his guitar.
Slash also played some solo favorites, like "Doctor Alibi," which originally featured guest vocalist Lemmy Kilmister. In place of the late Motörhead frontman, Kerns sang vocals after paying tribute to the heavy metal icon.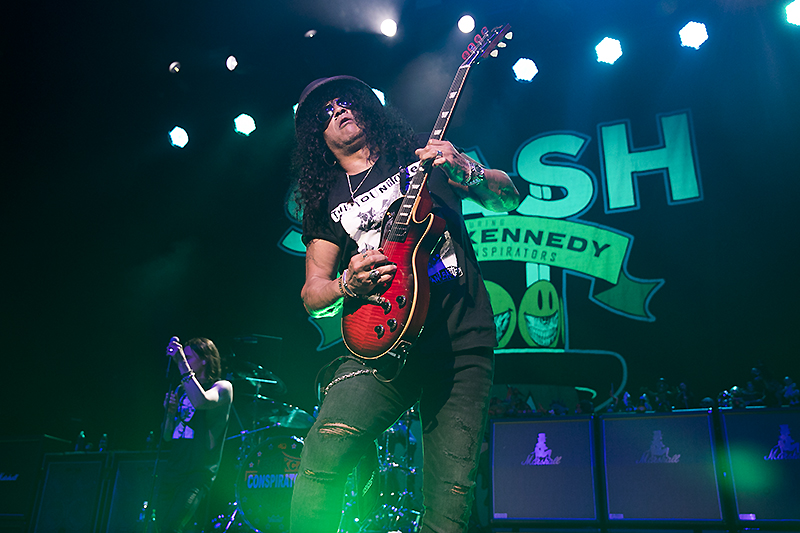 Kerns also sang "We're All Gonna Die" (Slash, 2010) before Bass took the reins. Bass stood on a lifted podium and belted out Living the Dream tunes like "The One You Loved is Gone," "Mind Your Manners," and "Driving Rain." But the real treat came when the crowd heard the first few chords of 1987 Guns 'N' Roses hit "Nightrain" (Appetite for Destruction). Fans were so excited; a woman threw her pink bra on stage. Bass picked it up and jokingly asked Kerns to add it to his collection.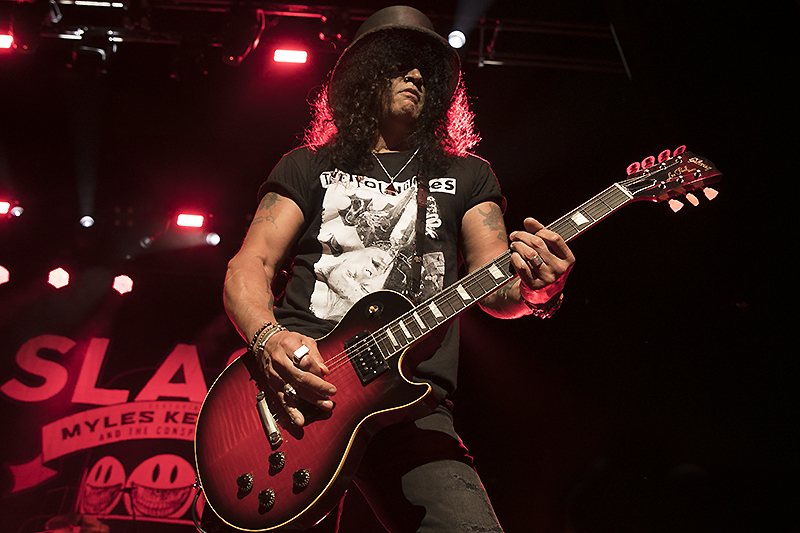 The volume stayed at 11, with "Starlight" (Slash, 2010), and "You're a Lie," (Apocalyptic Love, 2012). Slash closed out the show with an epic "World on Fire" guitar solo. After leaving the stage, the crowd stomped their feet and screamed. The lights were dim. But soon enough, the band reemerged one by one. By the time Slash appeared, the crowd screamed so loud the floor shook.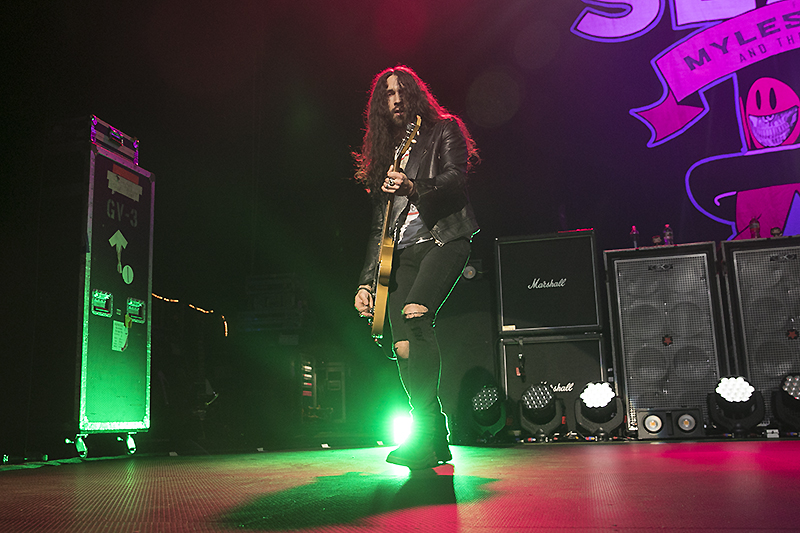 They closed the night with two older favorites. After playing "Avalon" (World on Fire, 2014), Slash delivered some fiery signature shredding to "Anastasia" (Apocalyptic Love, 2012).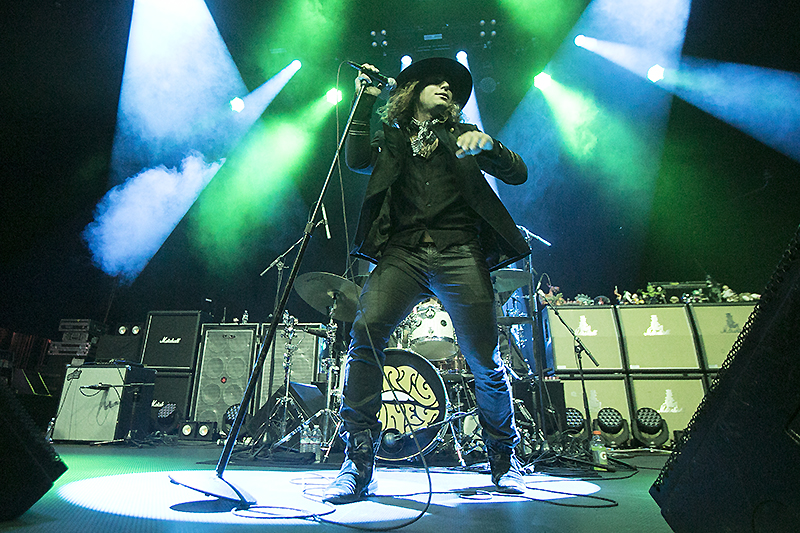 Los Angeles' Dirty Honey kicked off the night with some bluesy classic rock.
Slash:  
Setlist: The Call of the Wild I Halo I Standing in the Sun I Apocalyptic Love I Back From Cali (Slash song) I My Antidote I Serve You Right I Boulevard of Broken Hearts I Shadow Life I We're All Gonna Die (Slash song) (Todd Kerns on lead vocals) I Doctor Alibi (Slash song) (Todd Kerns on lead vocals) I The One You Loved Is Gone I Wicked Stone (with extended 12-minutes Slash guitar solo) I Mind Your Manners I Driving Rain I By the Sword (Slash song) I Nightrain (Guns N' Roses cover) I Starlight (Slash song) I You're a Lie I World on Fire (with Slash solo) II Avalon I Anastasia
Find out more about Slash on his website.
Dirty Honey:
Check out Dirty Honey here.