Burger Boogaloo
Mosswood Park, Oakland
July 6-7, 2019
Photos by Raymond Ahner and Jill Gerstenberger.
All hail The Pope of Trash. Burger Boogaloo may be the only festival where fans are just as excited to see its host—cult director and author John Waters—as any band on the bill. The counterculture icon's slender frame stood behind a podium on stage, his pencil-thin mustache outlined a grin as he welcomed each artist with some band bio.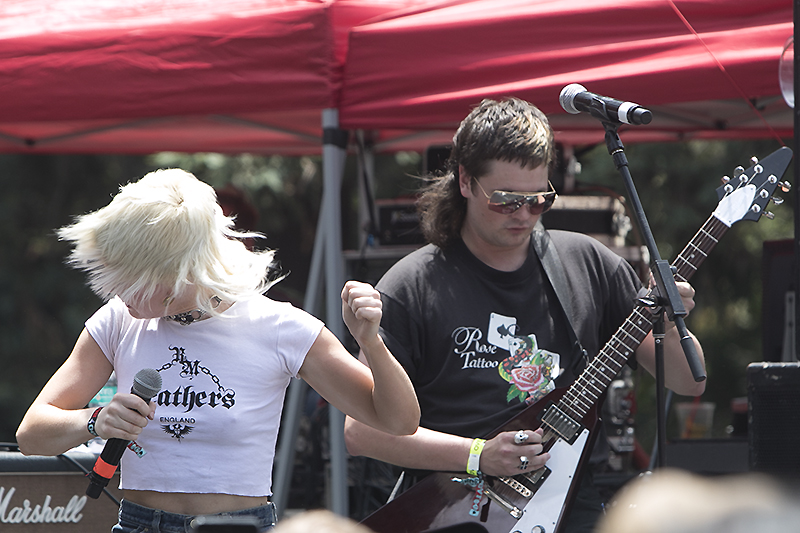 A slew of punks, goths, and rockabillies flooded Mosswood Park in Oakland for the festival's 10th anniversary. Colossal honeycomb-patterned pinwheels changed colors as they spun in the wind behind the single stage. Waters downsized the show this year on purpose. Just days before last year's fest, the Oakland Police Department cleared the park's homeless community. To make sure that never happened again, promoters worked with the Homeless Action Center, provided haircuts and showers, clothing and hiking gear, and even set up a makeshift nail salon. Festivalgoers also donated money and supplies.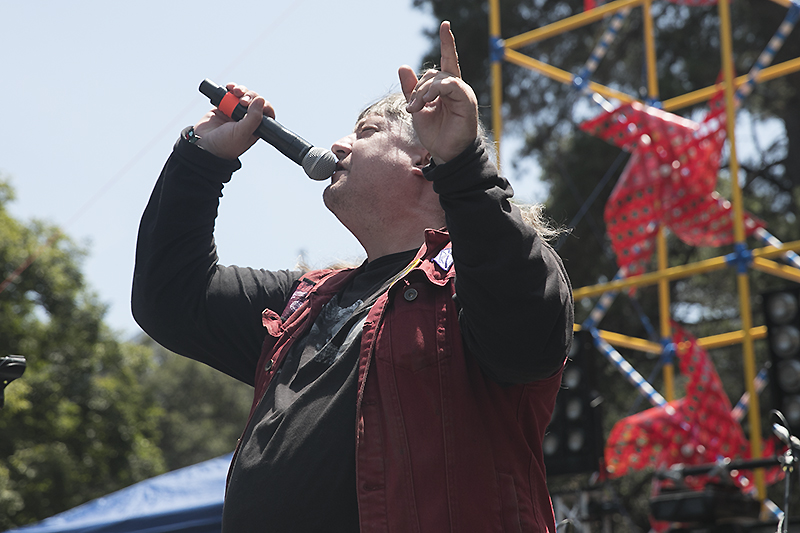 Boogaloo offers a space unpenetrated by hipsters and techies. Some fans donned Divine tee shirts and paid tribute to Water's muse and most spectacular drag queen. Others wore all black, though you could always spot bright purple, green, and yellow hair. Left to it's bizarre, culty core, Boogaloo isn't just a show. It's a place to be exactly who you are.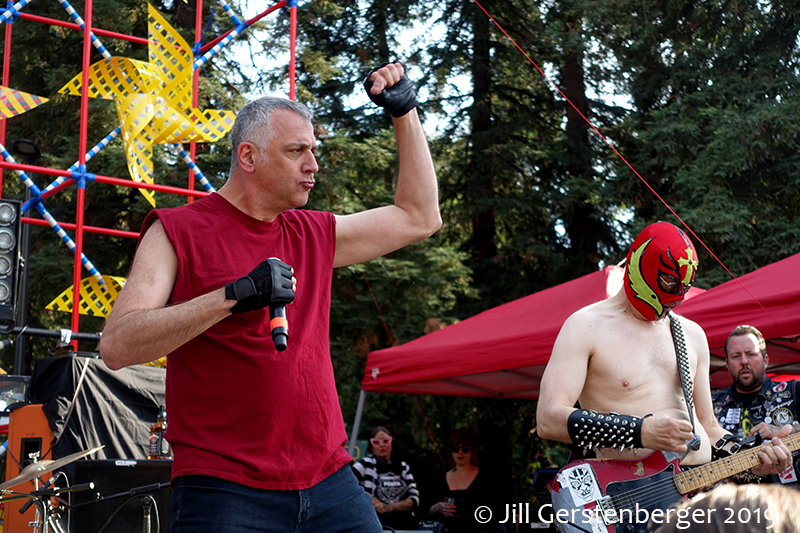 Oakland's own Terry & Louie kicked off the weekend before Australian punk band Amyl & the Sniffers dominated the stage. You couldn't take your eyes off frontwoman Amy Taylor. In cutoff shorts and tiny white shirt, she thrashed on stage, shaking her blonde mullet and gripping her mic tightly toward her chest. They're loud and fast and perfect for a Boogaloo crew. It's been said that the band recorded their first EP in just 12 hours. They played "I Don't Give a Fuck" and "70s Street Munchies" and kept the crowd beaming.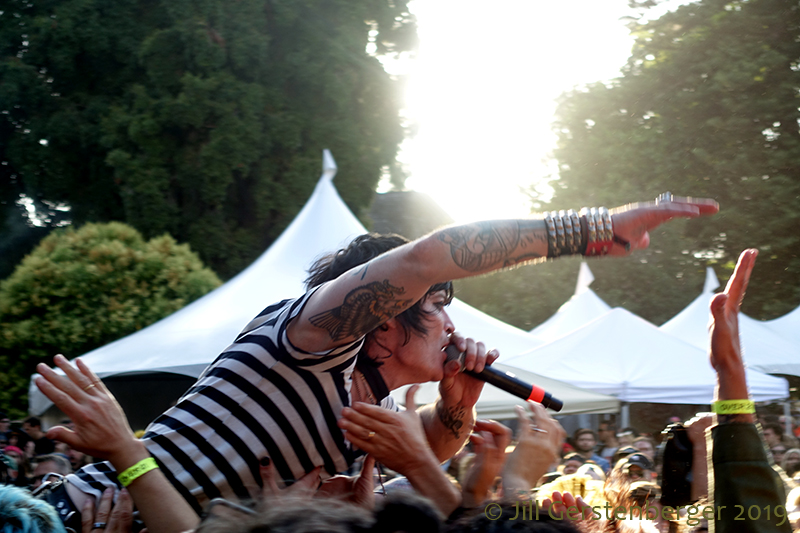 Powerhouse Christina Halladay of classic rock/punk band Sheer Mag kept the energy alive. The Philly-based band smashed their set before local punk/bubblegum pop mainstay Nobunny made an appearance. The band played a memorable unscheduled set last year when The Dwarves cancelled last minute. San Francisco surf punk legends Phantom Surfers graced the stage before The Dwarves (in studded leather jockstraps and pro-wrestling masks) made up for last year's no-show and dished out 30 years' worth of offensive, hilarious hardcore punk.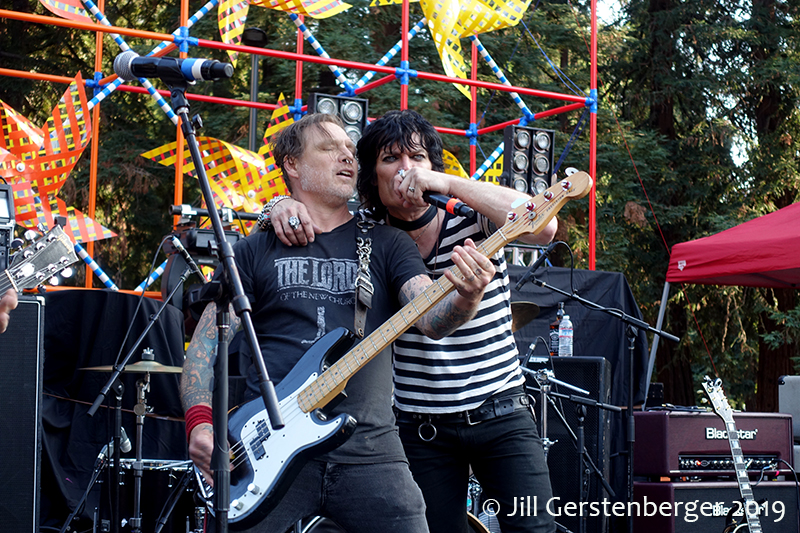 Dead Boys put on one of the best sets of the day, even with only one remaining original member, guitarist Cheetah Chrome. Dead Boys were one of many CBGB-spawned bands and were known as the American Sex Pistols. Their lyrics are angry and empowering. Their sound is loud and unforgiving. Don't get me wrong. New vocalist Jake Hout isn't Stiv Bators. But he doesn't try to be. Hout used to be in a Dead Boys tribute band (Undead Boys). In a black and white striped shirt and tight pants, he shimmied across the stage and welcomed the legendary James Williamson from the Stooges to cover "Gimme Danger."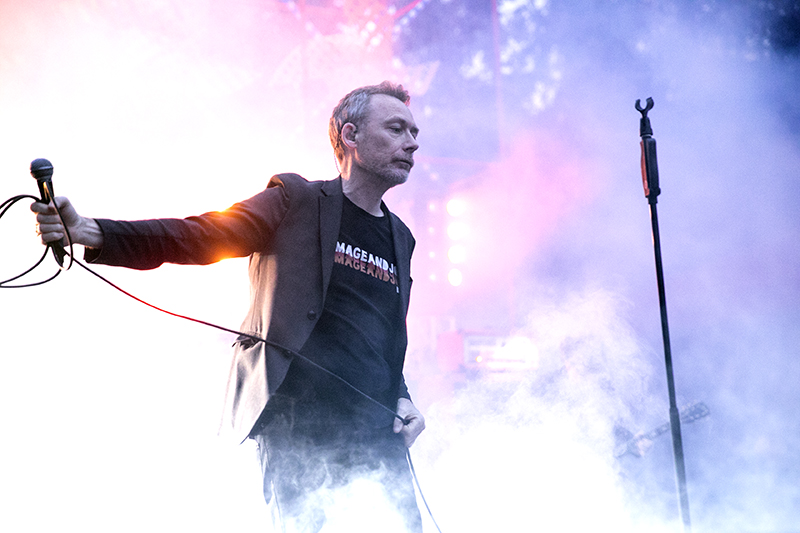 The Jesus and Mary Chain headlined both nights. The Scottish alternative shoegaze group is coming off a 2018 tour opening for Nine Inch Nails and is one of the most influential bands that came out of the U.K. during the post-punk era. Inspired by Brit punk and the Ramones, brothers Jim and William Reid added elements of proto-punk and created their debut album Psychocandy in 1985. Reuniting in 2007, the band released their first album in 18 years, Damage and Joy, in 2017. Backed in red and blue light, the band played a beautifully tight set. Opening with new song "All Things Pass" off Damage and Joy, they soon dipped into the older stuff like "Teenage Lust" off 1992 album Honey's Dead and "Just Like Honey" off Psychocandy. The crowd seemed to be weaning off the high from a rowdier day. Rocking back and forth, the seasoned rockers felt perfect as the night's sky grew dark.
Detroit figurehead as psychedelic punk freak Timmy's Organism kicked off day two by launching a glitter bomb into the crowd. They were followed by The Chats, who came all the way from Australia. Best known for their big hit "Smoko," the trio put on a rowdy, clean set and riled up the crowd for a full day of boogalooin'. Fans begged for an encore after the band put on one of the best sets of the weekend.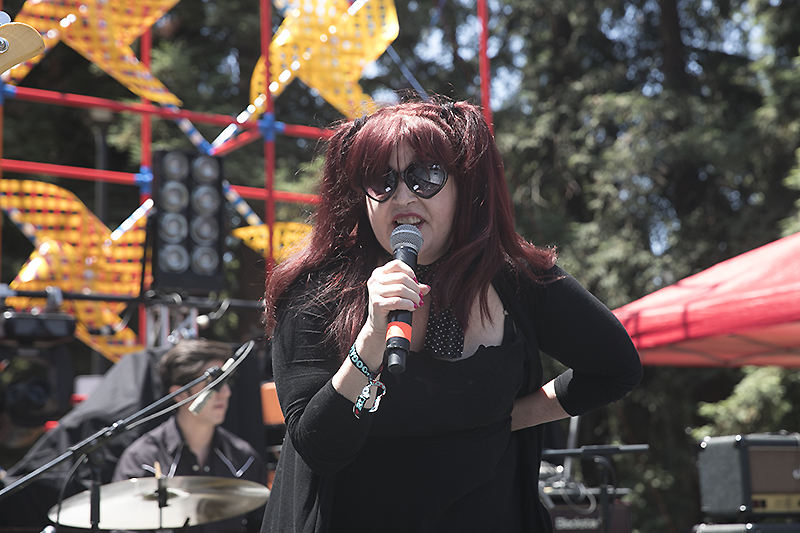 Derv Gordon, the legendary lead singer to influential British soul-rock band the Equals, rocked a red brimmed hat and leather jacket and took the stage. According to Waters, Derv Gordon is for all the acidheads and punks and everyone into disco glam and ska. "He played bubblegum punk before you were born, but not me," Waters said. "He's still here and so am I.
Day two also offered more international sounds, like Puerto Rican punks Davila 666 and Australian post-punk greats The Scientists. Other notable sets included garage-rocker King Tuff, who played his popular album Was Dead in its entirety. And it wouldn't be Boogaloo without some local heat. Waters' favorite Shannon and the Clams offered some trashy punk, surf, doo-wop before The Jesus and Mary Chain closed the show with their second set of the weekend.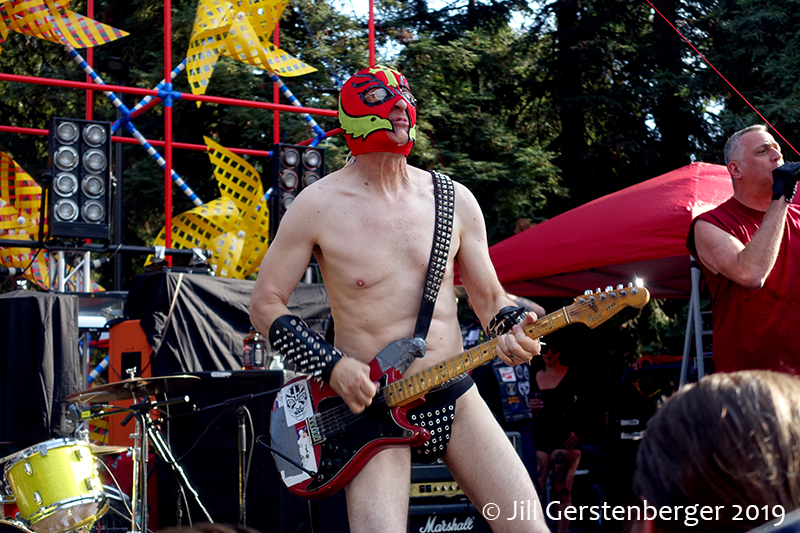 This year may have been smaller, but it definitely wasn't quieter. Green Day's Billie Joe Armstrong even stopped by. People strutted around with Burger Boogaloo barf bags and checked out food trucks, vintage clothing and jewelry booths, pop-up record stores, and grabbed drinks from the "Weiners" booth. Local businesses and nonprofits collected donations and offered free services. Newcomers West Oakland Punks with Lunch distributed NARCAN with literature on how you can save someone's life if they've suffered a drug overdose. And "Free Bangs Cuts" were offered in exchange for donations to Youth Education for Success. The underground fest stayed true to its mission, creating an awesome party with a sense of community. In the process, Total Trash Productions put on one hell of a show.
Here's a slideshow with more photos of Burger Boogaloo:
Photos of The Dwarves and the Dead Boys by Jill Gerstenberger. All other photos by Raymond Ahner.
For more info on Burger Boogaloo, go here.