SF Jazz Resident Artistic Directors Reunion Concert
SF Jazz
January 14, 2023
Photos by Rick Swig
On January 14th, to celebrate its 10th anniversary, SF Jazz brought together a monumental group of musicians who have served as artistic directors at some point in the organization's history. The night's lineup consisted of electric violinist Laurie Anderson, guitarist Bill Frisell, drummer Terri Lyne Carrington, bassist Marcus Shelby, saxophonist Joshua Redman, and pianist Edward Simon. I wasn't quite sure what to expect as the sextet took the stage, especially with a wild card like Laurie Anderson: a chameleonic artist whose work spans from minimalistic spoken word to full multimedia experiences.
Bill Frisell has been playing guitar professionally since the early 1980s, and has played with such titans as John Zorn, Norah Jones, David Sylvian, and Pat Metheny, and is an accomplished bandleader himself. Terri Lynne Carrington has played drums for some of the biggest names in jazz including Herbie Hancock, Dizzy Gillespie, and Wayne Shorter. She was also the first woman to win the Grammy Award for Best Jazz Instrumental Album. Mercus Shelby has played bass with Billy Higgins, Tom Waits, and a host of others. Joshua Redman was one of the founders of the SF Jazz ensemble back in 2000 and has been releasing albums, both solo and as bandleader, since the early 1990s. Edward Simon's first album came out around the same time, in 1994, and he has also been recording and releasing albums ever since.
Following a moment of silence as all of the musicians settled, Frisell began playing the opening guitar parts of "Dog On A Roof," the closing song from his latest album Four. Eventually Carrington and Shelby joined in, the rest of the band waiting to accompany. Before long, all six musicians had firmly found their place in this number, with Anderson using her violin to chilling effect as a sweeping blanket of sound over the other instrumentation. Violin is not an instrument common in the world of jazz, and I was delighted to hear it fit perfectly into the context of what was being played throughout the night.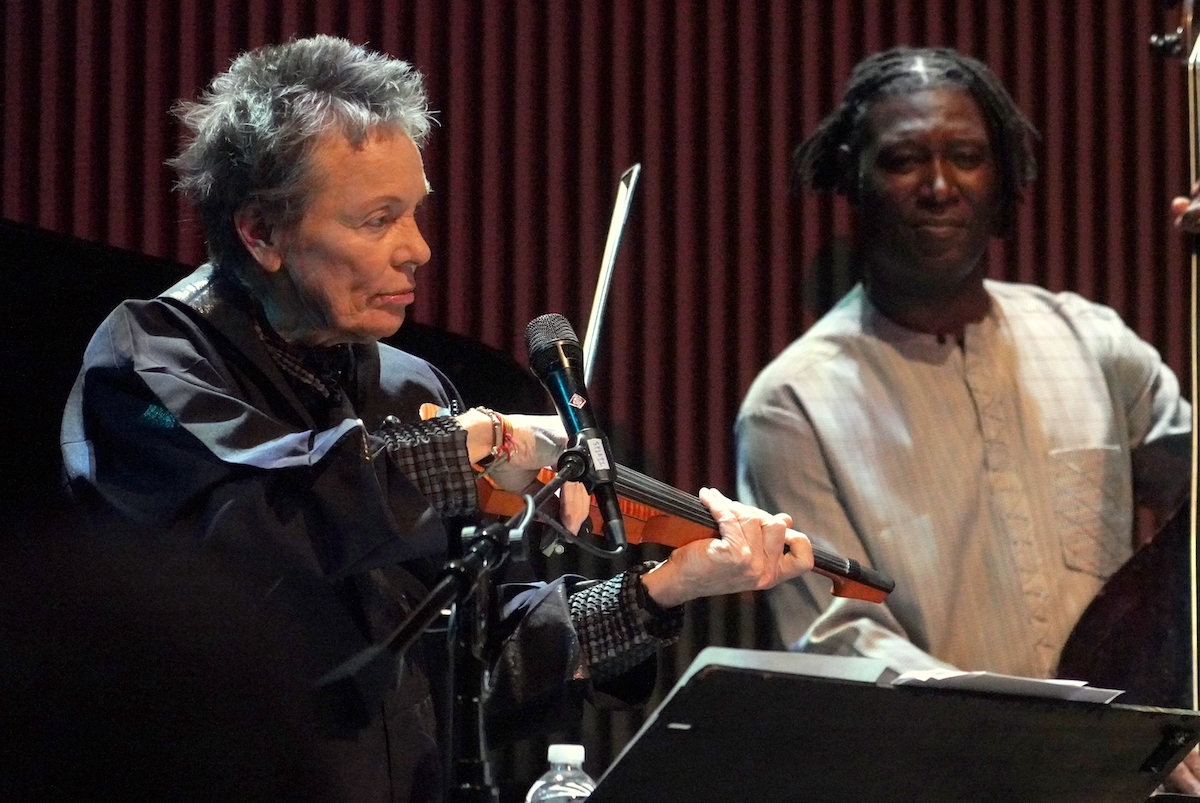 I could recount a play-by-play of what followed. Of Joshua Redman's scorching saxophone solo during the Geri Allen song "Feed The Fire." Or of Laurie Anderson's haunting violin introduction of her song "Cats," which saw Edward Simon plucking the piano strings themselves to add to the sinister mood that soon enveloped the song shortly after its introduction. Or Marcus Shelby's never-ending bass-playing, his ability to maintain a sense of rhythm being something to behold. Or Bill Frisell's surprising usage of shimmer reverb and reverse delay on his guitar, something I'd never heard before in the context of jazz. Or especially of Terri Lyne Carrington's virtuosic drumming, a feat that didn't go unnoticed by the rest of the band, Anderson and Redman occasionally looking at her with a sense of awe on their faces.
But what I want to focus on is the feeling of it all. And that was a feeling of tension and release, something that happened again and again throughout the evening. For every moment of triumph, usually marked by Terri Lyne Carrington's expert drumming, it was either preceded or followed by a section of unease and push-and-pull from the band. Given that every musician onstage is an expert at their given instrument, it was a feast of the eyes and ears to witness and hear them literally playing off of each other, particularly when Joshua Redman would throw his whole body into his soloing, his upper body rocking, his legs shooting up and down, adding to the intensity of what he was playing.
Following a simmering performance of another song from Four titled "Blues From Before," before which Redman stated that being onstage was his first time even meeting Anderson, the band exited the stage, only to return moments later for an encore. Laurie Anderson finally took to the microphone to begin slowly singing a second verse of the nursery rhyme "Twinkle, Twinkle, Little Star," playing keyboards as accompaniment. As she continued on, the rest of the band joined in slowly but confidently until it had evolved into a moving dramatic piece. Anderson eventually pitch-shifted her vocals down multiple octaves, soon sounding more like Darth Vader than any other comparison I can think of. You could see it threw off some of the other musicians, but the band finished off the song masterfully. The crowd erupted in a full-house standing ovation. The sextet locked arms at the front of the stage for the first and last time, bowed, and took their exit stage right. This was my first jazz show, and I couldn't have asked for a better one.