Rival Sons
Warfield Theater
November 11, 2021
All photos by Raymond Ahner.
Celebrating the tenth anniversary of their 2011record Pressure and Time, Long Beach rockers Rival Sons kicked off the Pressure and Time Tour earlier this Fall, and recently pulled up for a near end of the tour date at San Francisco's Warfield Theater.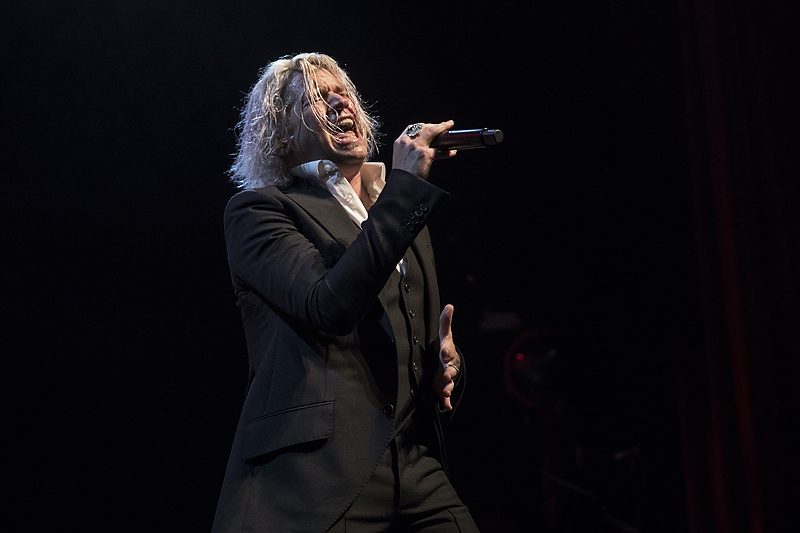 The band opened their set on this night by playing the Pressure and Time record in its entirety, with highlights including "Young Love," "Burn Down Los Angeles," "White Noise" and "Face of Light." With both the drums and the backline somewhat deep back on the stage, vocalist Jay Buchanan worked the wide open stage, engaging with the fans in the front rows.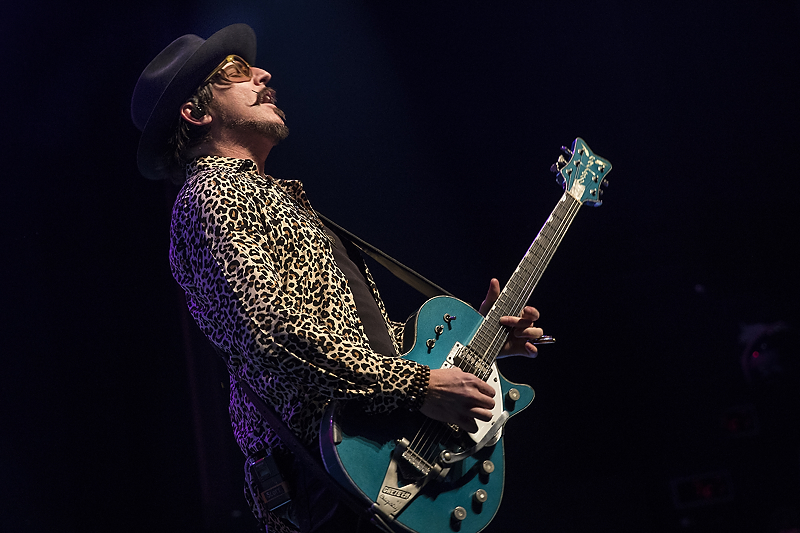 After the Pressure and Time set was on the books, the band (including guitarist Scott Holiday, drummer Mike Miley, and bassist Dave Beste) belted out another eight songs, highlighted by "Shooting Stars," "Feral Roots," and "Keep on Swinging."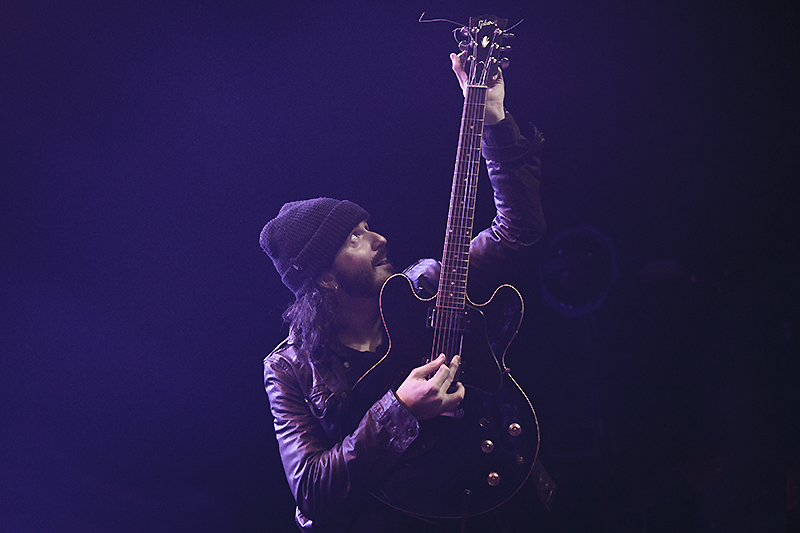 Supporting Rival Sons on this evening was Reignwolf, the two piece, guitarist/vocalist and drummer combo from Seattle that rocked the crowd with their stripped down, no-frills yet still heavy sound.
Opening the show was singer/guitarist Jameson Burt, who brought the crowd out early for his 30 minute set.
Here's a slideshow with more photos of all three artists by Raymond Ahner:
Warning
: Attempt to read property "post_title" on null in
/home/sfsoni5/public_html/wp-content/plugins/media-slider-premium/shortcode-output.php
on line
137
Warning
: Attempt to read property "post_content" on null in
/home/sfsoni5/public_html/wp-content/plugins/media-slider-premium/shortcode-output.php
on line
138


Warning
: Attempt to read property "post_title" on null in
/home/sfsoni5/public_html/wp-content/plugins/media-slider-premium/shortcode-output.php
on line
137
Warning
: Attempt to read property "post_content" on null in
/home/sfsoni5/public_html/wp-content/plugins/media-slider-premium/shortcode-output.php
on line
138


Warning
: Attempt to read property "post_title" on null in
/home/sfsoni5/public_html/wp-content/plugins/media-slider-premium/shortcode-output.php
on line
137
Warning
: Attempt to read property "post_content" on null in
/home/sfsoni5/public_html/wp-content/plugins/media-slider-premium/shortcode-output.php
on line
138


Warning
: Attempt to read property "post_title" on null in
/home/sfsoni5/public_html/wp-content/plugins/media-slider-premium/shortcode-output.php
on line
137
Warning
: Attempt to read property "post_content" on null in
/home/sfsoni5/public_html/wp-content/plugins/media-slider-premium/shortcode-output.php
on line
138


Warning
: Attempt to read property "post_title" on null in
/home/sfsoni5/public_html/wp-content/plugins/media-slider-premium/shortcode-output.php
on line
137
Warning
: Attempt to read property "post_content" on null in
/home/sfsoni5/public_html/wp-content/plugins/media-slider-premium/shortcode-output.php
on line
138


Warning
: Attempt to read property "post_title" on null in
/home/sfsoni5/public_html/wp-content/plugins/media-slider-premium/shortcode-output.php
on line
137
Warning
: Attempt to read property "post_content" on null in
/home/sfsoni5/public_html/wp-content/plugins/media-slider-premium/shortcode-output.php
on line
138


Warning
: Attempt to read property "post_title" on null in
/home/sfsoni5/public_html/wp-content/plugins/media-slider-premium/shortcode-output.php
on line
137
Warning
: Attempt to read property "post_content" on null in
/home/sfsoni5/public_html/wp-content/plugins/media-slider-premium/shortcode-output.php
on line
138


Warning
: Attempt to read property "post_title" on null in
/home/sfsoni5/public_html/wp-content/plugins/media-slider-premium/shortcode-output.php
on line
137
Warning
: Attempt to read property "post_content" on null in
/home/sfsoni5/public_html/wp-content/plugins/media-slider-premium/shortcode-output.php
on line
138


Warning
: Attempt to read property "post_title" on null in
/home/sfsoni5/public_html/wp-content/plugins/media-slider-premium/shortcode-output.php
on line
137
Warning
: Attempt to read property "post_content" on null in
/home/sfsoni5/public_html/wp-content/plugins/media-slider-premium/shortcode-output.php
on line
138


Warning
: Attempt to read property "post_title" on null in
/home/sfsoni5/public_html/wp-content/plugins/media-slider-premium/shortcode-output.php
on line
137
Warning
: Attempt to read property "post_content" on null in
/home/sfsoni5/public_html/wp-content/plugins/media-slider-premium/shortcode-output.php
on line
138


Warning
: Attempt to read property "post_title" on null in
/home/sfsoni5/public_html/wp-content/plugins/media-slider-premium/shortcode-output.php
on line
137
Warning
: Attempt to read property "post_content" on null in
/home/sfsoni5/public_html/wp-content/plugins/media-slider-premium/shortcode-output.php
on line
138


Warning
: Attempt to read property "post_title" on null in
/home/sfsoni5/public_html/wp-content/plugins/media-slider-premium/shortcode-output.php
on line
137
Warning
: Attempt to read property "post_content" on null in
/home/sfsoni5/public_html/wp-content/plugins/media-slider-premium/shortcode-output.php
on line
138


Warning
: Attempt to read property "post_title" on null in
/home/sfsoni5/public_html/wp-content/plugins/media-slider-premium/shortcode-output.php
on line
137
Warning
: Attempt to read property "post_content" on null in
/home/sfsoni5/public_html/wp-content/plugins/media-slider-premium/shortcode-output.php
on line
138


Warning
: Attempt to read property "post_title" on null in
/home/sfsoni5/public_html/wp-content/plugins/media-slider-premium/shortcode-output.php
on line
137
Warning
: Attempt to read property "post_content" on null in
/home/sfsoni5/public_html/wp-content/plugins/media-slider-premium/shortcode-output.php
on line
138


Warning
: Attempt to read property "post_title" on null in
/home/sfsoni5/public_html/wp-content/plugins/media-slider-premium/shortcode-output.php
on line
137
Warning
: Attempt to read property "post_content" on null in
/home/sfsoni5/public_html/wp-content/plugins/media-slider-premium/shortcode-output.php
on line
138


Warning
: Attempt to read property "post_title" on null in
/home/sfsoni5/public_html/wp-content/plugins/media-slider-premium/shortcode-output.php
on line
137
Warning
: Attempt to read property "post_content" on null in
/home/sfsoni5/public_html/wp-content/plugins/media-slider-premium/shortcode-output.php
on line
138


Links: