Dinner Party
Frost Amphitheater, Palo Alto
July 15, 2021
Photos by Paul Piazza.
Last week, music lovers at the Frost Amphitheater in Palo Alto were treated to the live debut of Dinner Party, a remarkable 2020 r&b, jazz and hip-hop collaboration between Robert Glasper, Terrace Martin, Kamasi Washington, and 9th Wonder. On this night, Glasper and Martin ushered this music into the live realm along with a stellar cast including the remarkable trumpet player Christian Scott aTunde Adjuah, bassist/vocalist Phenix, drummer Justin Tyson, and DJ Jahi Sundance.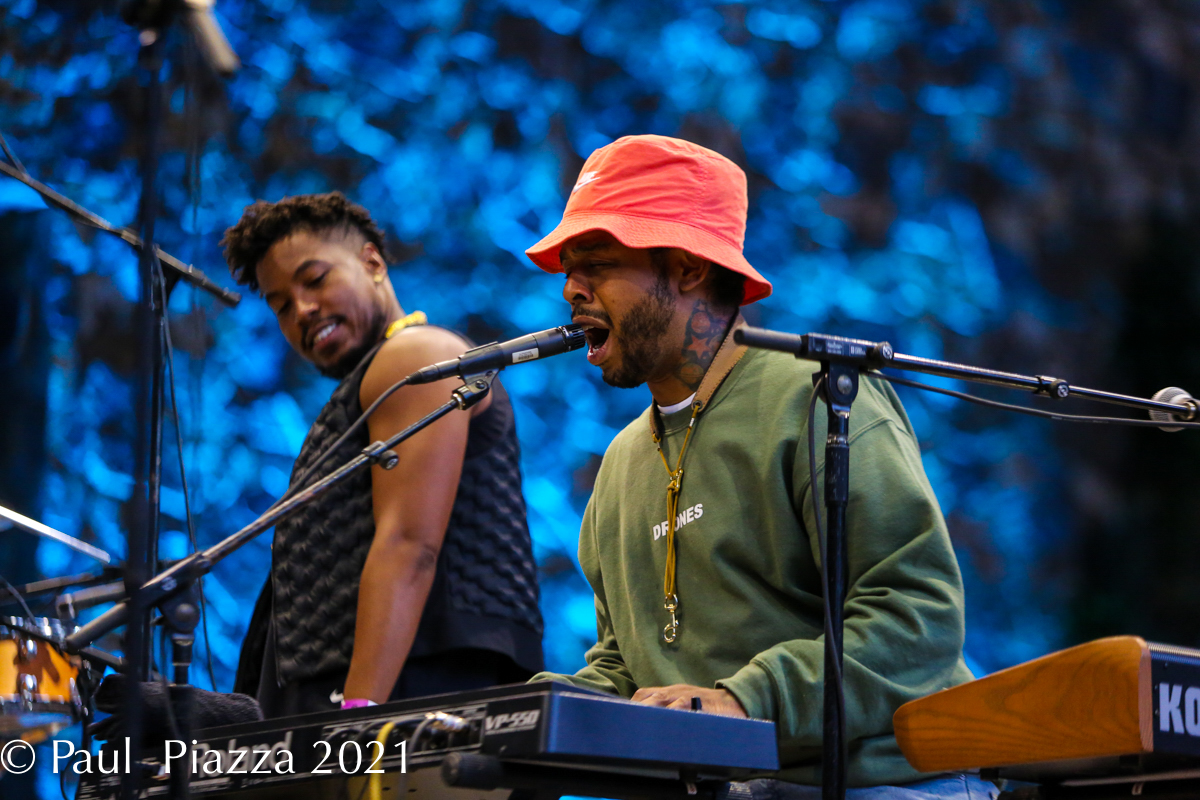 This was the second live show at the Stanford University venue that was a collaboration between SF Jazz and Stanford Live and once again everything was flawless from the sound and lighting, to the seating to the overall vibe. Dinner Party is an EP length piece of music. On this night, the musicians extended many of the songs with new changes, elaborated solos, and live energy that helped transform the EP into a living and evolving piece of work. The record itself is a masterful fusing of genres that sonically explores an unsettled future in which we continue to struggle with the pandemic and police brutatlity.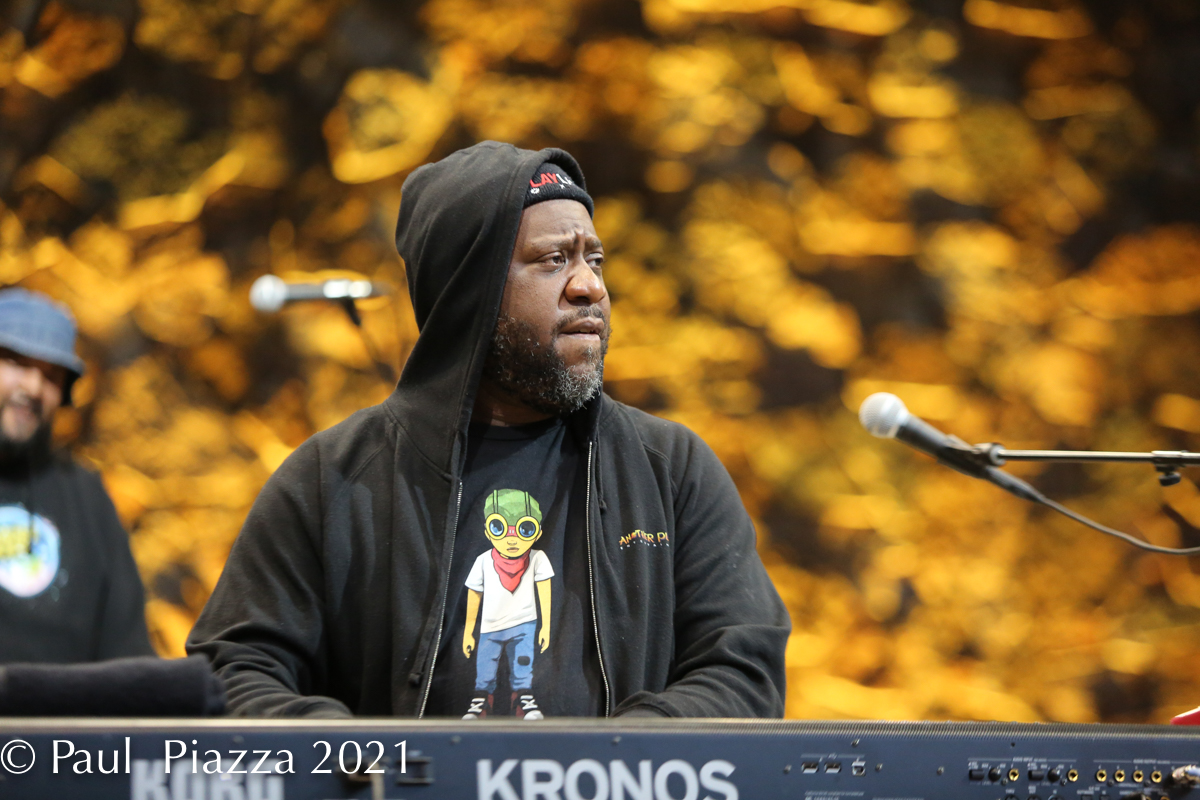 This was the very first time Dinner Party would be played before a live audience as well as the first live gig for most of these musicians after being stuck mostly at home like everyone else in 2020. And those on stage and in the audience seemed to be equally curious about what the results would be during this premiere.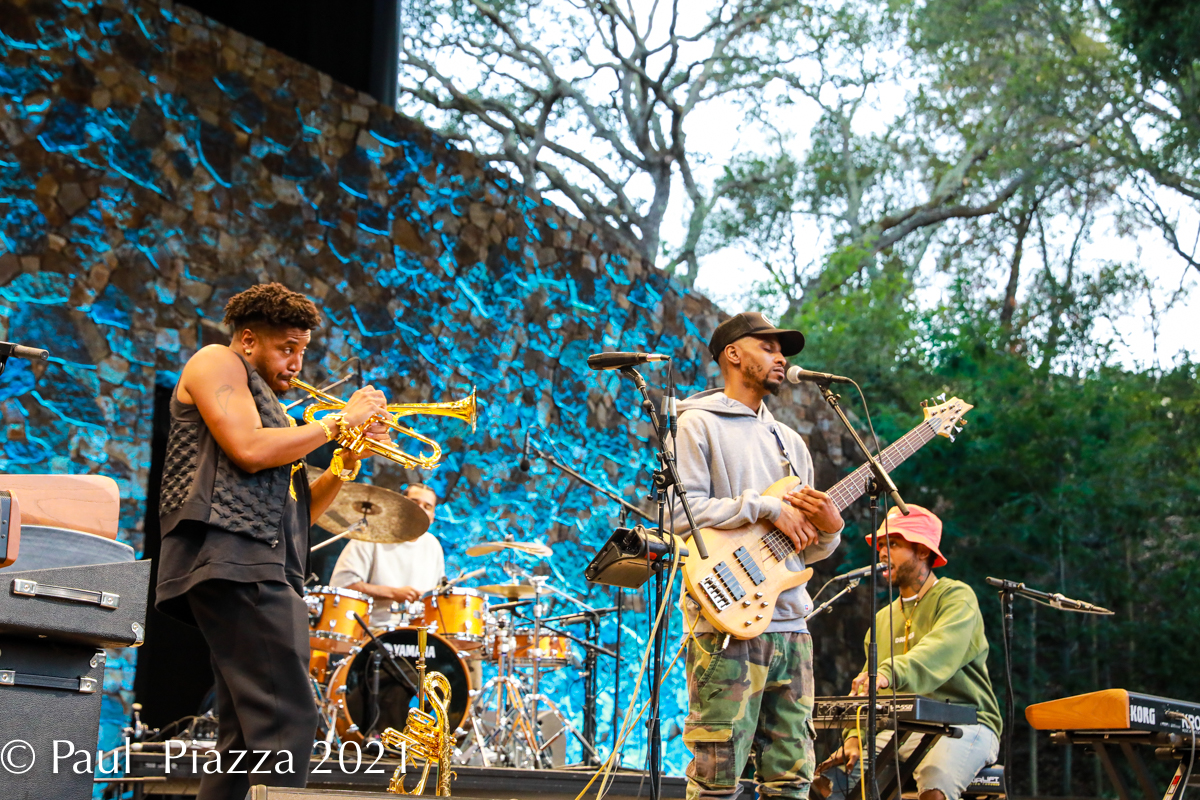 Being the key composers onstage, Glasper and Martin led the way, but also gave plenty of space to those they were sharing the stage. Glasper, who recently won his fourth Grammy, has garnished a remarkable resume with partnerships with notables like Kendrick Lamar, Anderson Paak, Herbie Hancock, Yasiin Bey, Brittany Howard, Erykah Badu, and Q-tip, as well as both the late J Dilla and Mac Miller, and many more. Martin also has a unique resume having also worked with Hancock, Lamar, Stevie Wonder, Snoop Dogg, Murs, Charlie Wilson, Busta Rhymes, and many others. Both Glasper and Martin are featured contributors on the new Leon Bridges record "Gold-Diggers Sound" and will continue to be significant influences and collaborators in jazz, R&B and hip hop heading into the future.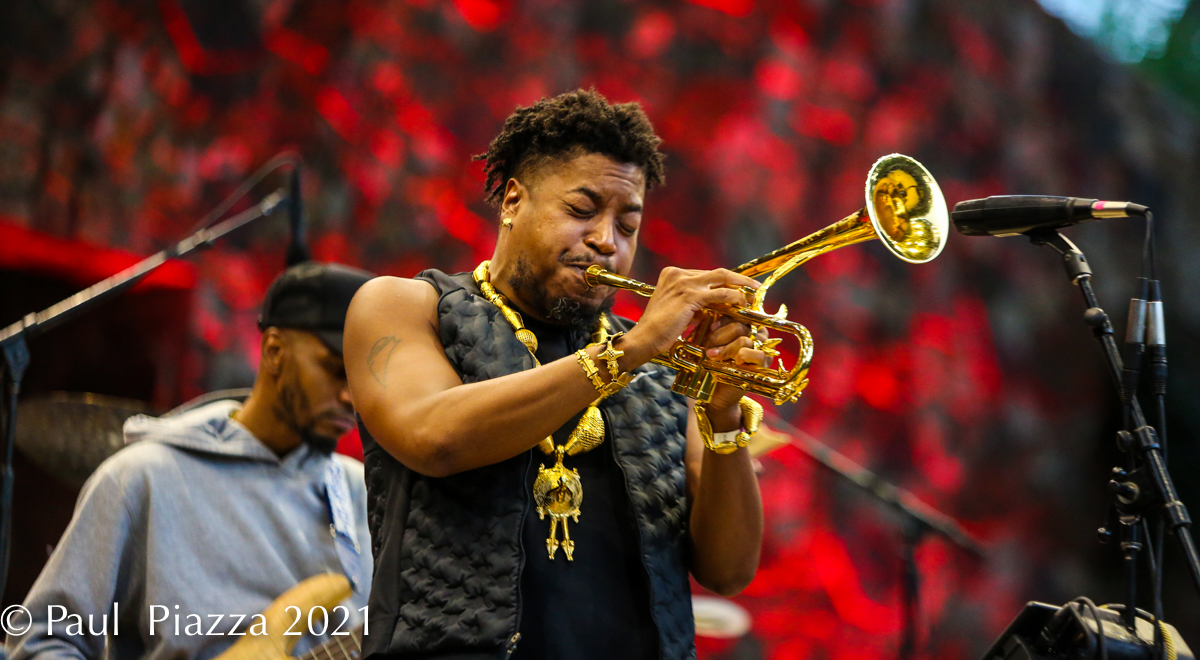 Together, the pair ushered the album into life after kicking off the show with their own takes on their first time back onstage, after having navigated the pandemic year as home studio musicians and witnessing and feeling everything in the world at once. As things began to take off, the results were stunning. aTunde Adjuah, the acclaimed trumpet player with New Orleans roots, was a revelation on this evening, as he played with a fire and sophistication that added new dimensions to the Dinner Party sounds. Phoelix, who deftly handled the bass duties, brought a smooth as silk presence with his vocals.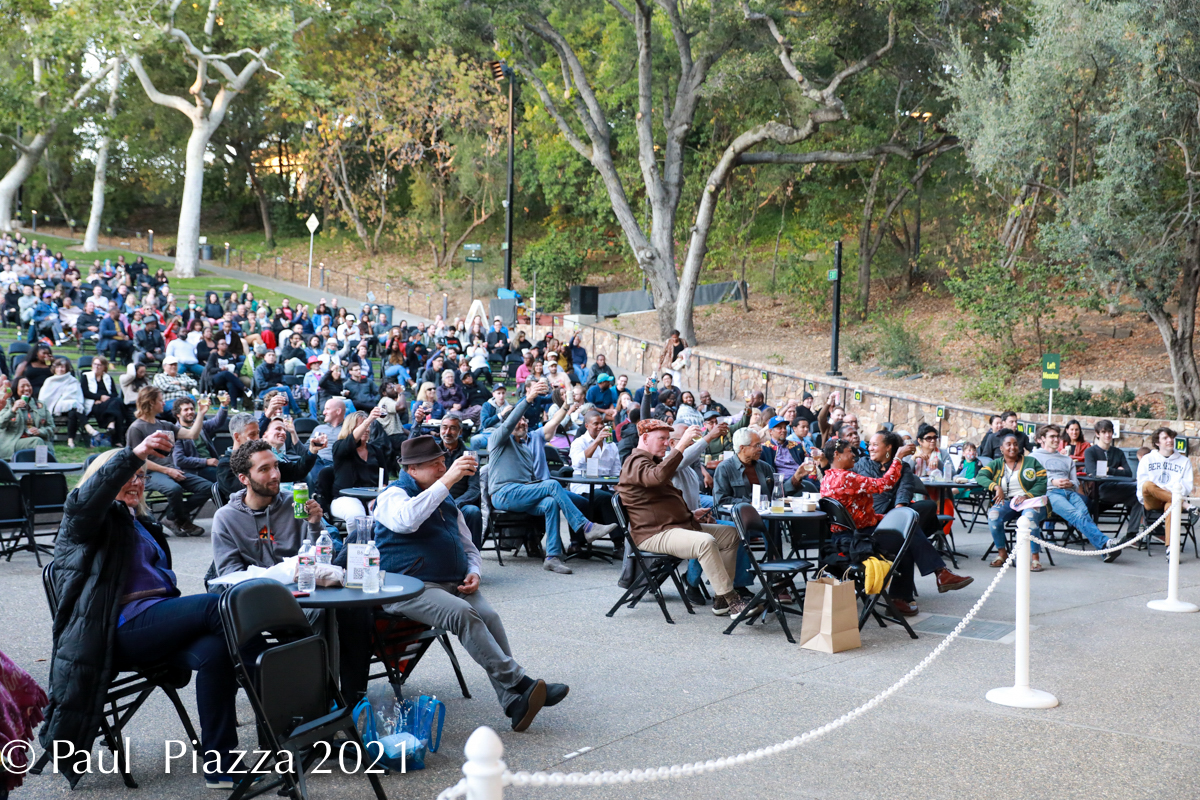 Naturally things deferred back to the leaders Glasper and Martin throughout the evening. Glasper cooked up some magic on the keys a few times but would occasionally step back and take in the music. A couple of times he stood and soaked in the music as he seemed as entranced by the performances as the crowd. Martin seemed to focus on pushing the edges of elaboration on many of the pieces, either by adding some pre-recorded vocal narration tracks or telling a story connecting his Southern California roots to trips to Oakland for the holidays. The result was a cool interpretation of a Donny Hathaway song that was a cover of a Blood, Sweat and Tears tune called Valdez in the Country.The updated tune was called Valdez off Crenshaw.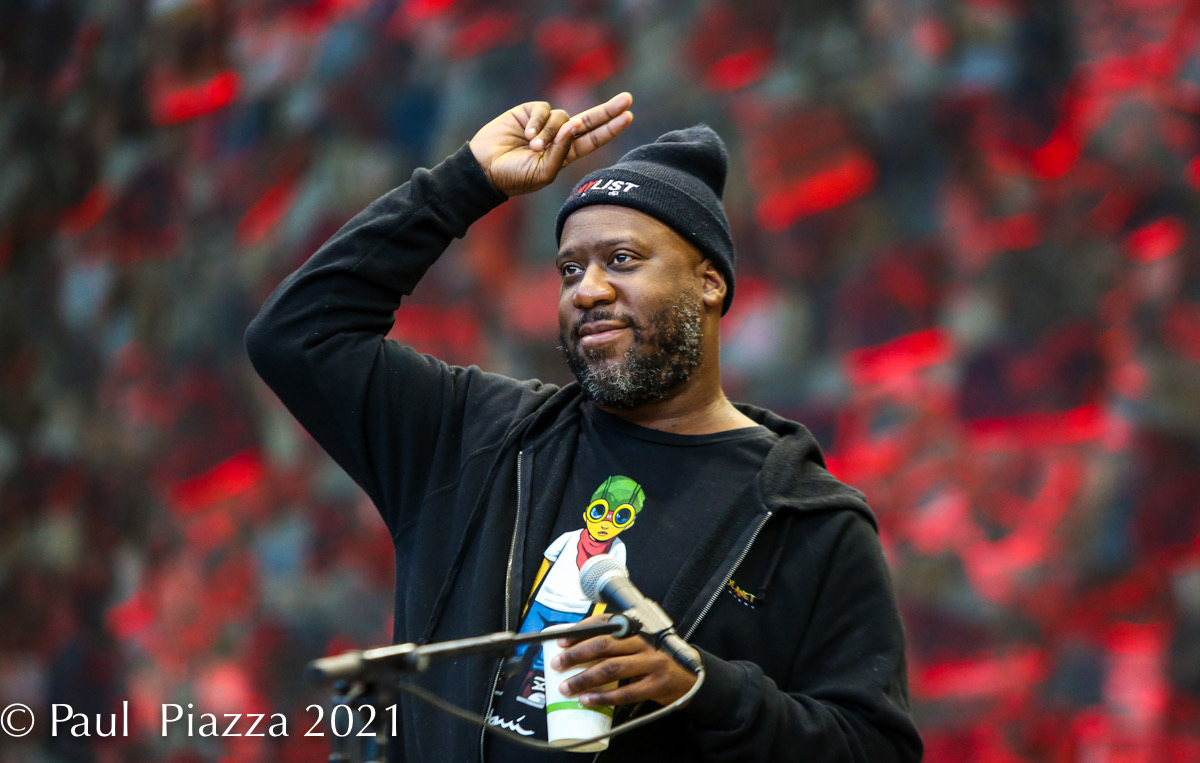 The group saved Freeze Tag, a song which is getting buzz in the R&B universe for its tasteful, gliding groove and Phoelix's smooth vocals, and centers lyrically with a strong message about systemic racism and police brutality. It was a captivating music night in Palo Alto from a collaboration of genius-level musicians, who manage to keep things feeling grounded and informal while pushing the music and contemplation to the highest heights.
Watch "Freeze Tag" here:
Link: StanfordLive