Peter Hook & The Light
The Fillmore
November 8, 2019
Photos by Jill Gerstenberger
A mop of messy hair flung back and forth across the dancefloor. A bouncing man threw his arms up—you'd swear giant mattress springs were glued to his feet. Unapologetic and excited, the one-man whirlpool continued on among a sea of dancey diehards.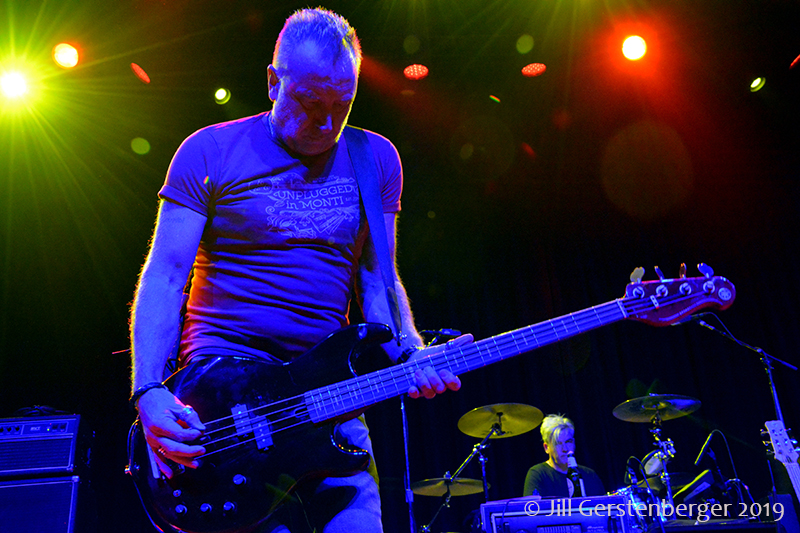 A sold-out crowd packed The Fillmore's floors to see Peter Hook & The Light. Known as the bassist and co-founder of English rock bands Joy Division and New Order, Hook is responsible for creating some of the most prolific records of his time. Sturdily standing center stage, his bass hung low below his waistline. He hunched to reach the chords and started pulling and plucking away.
Hook has been playing New Order and Joy Division albums with The Light for nearly a decade. This go-round he played 1989's Technique and 1993's Republic in their entirety. With a short intermission between sets, the band played for nearly 3 hours.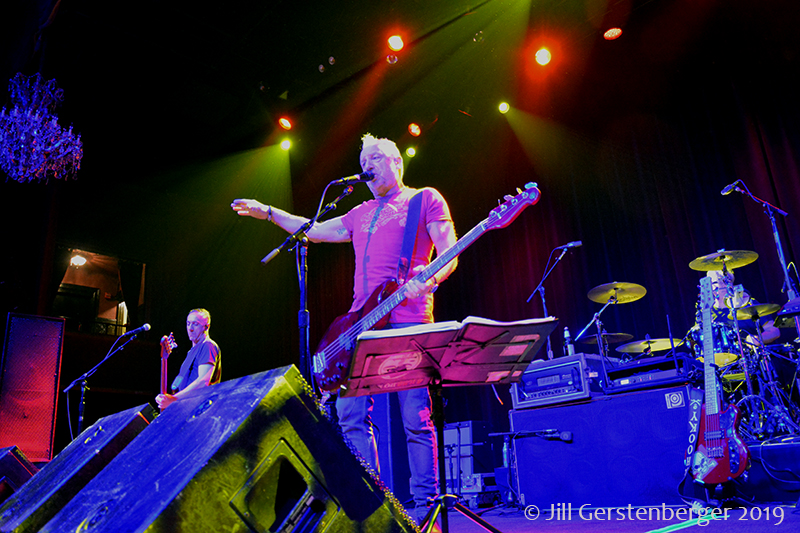 Opening with Technique's "Fine Time," he paced back and forth and egged on the crowd. His short, stalky frame anchored the ensemble. Keyboardist Martin Rebelski (Doves) joined and the synth-pop hook got the crowd moving. Hook then harmonized with David Potts before letting him take the lead.
Muscle memory is a funny thing—before you knew it, people's lips were mouthing the words. It was a New Wave joyride that brought back so many feels. Looking around, you could see the thrill on people's faces as Hook glanced up, as if to say, "I ain't goin' nowhere."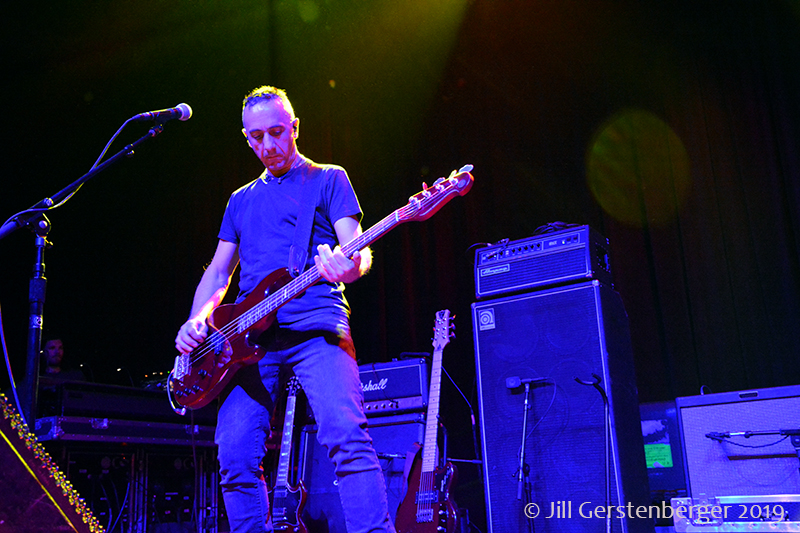 Hook left New Order more than 10 years ago. It doesn't mean he stopped playing the tunes that put him on the map. The estranged bassist played New Order's most successful and self-destructive records. Alongside The Light, the tracks felt refreshed and somewhat different. They still ignited a concoction of emo-goth-punk delight but felt a bit more structured and deliberate.
Hook leads with his bass, playing melodies on the high strings with a signature heavy chorus effect. He leaves the basslines to keyboards or sequencers—it's what defined New Order's sound. And was part of Joy Division's legacy.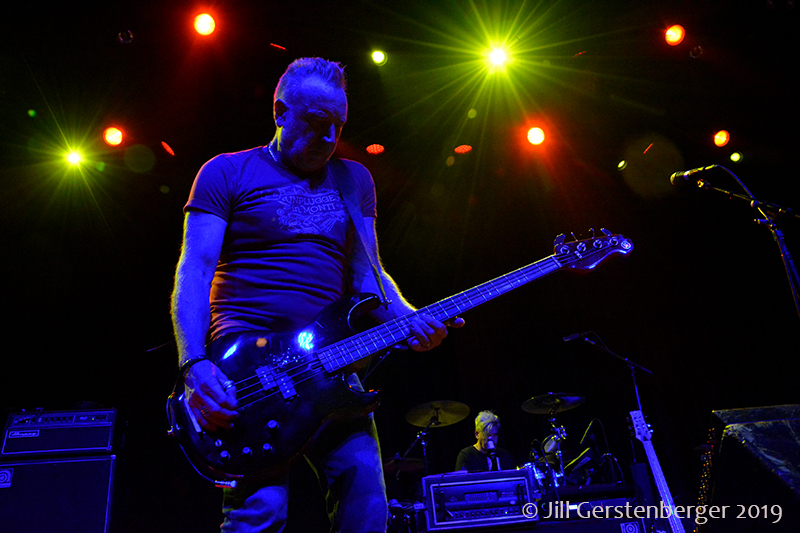 Back in 1976, Hook and guitarist Bernard Sumner decided to start a band after seeing the Sex Pistols. They called themselves Joy Division. After a couple bass-driven post-punk records (Unknown Pleasures and Closer) frontman Ian Curtis tragically died by suicide. The remaining members started their next project, New Order.
Hook remains distant with his old bandmates, but he's focused his musical craft on honoring his life's work and advocating for mental health. As a patron of the charity CALM (Campaign Against Living Miserably), Hook confronts the stigma around mental health and urges others to speak out and get help. Much of this work was inspired by the loss of his friend, Curtis.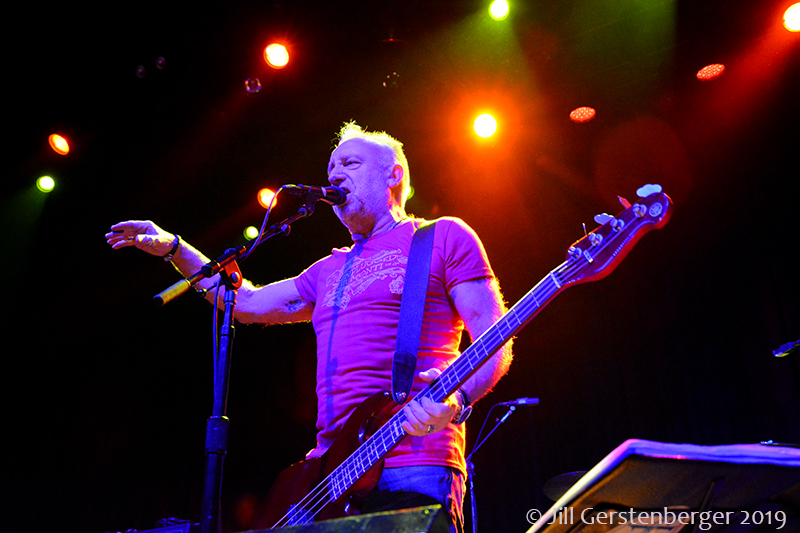 By the time Hook wrapped up Republic, the eager crowd knew they may be in for a treat. The band said goodnight but soon the wooden floors started to shake. People stomped and whistled, begging for at least one Joy Division song.
Of course he came back. Kicking off his nine-song encore with Joy Division's "No Love Lost," the crowd nearly lost their minds. It's what they've been waiting for—all the songs that fueled their youth. For the younger attendees, they may be just getting into the sounds that make Hooks' music timeless. He played three more Joy Division tunes ("Leaders of Men," "Warsaw," and "Failures") before New Order's "Ceremony."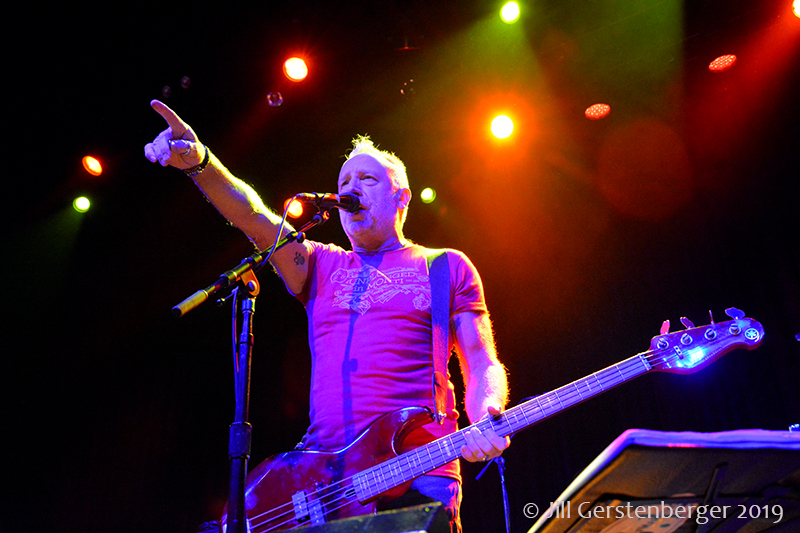 It was close to the end of the night, yet the bouncing man was back at it. It's as if the energy lifted him even higher. You could see his grin from the back of the floor—his friends started swirling around him as he screamed and jolted his elbows toward his ribs. He bounced right through "Bizarre Love Triangle," "True Faith," and "Temptation" (New Order). And finally he grabbed his friends. He didn't stop moving. Instead he inspired a full circle to honor Joy Division's most popular track and Hook's closer, "Love Will Tear Us Apart."
Drenched and satisfied, Hook pulled his red T-shirt over his head, wadded the cloth into a ball, and chucked it in the crowd before walking offstage.
Setlist: Technique (New Order) II Fine Time I All the Way I Love Less I Round & Round I Guilty Partner I Run I Mr. Disco I Vanishing Point I Dream Attack II Republic (New Order)II Regret I World I Ruined in a Day I Spooky I Everyone Everywhere I Young Offender I Liar I Chemical I Times Change I Special I Avalanche II Encore II No Love Lost (Joy Division) I Leaders of Men (Joy Division) I Warsaw (Joy Division) Failures (Joy Division) I Ceremony (New Order) I Bizarre Love Triangle (New Order) I True Faith (New Order) I Temptation (New Order) I Love Will Tear Us Apart (Joy Division)
Link: Peter Hook & the Light