My Morning Jacket
Greek Theatre, Berkeley
September 25, 2021
Photos by Paul Piazza.
Recently, My Morning Jacket returned as a headliner to the Greek Theatre in Berkeley for the first time since 2012. The results were astounding as they played a absolutely powerhouse 20 song-set of new songs and favorites that clocked in at almost two and a half hours on a night in which one could feel the barely contained, and very palpable joy in the air at the return of kick ass live music to the Greek.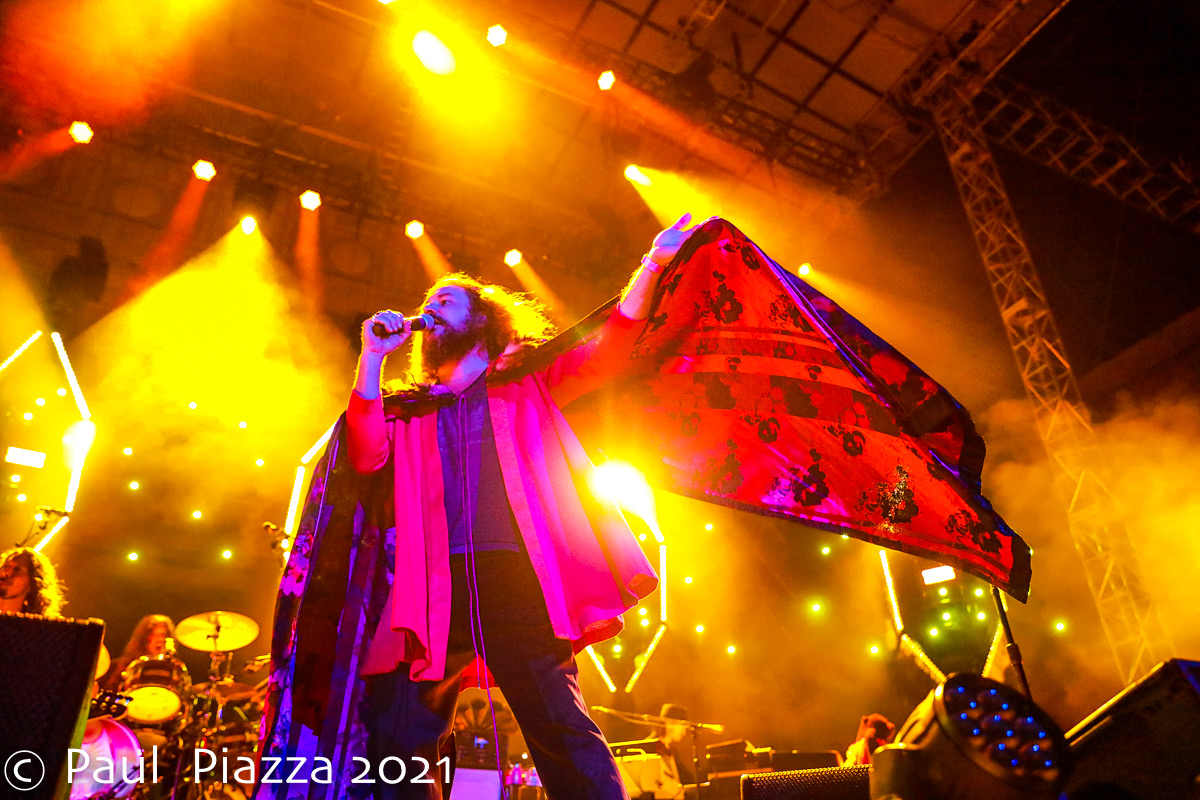 The band were touring on their self-titled 2021 record, their first new music since 2015's Grammy Award-nominated The Waterfall. My Morning Jacket came to life after a nearly permanent hiatus for the band (vocalist/guitar Jim James, bassist Tom Blankenship, drummer Patrick Hallahan, guitarist Carl Broemel, and keyboardist Bo Koster). During that hiatus, James and Broemel each released a series of acclaimed solo projects, while Koster toured the world as part of Roger Waters' band and all members except James played in Ray LaMontagne's band.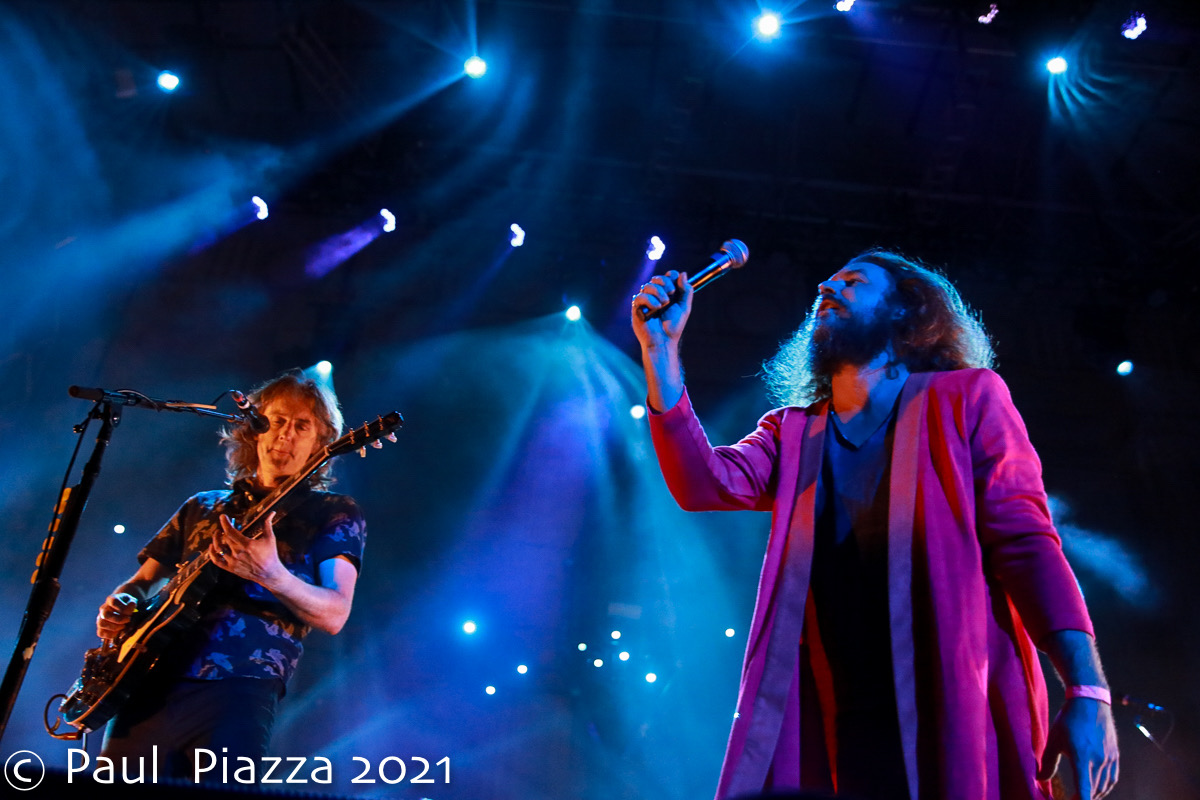 Amazingly for all involved as well as the band's passionate fan base, the group seem to have recaptured the magical spirit that has made them a touring and recording favorite for over two decades. Everyone in the amphitheater  knew it was going to be a special night when the band kicked things off with 2003's "One Big Holiday," which has been an encore standard for quite awhile. James, obviously delighted at being back in the Bay, introduced the song "Run it" from Waterfall II by saying, "We wrote this one about Stinson Beach." Both of the Waterfall records had big sections that were recorded at Panoramic House at Stinson, a huge source of inspiration for many musicians.
Opening the show was Durand Jones and the Indications, an absolutely sensational retro soul group who got their start in Bloomington, Indiana. Vocalist Jones and drummer Aaron Frazier harmonized and traded leads throughout the set and both were sharp. Particularly impressive was Frazier's beautiful falsetto. The group got early support from the Chicano Lowrider Community, who have a notable affinity for their love of the oldies. In 2019, the group recorded a cover of "Cruisin' to the Park" that has been viewed over seven million times on YouTube.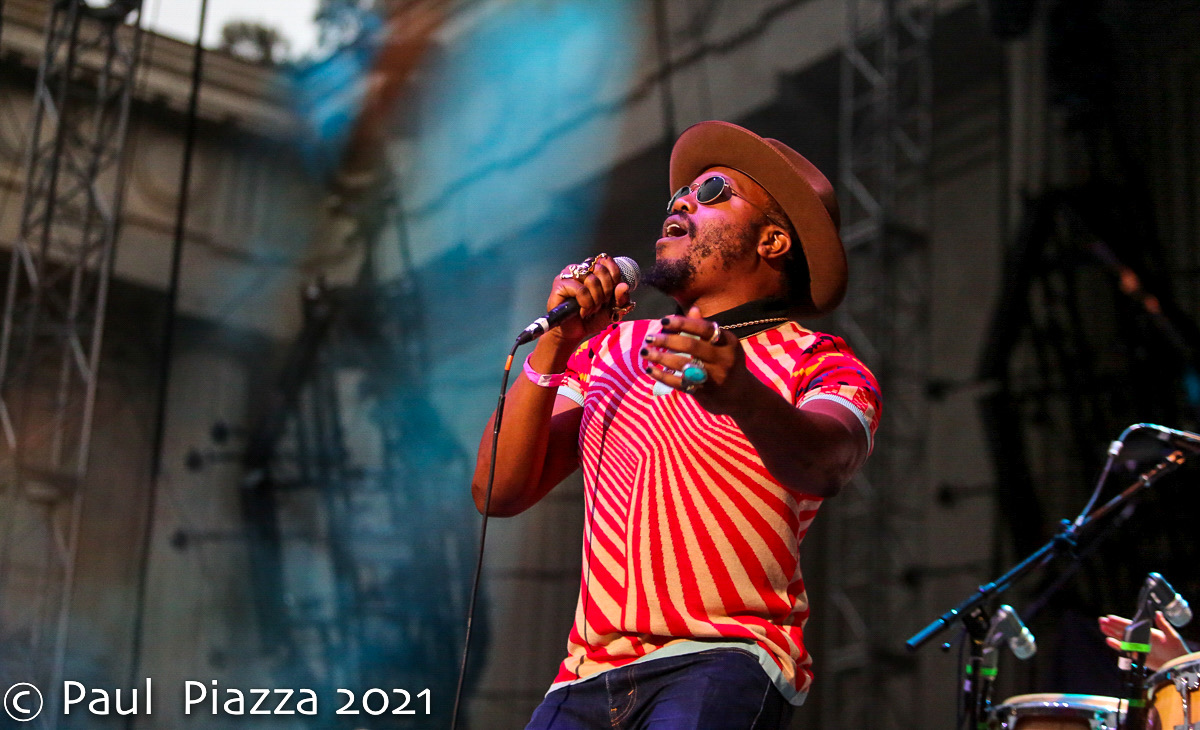 The group featured some very strong tracks from their 2021 record Private Space, which features a more modern soul approach, but that didn't stop them from doing a crowd-pleasing cover of Fleetwood Mac's "Dreams," in which Jones literally had the entire crowd at the Greek singing the chorus. And that was truly a moment that personified the incredible, cathartic embrace that music was given at the Greek on this night.
An absolute gem of a show.
Links: