Mastodon and Opeth
Fox Theater, Oakland
December 2, 2021
All photos by Raymond Ahner.
Metal heavy hitters Mastodon and Opeth recently joined forces for a quick fifteen date co-headlining tour, and earlier this month they pulled into  Fox Theater, where they played to a packed crowd who had waited almost three years for both bands to return to the Bay Area. Bringing along avant garde metallers Zeal and Ardor, the night was filled with plenty of riffs.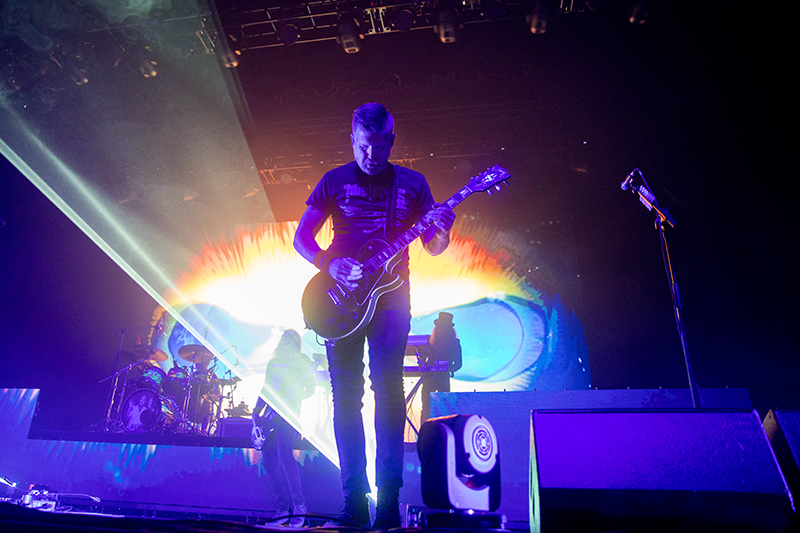 Having just released their eighth studio album, Hushed and Grim (which also serves as a tribute to their late manager Nick John who passed away in 2018) back in October, Mastodon opened their set with "Pain With an Anchor" off the new album, and then ripped through a fourteen-song set, which also included "The Crux," "More Than I Could Chew," "Teardrinker," and "Skeleton of Splendor," also all from the latest record.
The band also dived into their back catalog, and highlights from their set included "Crystal Skull," "Mother Puncher," and "Blood and Thunder," all played while lasers and psychedelic background images lit up the stage.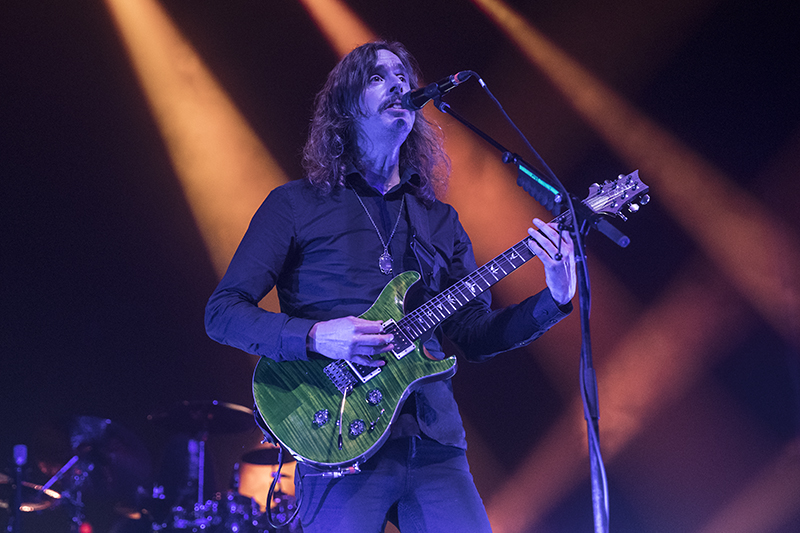 Opeth opened their set with "Demon of the Fall," and from there played a somewhat short seventy-five minute set, which included "Cusp of Eternity," "The Devils Orchid," and "Deliverance," all of which went from the more melodic prog side of Opeth over to the more death metal side.
Opening the show this evening were Zeal and Ardor, who, with a tribal but still death metal sound, brought the crowd in from the lobby and down to the front of the stage.
Here's a slideshow with more photos of all three bands by Raymond Ahner:

Mastodon


Mastodon


Mastodon


Mastodon


Mastodon


Mastodon


Mastodon


Mastodon


Mastodon


Mastodon


Mastodon


Mastodon


Opeth


Opeth


Opeth


Opeth


Opeth


Opeth

Warning
: Attempt to read property "post_title" on null in
/home/sfsoni5/public_html/wp-content/plugins/media-slider-premium/shortcode-output.php
on line
137
Warning
: Attempt to read property "post_content" on null in
/home/sfsoni5/public_html/wp-content/plugins/media-slider-premium/shortcode-output.php
on line
138


Warning
: Attempt to read property "post_title" on null in
/home/sfsoni5/public_html/wp-content/plugins/media-slider-premium/shortcode-output.php
on line
137
Warning
: Attempt to read property "post_content" on null in
/home/sfsoni5/public_html/wp-content/plugins/media-slider-premium/shortcode-output.php
on line
138


Warning
: Attempt to read property "post_title" on null in
/home/sfsoni5/public_html/wp-content/plugins/media-slider-premium/shortcode-output.php
on line
137
Warning
: Attempt to read property "post_content" on null in
/home/sfsoni5/public_html/wp-content/plugins/media-slider-premium/shortcode-output.php
on line
138


Links: