Cypress Hill
UC Theatre, Berkeley
May 24, 2019
Photos by Jodi Lyon
Clouds of thick smoke filled Berkeley's UC Theatre. Lighters clicked, blazing the tips of blunts and spliffs everywhere. A giant psychedelic elephant lit up the stage — its colors slowly morphed from purple to green. And then, darkness.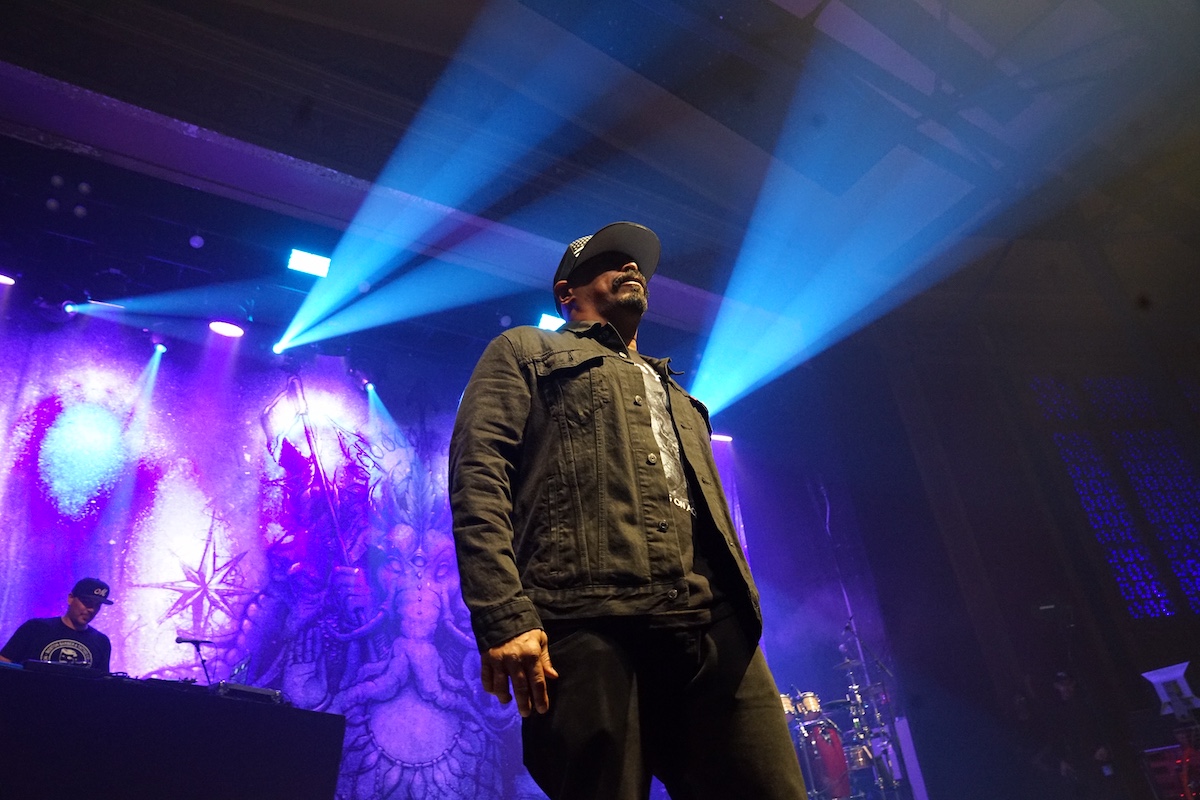 Opaque blue light shone upon superstar guest DJ Mix Master Mike. Standing in for Cypress Hill's own DJ and producer, DJ Muggs, he deconstructed and mixed a slew of 90s jams. In between bass drops, he threw his hands in the air, smirked, and hunched over his turntables. The heavy bass shook the theatre's wooden floors and the crowd started to dance.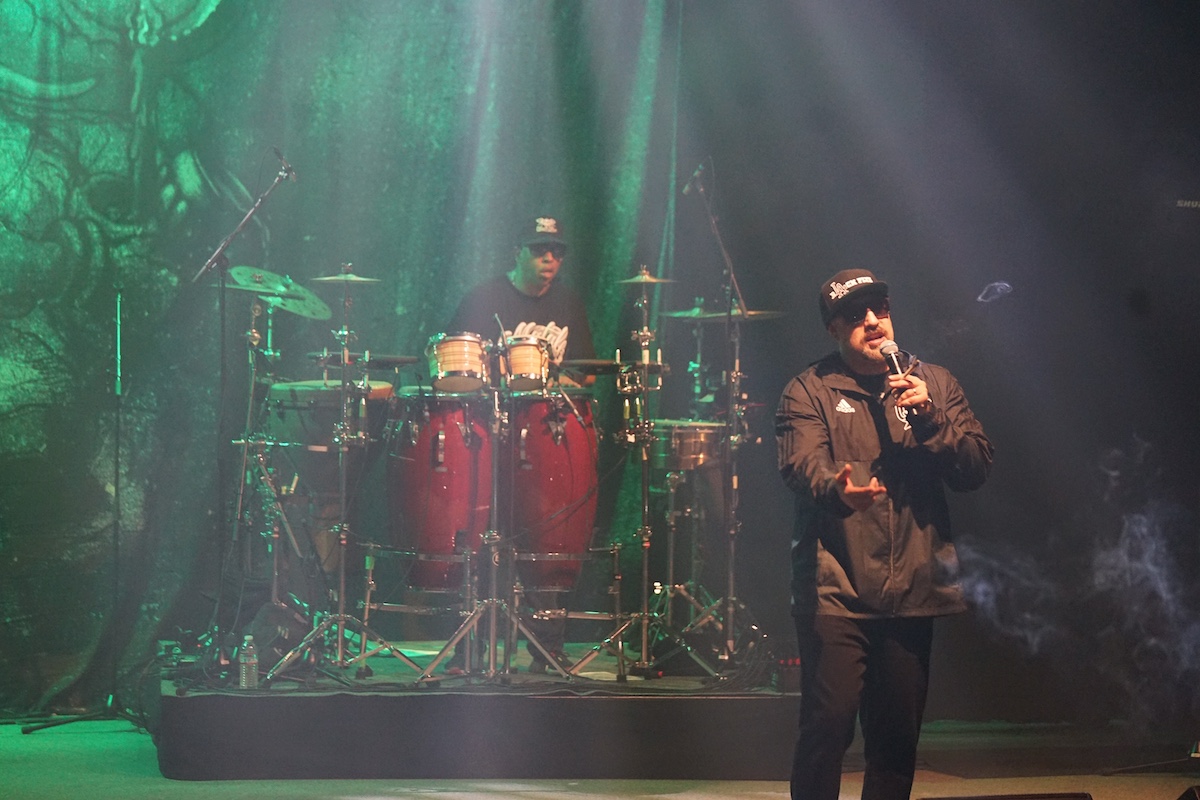 Before you knew it, hip hop legends Sen Dog (Senen Reyes) and B-Real (Louis Freese) graced the stage. Backed by Eric Bobo on the drums, the duo busted out with "Hand on the Pump" from their debut self-titled album. Decked out in clean old-school garb (think Ben Davis, button up blazers, and pulled down baseball hats) the night looked and felt like it always has at a Cyprus Hill show. Like an old school house party.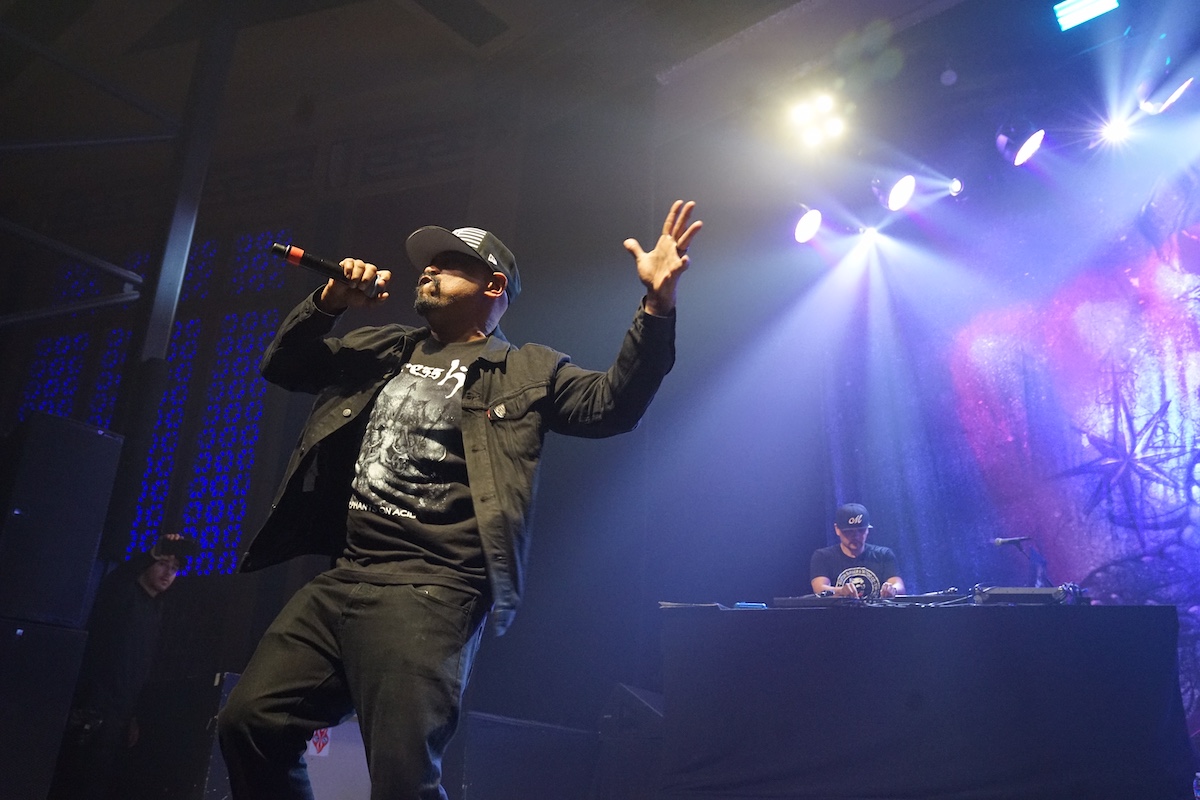 Riding that nostalgia train, they played "When the Ship Goes Down" off their 1993 album Black Sunday and "Throw Your Set in the Air" off their 1995 EP. By the time they covered House of Pain's "Jump Around" the crowd was in full party mode.
Cypress Hill is not only known as the first Latino American hip-hop recording group to go platinum, but as bigtime advocates for medical and recreational use of cannabis in the U.S. So, it was no surprise the crowd was squinty-eyed and obviously feeling themselves.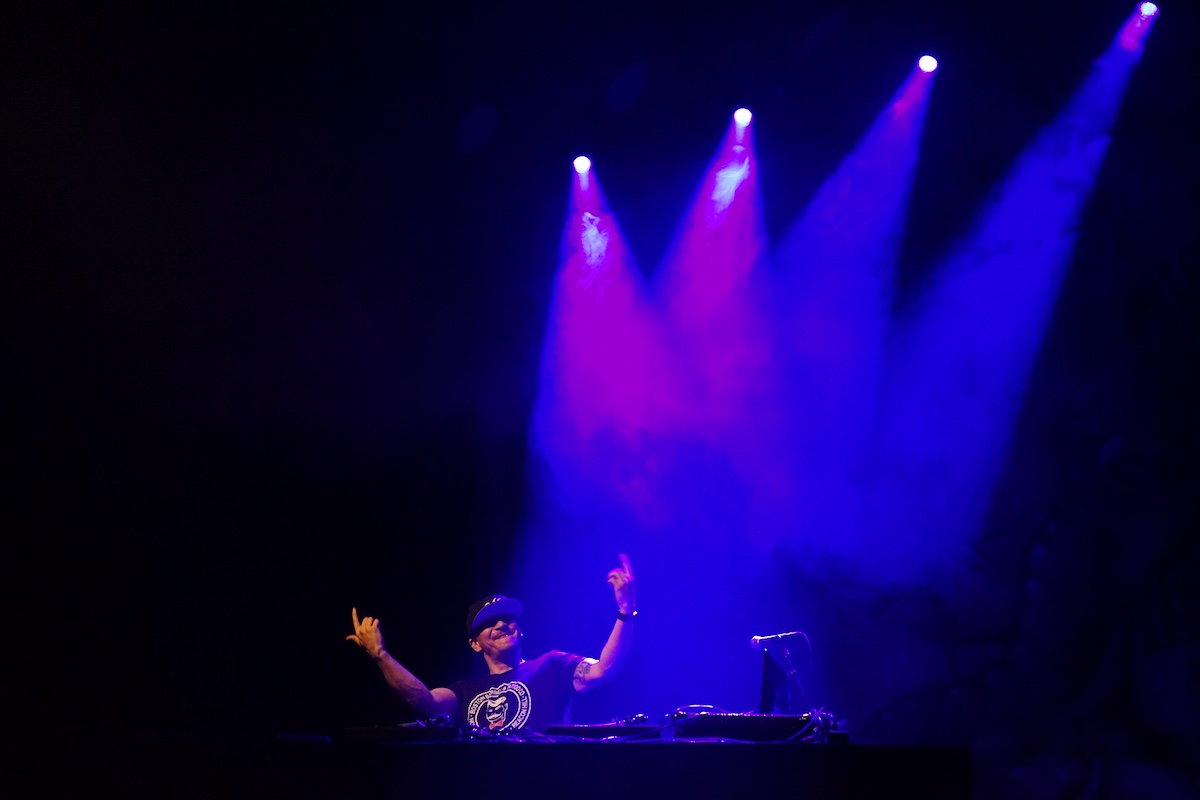 The hip-hop legends have been making music since the late eighties. First as a group called DVX, which soon changed to Cypress Hill. In 1989 the group signed a deal with Ruffhouse Records and released their first single, "How I Could Just Kill a Man." Combining both English and Spanish lyrics, the album put them on the map, leading to their first stage performance at Lollapalooza in 1992, and ultimately launching their 30-year career. They dropped their ninth studio album Elephants on Acid last year.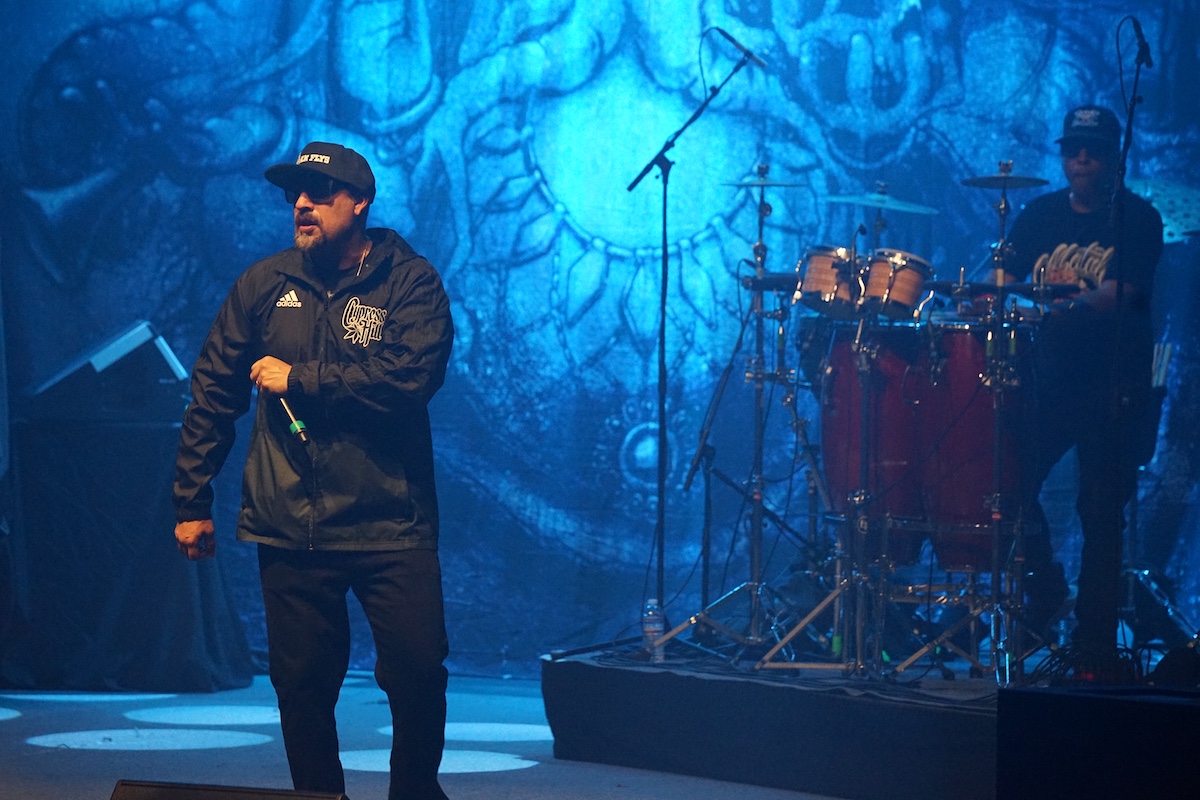 By mid-set they dipped into some more Latin-flavored tracks like "Latin Thugs" off Till Death Do Us Part (2004) and "Tequila Sunrise" off their 1998 EP. The crowd went nuts when B-Real intro'd stoney classics "Dr. Greenthumb" (self-titled EP) and "Hits from the Bong" (Lazy Sunday). And people scrunched their brows, popped their collars, and threw their hands in the air to "How I Could Just Kill a Man."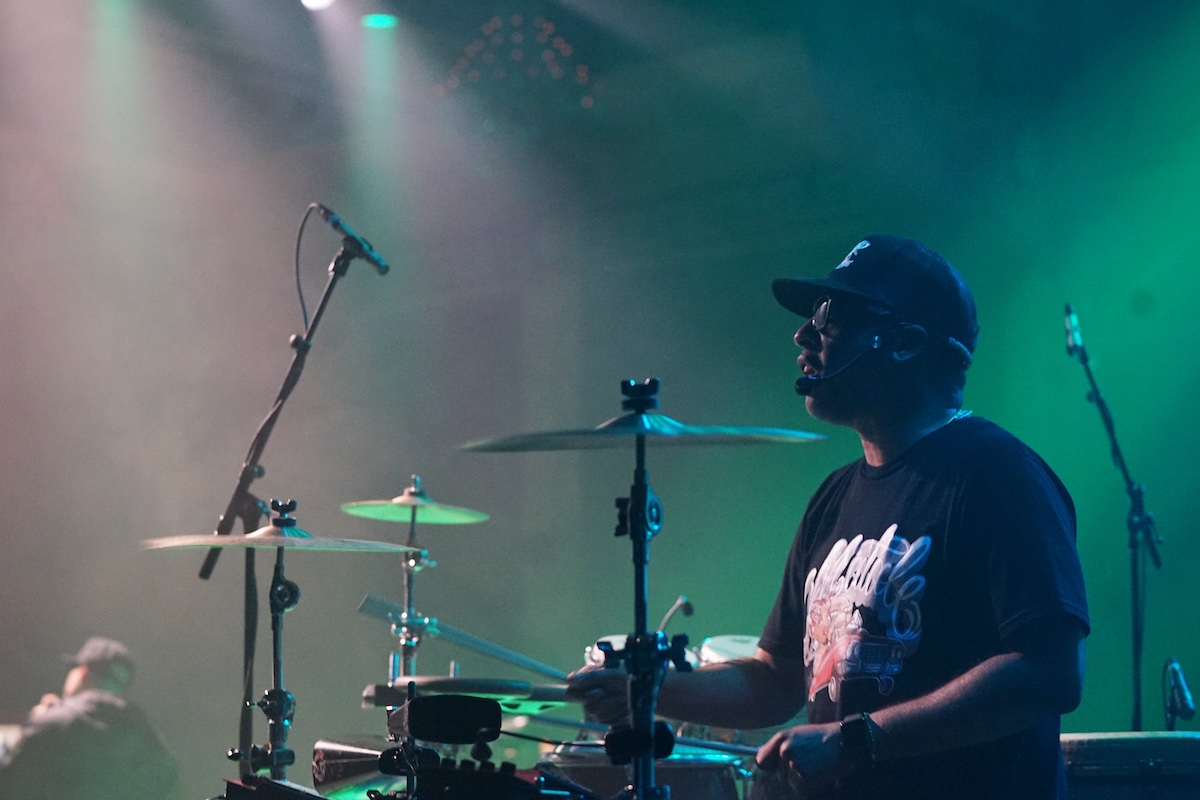 Both B-Real and Sen Dog chatted up the crowd between songs. The UC Theatre's intimate setting is a far contrast to their 2019 BottleRock Napa Valley appearance the following day. Nearing the end of the night, they played one of their most iconic hits, "Insane in the Brain" (Black Sunday). Fun fact — the repetitive noise on that track is the altered sound of a whining horse taken from Mel & Tim's "Good Guys Only Win in the Movies."
Maybe not the best, but definitely one of their most popular, Cypress Hill closed out their set with fan fav "(Rock) Superstar" off 2000 record Skull and Bones.
Find out more about Cypress Hill on their website.    https://cypresshill.com/