Greta van Fleet
Bill Graham Civic Auditorium
October 2, 2019
Photos by Raymond Ahner
Rock wunderkinds Greta Van Fleet (GVF) returned to San Francisco's Bill Graham Civic just a bit more than a year after initially playing the City with the mantle of 'rock and roll saviors' squarely thrust upon their slight shoulders.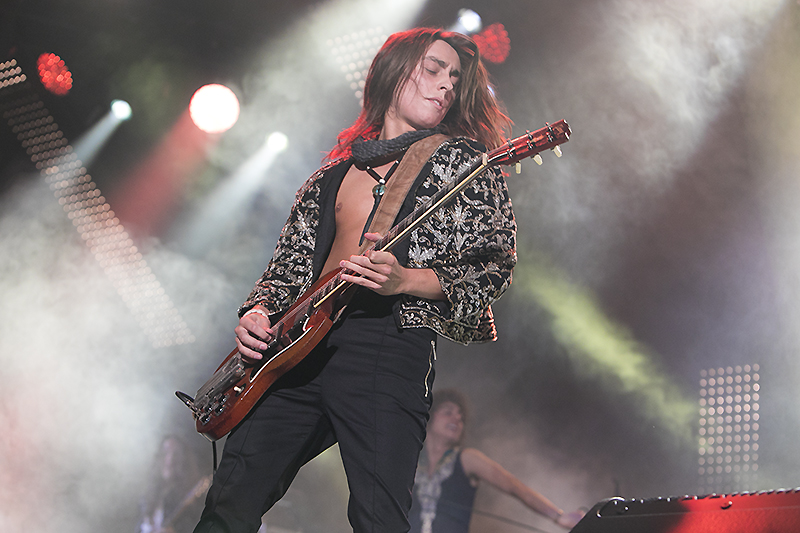 However, this time around, hipper to the world of rock stardom and with a year's worth of maturity under their collective belt, they seemed a lot more comfortable in their own skin, not so much feeling the weight of having to prove themselves as the next Led Zeppelin…because they are not.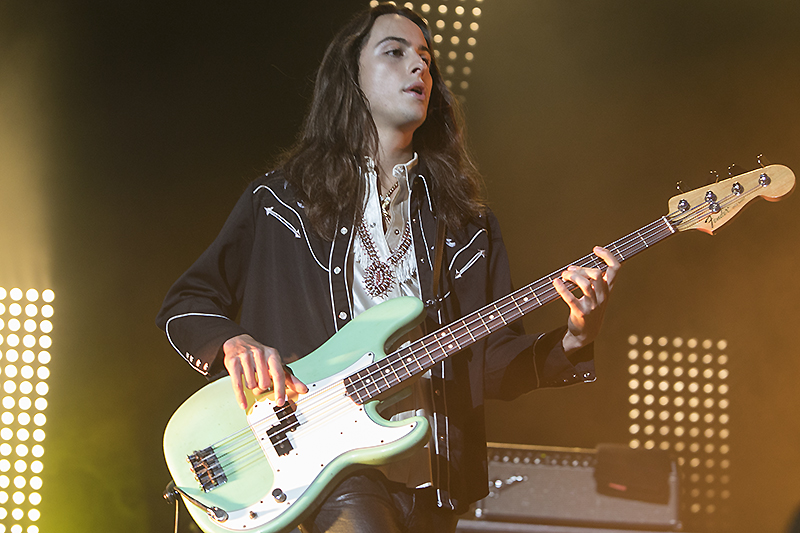 Don't get me wrong, the hype is still there, and their fans are the ones continuously fanning the flames.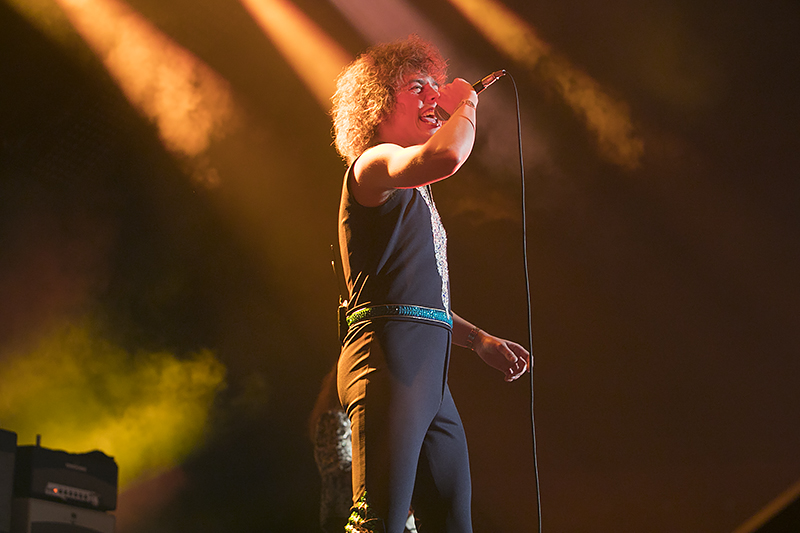 If in this day and age one could still mosey to a local bookstore and pull a copy of Hit Parader off the shelf , there most certainly would be a cover photo of  twin brothers Jake (guitar) and Sam (bass) Kiszka rocking out in front of drummer Danny Wagner's drum riser, as well as a centerfold pull out of singer Josh Kiszka waiting to be push-pinned onto a bedroom wall.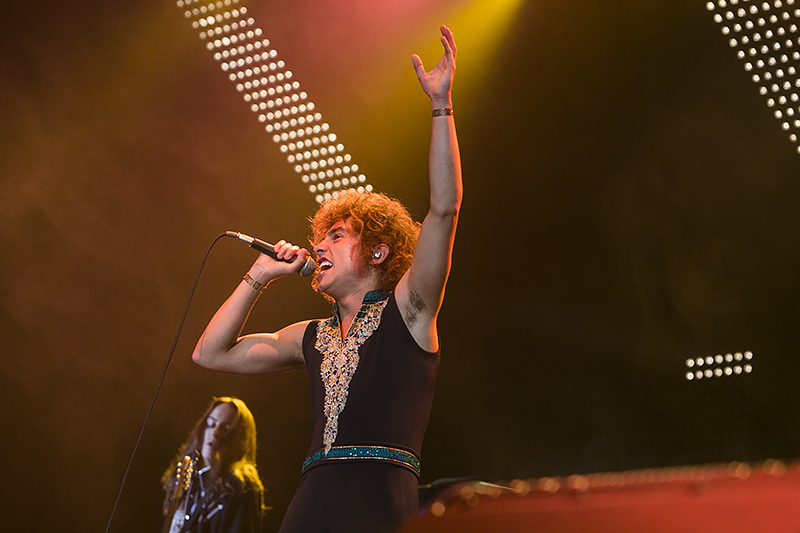 Expectations are a blessing and a curse, and GVF has found this out over the past year. However, the way they have reacted to these expectations has been to work harder to carve out their own niche. Now that they are establishing themselves as legitimate headliners, the true colors of who they are as a band are surfacing.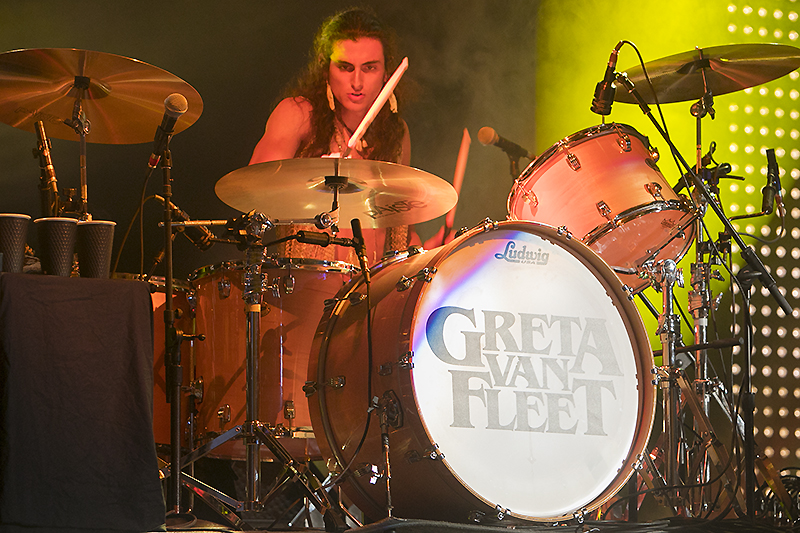 This night at the Civic GVF was playing to a nearly capacity house in support of their latest recording Anthem of the Peaceful Army (2018), which has garnered mixed reviews in the wake of their white-hot emergence on the rock horizon.
There was a decided spark of anticipation in the air, and creating this energy was a gathering of frenzied fans who consisted of early adopters turned diehards, and recent band wagon jumpers. Old rockers taking a hit of the next big thing, and youngsters getting their first jolt of the power of a rock show. Hipster beards, and (gulp!) a Justin Bieber shirt on a young girl who couldn't be older than 12 pushing to the front with her mom and screeching that she loved Jake.
Taking the stage, GVF was in control from the get-go . "Smoke 'em if you got 'em". Josh said it and the crowd ate it up as he and the Michigan quartet ripped the cover off of the evening with appropriately named "When the Curtain Falls."
The Zeppelin comparisons are inevitable, there has been way too much hype for that to just go away, and with the Zeppelin-esque swagger of the next trio of songs ('Highway Tune,' 'Black Smoke Rising,' and 'Flower Power'), GVF did nothing to deter the obvious influences. 'Flower Power' in particular was a stunning performance with Sam sitting down and playing a Hammond (ala John Paul Jones) which floored the place, but again, the song is so rooted in Zeppelin that it is hard to get past.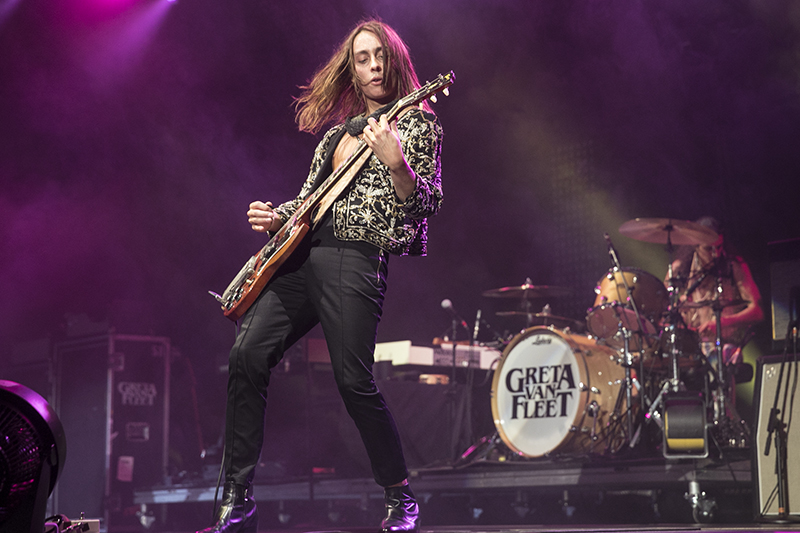 Though that's the state of the GVF nation, they strive for more, and the steps made to control their destiny rather than be defined by their circumstance are apparent, though they are baby steps. There was more of a carefree and fun air about the way they played, especially evident with the enchanting encore 'Lover Leaver (Taker, Believer)' which was performed with a San Francisco twist ("If you're going to San Francisco, remember to wear flowers in your hair")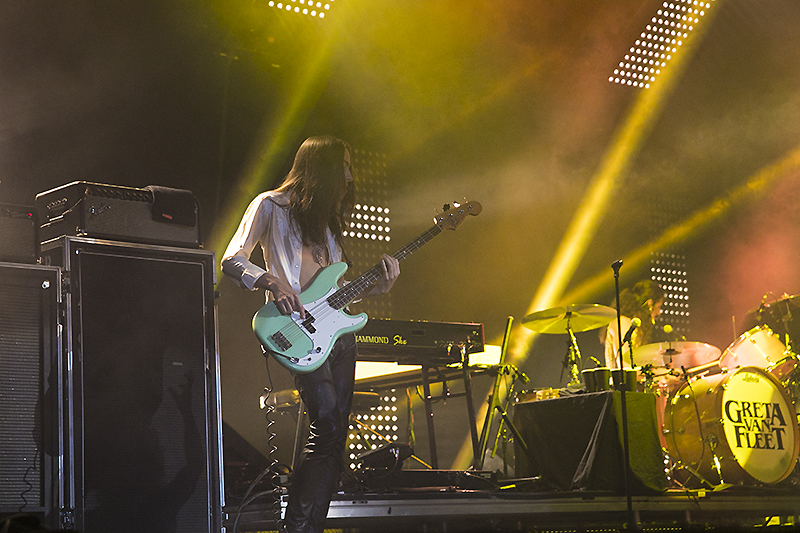 There was also much more delving into the realm of progressive rock with extended solos taken by each musician. Whether this was sincerely to highlight individual musicianship or to flesh out a headline's set length (their catalog is not yet that deep), it was well received, and a bit of a departure from their first tour.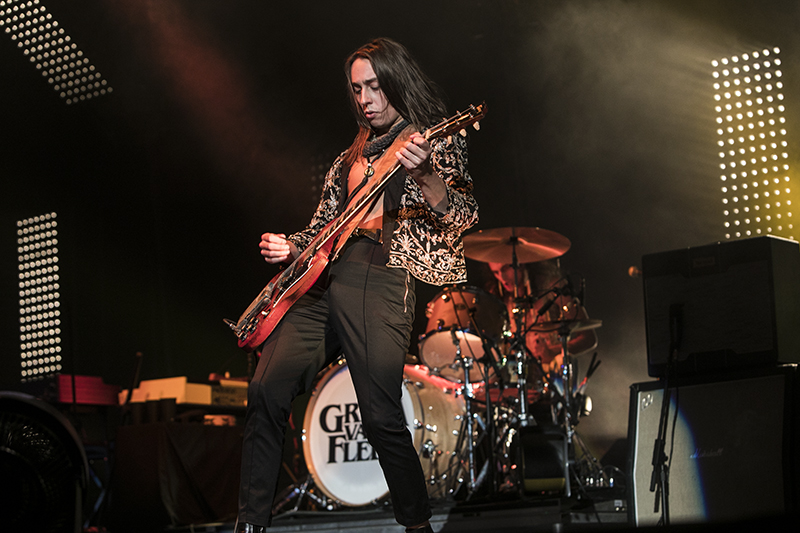 Particularly noteworthy was the inspired guitar work of Jake Kiska. Lurching back and forth he tore up his fretboard even playing behind his head during part of his remarkable solo section as Josh awkwardly danced off-time on the side of the stage while shaking a tambourine. Whether taking searing leads or chopping down at his guitar strings to lock in rhythms with Sam and Danny, Jake was the star of the evening, levitating the crowd with his virtuoso work.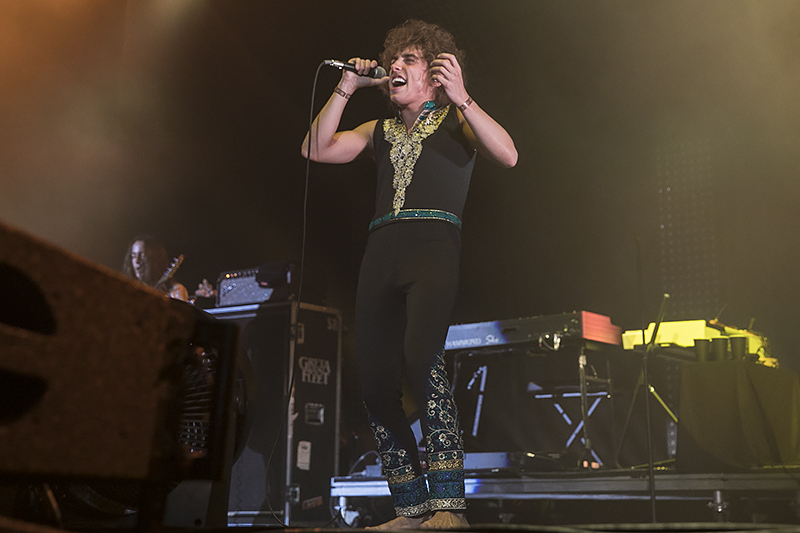 As GVF grow and establish their own rock identity, it will be their collective musical talent and innovation of heavy progressive music that will propel them down their path. Eventually, they will be known just as a stellar rock band called Greta Van Fleet and not referenced as this generation's Led Zeppelin. Music fans need to remember that and let them be.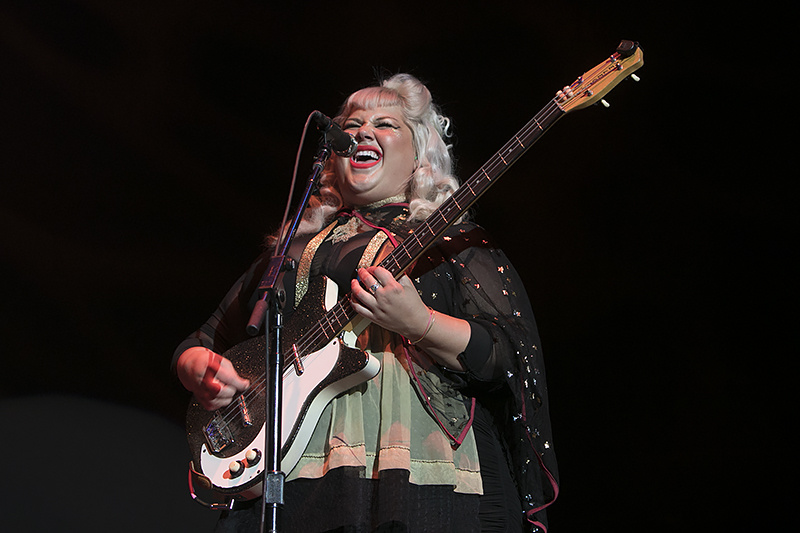 Opening up the night was the Oakland band Shannon and the Clams, whose indie sound was a great appetizer for the testosterone rock of Greta Van Fleet. Playing 60s influenced, surf-tinged garage rock spiced with plenty of doo-wop heft, vocalist / bassist Shannon Shaw and guitarist Cody Blanchard has the Civic swaying with their quirky rendition of 'White Rabbit'.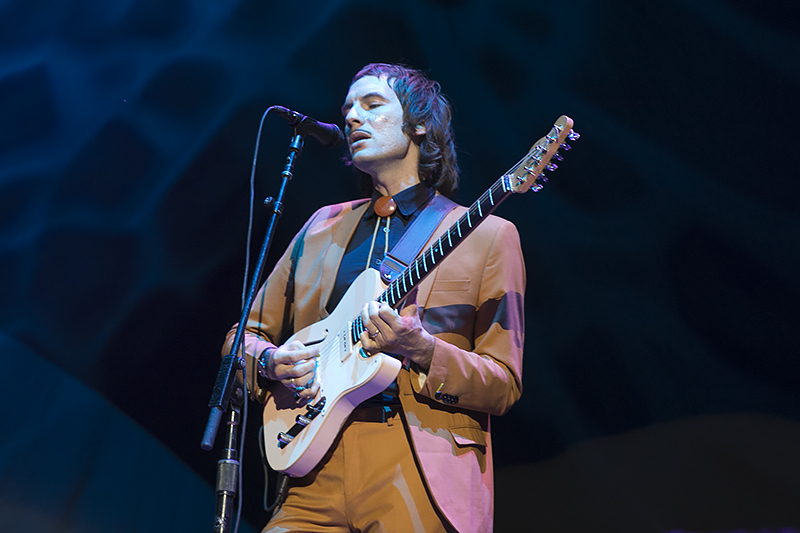 I would recommend seeing them in a local club, they have an eerie late-night movie Creature Feature sound, and could have easily fit in with the stable of bands on the (sadly) defunct Lookout! Records label.
Greta van Fleet:
Setlist:
When the Curtain Falls | Highway Tune | Black Smoke Rising | Flower Power | Watch Me (Labi Siffre cover) | The Music Is You (John Denver cover) | You're the One | Age of Man | Black Flag Exposition | Watching Over | Safari Song | Lover, Leaver (Taker, Believer)
Find out more about Greta van Fleet on their website.
Shannon and the Clams:
Check out Shannon and the Clams here.