Hella Mega Tour
Oracle Park
August 27, 2021
All photos by Raymond Ahner.
Originally slated to take place in July of 2020, the Hella Mega Tour finally rolled into Oracle Park last week after being rescheduled three times in the last eighteen months. Some fans had purchased tickets for this show almost two years prior, and many couldn't believe that it was finally going to take place. It did indeed take place, and with a lineup of Green Day, Fall Out Boy, Weezer, and The Interrupters, it was almost a flashback to simpler times, while also giving hope that the world of live music may eventually return to what was once considered normal.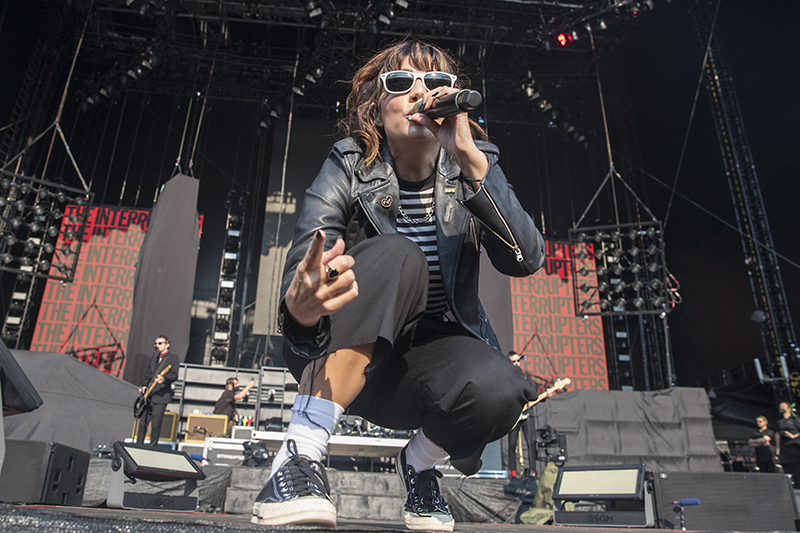 Kicking things off at precisely 5:30PM, Los Angeles Ska-Punks The Interrupters made the most of their brief 30-minute set in direct sunlight as fans were still filtering into the park and finding their seats. That didn't stop the band though, as they were full of both smiles and energy, while energizing the fans who were already in attendance, and bringing them closer to the stage. Booking them as openers for the tour was a wise decision.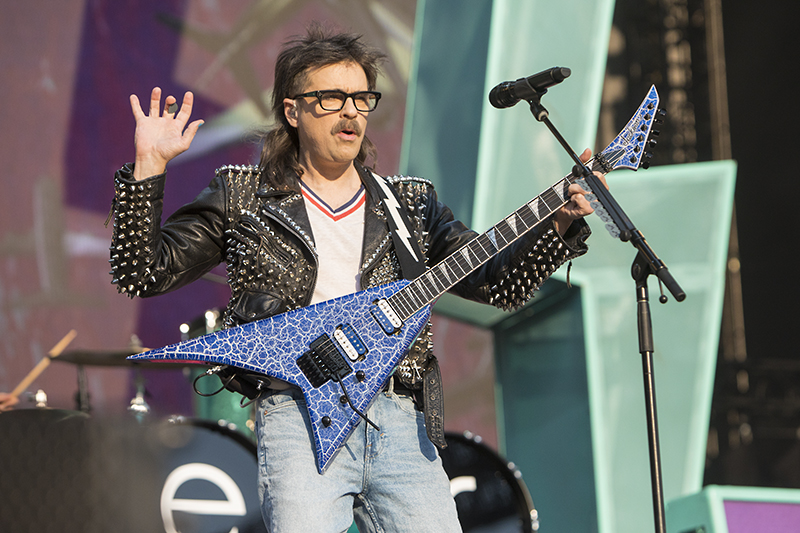 Up next were Weezer, fronted by a much different looking Rivers Cuomo. With his mullet, porn-star moustache, a studded leather jacket, and A Pro Series Rhoads RR24 guitar (with Lighting Crackle finish), Cuomo looked more the part of a lead guitarist in a 1980s hair metal band rather than the vocalist of Weezer. Nevertheless, the band gave the now quite full ballpark what they came to hear. It was a setlist full of hits, including "Hash Pipe," "Beverly Hills," and "Say It Ain't So." With their pink and purple amps and cabinets, balloons, and six-bass-drum drum kit, it was a set that just screamed fun, and when they closed their set with their mega smash "Buddy Holly," there could not have been a single person in the crowd not having a good time.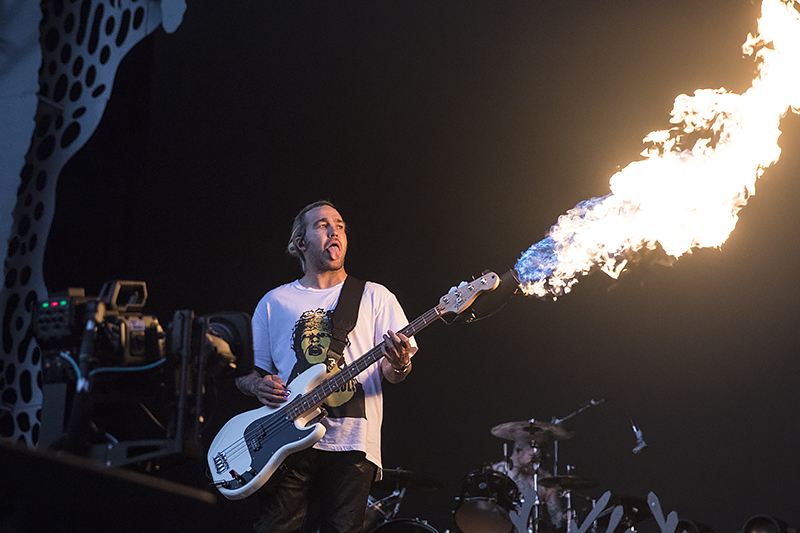 After a brief intermission, Fall Out Boy hit the stage, definitely having their work cut out for them. Trying not to be upstaged by their predecessors, the band also played most of their hits, all while bassist Pete Wentz used his bass as a flamethrower. Their tactics worked though, and they had the entire crowd singing along. By the time they wrapped things up with "Saturday," the crowd was thoroughly primed and ready for the headliners.
As any Green Day fan knows, the band's performance does not officially  begin until "Drunk Bunny" has made an appearance, and this night was no exception. After walking out on stage with a beer in one hand and a stuffed unicorn (which seems to be the official mascot of the tour), the unknown bunny (which may or may not be drummer Tre Cool) revved up the 40,000 plus in attendance even more, and after a brief video montage Green Day hit the stage running.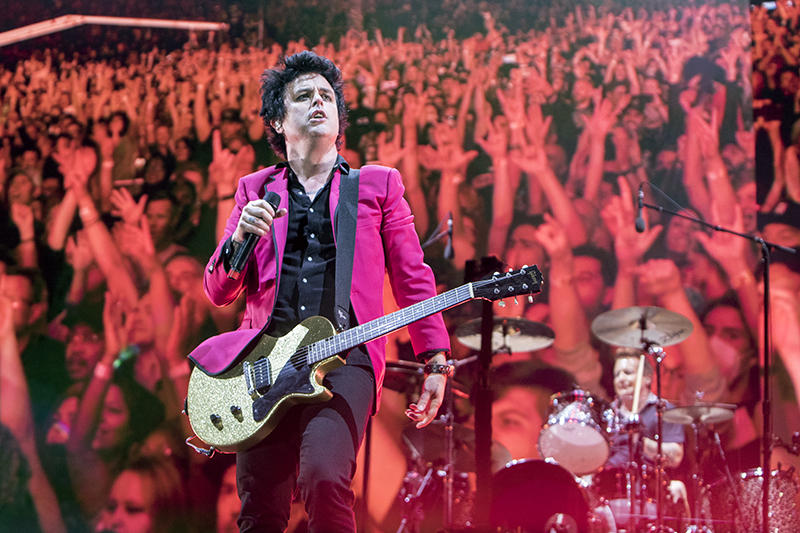 Opening with "American Idiot," Green Day pulled out all the stops for their first official Bay Area show in over three years. Leader Billie Joe Armstrong asked the fans to put their phones away, and from there the band played hit after hit, including "Holiday," "Know Your Enemy," "Longview," "Hitchin' A Ride,' and even threw in a cover of the KISS classic "Rock and Roll All Nite." Their fans ate it all up, and were nothing less than ecstatic to finally see Green Day live.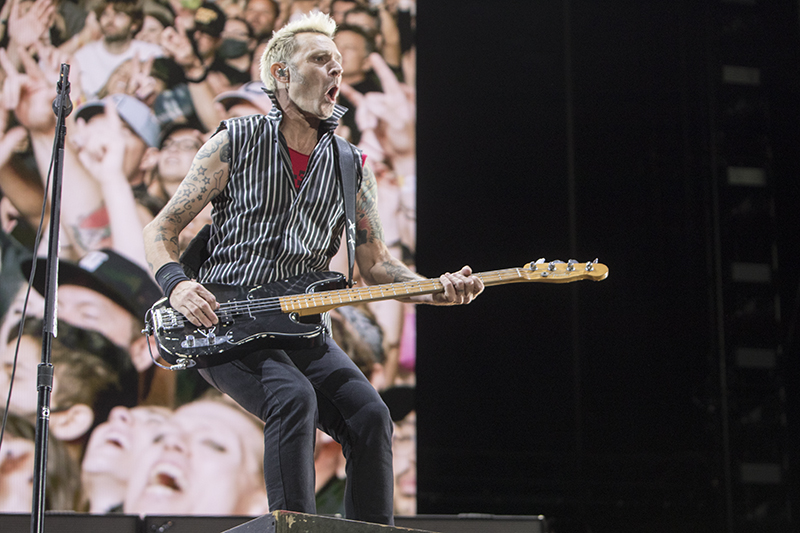 After closing their set and the evening with "Good Riddance (Time of Your Life,") a barrage of fireworks went off over the stadium to cap off what turned out to be nothing short of a celebration of the return of live music. Here's hoping that the celebration will continue.
Here's a slideshow of more photos by Raymond Ahner:
[smartslider3 slider="10″]
Links: