Gill Landry
The Lost Church
March 6, 2020
Photos by Kylie McCormick
Gill Landry is no stranger to a stage; across his career he has graced many stages with bands such asThe Kitchen Syncopators and Old Crow Medicine Show. His 2007 solo career has also found him touring around the globe, bringing his story telling style to the masses. Despite all the shows and all the stages, Landry has a unique way of creating an intimate, living room style show that makes you feel like your catching something special from the artist. At The Lost Church, Gill Landry transfixed the crowd delivering an almost two-hour set that was nothing less than magical.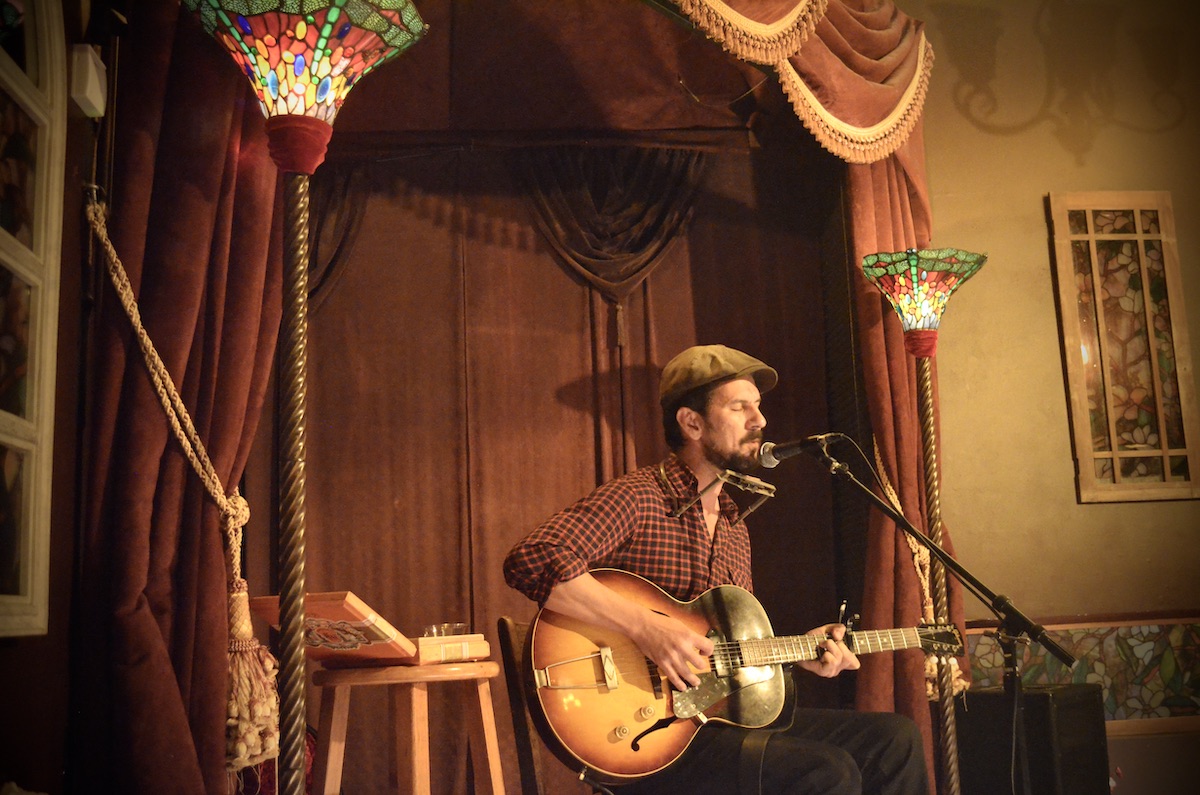 Nestled off a busy San Franciscan street, The Lost Church is a sleepy little venue that is nothing less than fairy-tale like.  Small and intimate, the venue creates a warm and enduring atmosphere, a place where people gather as strangers but leave as friends. Without frill or fanfare, Landry saunters between the tightly packed chairs, wading through the crowd he bounds to the stage as people sit silently. With a quick joke and a little guitar adjustment, Landry launches into the first song of the night, 'Funeral In My Heart.' The sweet and tender guitar wafts over the crowd, Landry weaving a story through the tune. It is immediately apparent that the night will be filled with powerful stories and witty side banter, a perfect combination that infuses the room with warmth. You feel like a friend of Landry rather than a fan, an impeccable ethos that truly creates a transformative feel.
Landry continues with a few more guitar-anchored songs, pausing slightly in the set to pull out a harmonica. Launching into 'Just Like You' and 'The Wolf,' Landry's voice beckons fans to enter into a new world, an intoxicating depth and timber that is other worldly. As cans pop and fans pass in and out for drinks, 'A Different Tune' brings a darker vibe to the set; with powerful vocals and amazingly brilliant guitar intersections, the song adds another level and dimension to the night.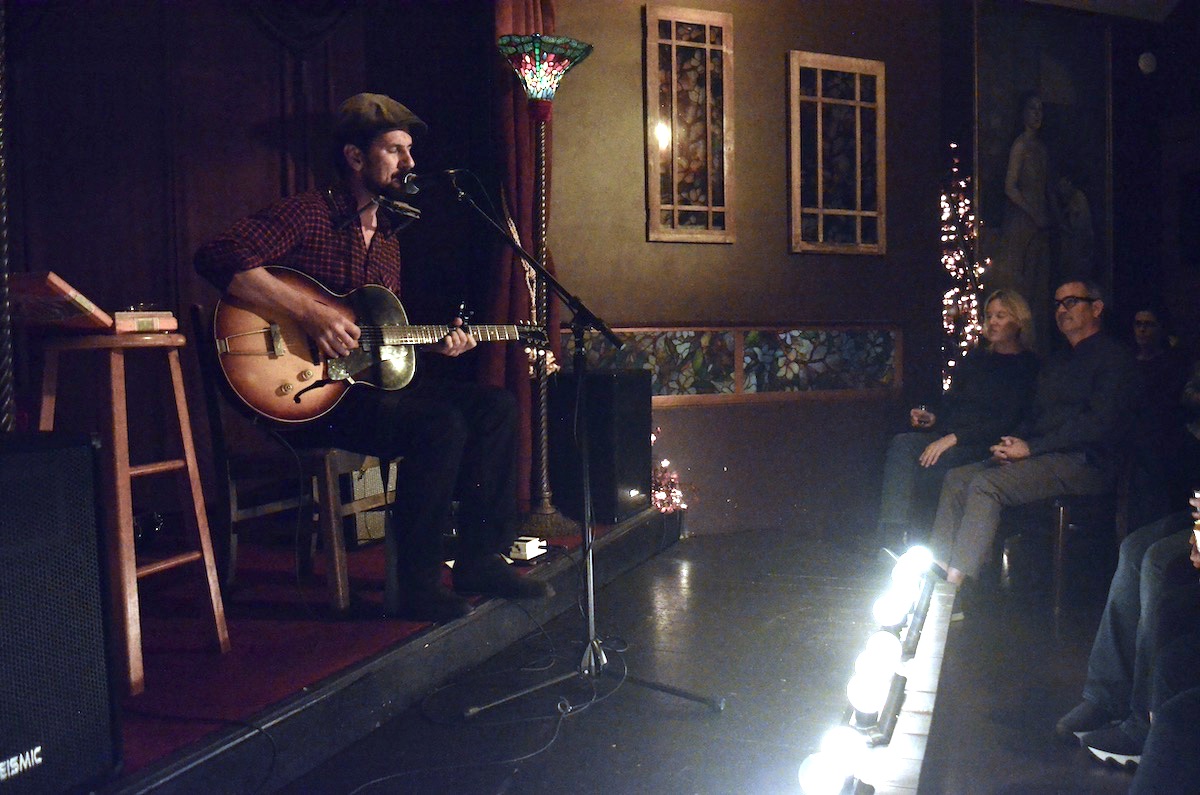 Each song brings a new story, a new adventure that strikes your soul in different ways. 'Piety and Desire' reveals a tale about friends in New Orleans, the sombre tune displaying a bit of mystery no doubt akin to the New Orleans city. A timeless lament for purpose and place, 'The Place They Call Home' and the uplifting 'Dixie' bring new life to the set. Landry pauses and asks the crowd for suggestions, a difficult thing with a catalogue like his. Fan favourite 'Annie' is an immediate hit before Landry rounds out this first part of the set with 'The Woman You Are.'
A surprising intermission breaks up the evening, people leaving their seats to grab a few more drinks and vinyl. As Landry did not have an opener, the pause is needed, a time to decompress after the first hour of beautiful insanity.  Rumbling through the fans is a clear consensus of how special the night has been; people excitingly chatter about hearing more from Landry. After about 15 minutes, Landry returns and after asking for more requests he launches into 'Take This Body.' Haunting beauty, this is the perfect song to launch back into the set. With sweeping vocals that fill the room and incredible instrumental moments, Landry plays a handful of songs, including 'Lawless Soirez' and 'The Warden,' delivering absolutely awe-inspiring songs. Launching into a tune that has not been played for years, 'Coal Black Heaven' is followed by fan favourites 'Mutiny' and 'Bad Love.' Landry finishes the two hour set with a jolly rendition of 'Mexico' and new album hit 'Trouble Town.'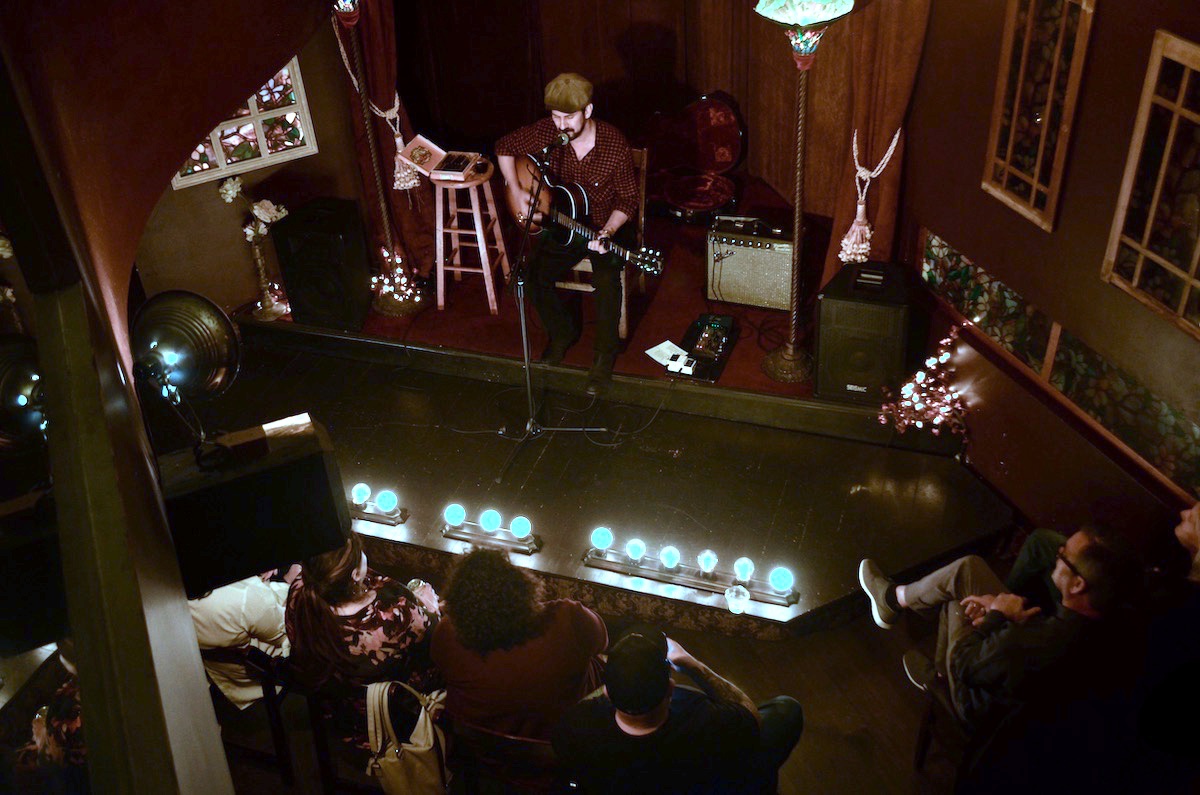 In a world fighting for musical attention and accolades, Landry stands at the centre. Writing stories that simply exist in their power, his music is transformative and immersive, beckoning listeners into a new world. At The Lost Church, Gill Landry warped the chilly night into an experience, welcoming us into his life he played songs that are stories, immersing us into his world. The show was not merely a concert, it was a transformative experience that seemed to stop time and reality, a truly remarkable moment of time that left us all changed. Gill Landry is a musical mastermind, unearthing a well of truth and emotions that is beyond anything we have seen or experienced from the musical world.