Gary Numan
The Mystic Theater, Petaluma
May 18, 2022
Photos by Raymond Ahner
Gary Numan is no stranger to playing in Northern California over the last year in support of his 2022 album Intruder. Playing in San Francisco at the beginning and end of 2022, this year he decided to make a stop at the Mystic Theater in Petaluma, a venue that I had never been to before. Much to my surprise, it was one of the most intimate venues I've seen him at (this show was my twelfth time seeing Numan), and it served as a perfect venue for his brand of industrial music.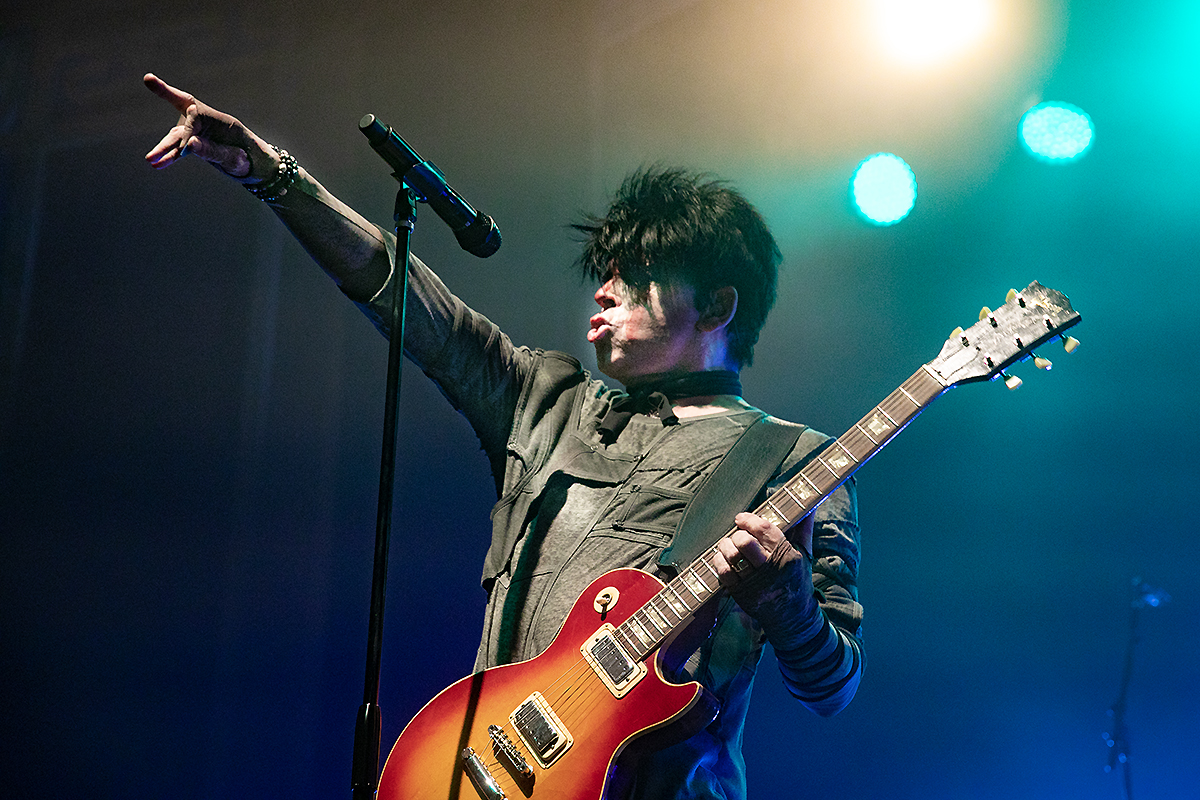 Taking the stage as his band blasted through the instrumental "Resurrection" from the 2011 album Dead Son Rising, Gary immediately took the audience back decades by opening his set proper with "Down In The Park," a seminal song from the 1979 Tubeway Army album Replicas. Much like whenever he plays any of his older material, it was updated to match his current, more bombastic sound, and this is one of those songs of his that translates perfectly to that sound. It was a triumphant way to start the show.
For almost the entirety of the rest of the set though, Numan and his band stuck exclusively to material from his last handful of albums. Seemingly taking a note from Ministry, who he had just gotten off of a tour opening for, they focused on the loudest, most intense material from those albums. Songs like "Love Hurt Bleed," "Pure," "Here In The Black," and "Pray For The Pain You Serve" were performed with the utmost fury and intensity by Gary and his band, who played arguably the most aggressive set that I've ever seen him put on.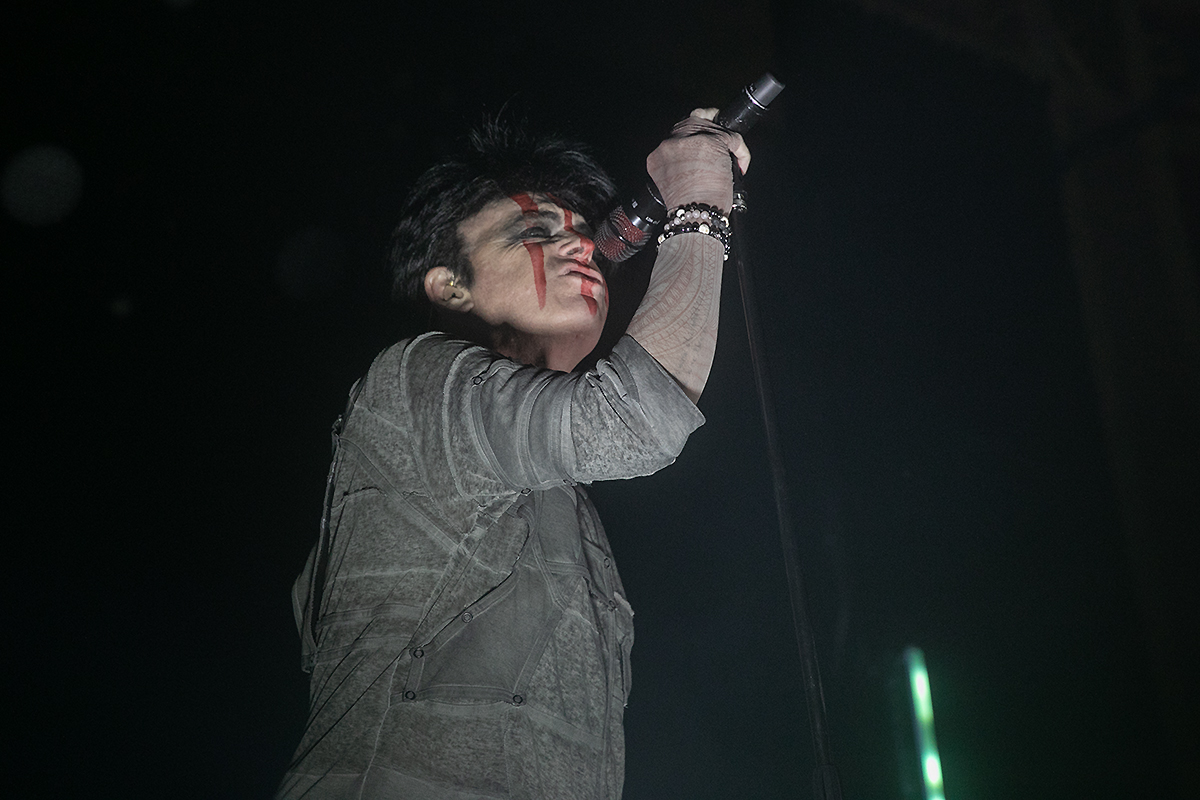 If you were there just to see his older songs, you were probably going to leave feeling let down. The only songs performed pre-2000 were the aforementioned "Down In The Park" as well as the staple "Metal" and the UK number one hits "Are 'Friends' Electric?" and "Cars." And just like "Down In The Park," they were all updated to his current sound. As someone who's been seeing Gary for years, this wasn't news to me, but most of the crowd looked confused for the first minute or so of "Metal" before bassist Tim Slade began playing the instantly recognizable bassline of the song.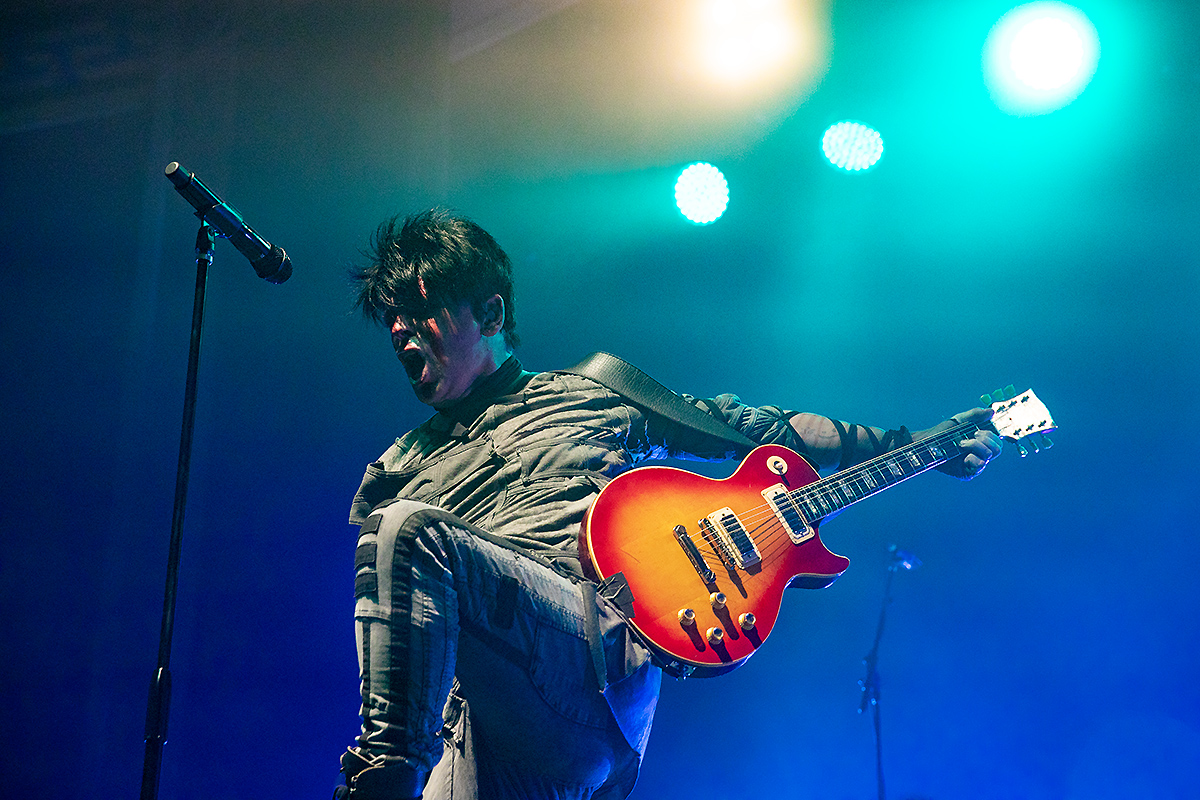 That isn't to say that Gary not playing older material is bad; in fact it's just the opposite. I've always loved that Gary is one of the rare artists from the golden age of new wave and synth pop who refuses to allow himself to be pigeonholed as a one-hit wonder and only play material from his most commercially successful era. Numan is so much more than his one song about cars, a song that, even in the more modernized way that he plays it, still sticks out like a sore thumb from the rest of the set.
As with any Gary Numan show, the man flung himself around the stage with reckless abandon, but his band got in on the action as well. Longtime guitarist Steve Harris danced around the stage at the beginning of "Down In The Park" and eventually found his way embracing Tim Slade, who has also become much more mobile onstage since he joined the live band at the beginning of the Intruder tour. Keyboardist David Brooks held down his various keyboards masterfully, playing multiple lines at the same time, and new drummer Jimmy Lucido added fresh energy to songs like "Haunted."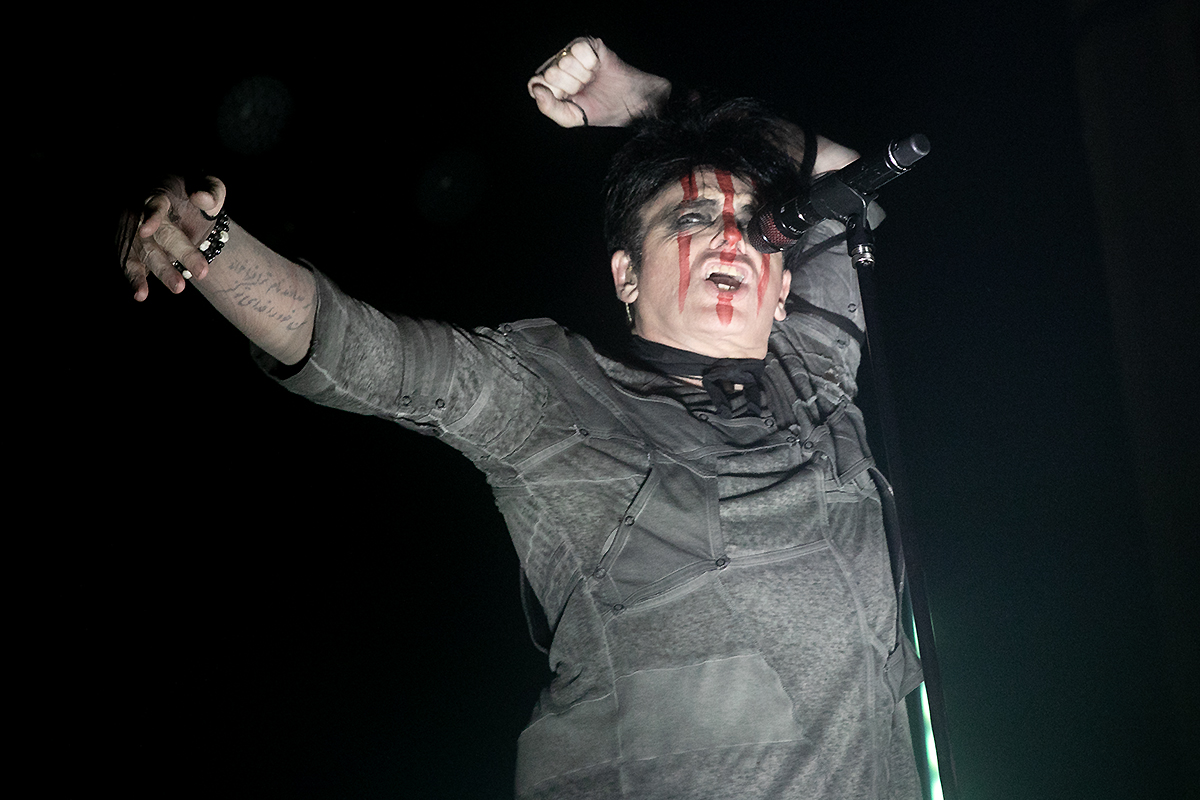 At the end of the day, it was another wonderful Gary Numan show. You can tell how much he loves doing what he does and how much love and admiration he has for the audience that has been there for him for the last four decades. Even when he plays a song that I personally don't care for, the showmanship and emotion that he puts into every song makes me fall in love with it, and there's no one I would rather be seeing live in that moment. I hope that he keeps coming back to my neck of the woods as often as he can.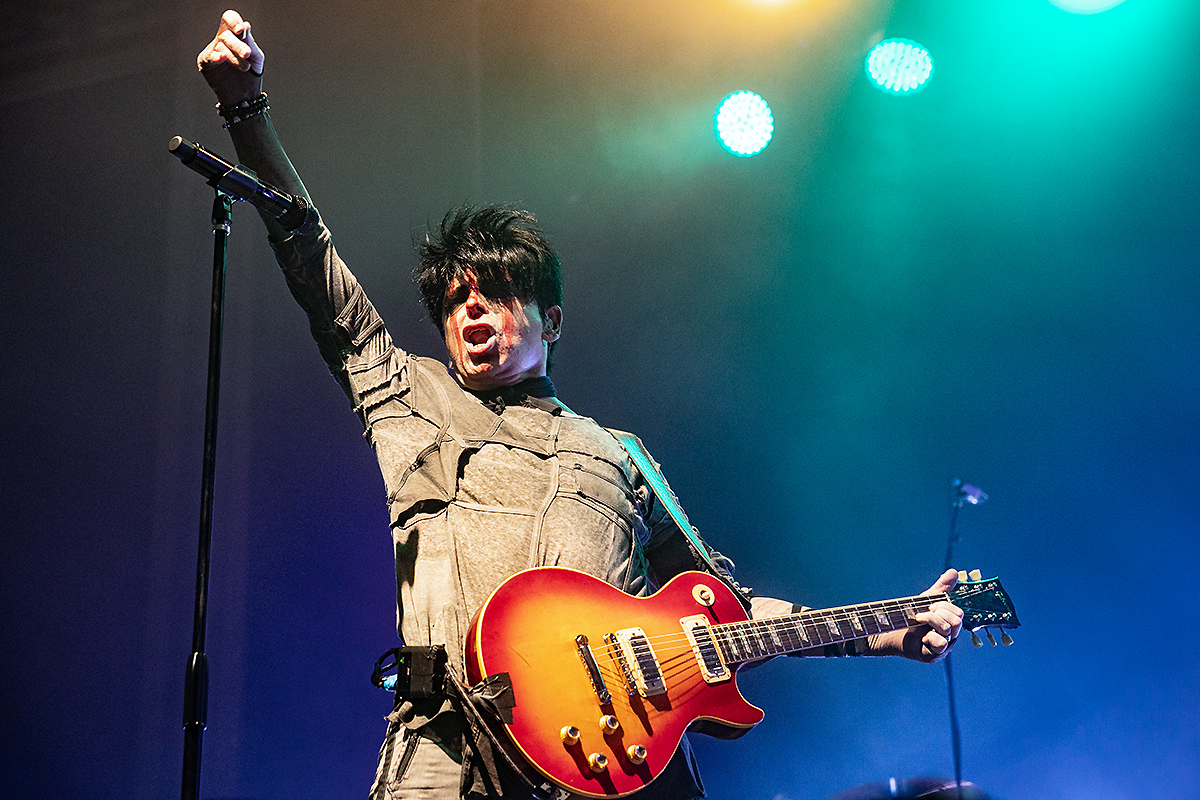 Opening the show was Morgan Sorne, a vocalist and multi-instrumentalist. Opening the set with layered looped vocals and live electronic drumming, Morgan's set comprised of songs decrying colonialism and saw him dancing around the stage doing what appeared to be traditional Native American tribal dances, which was paired with the wardrum-like industrial instrumentation at the core of most of the songs that he performed. At the end of his set, I was amazed by the perceived authenticity of it all. Lo and behold, he's not Native American at all. I feel duped. While it appears that Sorne has never outright said that he is Native American, the amount of apparent inspiration that he has taken from those cultures left a taste of inauthenticity in my mouth that I can't quite get rid of.
Here's a gallery with more photos of Gary Numan and band by Raymond Ahner:
Warning
: Attempt to read property "post_title" on null in
/home/sfsoni5/public_html/wp-content/plugins/media-slider-premium/shortcode-output.php
on line
137
Warning
: Attempt to read property "post_content" on null in
/home/sfsoni5/public_html/wp-content/plugins/media-slider-premium/shortcode-output.php
on line
138


Warning
: Attempt to read property "post_title" on null in
/home/sfsoni5/public_html/wp-content/plugins/media-slider-premium/shortcode-output.php
on line
137
Warning
: Attempt to read property "post_content" on null in
/home/sfsoni5/public_html/wp-content/plugins/media-slider-premium/shortcode-output.php
on line
138


Warning
: Attempt to read property "post_title" on null in
/home/sfsoni5/public_html/wp-content/plugins/media-slider-premium/shortcode-output.php
on line
137
Warning
: Attempt to read property "post_content" on null in
/home/sfsoni5/public_html/wp-content/plugins/media-slider-premium/shortcode-output.php
on line
138


Warning
: Attempt to read property "post_title" on null in
/home/sfsoni5/public_html/wp-content/plugins/media-slider-premium/shortcode-output.php
on line
137
Warning
: Attempt to read property "post_content" on null in
/home/sfsoni5/public_html/wp-content/plugins/media-slider-premium/shortcode-output.php
on line
138


Warning
: Attempt to read property "post_title" on null in
/home/sfsoni5/public_html/wp-content/plugins/media-slider-premium/shortcode-output.php
on line
137
Warning
: Attempt to read property "post_content" on null in
/home/sfsoni5/public_html/wp-content/plugins/media-slider-premium/shortcode-output.php
on line
138


Links: