Donny McCaslin and Mark Guiliana
Miner Auditorium, San Francisco
August 27, 2023
Photos by Richard Gelfand
There's a common misconception that jazz music is "for old people," that barely anybody under the age of 50 listens to it, let alone goes to see live jazz shows! That couldn't have been further from the truth when Donny McCaslin took the stage at the Miner Auditorium in San Francisco with his band. Joined by longtime band members bassist Tim Lefebvre and keyboardist Jason Lindner, as well as Nate Wood on drums, the enthusiastic crowd cheered them on right to the opening moments of the first song, including everyone in my aisle, who were at least a decade younger than me.
"Landsdown" is was one of the singles taken from McCaslin's new album I Want More, and runs just over five minutes long on the album, but only a short fragment of it was performed by the band. It was still a perfect highlight of what was to come: skittering percussion, soulful saxophone, a more rock-oriented bassline, and atmospheric keyboards that occasionally took the spotlight. Following that, McCaslin played the opening sax line of the opening song on his newest album, "Stria." One of the things that I noticed almost immediately was that McCaslin runs his saxophone through a multi-effects pedal, allowing him to add more reverb, delay, and various other effects on his instrument. It was something that he utilized frequently throughout the evening.
Something that I enjoy so much about McCaslin's music, and something that the band indulged in frequently during their performance, was his inclusion of electronic elements in his music. Of course by Nate Wood and Tim Lefebvre got moments in the spotlight (including an impressive bass solo that opened one of the songs), but if there was a true co-star in McCaslin's band that evening it was definitely Jason Lindner, who, armed with two keyboards, was given free reign to twiddle knobs and enter truly spacey atmospheres during his solos.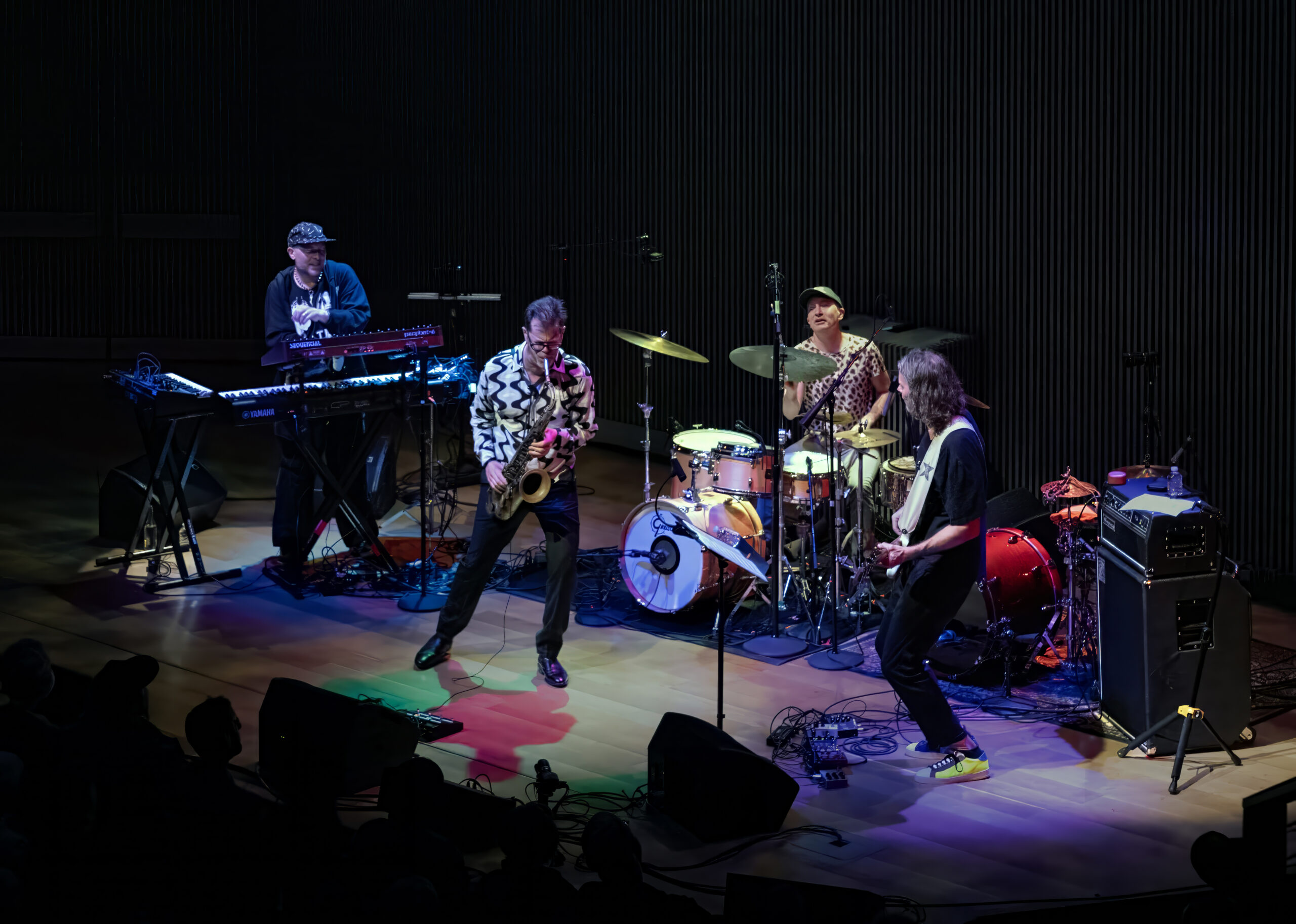 One of the highlights of the set was towards the end, when Donny brought Mark Guiliana onstage to perform the song "Fly My Space Ship." Donny introduced it by saying the song was inspired by seeing many of the great reggae artists as he was growing up in Santa Cruz, and it definitely had a reggae hint to the composition of it. Mark and Nate Wood drummed in near perfect syncopation for the length of the song, sometimes performing different drum fills or hi-hat embellishments. The five played one more song together and then exited the stage.
Just a few moments later, McCaslin and the rest of his quartet came back onstage. "This is a song that we recorded with David Bowie," he said before the band began playing the song "Lazarus" from Bowie's final album, 2016's Blackstar. The album was my introduction to Donny McCaslin's music, and to jazz as a whole, and I was not expecting a performance of anything from the album, catching me completely off guard. The song, which is essentially about Bowie saying goodbye to this mortal coil and descending to Heaven, was performed beautifully by the band and brought more than a few tears streaming down my cheek. I was not expecting such an emotional conclusion to what was already a memorable show, and I know that I'm going to see Donny McCaslin next time he plays the Bay Area.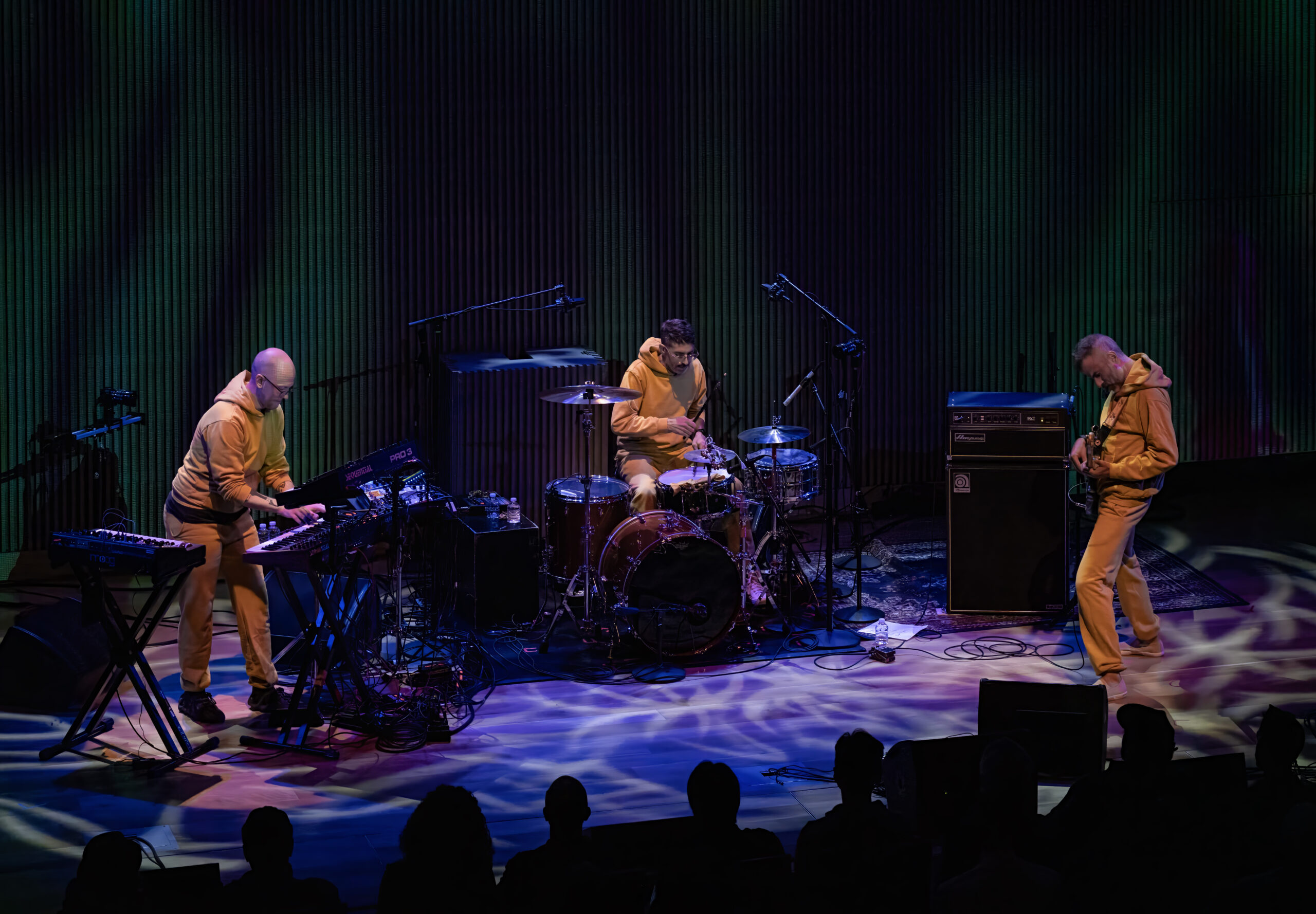 Opening the evening was Donny McCaslin's long-time drummer Mark Guiliana with his own trio, performing selections from his 2019 album Beat Music! Beat Music! Beat Music! with Chris Morrissey on bass and Nick Semrad on keyboards and electronics, all of them wearing matching yellow tracksuits. If McCaslin's performance felt like jazz that sometimes included electronic elements, Guiliana's performance could be described as the polar opposite: electronic music that sometimes included elements of jazz.
While most jazz ensembles that are led by the drummer feature that member as the center of attention, the true star in Guiliana's band was Nick Semrad on keyboards. That isn't to say that Morrissey's near-constant bass-playing or Guiliana's skittering percussion weren't highlights (they were), but all of the songs relied on a lead keyboard or synth to anchor everything together. The songs performed felt more informed by video game music and the work of Japanese jazz fusion greats Casiopea. While Donny McCaslin and Jason Lindner did join the trio at the end of their set for a more traditional jazz number (which was great to see, don't get me wrong), the musical star of the show was everything that had preceded it.
Links: