Dinosaur Jr.
Slim's
October 30, 2019
Photos by Raymond Ahner
People stood shoulder to shoulder to watch Dinosaur Jr. play some nostalgic goodies. The noisy guitar band is a 90s favorite and drew a sold-out crowd for a three-night residency at Slims in San Francisco.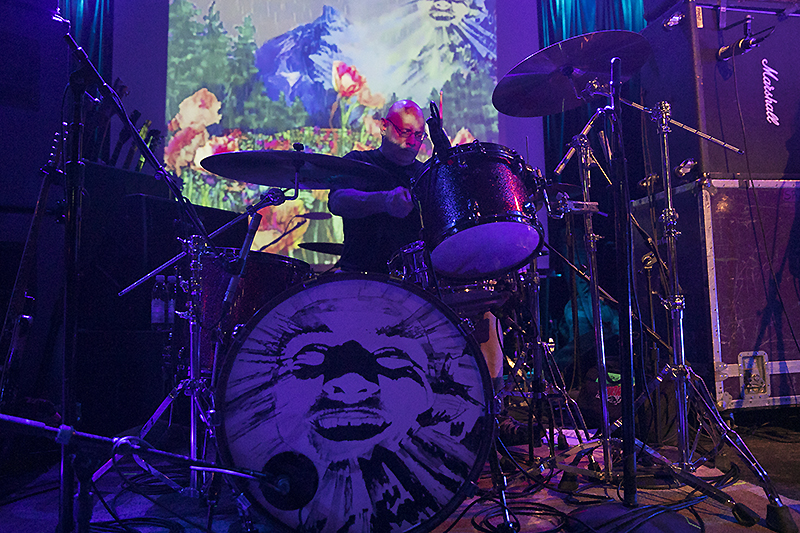 You could spot frontman J Masics' long grey locks and baseball cap from the back of the room. His body stood motionless on the left side of the stage. But his fingers plucked and strummed away. He tapped a foot pedal and led the crowd into some drool-worthy, reverb-drenched solos.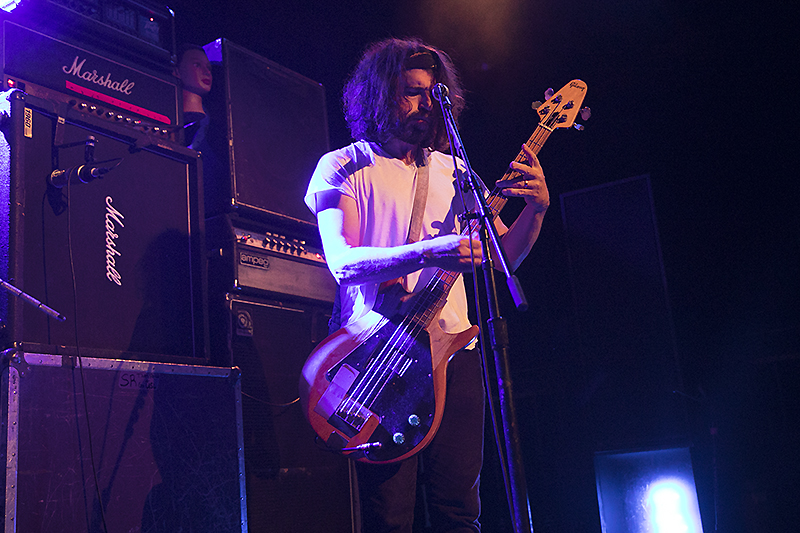 People wormed through the mass, trying to squeeze their way to the front. It seemed everyone was a Dinosaur Jr. diehard. Why shouldn't they be? The band has been around for ages—first making waves in the mid-1980s in Amherst, Massachusetts. They've also survived breakups, label drama, legal disputers, and decades that didn't particularly favor their style.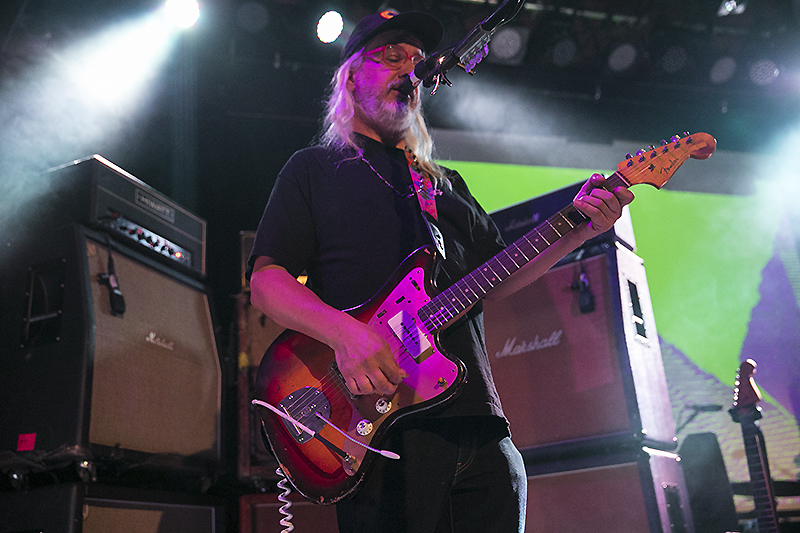 Nearly 30 years later, they're selling out shows and cherry-picking some of their favorite tracks from a gigantic catalog. Right out of the gate, they played "Bulbs of Passion" and " Repulsion" off their 1985 album, Dinosaur. With a catalog of 11 studio albums, two live albums, 15 EPs, and seven compilations, the group pulled from nine records that night.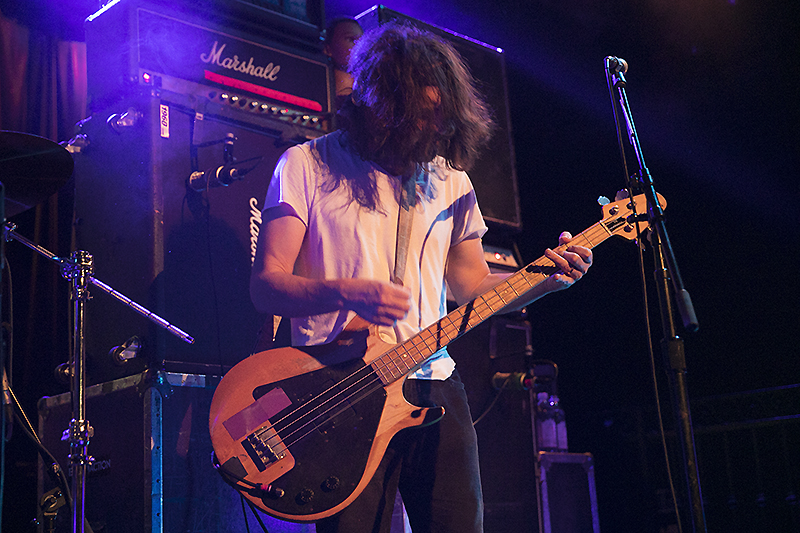 They kept it old-school with "Tarpit" off 1987 album, You're Living All Over Me. It wasn't until three songs in that they dipped into newer material like "Goin Down" and "Lost All Day" off the 2016 record, Give a Glimpse of What Yer Not. The record came ten years after the one before it. But the band is no stranger to hiatuses. And their devoted following steps up to witness Masics' awe-inspiring guitar work every time they tour.
Jumping back and forth through the decades, they played "Back to Your Heart" (Beyond, 2007), "Watch the Corners" (I Bet on the Sky, 2012), "Feel the Pain" (Without a Sound, 1994), and "Out There" (Where You Been, 1993). The crowd went ballistic to "The Wagon" off 1991 record Green Mind and The Cure cover, "Just Like Heaven."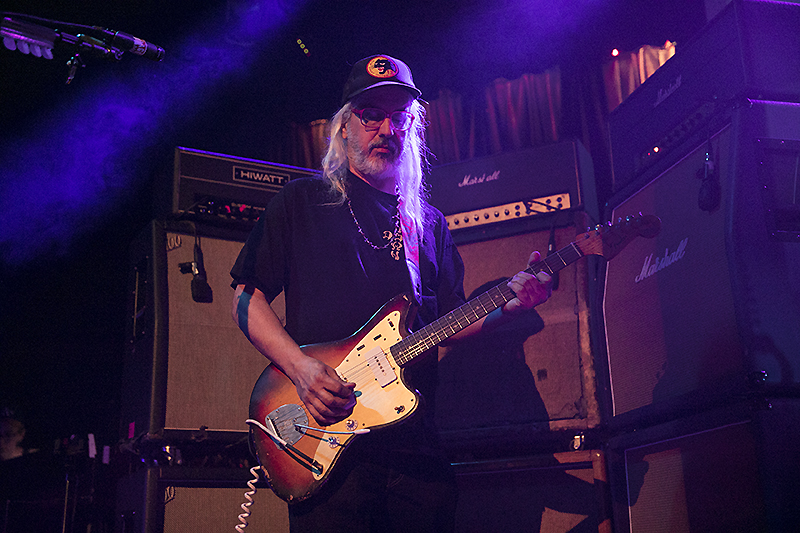 Masics didn't say much all evening. He just strummed and stepped on an elaborate pedal board. Bassist Lou Barlow's hair hung over his face on the other side of the stage, and drummer Patrick "Murph" Murphy sat between two walls of amps. Cartoons and groovy psychedelic projections lit up a giant screen behind the band.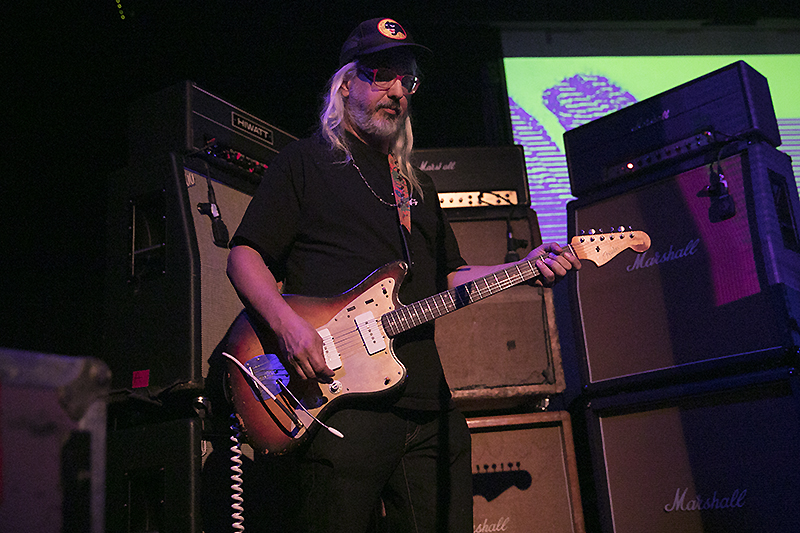 They ended their set in the eighties—playing tracks off Bug, Dinosaur, and You're Living All Over Me. Closing the night with "Sludgefeast" the crowd piled out of the intimate venue with giant grins only a small gig could provoke.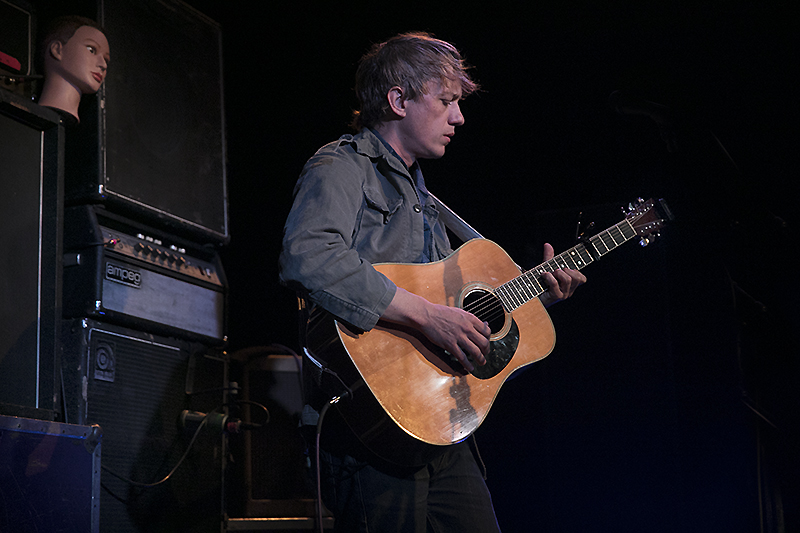 Brooklyn-based singer-songwriter Steve Gunn opened the evening. The veteran guitar players was once a part of Kurt Vile's backing band, The Violators. These days, he's doing his own thing. He just released his fourth album, The Unseen In Between, and is inspired by blues, folk, jazz, and psych.
Dinosaur Jr.:
Setlist: Bulbs of Passion I Repulsion I Tarpit I Goin Down I Back to Your Heart I Lost All Day I Watch the Corners I Feel the Pain I Out There I The Wagon I Get Me I Just Like Heaven (The Cure cover) I Start Choppin I Freak Scene I Forget the Swan II Encore II Mountain Man I Kracked I Sludgefeast
Steve Gunn: