Celebrating David Bowie
San Jose Civic
October 8, 2022
Photos by Paul Piazza
The music of David Bowie means different things to different people. To some he's the eternally glammed out extraterrestrial Ziggy Stardust. To others he's the well-tailored Thin White Duke, throwing darts in lover's eyes. And to yet another audience he's the bleached blonde pop superstar of the early 1980s. And so on and so on. So it was interesting to see which areas of David Bowie's illustrious career would be the focus of this year's Celebrating David Bowie tour, put on by bandleader extraordinaire Angelo Bundini (aka Scrote), and featuring classic rock superstar Todd Rundgren and guitar virtuoso Adrian Belew, among a host of others.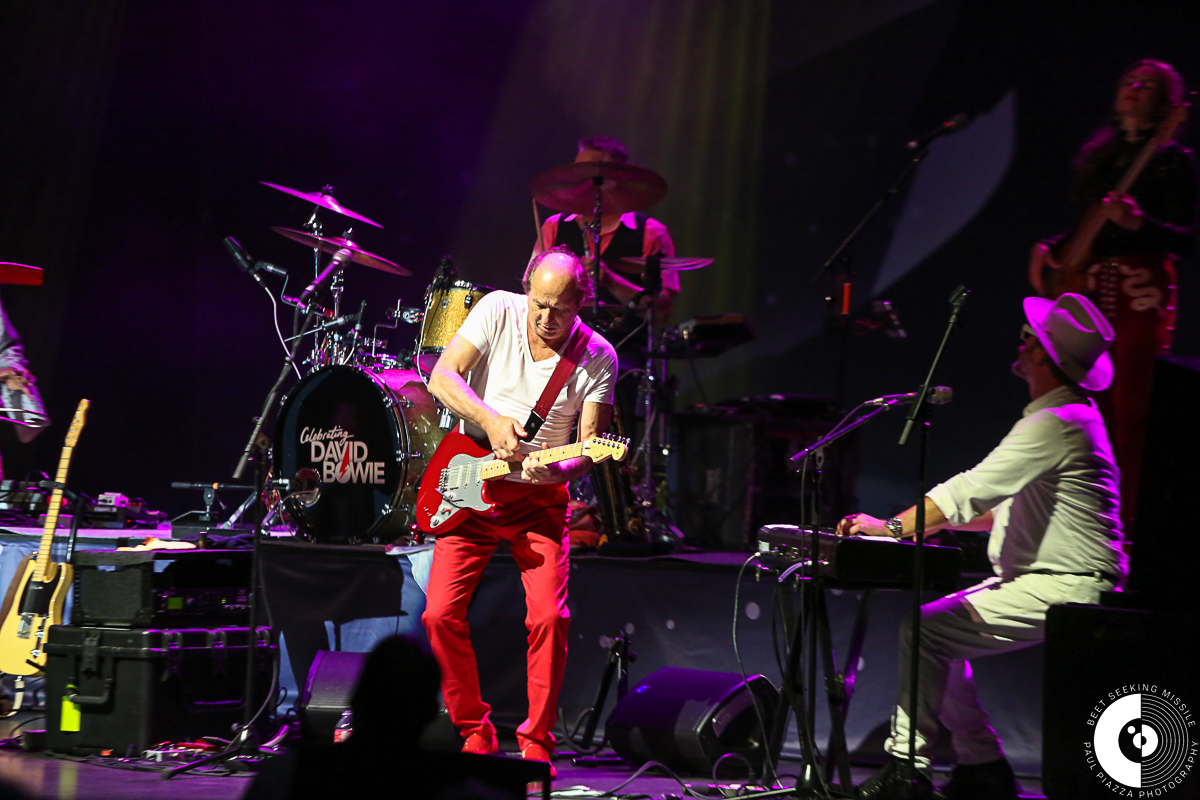 As I took my seat before the show started, I was treated to the sounds of the second halves of Bowie's 1977 albums Low and "Heroes" being playing over the venue PA. It was a great scene-setter, for as soon as the lights finally dimmed and the band took the stage, the first song of the set was a stellar version of "Sound And Vision," the lead single from Low, with Adrian Belew on guitar and lead vocals. While certain musicians would come and go song-to-song, the core band remained the same throughout the show: Scrote and Royston Langdon on guitar and backing vocals (both of them occasionally singing lead), Ron Dziubla on saxophone, guitar, and keyboards, Angeline Saris on bass, and Travis McNabb on drums.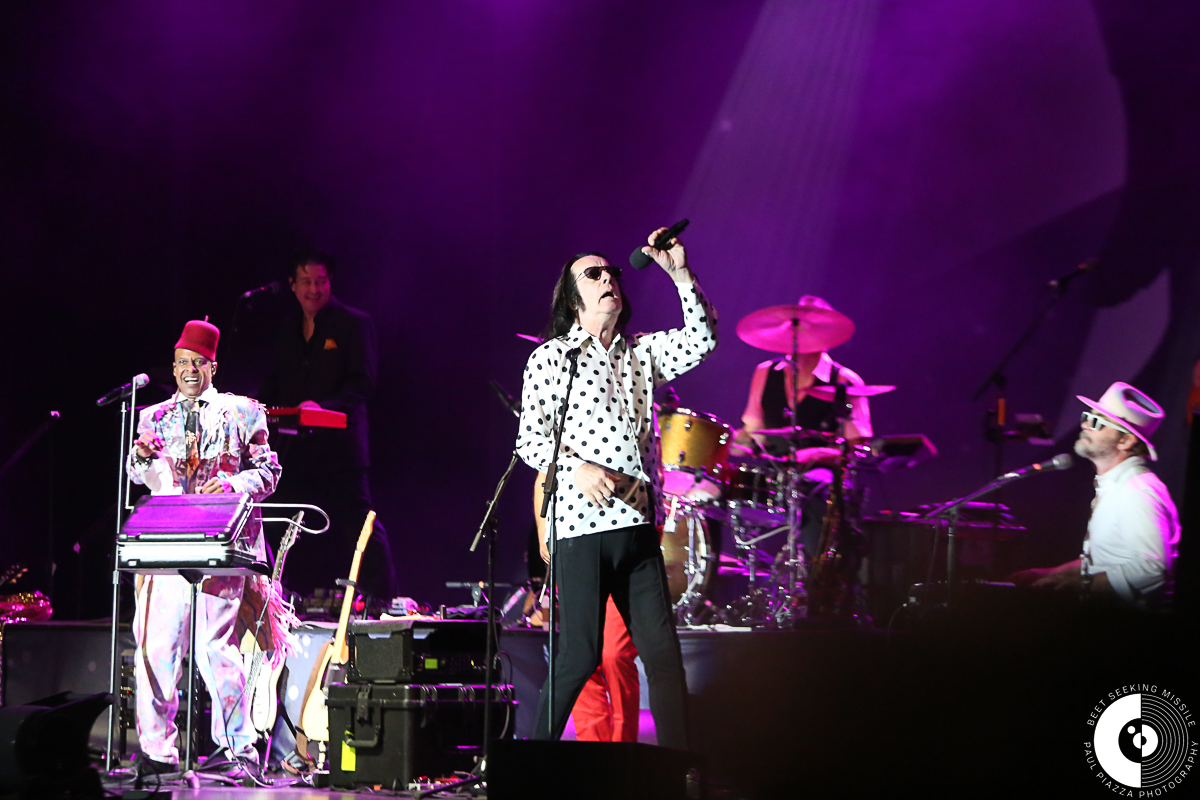 Following "Sound And Vision," Todd Rundgren took the stage for a complete tonal shift, the band playing the title track of Bowie's 1975 album Young Americans. Scrote has truly outdone himself when selecting which vocalist will sing which song, as Todd's voice suited the song perfectly. I was in awe when he hit the high notes of the line, "Ain't there one damn song that can make me break down and cry?"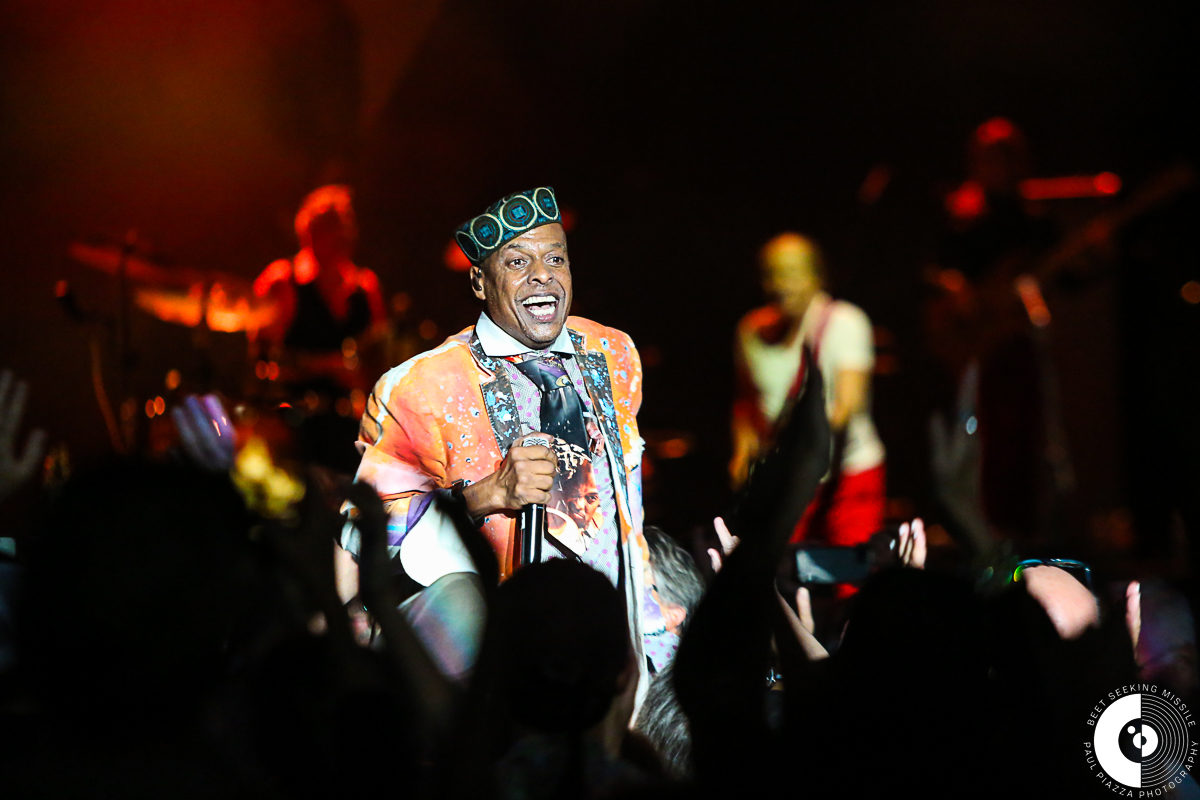 Up next onstage was Angelo Moore of Fishbone, his face completely painted black, for a rousing performance of "Moonage Daydream." I've seen Angelo sing this song multiple times in the past, and believe me when I say that he is perfect for the song. And finally, four songs in we got our fourth vocalist in a row, with Royston slowing the band down for another song from The Rise And Fall Of Ziggy Stardust And The Spiders From Mars, with the album's closing song, "Rock 'n' Roll Suicide." I would be lying if I said I didn't shed a tear towards the end of the song.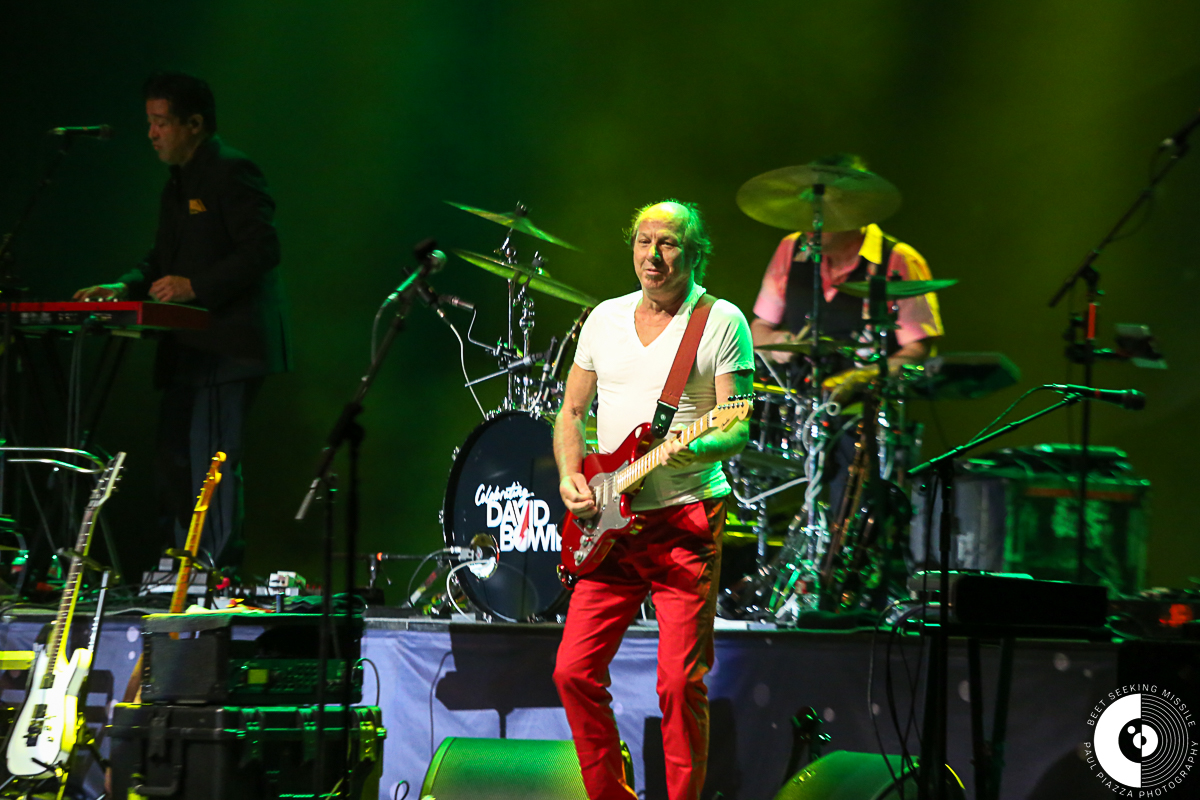 The rest of the evening saw the same revolving door approach, with Todd and Adrian taking the spotlight every time they were onstage. There was a stretch of about ten songs towards the middle of the set where Adrian Belew stayed onstage constantly, either playing lead guitar while someone else sang or taking lead vocal duties himself. There was a strong emphasis during this segment on material that Adrian played with David on the 1978 Isolar II Tour, including an incredibly heavy interpretation of "Fame" that nearly outdid the original recorded version, as well as a stellar performance of "Stay" that saw Belew, Rundgren, and Scrote all on guitar and vocals.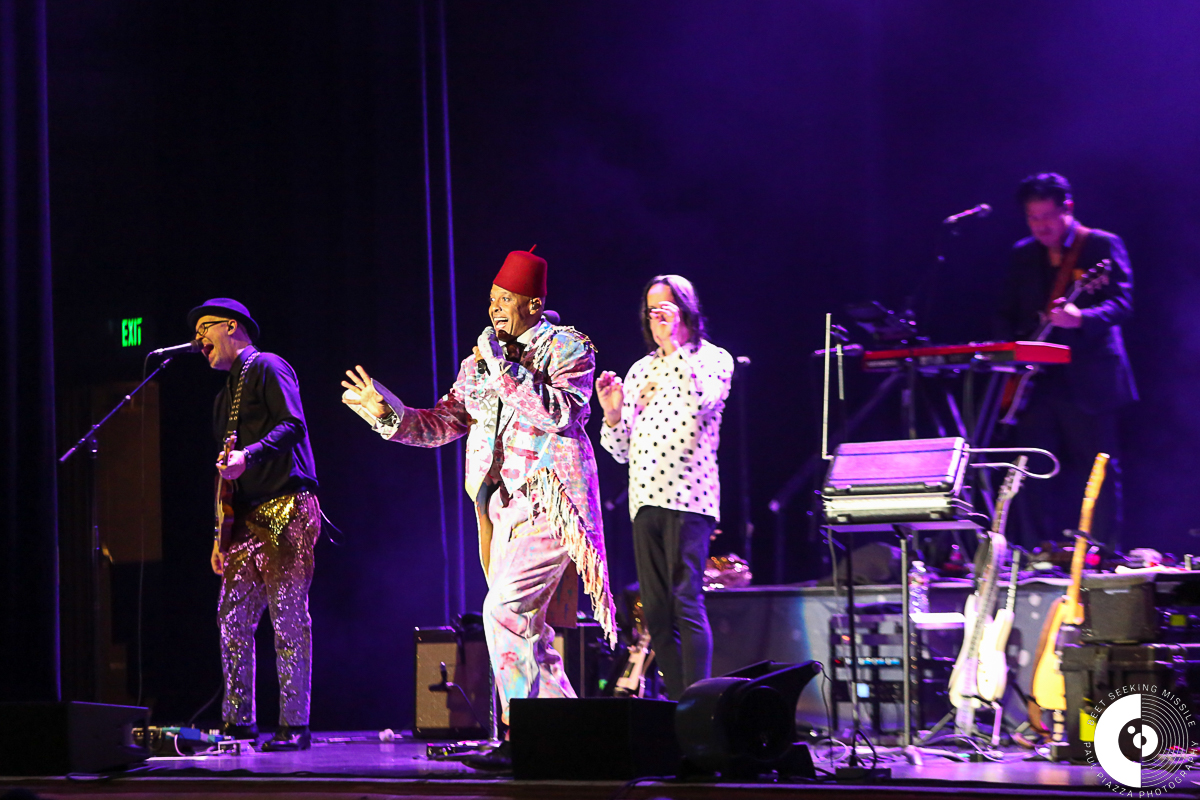 And I want to take a moment to talk about Adrian Belew in the context of this show. I've always been a fan of his work, not just with David Bowie, but in the greater world of music, and seeing him performing these songs was a dream come true. The highlight of the evening for me must have been "Station To Station," probably my single favorite David Bowie song. Srote and Adrian made luscious, dense guitar noise as Angelo Moore created chaotic sounds on the theremin, all of it building to a crescendo with Angelo singing, "The return of the thin white duke, throwing darts in lover's eyes." Halfway through the song Todd took to the stage, taking over lead vocal duties and playing guitar, all eight members of the band putting their all into this 10-minute long juggernaut of a song. It was mind-blowing.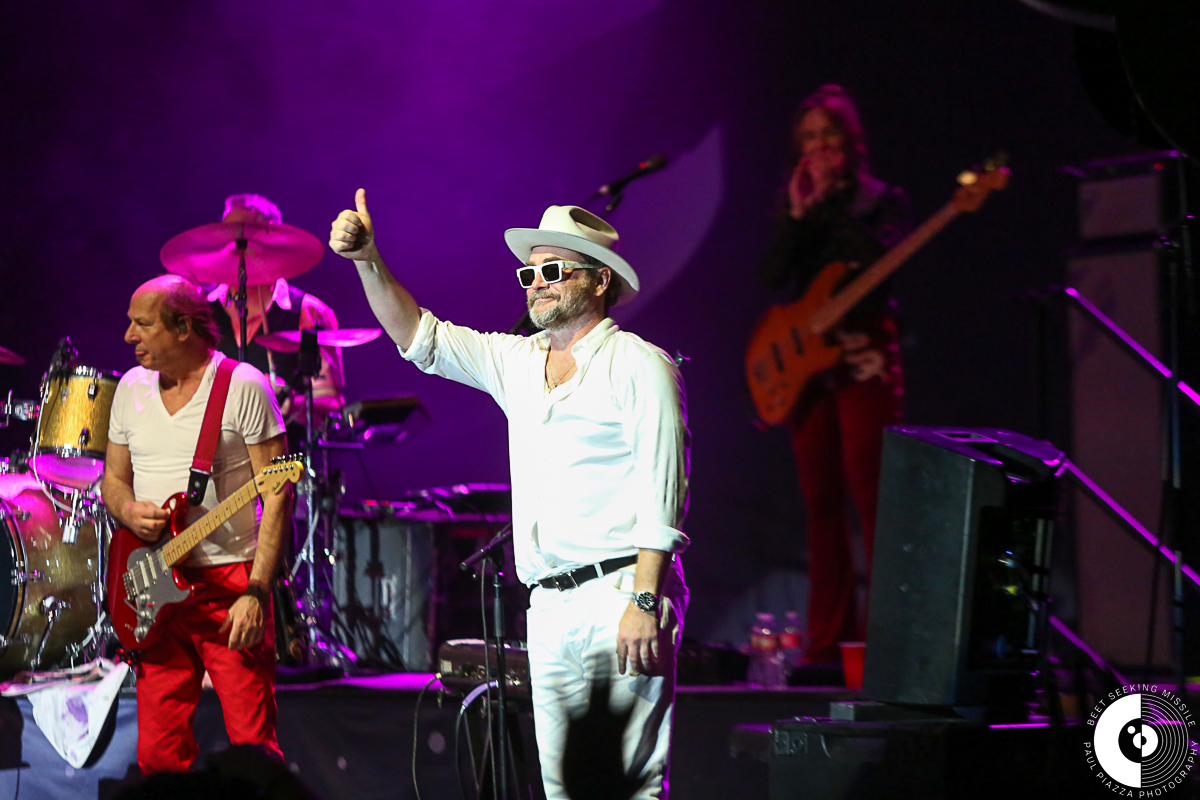 If I have one complaint about the show, and it is a small one, it was the overlooking of Bowie's material post-1984. An issue that I've had with most Bowie tribute concerts that I've gone to has been the almost completely overlooked last ten albums of his career, and unfortunately this show was no exception. Scrote took to lead vocals for "The Stars (Are Out Tonight)," from the 2013 album The Next Day, which was a completely surprise, only for it to be ended just after the first chorus. Immediately following was "Hallo Spaceboy" from 1995's 1. Outside, only for that too to be cut short after the first chorus. Finally 1997's "I'm Afraid Of Americans" was played in full, but personally I felt like songs like "John, I'm Only Dancing" or "All The Young Dudes" should have been cut to make room for full versions of songs from that part of Bowie's career. If you're more a fan of his work in the 1970s, there still would have been more than enough material for you to enjoy.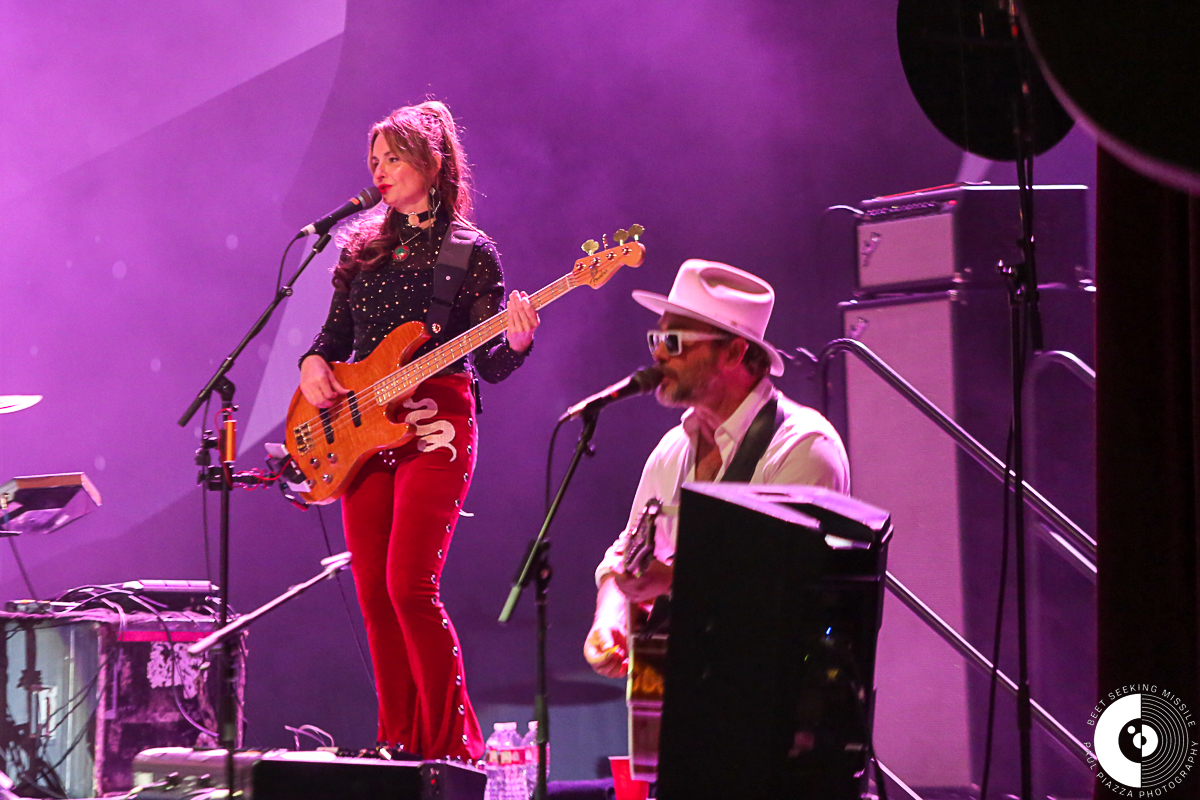 My one complaint aside, the rest of the show was a sight to behold. The performances didn't necessarily perfectly replicate the recorded versions of these songs, but that's not the point. This band is running on all cylinders, every member of the band a master at their given instrument. I was increasingly blown away by Angeline Saris's ability to change bass-playing styles song-to-song in particular, as well as Ron Dzublia's truly incredible saxophone-playing.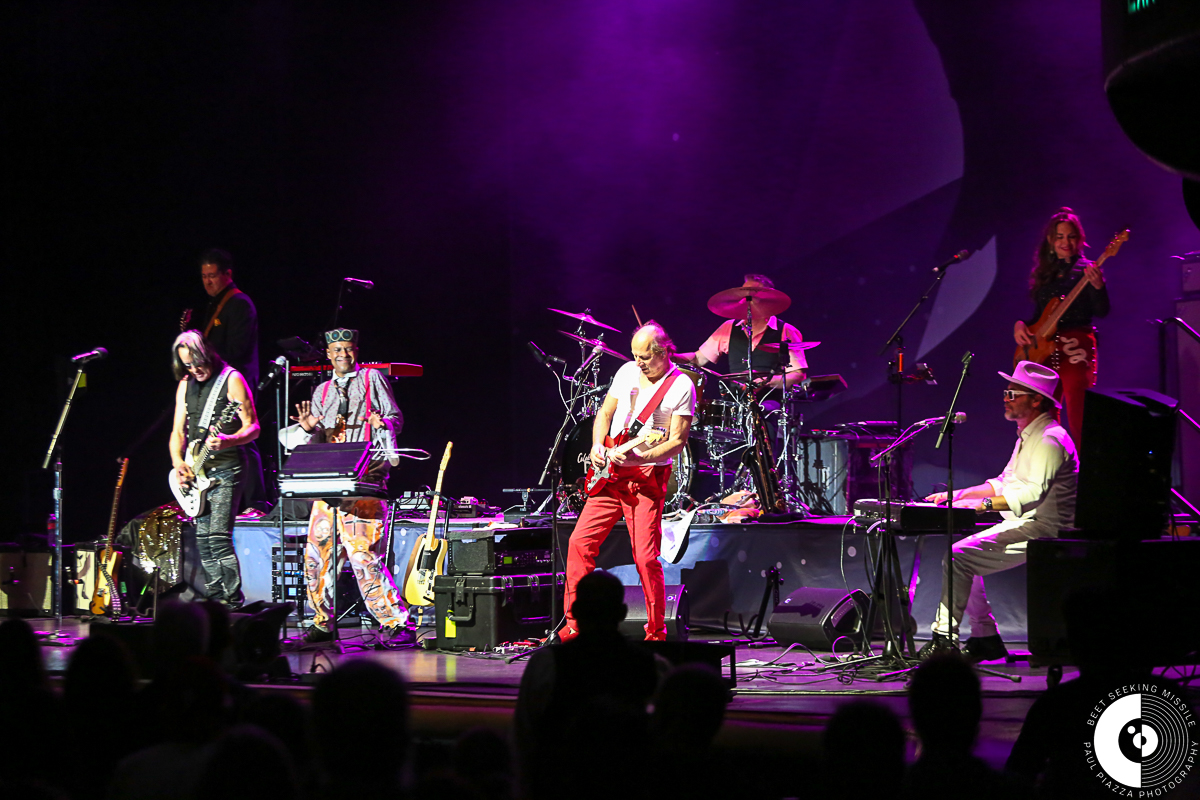 Yet another tender moment came at the playing of "Pretty Pink Rose," a song that Bowie wrote and recorded with Adrian Belew for Belew's 1990 album Young Lions. Todd Rundgren sang Bowie's part and played rhythm guitar with Adrian, and it was truly touching to see this as one of the most thoughtful and meaningful tributes of the entire evening. Bowie and Belew played the song at nearly every show of the 1990 Sound + Vision Tour, and I can only hope that Adrian Belew felt proud playing the song onstage. Iknow that I for one felt the love throughout the evening that Belew had, and still has, for his late friend.
That isn't to say that Todd Rundgren and Angelo Moore weren't sights to behold in and of themselves. Trust me, they were. Todd's take of "Life On Mars?" was another tearjerker moment, once again being able to sing the vocals perfectly. His vocal range was on full display song after song. And what can I say about Angelo Moore that hasn't already been said? He's rowdy and completely professional at the same time. After he stormed into the crowd, he made a single member of the audience sing "Rebel Rebel" with him, and it was both hilarious and heartwarming.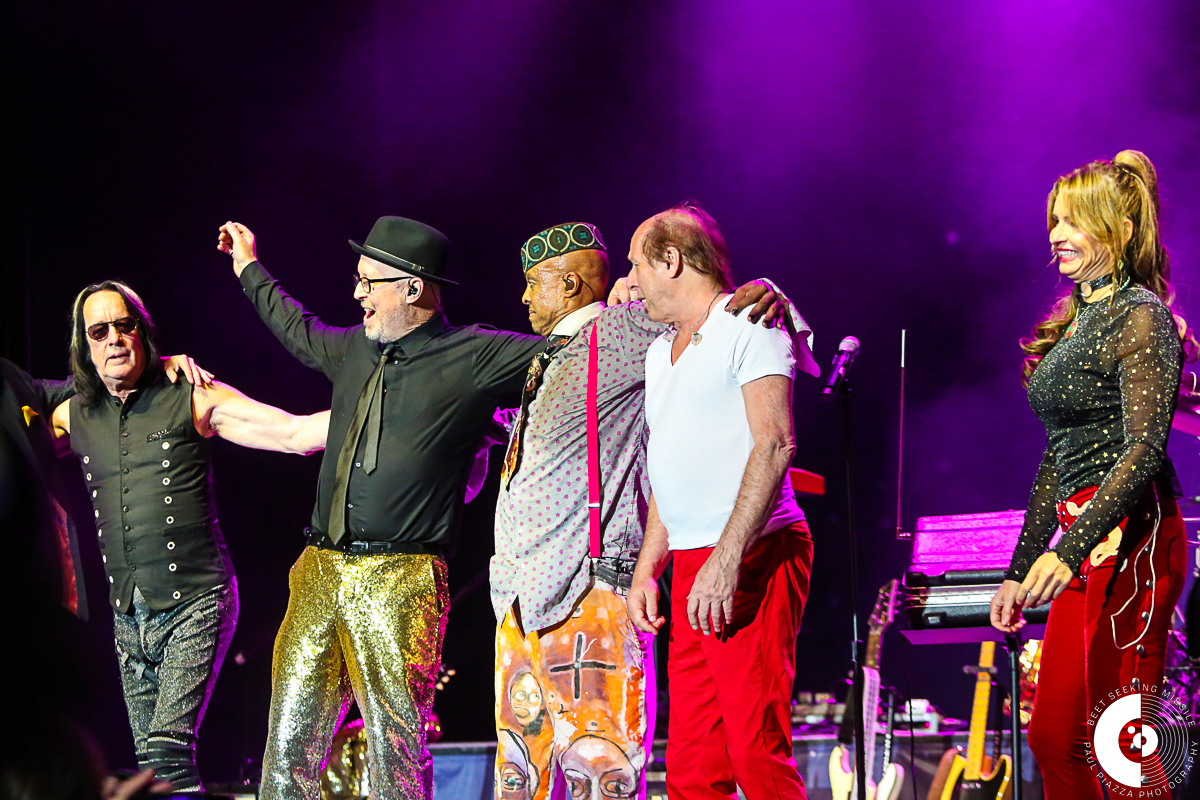 And then there was the closing song. "Heroes." A song that, even during Bowie's lifetime, felt just as much of a mission statement as it did a song. "We can be heroes just for one day" is arguably what lies at the heart of Bowie's musical oeuvre, the need and search for wanting to be and do more than might be possible, but still trying. All eight musicians took to the stage and played the song to a crowd that knew every line and still hung to every word as if it was being heard for the first time. It was a beautiful ending to a beautiful evening full of some of the most beautiful songs to have been recorded in the world of popular music. Bravo. Bravo.
Links: