Electric Funeral, Hellbender, Profits of Doom
Mystic Theater, Petaluma
June 6, 2019
Photos by Pollen Heath
The historic Mystic Theater has been hosting live music since 1992, and was an early adopter of inviting local alternative, punk, and metal to their stage. Since then, the Mystic has evolved into a premier night club that reflects a changing local demographic, catering primarily to mainstream gen-x'rs and baby boomers, with acts such as The English Beat, local pop and rock tribute bands, folk/ country legend Wynonna Judd, and reggae/ dub step favorites from the California Roots team, to name but a recent few.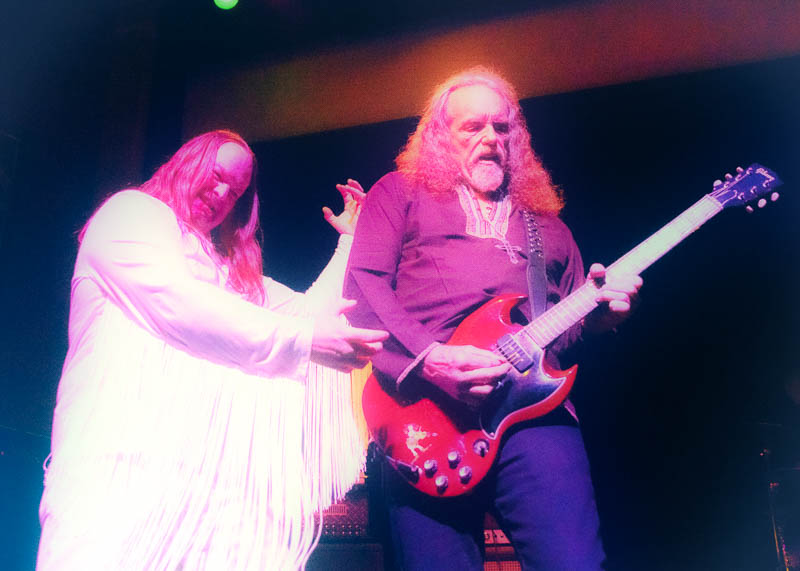 The Mystic hasn't completely forgotten its roots in local metal however, as they recently hosted a group of local metal favorites recently: Electric Funeral, Hellbender, and Profits of Doom!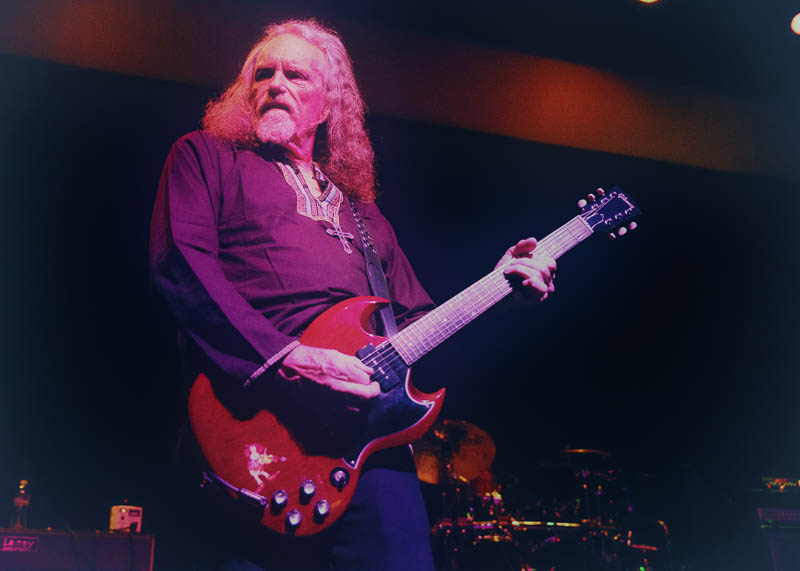 Electric Funeral is Sonoma County's leading Black Sabbath tribute band. Tim Graham and Lance Ozanix (of Skitzo fame) have been painting the stage black with their Iommi-Ozzy interpretation since 1999, and show no signs of slowing. In fact, Tim's guitar playing continues to leave you looking twice for the iconic Iron Man himself onstage and Lance's enthusiastic Ozzy harkens to the days of Children of the Grave. Electric Funeral's performance is simply phenomenal each and every time. The perfect tribute to the masters of the bluesy lower pitch, and the founders of heavy metal.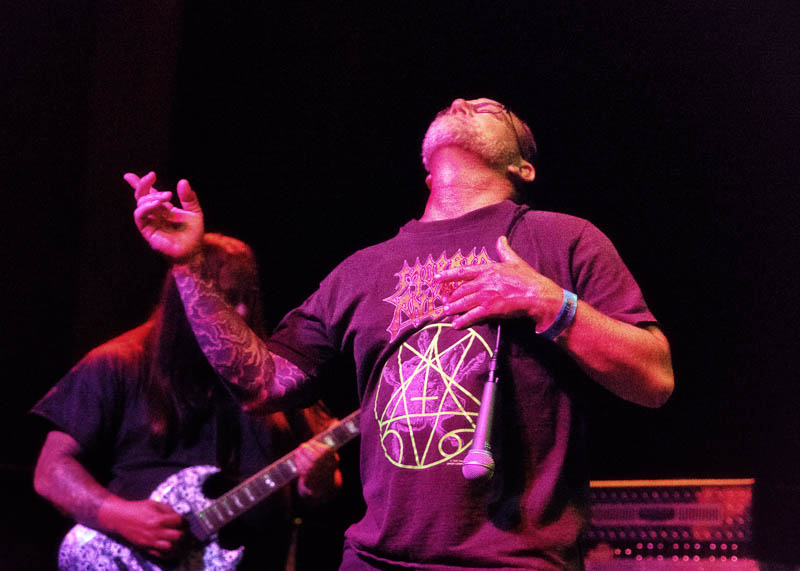 Electric Funeral's set started in true doom and gloom fashion with Sabbath Bloody Sabbath's Killing Yourself to Live (1973) and continued their homage to the masters of reality in true Ozzy-Iommi form with popular Sabbath songs like "Iron Man," "Fairies Wear Boots," and "War Pigs." Of exceptional note was the drumming of Liz Daniels, whose flair at the kit adds the heavy along with her expert light style to Sabbath's super dark library of tunes.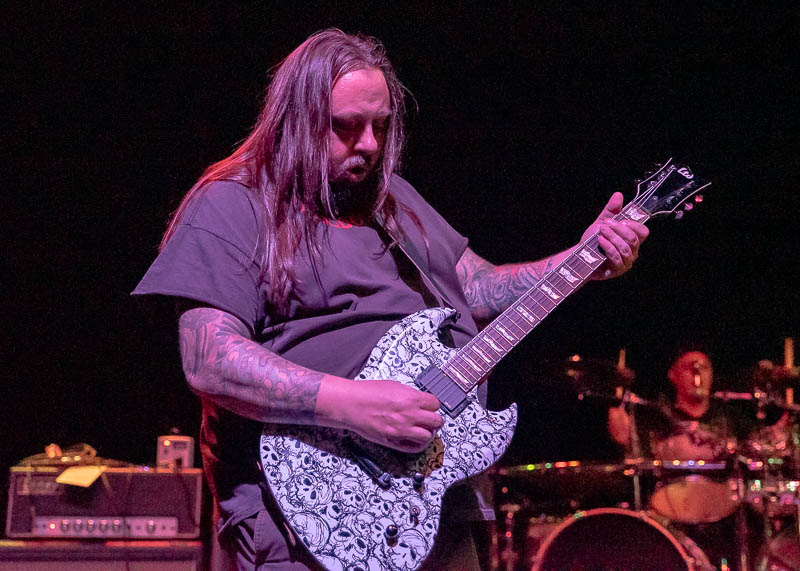 Hellbender was spawn from the depths of Sonoma County, featuring veteran metalheads – singer "Dollar" Bill Scheffler (formerly of Seeds of Hate),  Greg "Clee" Clecak (guitar), bassist Eric Lee, and newly anointed member, DRI drummer, Rob Rampy. Hellbender's sound harkens to early the days of Slayer and Suicidal Tendencies, albeit through a fresh take on today's political erosion. Bill's vocals scream unrest, anguish, and the type of fortitude that have carried thrash metal through to 2019.  Founders Clee and Eric are exceptionally tight, dark and crunchy, and Rob Rampy's rhythm sounds like he's been with the band forever and a day. It's no wonder this premier metal band was chosen to tour with the likes of Destruction, Jungle Rot, and Warbringer a few years back. This band is a fire that keeps on burning!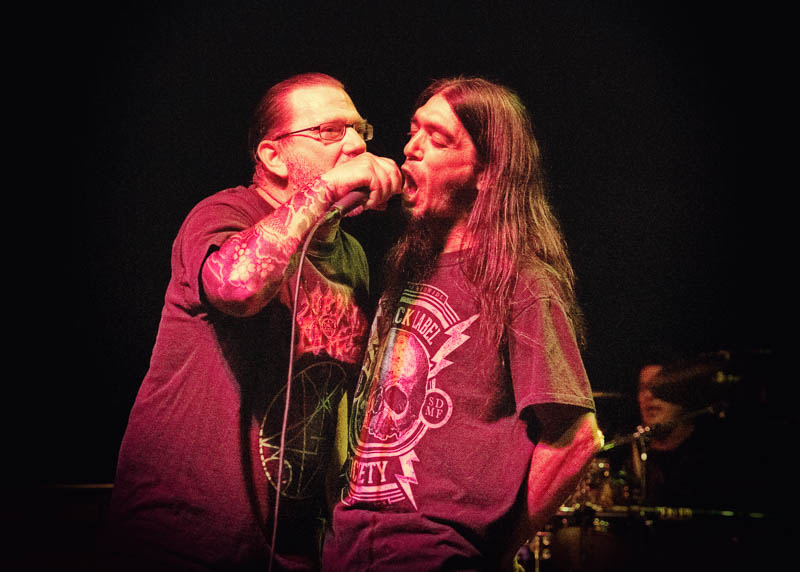 Hellbender's set was extremely energetic. Dollar Bill knows how to get a small crowd of metal heads riled up like no other local voice can. Their set took us down a hard, well-beaten path of riffs and pounding bass, and Bill can still jump off a band riser with reckless abandon.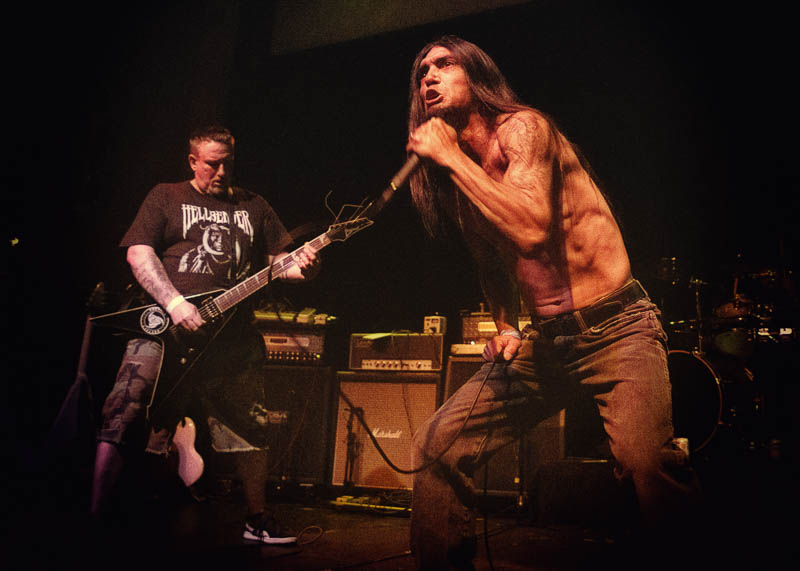 Stepping into the opening slot for local metal favorites, The King Must Die, due to illness, was a one of the more recent metal bands to form in Sonoma County, Profits of Doom. Profits of Doom kicked off the night with their in your face brand of raucous heavy metal riffs, and rounds out their set with a Slayer duet featuring "Dollar" Bill and Profits singer Miguel Martinez.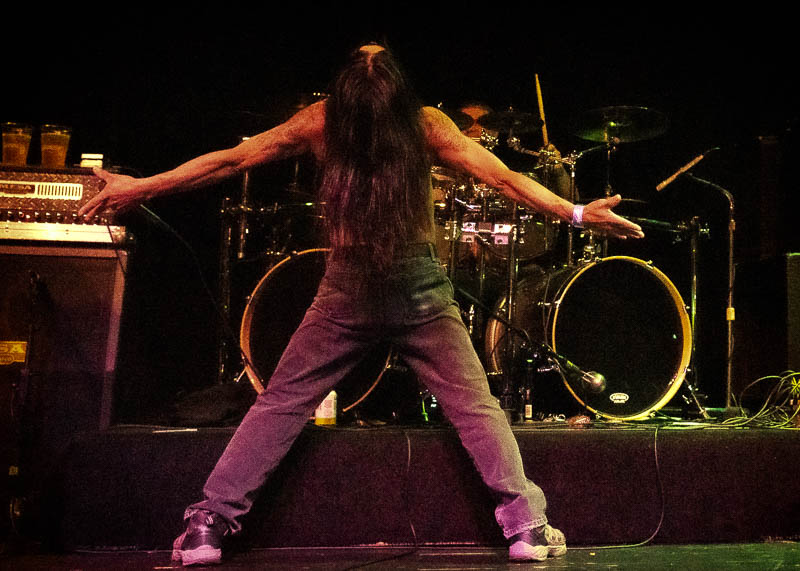 Electric Funeral:
Setlist: Killing Yourself to Live | Symptom of the Universe | Snow Blind | Into the Void | Supernaught | Liz drum solo/ Iron Man | Fairies Wear Boots | War Pigs | Paranoid | Black Sabbath
Find out more about Electric Funeral here.
Hellbender:
Setlist: End of Days | Eyes Wide Shut | Falling Down | Born Dead | Left With Nothing | Rosa | American Nightmare | The Mountain | Crossing The Line | Pure Hate | Live Wire
Check out Hellbender here.
Profits of Doom:
Setlist: Embrace Your Hate | Desolation | The Last Days | Watch It Burn | Dead Man Walking | Mandatory | Looks
Everything you want to know about Profits of Doom can be found on their Facebook page.