Ever since 2016, Angelo Bundini (known in the industry as Scrote) has been coordinating and performing in the monumental Celebrating David Bowie tour. Featuring a revolving line of musical collaborators and guest musicians, including some of David Bowie's ex-band members, Angelo is bringing the tour back in 2022 with Adrian Belew and Todd Rundgren. I sat down with Angelo and Adrian over Zoom and picked their brains about the upcoming tour and their personal connections with David Bowie and his music.
Tyler King: First of all, I want to say thank you for taking the time to talk to me.
Angelo Bundini: Of course! Always glad to get the word out about a show.
TK: Adrian, congratulations on the new album and the recent Power Trio Tour that just ended. Will there be more legs of that tour? I know that you didn't hit the West Coast.
Adrian Belew: There are probably another two 2-3 week tours left to do. I think it was a great show; a lot of people said it was their favorite I've done. The band is rocking, as usual, but I also have a 20-minute acoustic performance in the middle of the show, and a question-and-answer bit. People like it, it's a pretty good package.
TK: What was the initial inspiration for putting on the Celebrating David Bowie shows?
Bundini: Well I used to live in the Bay Area, then I moved to LA quite a while ago. But in both towns I'm known as a music director, band leader, and an artist. Right around 2008-2010, the record industry really started changing and budgets for tours started getting cut drastically. So all of a sudden, I ended up surrounded by musicians in Paul McCartney's band, Sting's band, or some other giant touring artist, we were all left hanging around town. I decided to start putting on shows with all of these musicians, so I would pick an artist that had a catalogue that I knew well and that I thought these top players would also appreciate. So we did Talking Heads' Remain In Light album, and Burt Bacharach, and the initial name for the shows was Interpreting Music. And all of the money that the shows made would go to charity; we were doing it for the music and the fun of it.
The night that David Bowie passed away, I was playing a jazz gig here in downtown LA with Tim Lefebvre and Michael Guiliana, who played bass and drums on Bowie's final album, Blackstar. There was a break halfway through the set, and during it a mutual friend told us that Bowie had passed away, which was quite a jarring shock in the middle of that show. I had to leave town the next day, but even before I got home, my phone was going off with texts and messages telling me that I should put on a show celebrating his music, as a sort of cathartic experience for us players and artists in the LA area. So what I did was, I took that all in for a week and then I called Tim Lefebvre and Gary Oldman, who was friends with David, to ask them what they thought, sort of as a way of saying, "If you guys aren't comfortable with this, I won't do it." And they were both all in!
So in three weeks I put on that first show, which was about four hours long, much like the one we did about a month later in San Francisco. I thought that those shows would be the end of it. I remember stopping at a diner after the Los Angeles show on my way home, and someone there recognized me and said, 'Hey, great show! I'm watching it on YouTube!'
TK: That's a sign of success!
Bundini: [laughs] Yeah, I'll always remember that! And then offers started coming in, all of these crazy offers, and I asked Gary Oldman again if I should accept some of them, and he immediately responded with, "Oh my gosh, yes! Let's get this thing out there! Let's go to Berlin!" And the one other person I wanted approval from was Adrian Belew, as well as David Bowie's estate. I thought, 'If Adrian Belew will do it, and the estate won't mind, then I'm in.' Adrian was on board right from the initial offer.
Belew: I was down in LA doing some stuff for the Pixar short film Piper. Angelo called and asked if we could sit and talk for a little while, and he and my wife and I met at the hotel room that we were staying at. He outlined what he was planning to do with the Celebrating David Bowie shows, and it just went from there, so the next thing that happened was we did the first of our three tours.
Bundini: I checked with the estate, and they can't officially endorse any live shows, per David's request. But they did allow us to call ourselves Celebrating David Bowie, and we're the only show that focuses exclusively on his music that uses his full name.
And now the tour has gone to seventeen countries in five continents in just a two year span! Todd Rundgren joined us for the shows in Iceland, and he really wanted to do a tour with us in the United States. That was going to happen in 2020, but then COVID-19 happened. So this tour that's about to happen is catching up with all of that lost time. When the initial shows that we did happened, it was partially also wanting to give fans the closure of his passing. There were other people playing Bowie's music at the time, but not really anyone doing it at the scale that we were.
TK: I've gone to two of the shows that you've put on in the past, and something that I always loved about your shows is that it isn't just "70s glam Bowie." If you go to a lot of other Bowie tribute shows, it's like "…and then he did 'Heroes' and that was the end." Whereas with you, you get Gavin Rossdale of Bush to come out and sing "I'm Afraid Of Americans," you get Sting out to play "Blackstar" and "Lazarus." You get people doing some of his late 80s material, or stuff from Outside and Low. And with the other shows that other people put on, I've gone to them and left with a feeling of, 'Ok, I get it, he did "Ziggy Stardust," but he's so much more than that.
Bundini: I've always been a fan of his all the way through. Even if I didn't like a particular record of his, or a direction he was going, I knew that I would still get something of value out of it every time. He's one of the only artists where I've always felt that.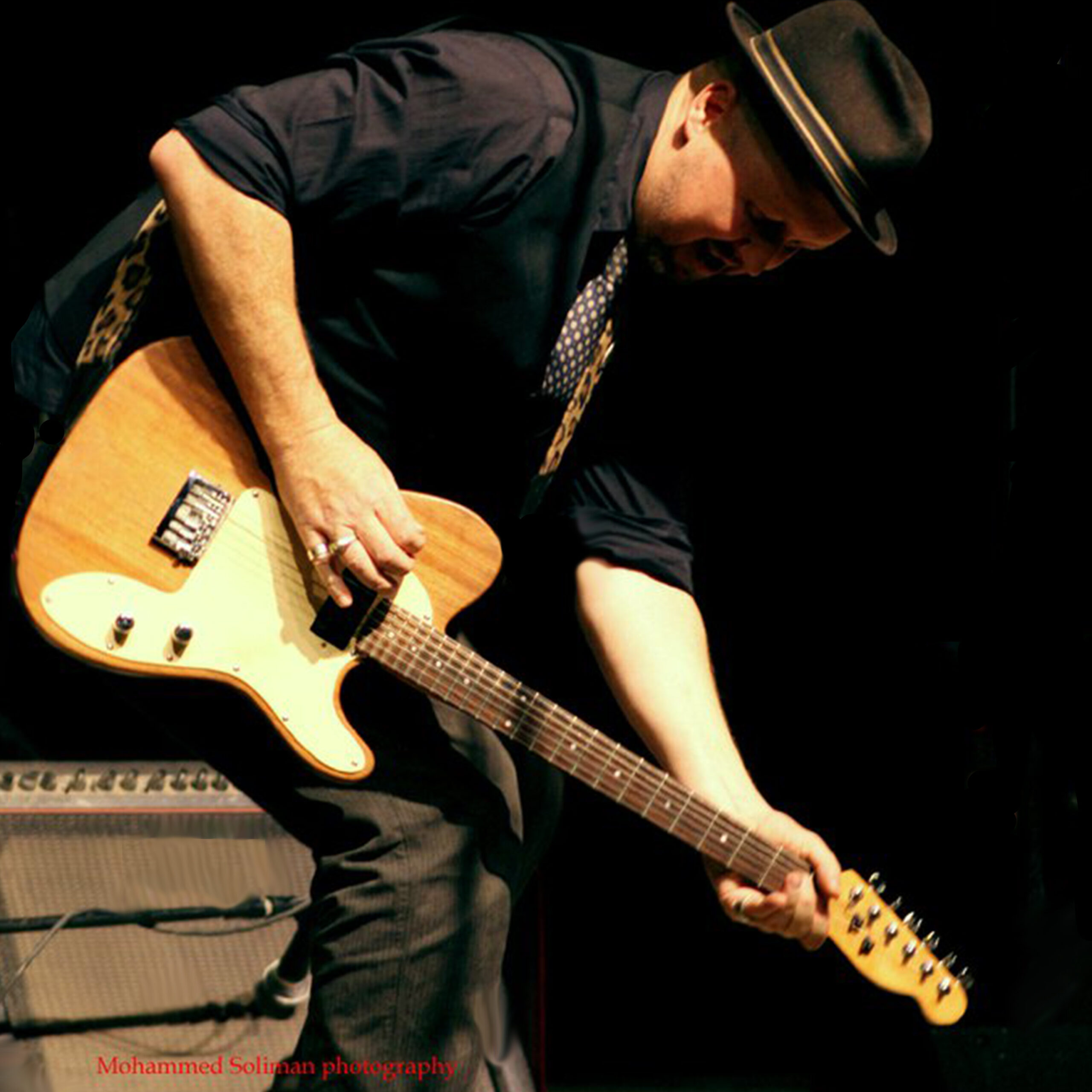 TK: With this specific tour that's coming up with you, Adrian, and Todd, I'm sure that the three of you come from different backgrounds in the sense of all of your connections to the music of Bowie. When you're selecting the setlist, is it a group input where maybe you all pick a third of the songs that are going to be played? What is the song selection process like?
Bundini: No, it's all up to me.
Belew: It's Angelo's production. I work with him a little bit as a friend, but it's his show.
Bundini: I have a long background of being a music director. So I might reach out to Todd and say, "What about these songs?" And I'm specifically thinking about him when I pick those songs: his voice, the way he sings, how he moves, all of that. I do that with every player on these shows. Fortunately, 95% of the time, they're into that. It's mostly a matter of finding the shoe, or song, that fits! Sometimes the musician might push back and want to do a song that it turns out Adrian is already singing, or something like that.
I have to manage it because with Bowie, his style was all over the place. And I want to pay tribute to the records without copying them exactly. I can use the studio recording, or a live recording, as the blueprint, and the given musician will build off of that. And every tour, I have to debate about whether or not to just focus on a specific period, or do a career overview and retrospective. But I listened to his whole career, so I always end up wanting to focus on that.
With this tour, it's more of focusing on his whole career. I am condensing it down from a four-hour show to a two-hour show! So on this one, actually early on Adrian chimed in and said, "Let's do as many hits as possible! Let's just go all out!" So there aren't a lot of sleeper hits on this setlist, but I'm also not the best judge of that because all of his material is familiar to me.
TK: Bowie means something different to everyone. So someone might say "Rebel Rebel" is his best hit, and someone else might say it's "Hallo Spaceboy." Adrian, are there any songs that you're most looking forward to performing on this run of dates?
Belew: Well I have my own personal favorites. Some are just songs I love of David's, like "Ashes To Ashes." There's really nothing going on in the guitar world for that song, but I just love it. I also adore doing "Space Oddity," I think that's one of my top three favorite. I'm looking forward to "Station To Station," and that song is a trial for me to see how close I can get to making that guitar sound again. I always love playing "Stay," that's one where I just get to turn loose. But I think in this particular version that Angelo has in mind, everyone's going to trade off solos, so he'll play one, Todd will play one, and I'll play one, but that's a song that I always enjoy. "Life On Mars?" is a fantastic song.
Oh! Another one! "Heroes." Gotta have "Heroes."
TK: Of course.
Belew: I remember being 27 years old with a broken down Volkswagen, three months behind on my rent, driving up 21st Avenue in Nashville, where I had a small apartment and hearing that song come on the radio. It was the very first time I ever heard it, and I was just marveling at how great it was. And eighteen months later I was playing it onstage with David.
TK: How insane is that?
Belew: [laughs] Yeah, exactly.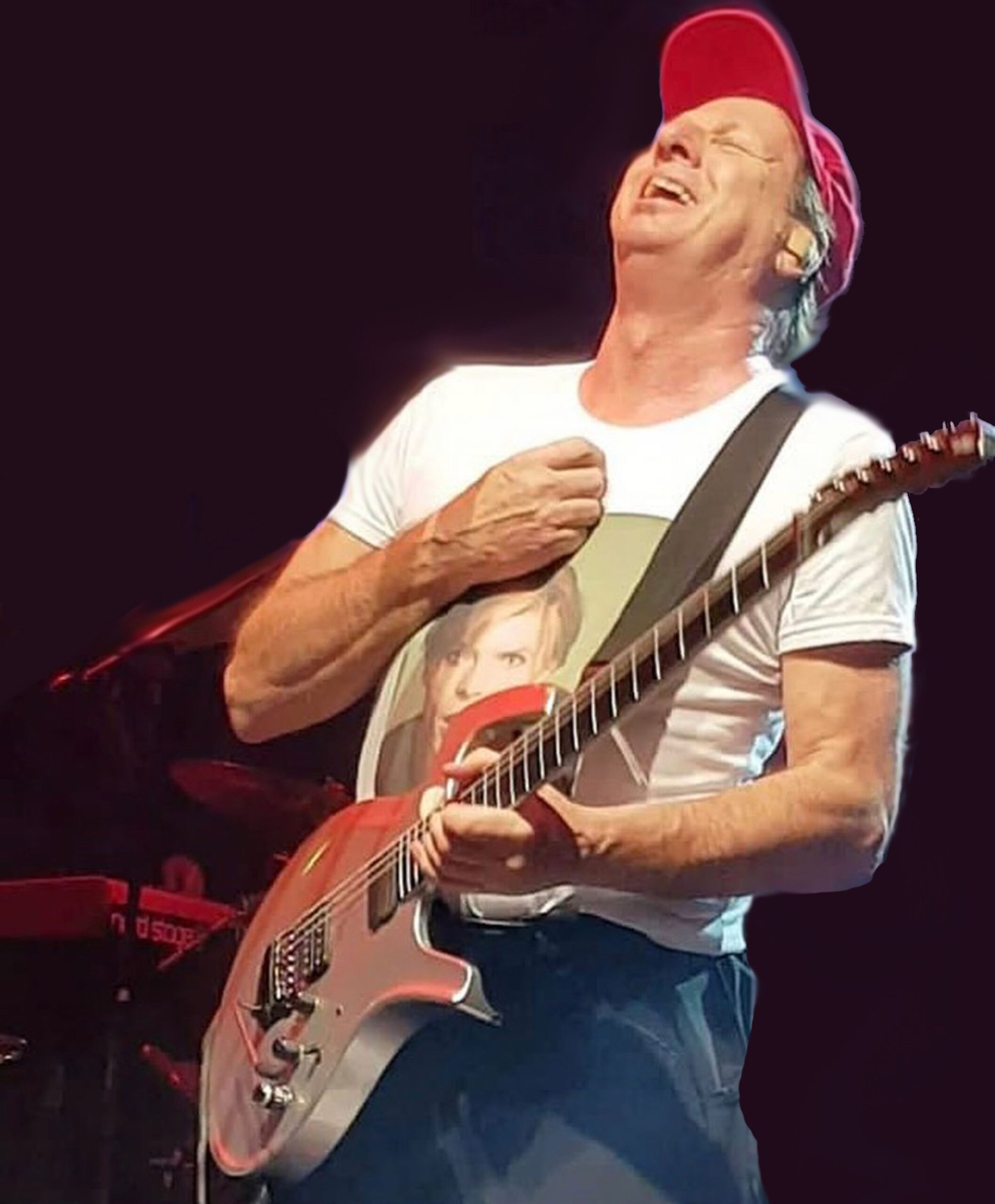 TK: Did your work as Bowie's guitarist and musical director for the 1990 Sound And Vision Tour help you at that time with rediscovering his music and do you think that it helped you at all with doing the Celebrating David Bowie tours?
Belew: Well first of all, that particular tour was a life-changing tour for me. I made more money than I'd ever made, we had a private jet and we traveled all over the world. We went to twenty-seven countries. So I had a great relationship and a lot of time with David. Onstage, it was just he and I, which was very interesting and a lot of pressure, but I loved it.
But you're right, it definitely re-associated me with his material, some of which I didn't even know. But in being the music director, I had to arrange all of it properly for the band that we had, and for David's needs; there were a couple of songs where the key had to be lowered because his voice had gotten lower. But David just stood by and cheered us on. We were having our first rehearsals for that tour in New York City and there was almost nothing that I wanted to do that he wanted to change, which made it really great for me.
TK: Was your experience as his guitarist for his 1978 tour similar? In the sense of him allowing you your own space to do what you wanted, or was he giving you certain guidelines and parameters that specific songs had to adhere to?
Belew: Actually, it was completely up to me. In fact, he gave me my wings. He said, "Go for it and do what you want and take it out as far as you can go." If you watch any of the old videos of us onstage during that tour, he's usually on the side just grinning at me like a Cheshire cat! He was really approving of what I wanted to do, and I couldn't believe that.
So it wasn't much in the way of instruction. It was more like, "Do something here." And that really opened me up from that point on in my career, to be allowed to do stuff like that on so many other records in my career, whether that be with Nine Inch Nails or the next band that I was in, Talking Heads, and then of course King Crimson, and so on.
TK: Going from that live environment in 1978 into recording the Lodger album, was his approach of standing back and allowing you to do your own thing part of the recording of that album?
Belew: Well, I'll tell you the story behind it, so you can decide for yourself, and hopefully it will be apparent. The studio had a control room on the bottom floor, and the recording room was above it. And it had a one-way TV camera; they could look at me in the recording room. You have to understand, this was my first studio recording. The one album I had done before this, Frank Zappa's Sheik Yerbouti, was all live takes. So downstairs in the control room would be David, Brian Eno, and Tony Visconti. So they were all working on this album together, and what they told me from the beginning was, "We don't want you to hear the songs beforehand. We want to get your accidental responses."
And I'm going, "Hmm… ok… I didn't know this was how this was done." But, evidently they thought at the time that the album would be called Planned Accidents, so they told me, "Go upstairs, put your headphones on, you'll hear the drummer count off, and you'll start playing."
And I said, "Well, playing what? Can I hear the song first?"
"No. You can't hear the song."
"Well can you tell me what key it's in?"
"No."
So what they would do is, they would let me bungle my way through a couple of takes, and maybe by the third one I would actually know where the chorus is, but by that time they wouldn't give me any more chances. So I did that, and then I stayed around to do parts that were more laid out for us. Tony Visconti had written a score of mandolin parts for one of the songs, and I was part of that. But all of my solo guitar work on that album is all pieced together from those accidental performances.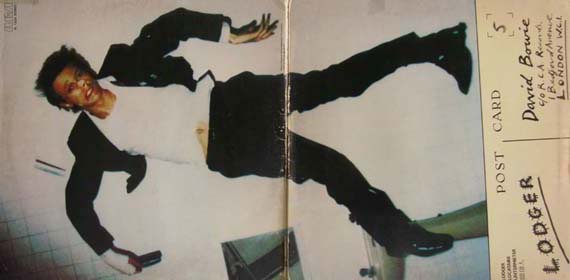 TK: So Angelo, how difficult is it to have all of these musicians onstage? There's Adrian, there's Todd Rundgren, there's Angelo Moore from Fishbone, you have Thomas Dolby on a couple of shows… It's a high-profile line-up.
Bundini: I have a record coming out on the first day of the tour, Todd has an album coming out on the tour on October 14th, Adrian just released one, and Angelo Moore has another one coming out soon too. It's a minor miracle that I can find cohesive time where all of these talented musicians can come together and make these tours work.
This is the most "band-like" these Celebrating David Bowie shows have felt. We have eight musicians on the tour, six of which are multi-instrumentalists. Five of us are lead singers. There are times where Todd's singing back-up for me, or I'm singing back-up for Adrian, or we're all playing guitar at the same time.
TK: Angelo Moore is on saxophone!
Bundini: Yeah! Or playing the theremin! I'll find out that one of the musicians can play bass clarinet and try to figure out where in the show we could use that. And of course at some of the shows we'll bring out people who live locally to those shows, like Thomas Dolby. He played with Bowie at Live Aid.
But not everyone on this tour, like me, not all of us played with Bowie. But we're not serving the association. We're serving the music. And how can we pull it off in ways that his live band even couldn't pull it off? We're not trying to be Bowie's recordings or his live shows. Which sometimes caused friction with certain people who had played with him. They would tell me, "Well David didn't have me play it this way." And I would say, "Well he's not here. We have to fill this vacuum and it's not going to be by doing the exact same thing that you did before."
TK: David also would completely change the arrangement of certain songs era to era or decade to decade. The version that he did of "Loving The Alien" on the Reality Tour is completely different from the version on the Tonight album. It was a completely new version of the song.
Bundini: That's a great example, because me personally, I always preferred the recorded version on Tonight. I like dense sonics and orchestration, orchestration actually originally being my background. I like rich harmonies and big orchestrations. So when we played with an orchestra and choir in Iceland, we did the song with the full orchestration and marimba, a full choir… We did that and also "Sue (Or In A Season Of Crime)" from Blackstar. Things like that keep it interesting for me, and I have to stay interested in it.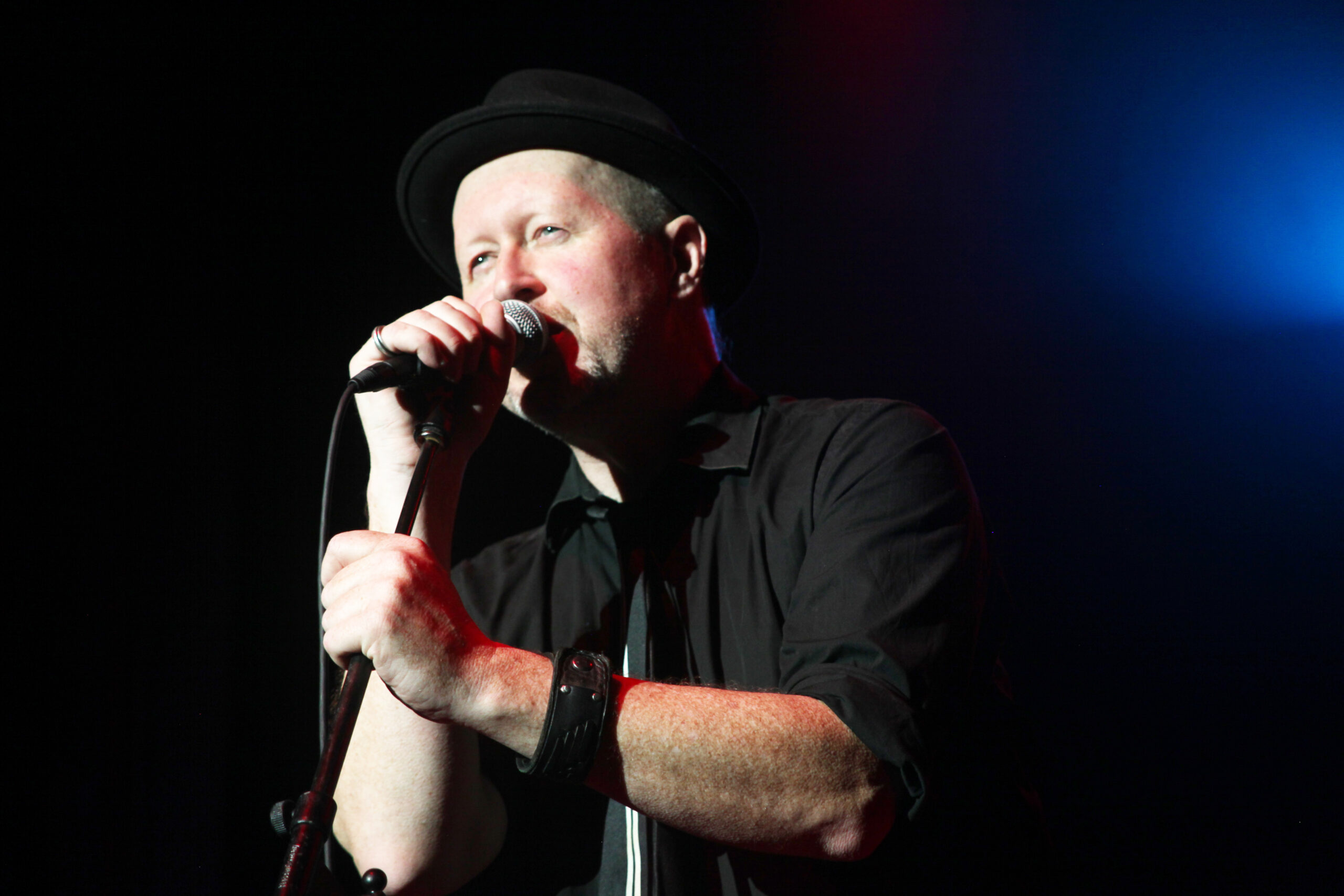 TK: Are there any plans for touring after this run that's about to happen?
Bundini: Yeah. Actually, we just picked up a producing partner: Miles Copeland, who used to manage The Police and Sting. His team and me, we work incredibly well together. So we're sketched out all the way into 2024! There will be different people on board tour to tour, of course. I'm particularly excited about next fall… an artist I've been wanting to get on board for a while is going to be doing the shows with us. It will definitely be very different from any of the other tours we've done before.
TK: Adrian, to ask you about a couple of Bowie connections: after the Sound And Vision Tour in 1990, you ended up recording guitar on a couple of songs on the album The Downward Spiral by Nine Inch Nails. And at the end of their tour for that album, Nine Inch Nails famously opened for David Bowie.
Belew: Trent Reznor called my manager, and I was in Los Angeles at the time. I was doing something else, and my manager said that I should consider being on this record. I said I had never heard Nine Inch Nails. I knew the name, but I'd never heard their music. My manager said, let's give it a shot. So I went to do it, and it turned out great.
The album was recorded in the old Sharon Tate mansion, and the windows were all blacked out. We were in there all day, and all night, and at one point we were talking and Trent said, "I can't believe that you're here." I said, "Why?" And he said, "Well we just called you on a lark because we thought that you would never do this, because you played with David Bowie. And we thought you would never come and play on our record."
TK: Another roundabout Bowie connection: in 1981 you played on the album Left-Handed Dream by Ryuichi Sakamoto, who had done the score for the film Merry Christmas Mr. Lawrence, which starred him and David Bowie. How did that album session come about?
Belew: It was once again something that was offered to me through my manager. The first time I went to Japan was in 1979 with David Bowie, and that performance was televised live to a quarter of the nation. So one out of four people living in Japan saw me on TV that night performing. The next year, I went to Japan with Talking Heads, who were at their prime. And then the very next year, 1981, I went back with the first version of the line-up that I fronted with King Crimson. So if you were a Japanese citizen who was into that kind of music, you were probably wondering, "What is going on with this guy?"
So that same year, 1981, we got the call from Ryuichi. At the time I knew a little bit about [his band] Yellow Magic Orchestra, but just a little bit. So as I was flying over to Japan I was reading this magazine, and there was a full-on article on the band, and how in Japan they were like The Beatles. They couldn't even walk down the streets. They had to have bodyguards, they were so well-known and popular. And one of those members is who I was about to play with!
It was wonderful. I loved it. They treated me like a guitar god, which I wasn't used to. The studio was at the top of a huge building in Japan, and it was one of the first digital studios in the entire world. It was Sony studio. Big huge glass windows surrounded the control room, which was large, and there were a lot of people there. I don't know if they were journalists or what, but they were there! So I would go out into the recording room, record my part, finish, and everyone in the control room would stand up and applaud me! They would give me a standing ovation! I had never had that happen before or since.
It was just so fun. And the band was all great, they took me to some of their favorite places; little private sushi bars and things like that. They introduced me to some of the highest-level artists and musicians in Japan, including Mr. Masayoshi Sukita, who had done the "Heroes" album cover for David. And eventually I got him to do my first record cover, which was in the following year, 1982, and that was Lone Rhino.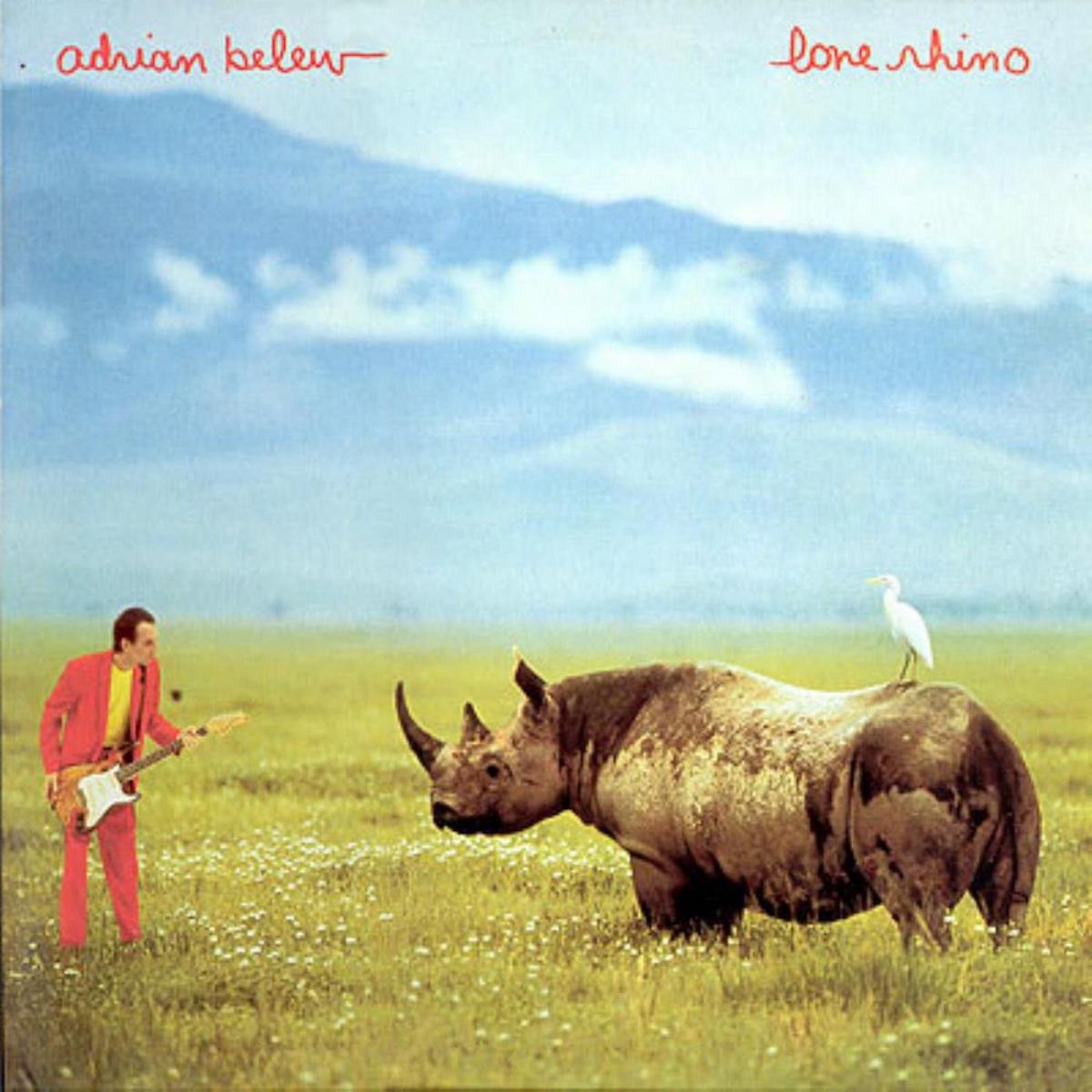 TK: That's a fantastic album cover.
Belew: That's Mr. Sukita and his friend Mr. Hiroshi Tanaka, who was the best nature photographer in all of Japan. He brought some incredible-looking pictures of rhinos that he had taken. And the one that I chose, with the bird on the rhino's back, and I said, "That is the most perfect shot of a rhino that I have ever seen."
So a lot of those doors were opened because of going to Japan with David Bowie, which was like going to Japan with God himself. It really gave me a sense of superstardom… not me being the superstar, but being in the close vicinity of one.
TK: After this upcoming run of Celebrating David Bowie shows, what's next for you, Adrian?
Belew: When I finish the Celebrating David Bowie shows, I'm done for the rest of the year. We are currently looking at what to do for the Adrian Belew Power Trio shows for next year, but at this point I actually don't have a single show booked for next year, which is kind of unusual. I put it down to that everyone in the world is touring right now, so I can't really say when my next run of Power Trio shows will happen after these Celebrating David Bowie shows.
TK: Well I'm excited to see Celebrating David Bowie in just a few weeks, and I appreciate you taking the time to talk to me today. I'll see you in San Jose.
Belew: I'll see you there, man!
Bundini: Great! We'll see you then. Thanks!
Belew: When I finish the Celebrating David Bowie shows, I'm done for the rest of the year. We are currently looking at what to do for the Adrian Belew Power Trio shows for next year, but at this point I actually don't have a single show booked for next year, which is kind of unusual. I put it down to that everyone in the world is touring right now, so I can't really say when my next run of Power Trio shows will happen.
Belew: I'll see you there, man!
Tickets to the upcoming Celebrating David Bowie show at the San Jose Civic can be purchased here