Thievery Corporation
Fox Theater, Oakland
December 11, 2019
Photos by Raymond Ahner
Thievery Corporation (TC) blew through The Fox Theater in Oakland bringing with them their inimitable mash up of Latin inspired trip-hop, highlighted with a gang of electro-gypsy grooves that left the packed crowd spellbound.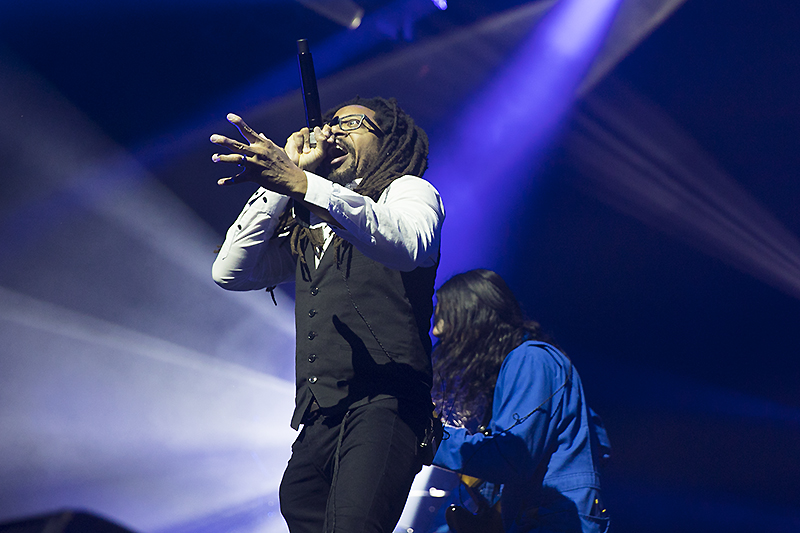 It was a superior performance that felt more like an old school house party which bounced the Fox and heated the crowd on this cold, wet evening.  There was a feeling of excitement in the room which was hazed by a mix of drunken dancing, marijuana smoke, and laid back, sultry beats twisted up by the Corporation.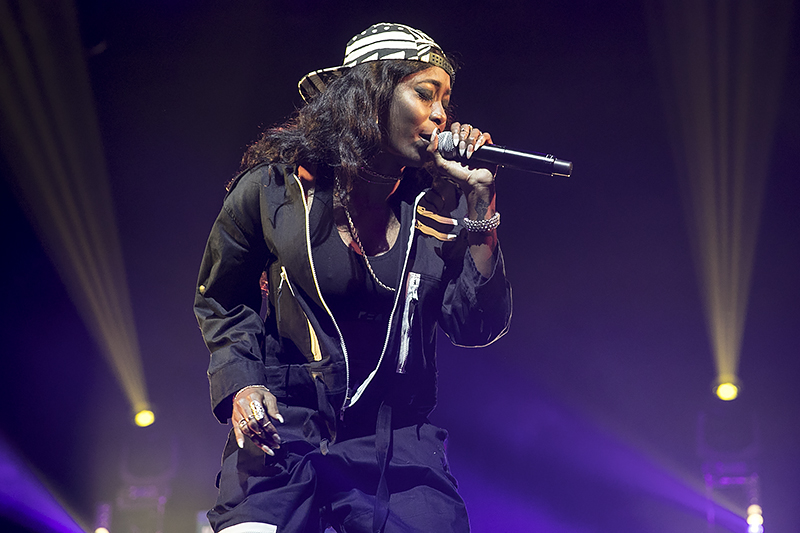 Thievery Corporation, which at its core is the brainchild of the duo Eric Hilton and Rob Garza, emerged from the Washington DC club scene in the mid-nineties, a time when guitar-driven music was still dominating public consciousness. So, taking a leap with a sound based on a blend of electronica, hip-hop, dub, and world beat seemed a stretch.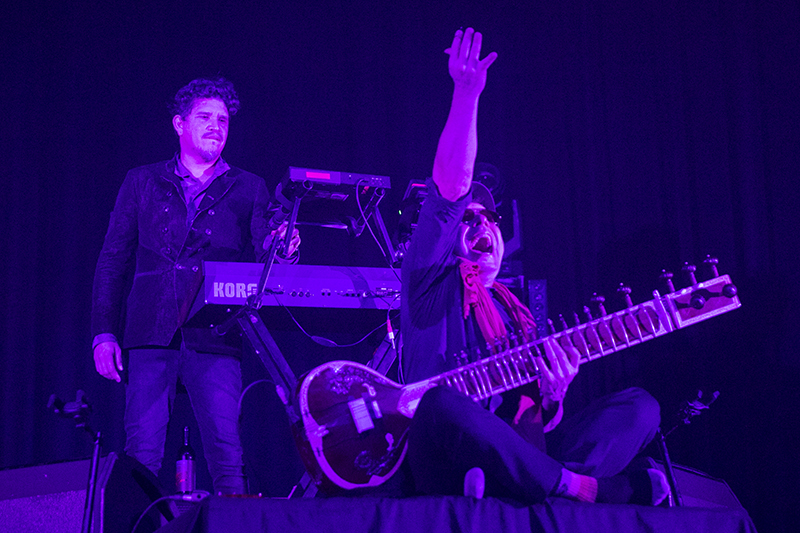 But the result was embraced wholeheartedly by a club culture that was looking for a fresh sound to get behind. Jump ahead some 24 years to the Fox on a wintery December night, and it is apparent that the seeds planted by the DC pair has blossomed into a unique and ever-thriving colorful bloom of dance music.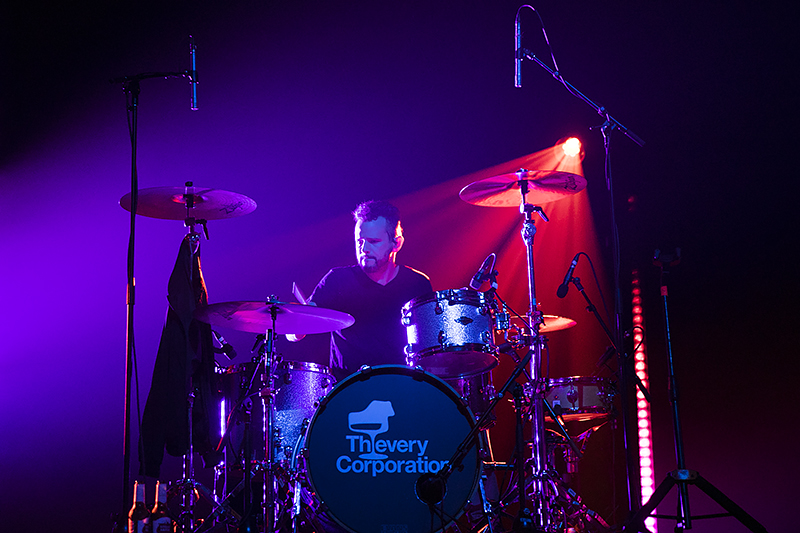 Held down by the talents of a live band consisting of (in addition to Hilton and Garza) Rob Myers (sitar / guitar), Jeff Franca (drums), Hash Vyas (bass), and Frank Orrall (percussion, drums, vocals), Thievery Corporation steered the ship seamlessly from one distinctly different influence  to the next, with the common denominator being chilled out infectious grooves that make it impossible to stand still.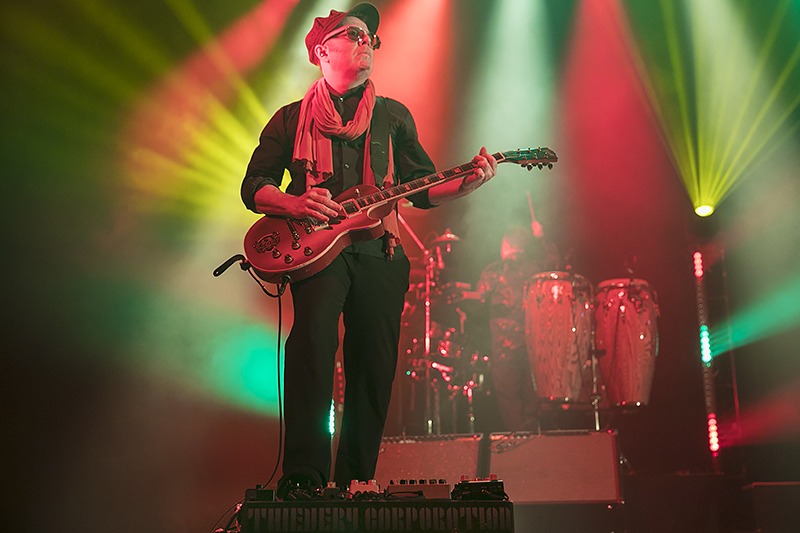 Whether in the form of the dub-flavored, percussion-heavy 'Sol Tapado' (with a backbeat and bass line that is reminiscent of Massive Attack), or 'Omid (Hope)' with an irresistible vocal performance floating over a trancey, electronica shuffle, the beats were on point and inhaled by the now sweaty group of new best friends on the Fox dance floor.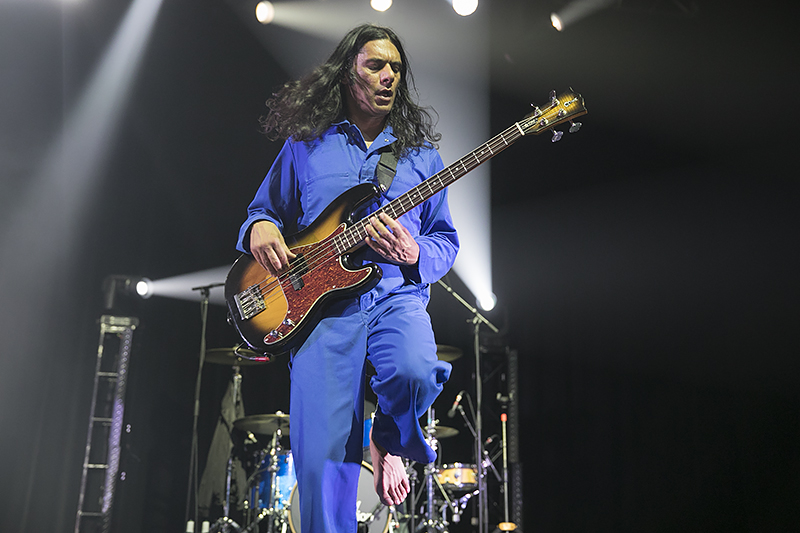 Shifting gears to dial up rolling waves of dancehall reggae-tinged electronica from Treasures From the Temple (2018), singer Raquel Jones took center stage and suddenly all eyes were on her as her lilting Jamaican voice added helium to the root down bass from Hash Vyas on 'Roadblock.' She also demonstrated some quality scattershot emcee skills on "Letter to the Editor."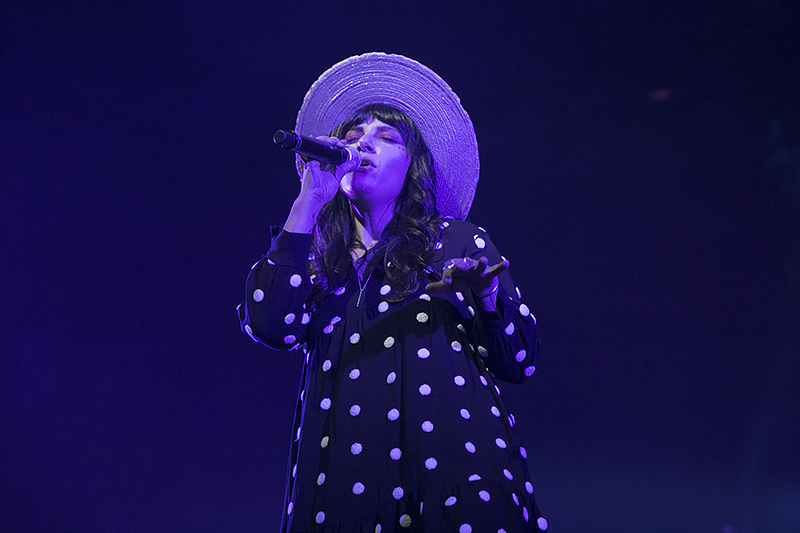 Keeping on the dancehall tip, but going to a different temple (The Temple of I & I – 2017) Ras Puma grabbed the mic and lifted the already levitating crowd with his lighters up performance on "Babylon Falling"….more drinks ordered, more minds blown.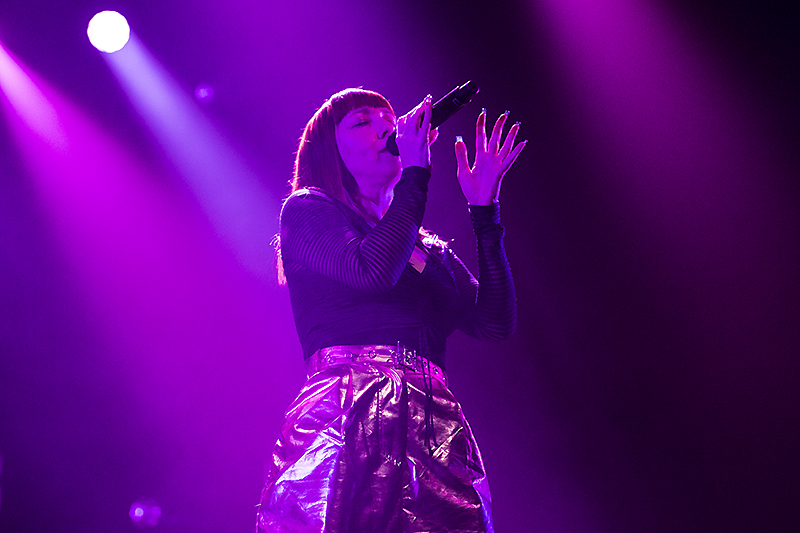 Digging deeper into the Treasures From the Temple recording, the Corporation got a bit of a gangster lean and a dose of social consciousness when Mr. Lif took the stage to unleash his ferociously intelligent raps on "Joy Ride."  The imprint of Mr. Lif was doubled down with a fiery version of 'Culture of Fear' (lead track from the TC 2011 album). It was like a fog machine of blue pot smoke took over the front stage area with entranced fans dancing in a state of lidded ecstasy.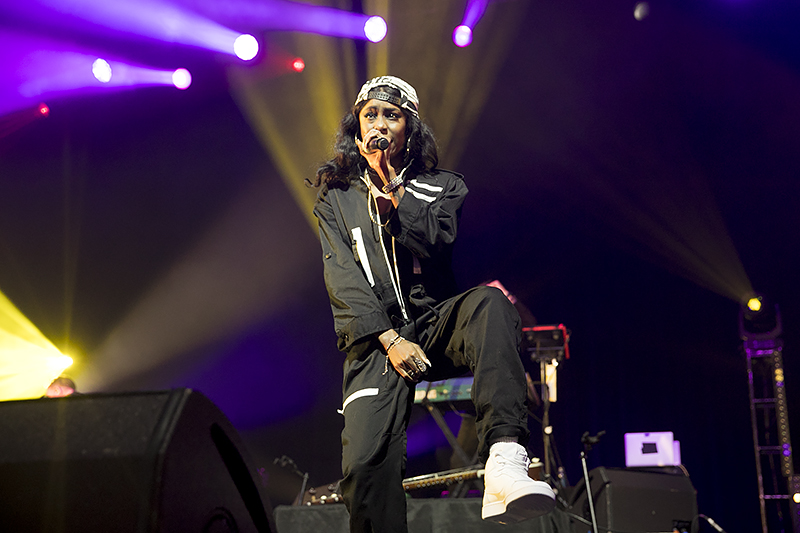 All in their set was righteousness, but it was the true roots of Thievery Corporation led by visionaries Garza and Hilton that got the crowd the most revved up. 'Lebanese Blonde' (The Mirror Conspiracy – 2000) soothed the crowd with the familiar sitar line played by Rob Myers, and the song's in no hurry trip-hop bounce caused jackets to come off and bodies to grind.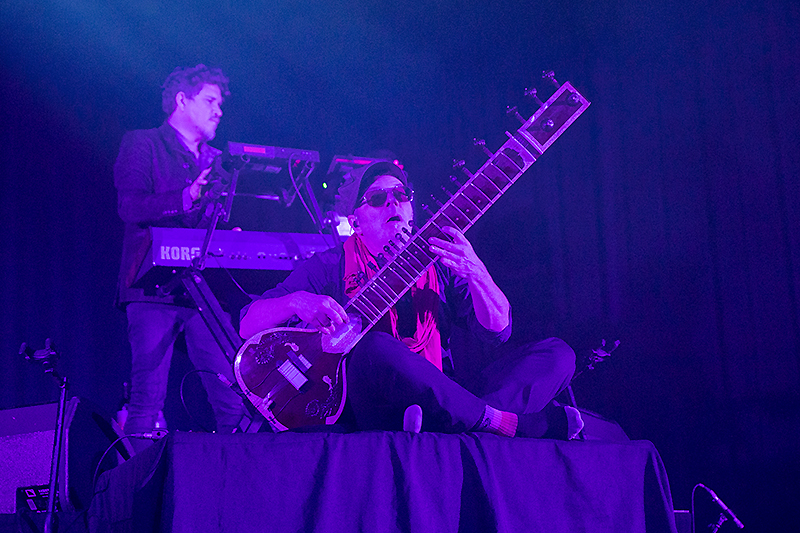 By the time the show finale 'The Richest Man in Babylon' (title track from their 2002 recording) was played virtually all in attendance were swaying back and forth with eyes closed. As the sweet sounds faded off to the distance and Thievery Corporation departed the stage, the stunned crowd was left smiling and released into the chilly night. If this were indeed a house party, the cops would be arriving just about now.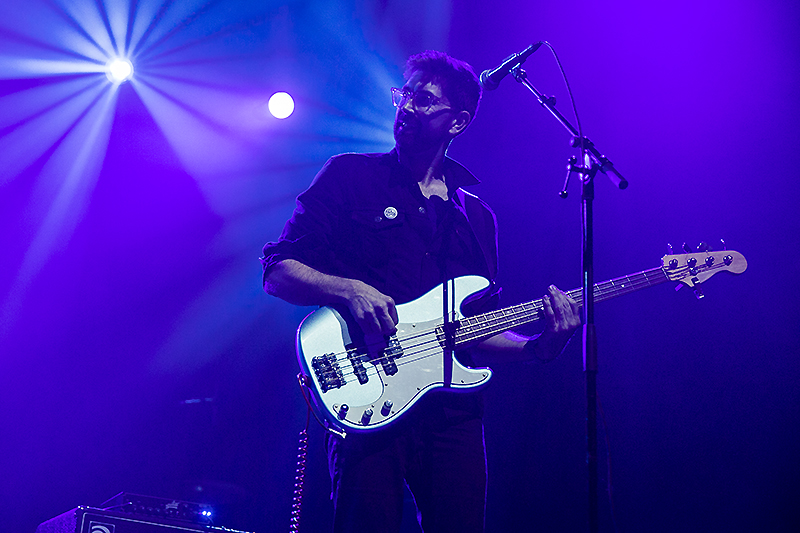 Given Thievery Corporation's infatuation with all things Brazilian, it made complete sense that Brazilian Girls were the openers for the evening.  Though not actually from Brazil, this New York quartet does share many of the same cross-over elements of TC.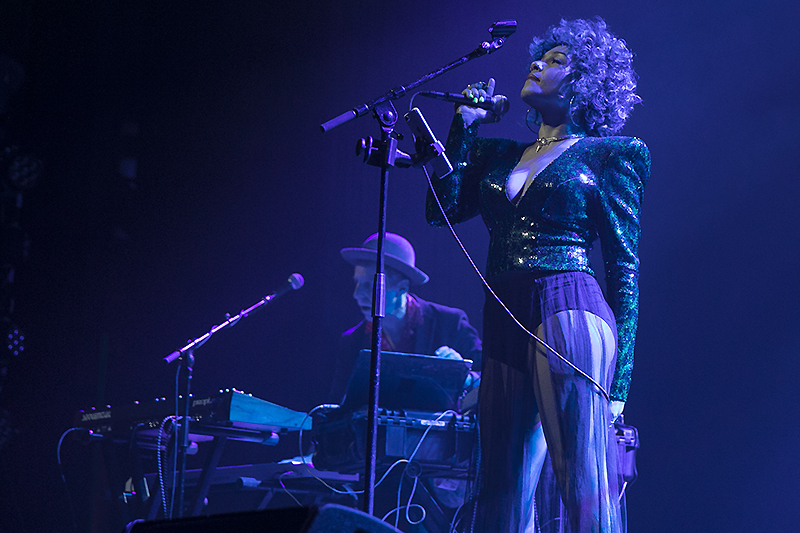 They are rooted in chillout drum and bass lounge vibes highlighted by layers of meandering piano lines, and washes of atmospheric strings. But main thing that elevates Brazilian Girls is their charismatic front woman Sabina Sciubba who, in addition to her smooth as butter vocals, also brings an electro 80s vibe to the mix.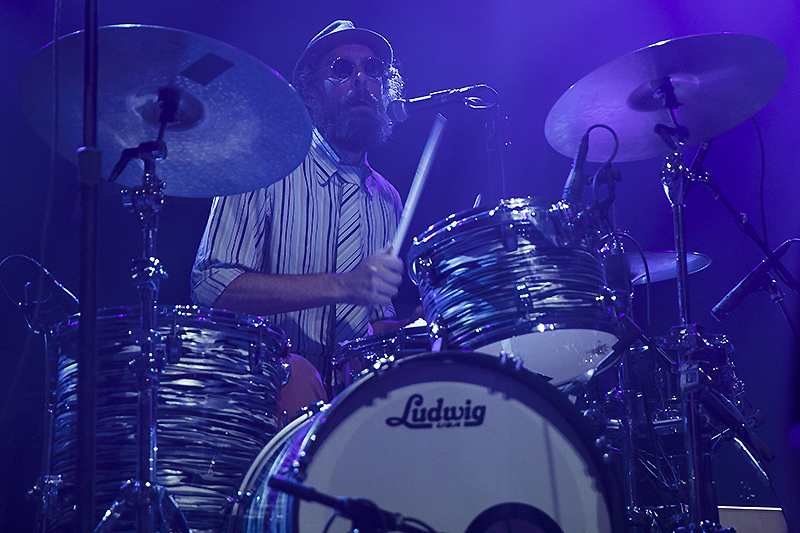 She dripped sexuality on crowd favorites 'Lazy Lover' and 'Don't Stop,' her vocals hanging languidly over house inspired beats churned out by her all-male band. And she shook the place with a rocking rendition of 'Jique' (Talk to La Bomb – 2006).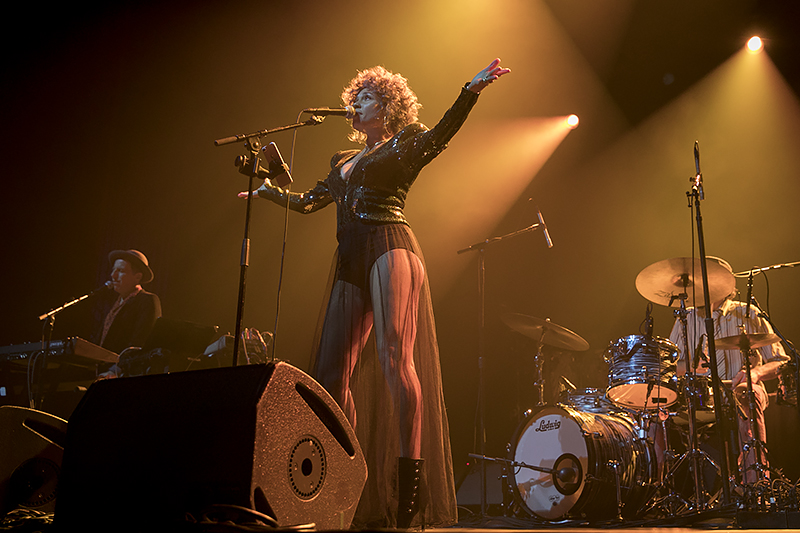 Brazilian Girls set was short but effectively fired up the crowd in anticipation of the Thievery Corporation house party. If you haven't yet checked them out and the aforementioned descriptions pique your interest, they deserve a deeper look and listen.
Thievery Corporation Link
Brazilian Girls Link