Snapped Ankles
The Rickshaw Stop
March 25, 2022
All photos by Geoffrey Smith II
Snapped Ankles create a sound that is hard to pin down. While they're often labeled Post-Punk — a genre as varied in sound as Nick Cave and the Bad Seeds and Devo — it fails to prepare the listener. The music of Snapped Ankles is full of familiar elements. You'll hear primitive synths that could be from Gary Numan's 'Down in the Park,' staccato shouted vocals similar to The B-52s' Fred Schneider, a 'Bela Lugosi's Dead'-esque descending bassline, and lo-fi trudging sounds like the aliens from a Space Invaders arcade game.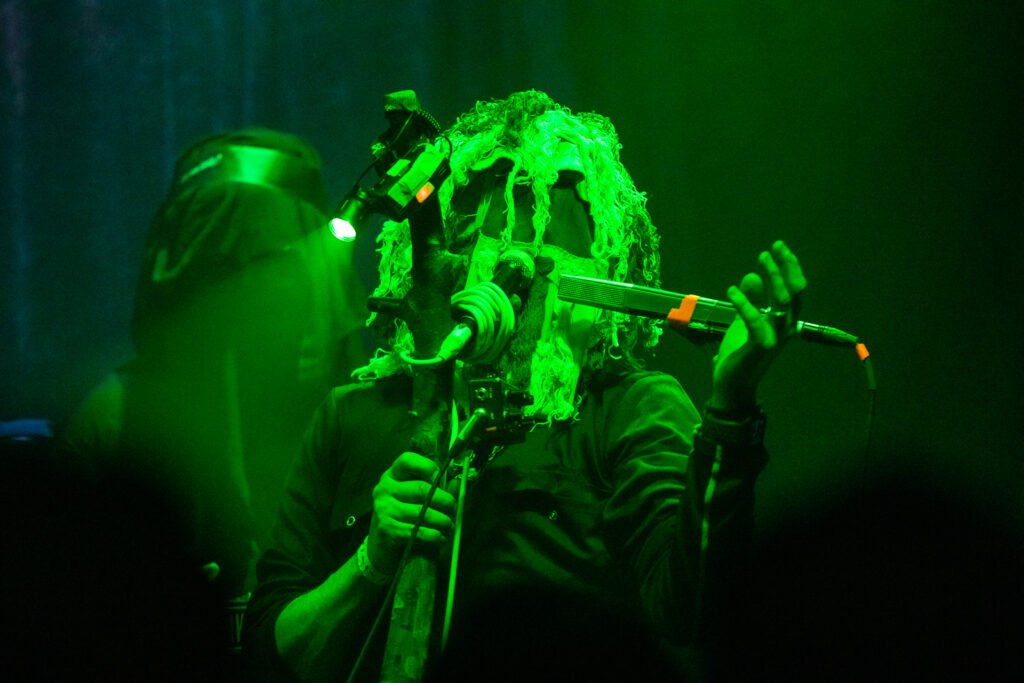 But the way Snapped Ankles combine these sounds is what makes them so interesting, and their live presentation makes them visually intriguing. The concoction they brew is feisty and alien. Clad in ghillie suits, primitive masks, antlers, and glowing lights, they have a cryptic vibe. This anonymous East-London-based group has been around since the early 2010s, originally conceived as more of a performance art troupe before morphing into a band.
This past March 24th, Snapped Ankles closed out their North American tour run at San Francisco's Rickshaw Stop.  While attendance was a bit light, those present were enthralled by the act. Snapped Ankles have a healthy catalog, with two EPs and four full-length records to date. 2021's Forest of Your Problems is the latest, and the one their setlist most heavily drew from.
Snapped Ankles' performance was broken up into a three-course meal format, with Appetizer, Main Course, and Dessert sections, each having songs complementing each other in pacing and vibe. They handed out setlists stylized as menus. The show opened and closed strongly – but as a steak served without sides or a sauce, the main course's robust flavor eventually became repetitive and tedious to chew. Extended jam session bridges and audience interaction drew a few songs out longer than I would have liked.
'Rhythm is Our Business' kicked off the set's "Appetizer" course, with an extended intro that gave the audience a chance to acclimate before the vocalist appeared. The fast drum fills, blippy synths, and driving bass lines made this song one of the absolute highlights of Snapped Ankles' set.
'Tailpipe' (a cover of the classic track by experiment act Can) and then 'Letter from Lambi Mountain' followed, both top-notch live efforts, with the latter including static-dipped dial-up modem tones, minimalist lyrics, and an emphasis on percussion.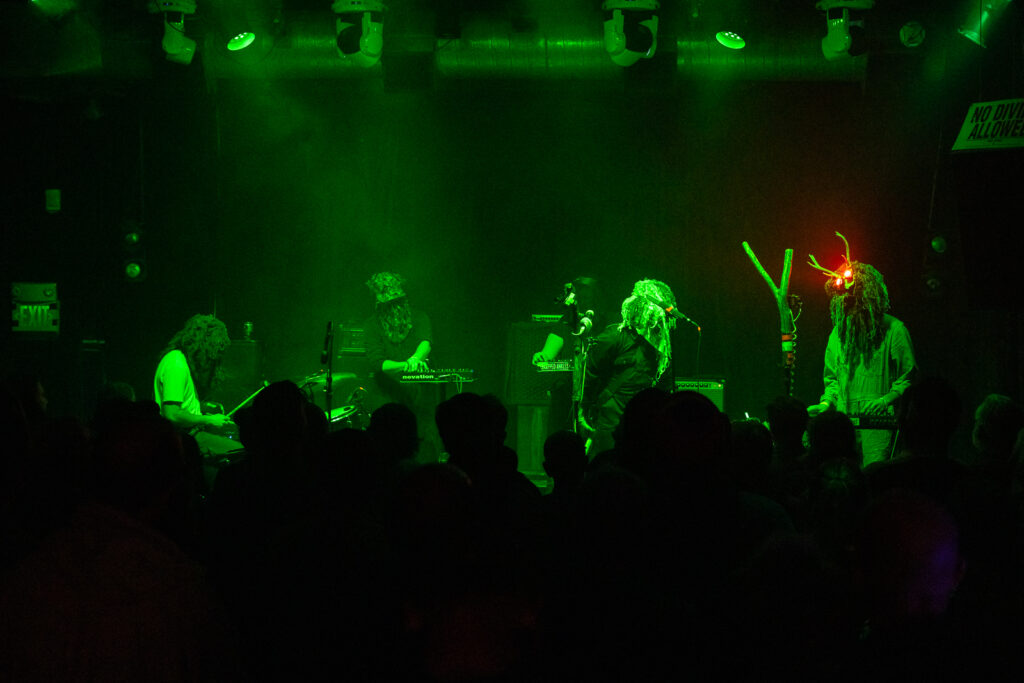 The "Main Course" began with 'Barbecue in Brazil.' Stylistically, it came across as a '70s prog-rock cut with a funky bassline and synth horns. The sound was a bit subdued and kind of killed the vibe they had fostered until then. But maybe that was the point? A palate cleanser?
'Shifting Basslines of the Cornucopians' took a slower but still dance-y approach with disaffected vocals. It was also one of the longer tracks in the set, and while it allowed the singer time to interact with the crowd, I felt it overstayed its welcome. I could see it working better if the venue were packed so the collective energy helped to keep the set afloat.
'Undilated Lovers' had a simple synth melody reminiscent of a church organ. The pace picked up a bit. The vocalist grabbed a guitar for this one, with the band ending the song in a free jazz-style cacophony that was pretty intense. 'Rechargeable,' the first of the "Dessert" tracks was higher energy yet brief at just a couple of minutes and had a more urgent vocal delivery.
Snapped Ankles ended their set with 'Jonny Guitar Calling Gosta Berlin,' arguably one of their most popular tracks. Similar to their opening track, they dragged out its intro for an almost ten-minute affair. I enjoy the track, but not that much.
Even with the pacing being an issue in their set, I'd still see them again. They're known for using projection screens and elaborate outfits, and this show appeared to be a bit scaled-down compared to a lot of their shows in Europe, with no visuals and half of the band members wearing street clothes. Hopefully they'll improve on these areas.
Gloin was Snapped Ankles' direct support on this tour and was a surprise to me despite researching them before the show. I'd written them off as just another competent but unexceptional rock band. They ended up being a raucous, noisy, and fierce unit of gritty post-punk noise rock, with lots of personality and stamina. I lost track of time as they played and found them the highlight of the show.
Opening the night was Your Leader, a project from Jake Palladino, guitarist for the San Francisco band Pins of Light. The band was a one-man operation wielding a synth, a table full of gadgets, and a guitar. He took everyone on a weird sci-fi soundtrack journey that was unpredictable in both the directions it took and the sounds it introduced us to. It definitely came across as unpolished, and possibly improvised, and that was what I really appreciated.
Links: