Sigur Rós
Frost Amphitheatre
May 17, 2022
Photos by Nicole Baptista
Billowing gold smoke illuminated Jónsi Birgisson as he stood center stage. Closing his eyes and teetering forward, he gripped his cello bow and pressed his brow into the mic like a kickstand. Mouth wide, he started to sing, slowly paralyzing the crowd with his angelic falsetto.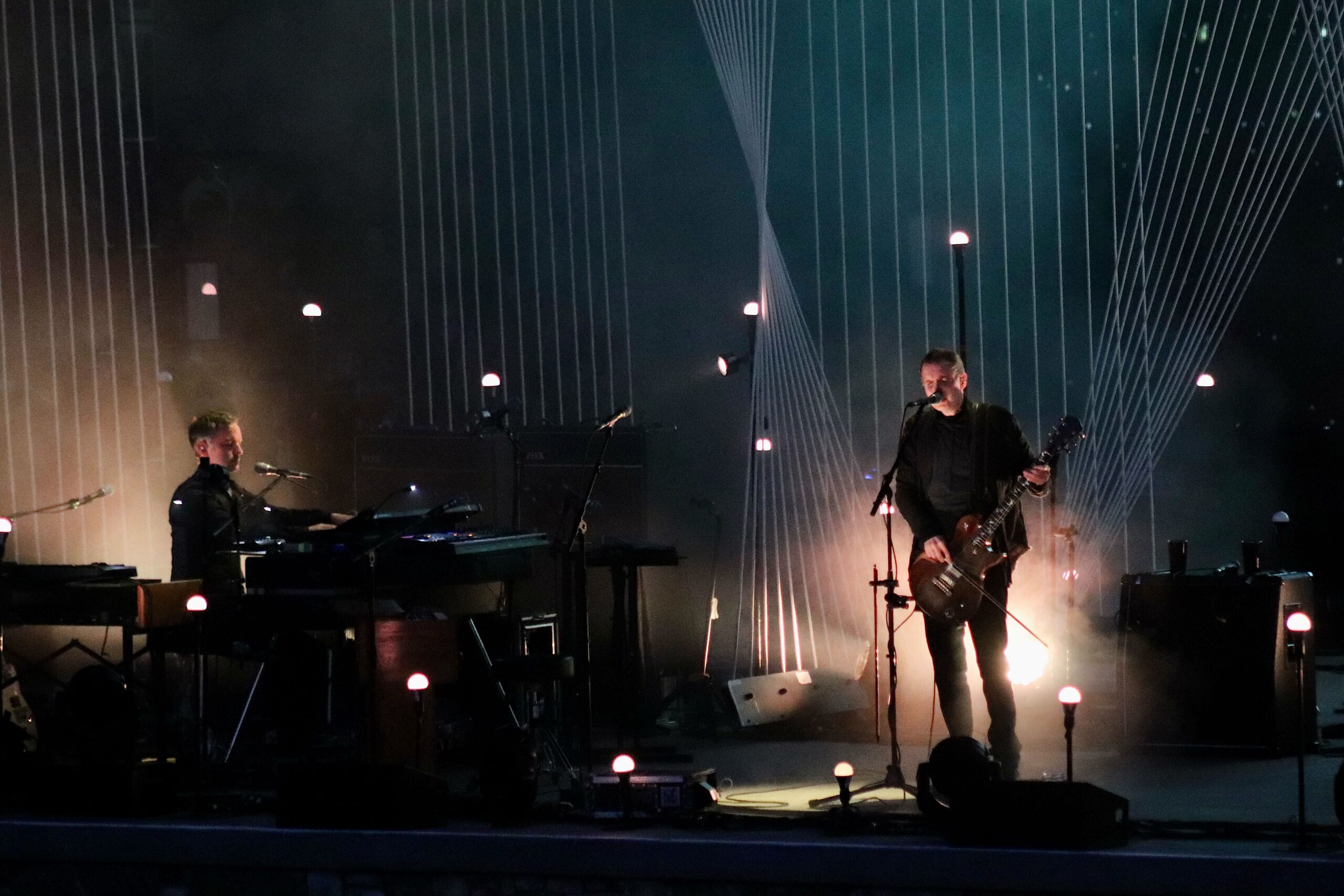 Sitting under the dark night sky, fans sat in silence, waiting for Birgisson's infinite serenade to fade out. And when it did, they roared with delight.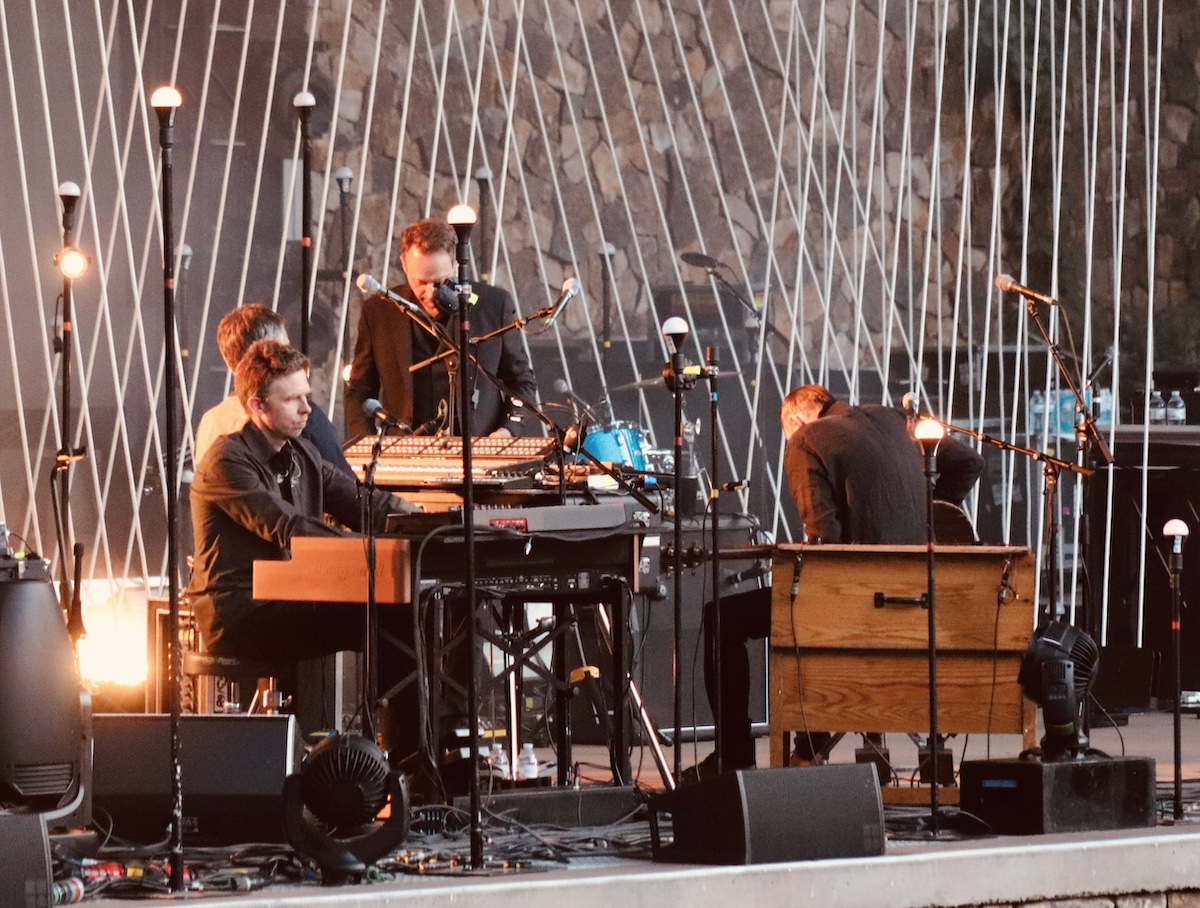 Sigur Rós recently visited Frost Amphitheater, marking their ninth stop in North America. Surrounded by California oaks, people filled rows of chairs near the stage and splayed or cuddled on the grass. Even Icelandic president Guðni Th. Jóhannesson was in attendance.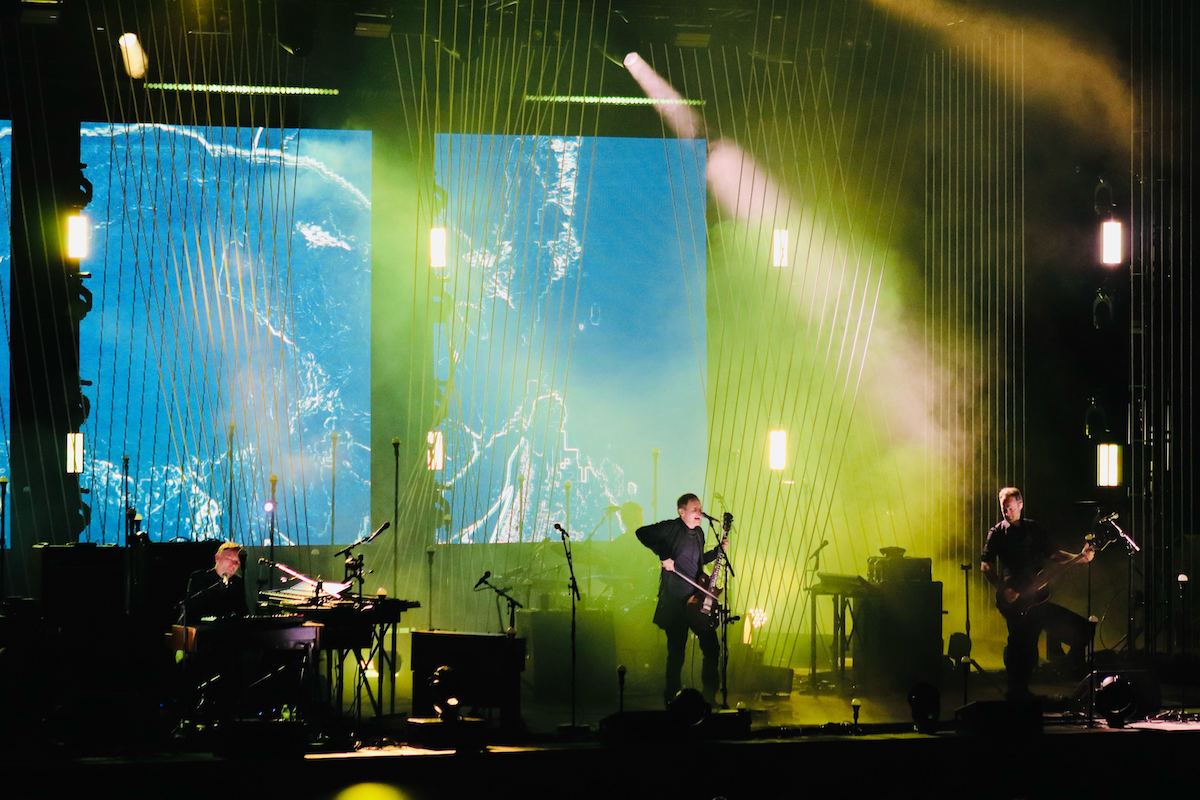 Starting just before dusk, Sigur Rós eased into the evening with three tracks off their 2002 album. Huddled in a circle, Birgisson sat hunched on a small wooden pew, his back facing the crowd as he plucked his guitar.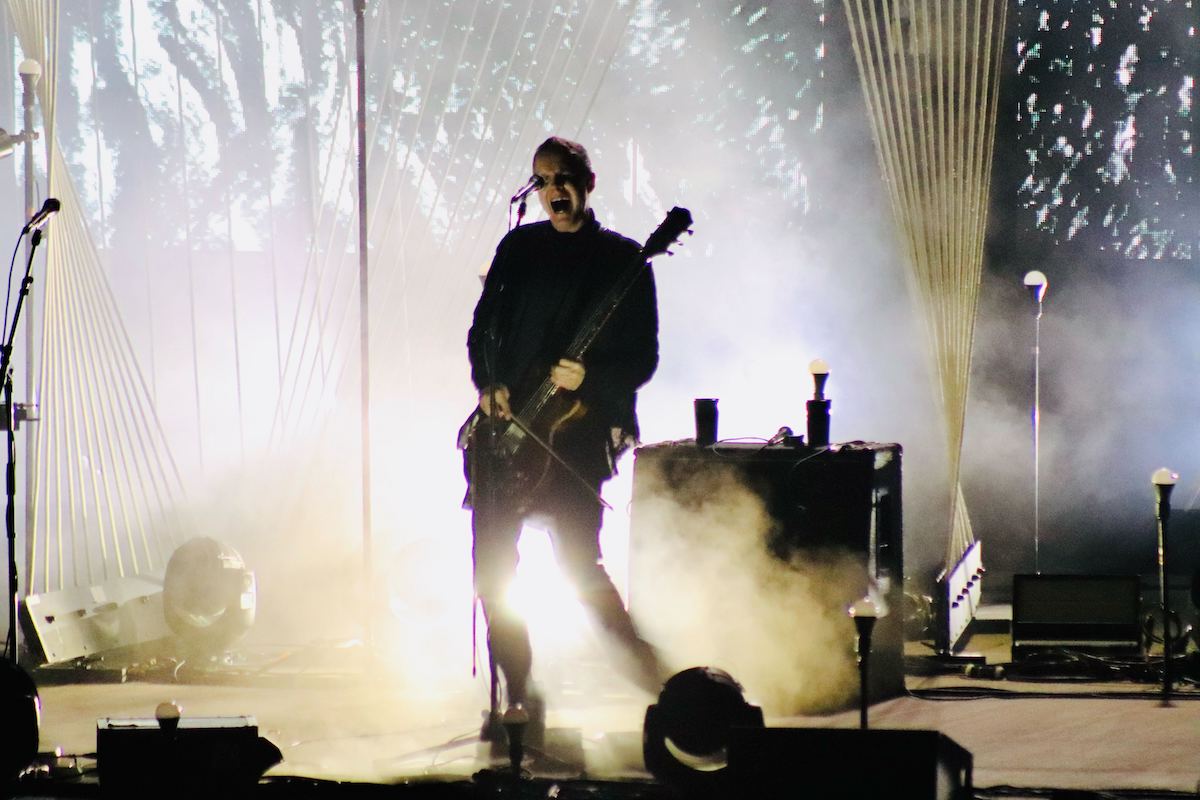 As darkness crept in, the band's intimate jam sesh unfolded. Backed by incredible helix-shaped lights and singular bulb posts, colors began to darken, change, and move. Gold sparks swelled, popped, and fell like rain on three giant screens as the music intensified.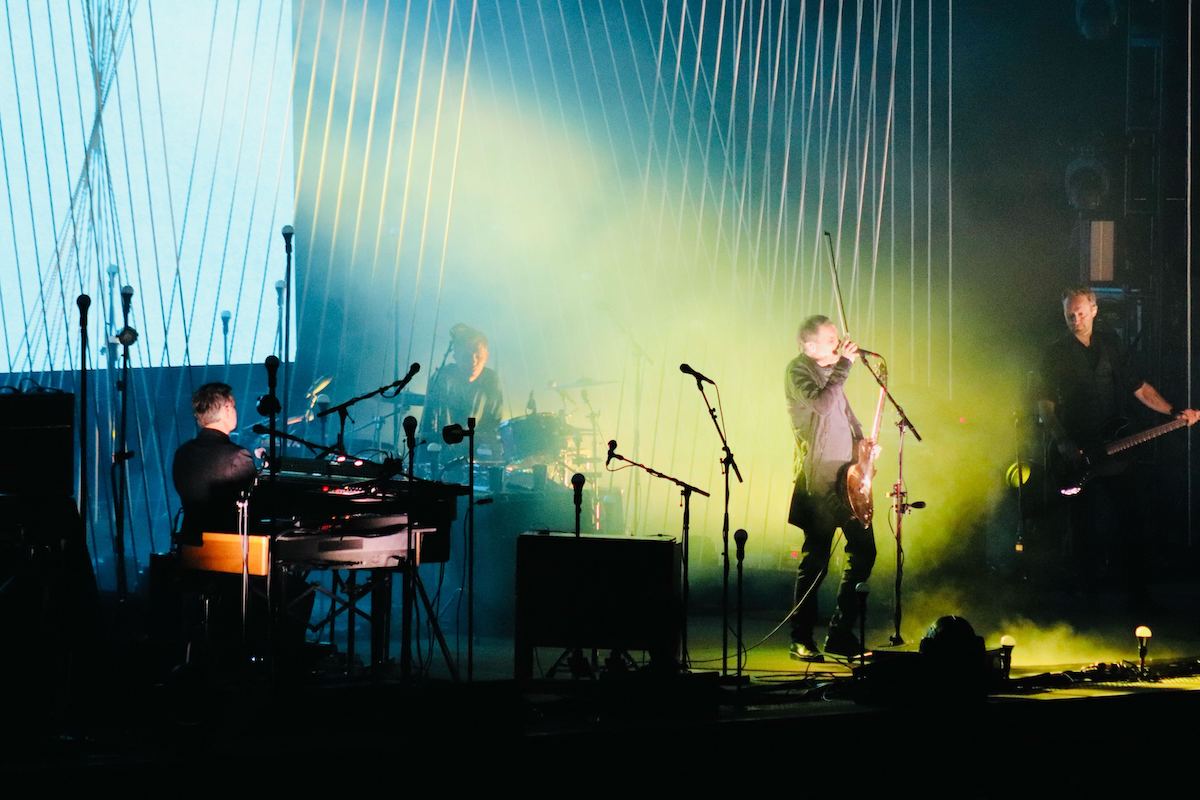 Doubled over, Birgisson vigorously bowed his guitar – also known as "Bird" due to the bird inlays that he carved himself. Bowing in front of and behind the bridge, he slowly pulled back his arm then thrust forward, like a bow and arrow. Holding his rig in front of his face, he howled into the body, altering his haunting croon.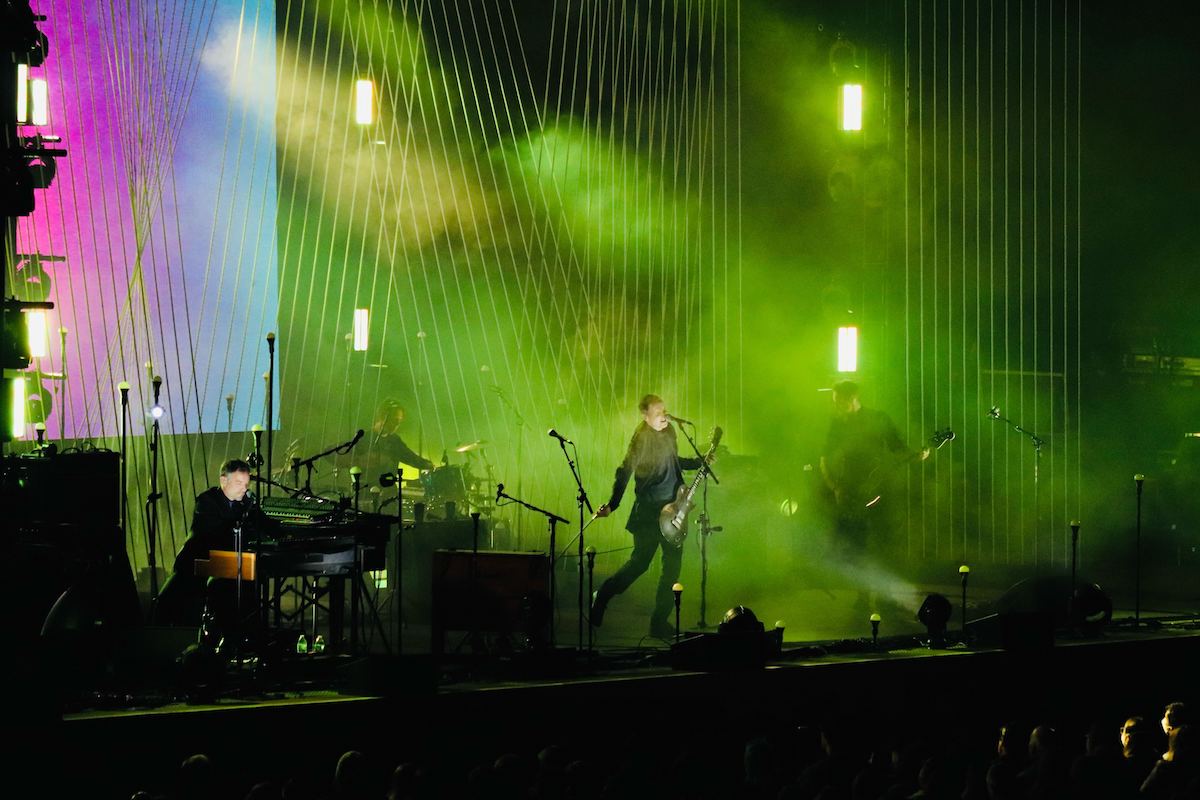 Birgisson often sings in his native tongue, but some gems are sung in Hopelandic—a made-up language that often acts as another instrument. Understanding the lyrics isn't the point. Sometimes all you need is the right melody or arrangement to bring you to your knees.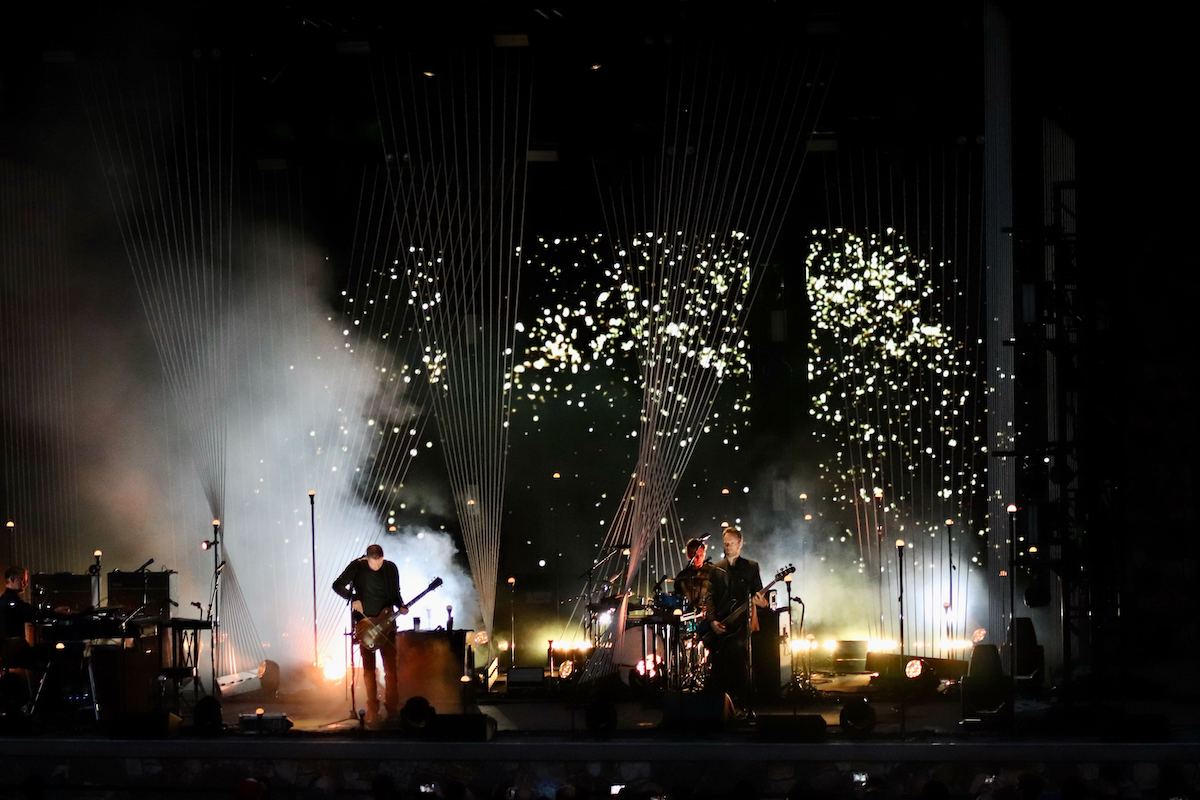 Sigur Rós formed in 1994 with Birgisson, bassist Georg Holm, and drummer Ágúst Ævar Gunnarsson. Currently they're touring with former drummer Orri Páll Dýrason after a decades-long hiatus.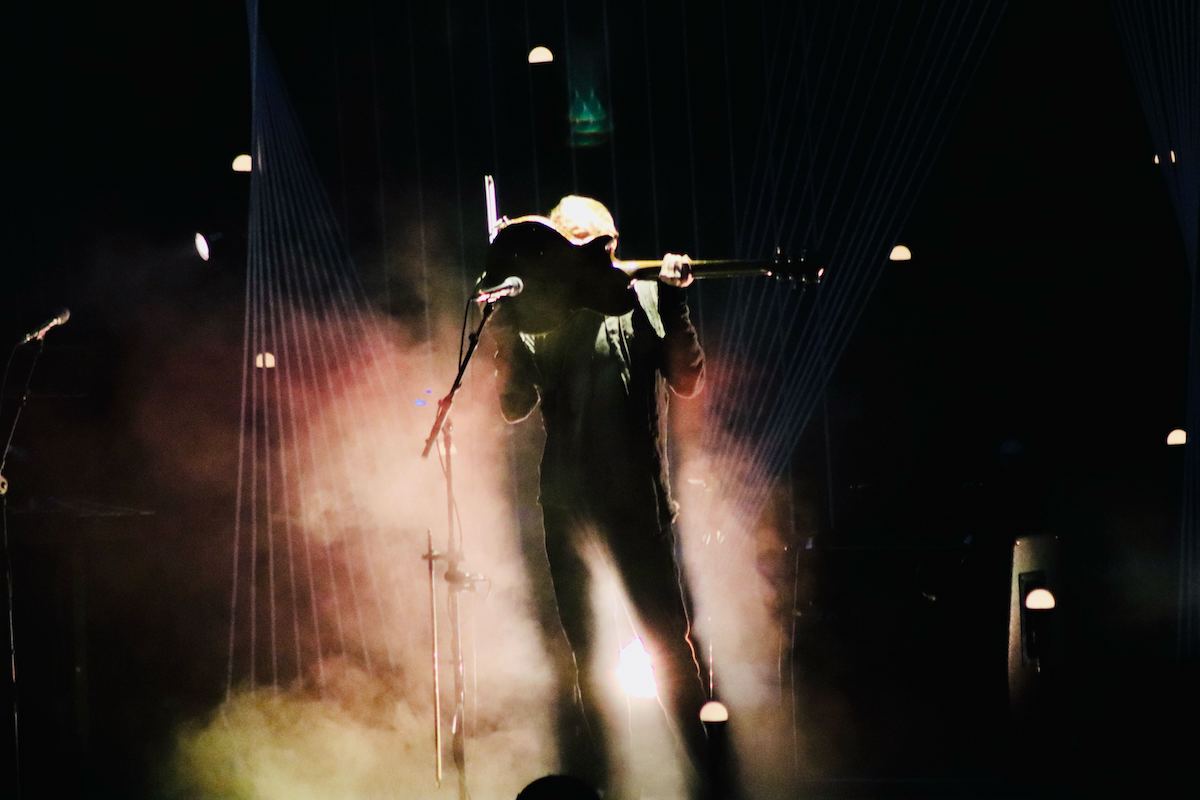 The band was named after Birgisson's little sister, Sigurrós, and translates to Victory Rose. Over the years, they've carved a name for themselves for their experimentation with strange instrumental sounds like the tin flute, oboe, harmonium, and banjo, to name just a few. Even the cymbal used in "Ný batterí" is rumored to be found on a street in downtown Reykjavík. The instrument was bent and bruised but its deformation produced an incredible sound.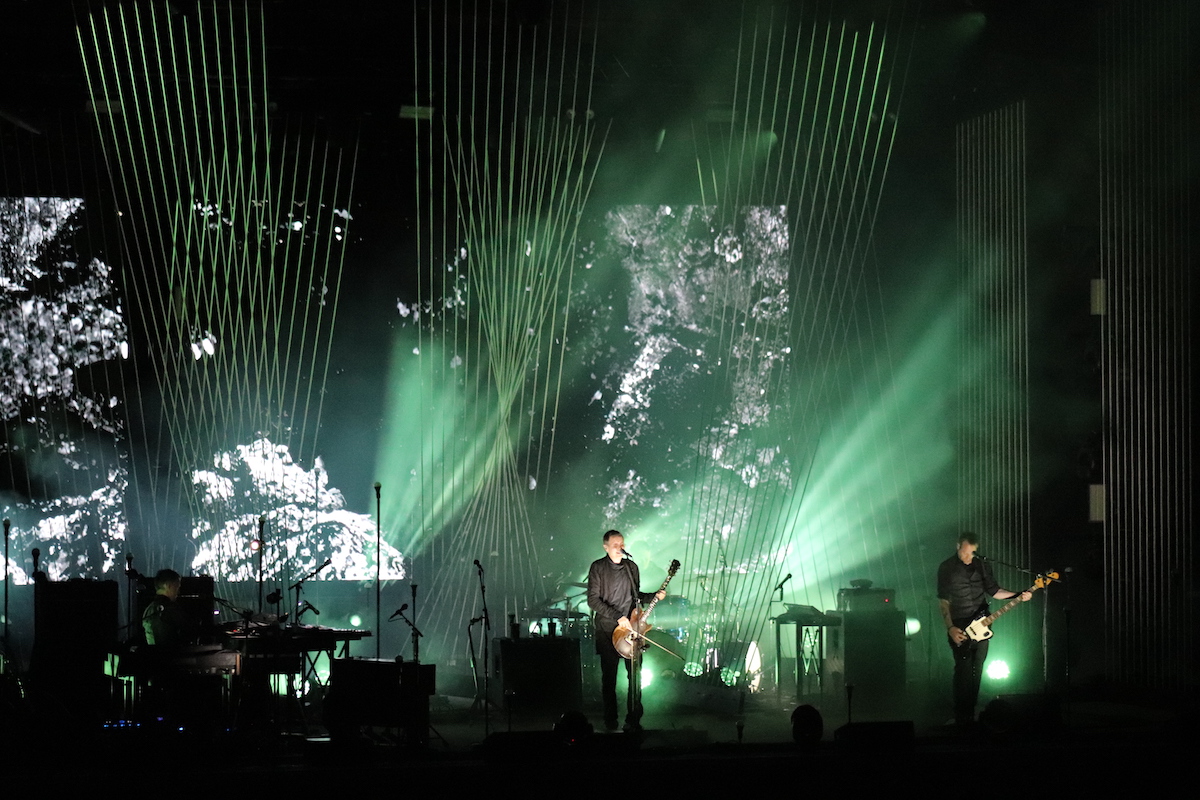 If you listen closely, you can hear noises only heard in wide open spaces. A gentle breeze, dripping rain, bustling creeks, and crackling rocks. Inspired by Iceland's unforgiving nature, the sounds paired perfectly with the chirps of crickets and a sweet awe-inspired crowd.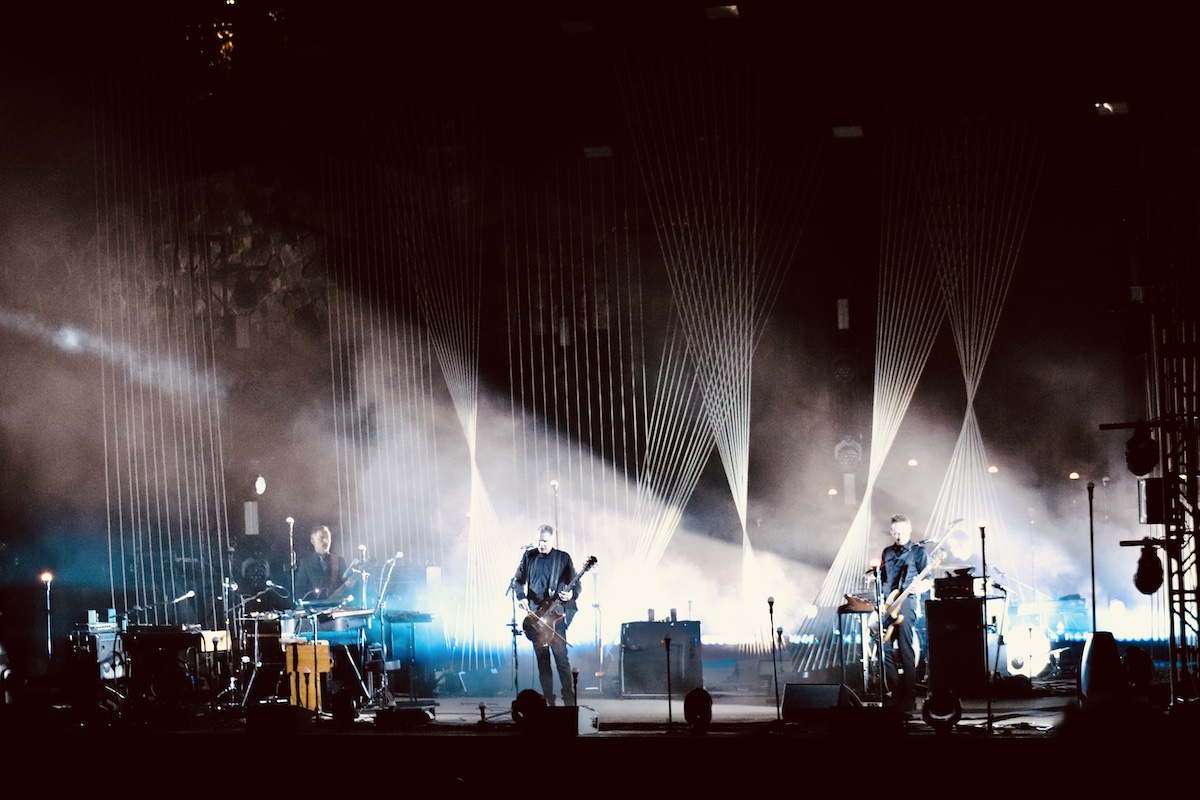 Elegantly ebbing and flowing, the spiritual set came alive with "Festival" (Með suð í eyrum við spilum endalaust, 2008). The beat synced with the rhythm of 5,000 pounding hearts. Eager, excited, and yearning for release—the crowd wailed as the wondrously majestic melody erupted with explosions of vibrant light.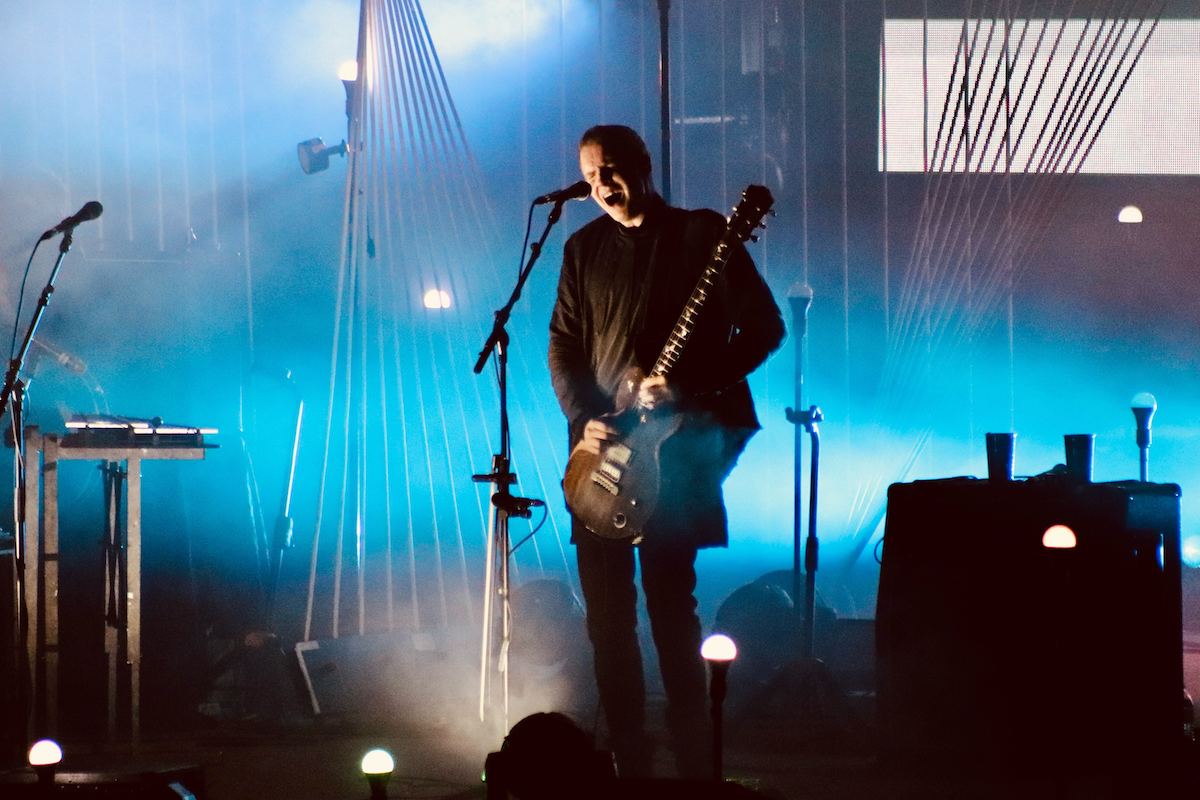 The powerfully dark "Kveikur" (2013) could have paired with an apocalyptic thriller, its journey both transformative and beautiful. Ending on a high note with "Popplagið"(2002), the song amped up for nearly six minutes before detonating. Anchored by drums, Birgisson sang the same line over and over again. His piercing voice echoed as jumpy fans compulsively tapped their heels to the ground. Building, building, building, until a rhythmic burst. Bright blue, white, and pink strobes spastically flashed. Almost like fireworks—a finale for the ages—the sights and sounds all blended together in one moment of purifying bliss.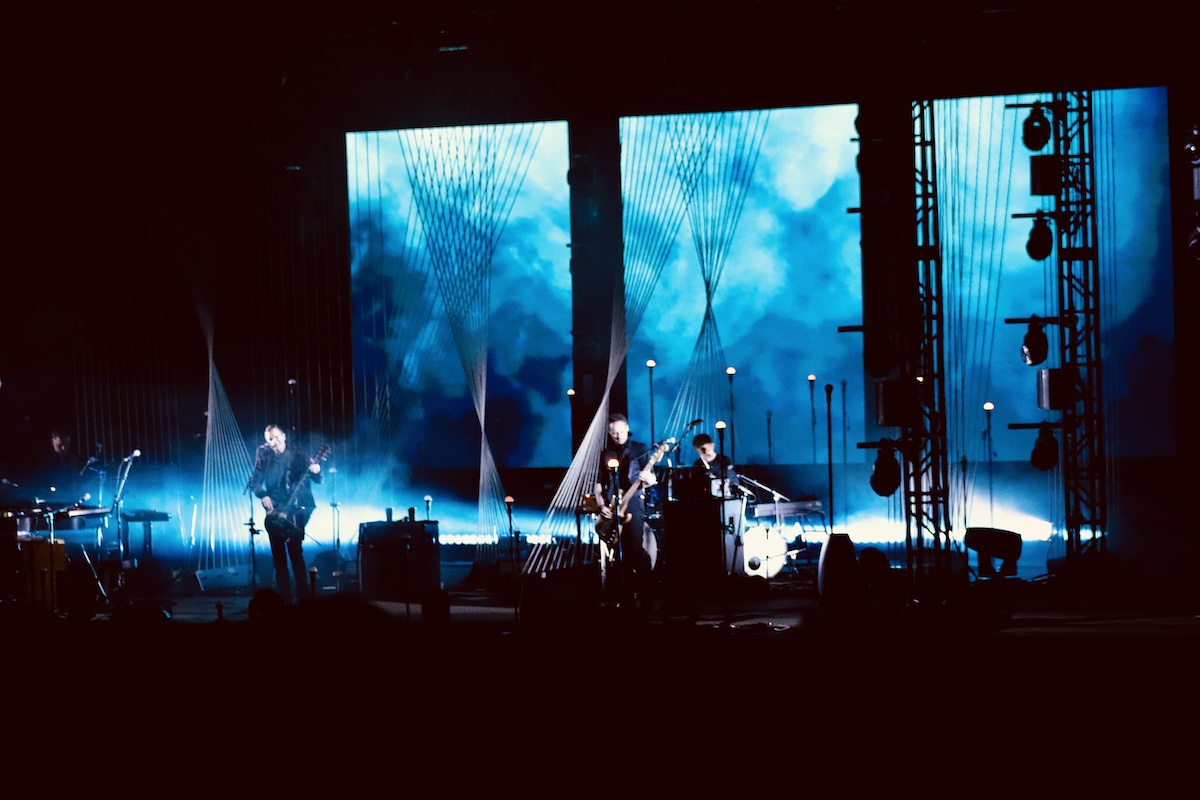 Only a few phones stood out in the crowd. And after nearly two hours of playing (from most of their discography) the band reemerged for a final bow, clapped overheard in gratitude, and said, "Takk."
Setlist: Vaka I Fyrsta I Samskeyti I Svefn-g-englar I Glósóli I E-Bow I Ný batterí I Dauðalagið I Ekki múkk I Fljótavík I Gold 4 I Sæglópur I Festival I Kveikur I Popplagið