Santana
Shoreline Amphitheatre, Mt. View
June 26, 2019
Photos by Raymond Ahner
Celebrating not only the 20th anniversary one of their biggest albums ever, Supernatural, but also the 50th anniversary of their now legendary appearance at Woodstock, Santana brought their Supernatural Now tour to the Shoreline Amphitheatre in Mountain View recently, playing a career spanning setlist in front of a sold-out crowd.
Opening the set with the Santana classic "Soul Sacrifice," (complete with video footage of him playing the same song at Woodstock) Carlos Santana and his band hit the stage running. Not even one minute into the song, Carlos looked like he was having just as fun jamming on the song as he did fifty years earlier, striking his guitar face pose for the crowd. He and his ten-piece band then jumped into the percussion-fueled "Jingo-La-Ba," with his wife Cindy Blackman Santana on the drum kit, followed by the seminal "Evil Ways," with a bit of John Coltrane's "A Love Supreme" thrown in for good measure.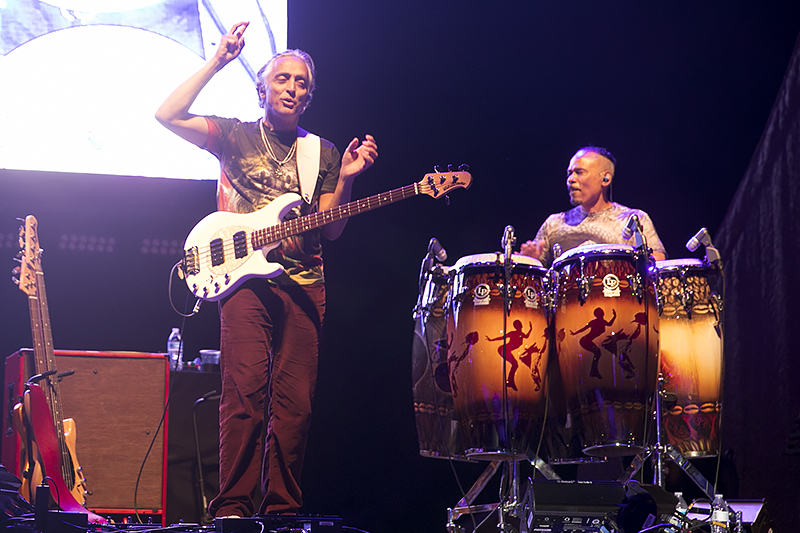 From there, Santana branched into the Supernatural record, playing both "(Da Ye) Yaleo" and "Put Your Lights On." Other highlights from the set included "Black Magic Woman," "Oye Como Va," and a cover of The Zombies classic "She's Not There."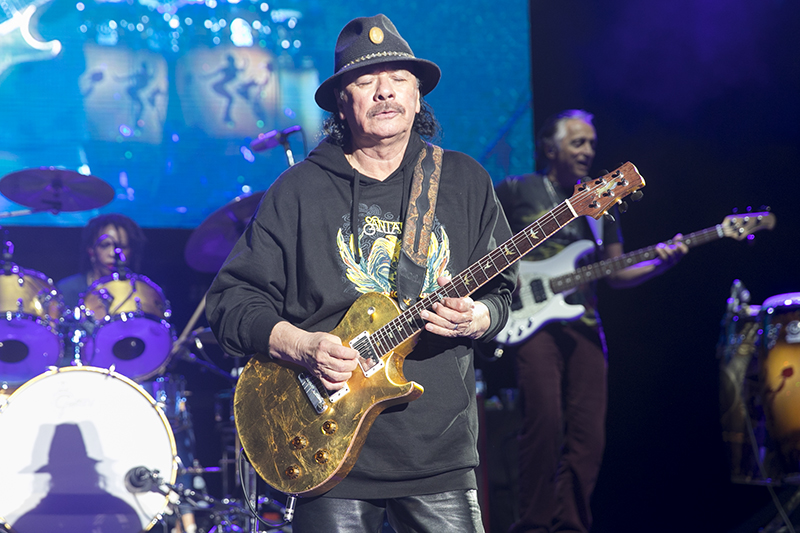 The 20-song set concluded with a cover of The Chambers Brothers "Love, Peace and Happiness," and by the time all was said and done, Carlos Santana showed that he is still on top of his guitar game.\
Supporting Santana on this tour are Bay Area rock giants The Doobie Brothers, who delivered a hit-filled set of their own, including "Rockin' Down The Highway," "Takin' It To The Streets," and "China Grove." They were a perfect choice to open the show, and had the fans in their seats early.
Here's a slideshow with more photos of Santana and The Doobie Brothers by Raymond Ahner:
Santana:
Setlist: Soul Sacrifice | Jin-go-lo-ba (Babatunde Olatunji cover) | Evil Ways / A Love Supreme | (Da Le) Yaleo | Put Your Lights On | Hope You're Feeling Better / Salvador | Breaking Down the Door | Black Magic Woman / Gypsy Queen | Oye como va (Tito Puente cover) | The Game of Love | She's Not There (The Zombies cover) (with Jorge Santana) | El farol (with Jorge Santana) | Maria Maria | Foo Foo | Corazón espinado | Toussaint L'Ouverture || Sentient Sphere | Are You Ready (Chambers Brothers cover) (Cindy solo.) | Samba pa ti | Smooth | Love, Peace and Happiness
For more information on Santana, go here.
The Doobie Brothers:
Setlist: Rockin' Down the Highway | Take Me in Your Arms (Rock Me a Little While) (Kim Weston cover) | Ukiah | Dark Eyed Cajun Woman | Clear as the Driven Snow | Eyes of Silver | Takin' It to the Streets | Sweet Maxine | Jesus Is Just Alright (The Art Reynolds Singers cover) | Without You | Long Train Runnin' | China Grove || Black Water | Listen to the Music
Find out more about the Doobie Brothers on their website.