Me First and the Gimme Gimmes
Slim's
December 15, 2019
Photos by Raymond Ahner
Me First and the Gimme Gimmes, the long-running punk rock "cover" band, recently played three beyond sold-out shows at Slim's in San Francisco, pulling out all the stops for their three-night Christmas spectacular. With different bands opening each show, there was definitely something for everyone.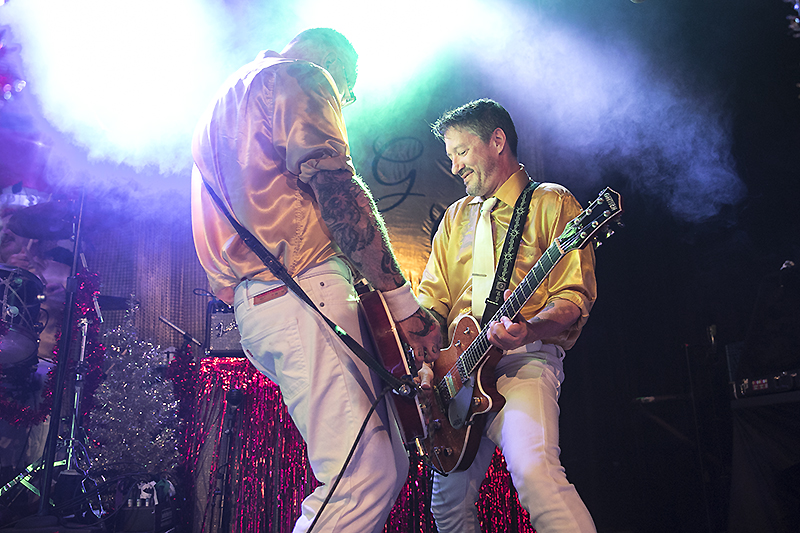 Taking the stage to the Eddie Money classic "Shakin" on the PA while dressed in matching satin gold shirts, with a pink Christmas tree and upside-down Santa hanging in the background, the Gimmes kicked off night three of their Slim's mini-residency with the Carly Simon classic, "Nobody Does it Better," and from there the band ripped through a twenty-four song setlist list that had the crowd singing and drinking along.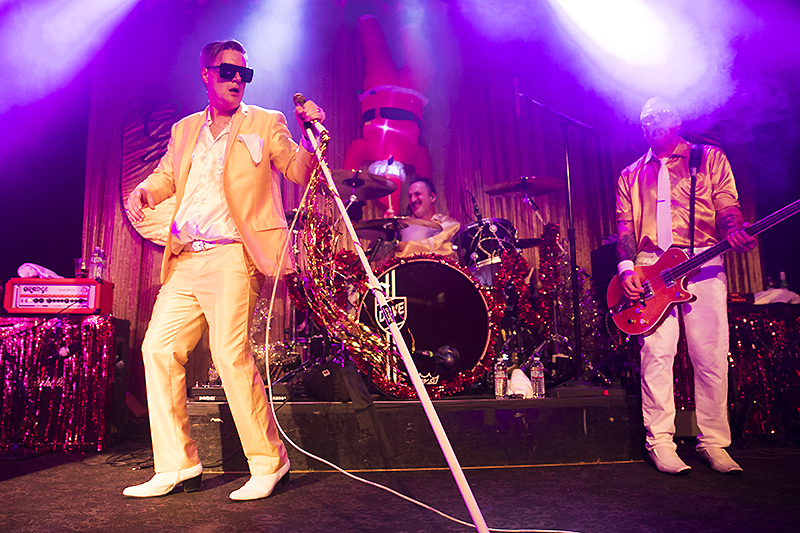 The band's line-up currently includes CJ Ramone on bass, Joey Cape of Lagwagon on guitar, Dave Raun also of Lagwagon on drums, and Scott Shiflett of Face to Face on guitar, and together with vocalist Spike (whose in-between song banter is always just as hilarious as the songs themselves,), the band puts on a high energy show that is just fun. Highlights from their set included "Rainbow Connection" (The Muppets), "Karma Chameleon" (Culture Club), and their long-time setlist staple "Me and Julio Down by the Schoolyard." (Paul Simon)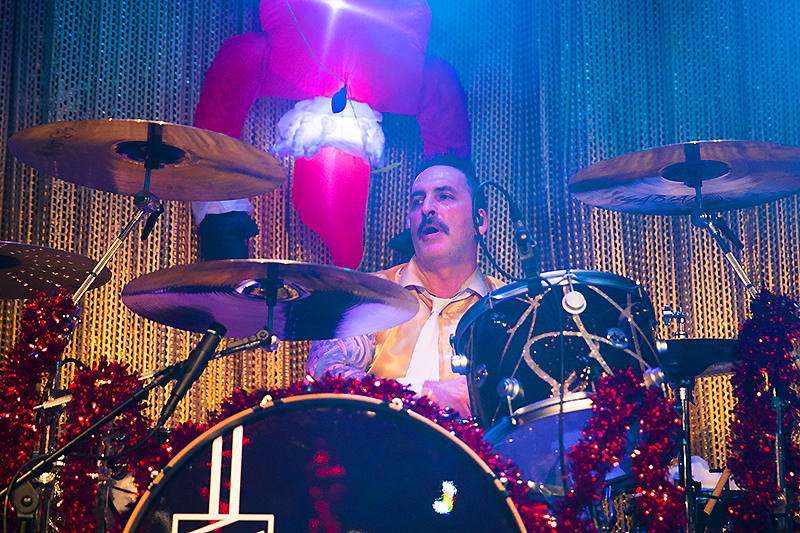 The band closed out the evening and their three-night run with "End of the Road," (Boys II Men) leaving their fans hoping that they won't have to wait until next Christmas to see them again.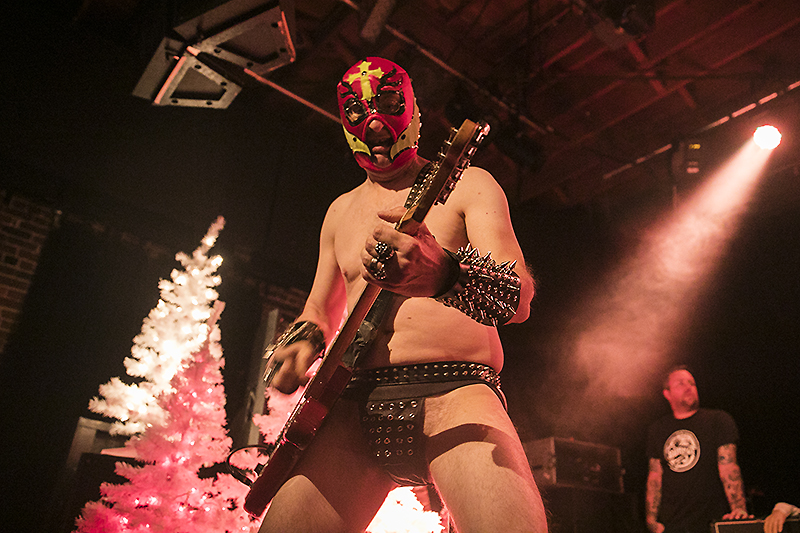 Support on this night came from the legendary punk rock band The Dwarves, who put on quite a set of their own, priming the crowd for the headliners.
Here's a slideshow with more photos of both bands by Raymond Ahner:
Me First and the Gimme Gimmes:
Setlist: Nobody Does It Better | Carly Simon cover) | Santa Baby | Eartha Kitt cover) | Only the Good Die Young | Billy Joel cover) | Heart of Glass | Blondie cover) | Karma Chameleon | Culture Club cover) | Rainbow Connection | The Muppets cover) | Danny's Song | Loggins & Messina cover) | All My Loving | The Beatles cover) | Feliz Navidad | José Feliciano cover) | (Ghost) Riders In The Sky | Johnny Cash cover) | Jolene | Dolly Parton cover) | On the Road Again | Willie Nelson cover) | The Stranger | Billy Joel cover) (with Jamin Barton) | Me and Julio Down by the Schoolyard | Paul Simon cover) | Take Me Home, Country Roads | John Denver cover) | Sloop John B | [traditional] cover) | Summertime | George Gershwin cover) | Rocket Man (I Think It's Going to Be a Long, Long Time) | Elton John cover) | Over the Rainbow | Harold Arlen cover) | Sweet Caroline | Neil Diamond cover) | Who Put the Bomp (in the Bomp, Bomp, Bomp) | Barry Mann cover) || I Saw Mommy Kissing Santa Claus | Jimmy Boyd cover) | I Will Survive | Gloria Gaynor cover) | End of the Road | Boyz II Men cover) | Feliz Navidad | José Feliciano cover)
The Dwarves: